SuperNats Time: Tiffany Kelly Takes on Las Vegas
Imposter Syndrome - Part 1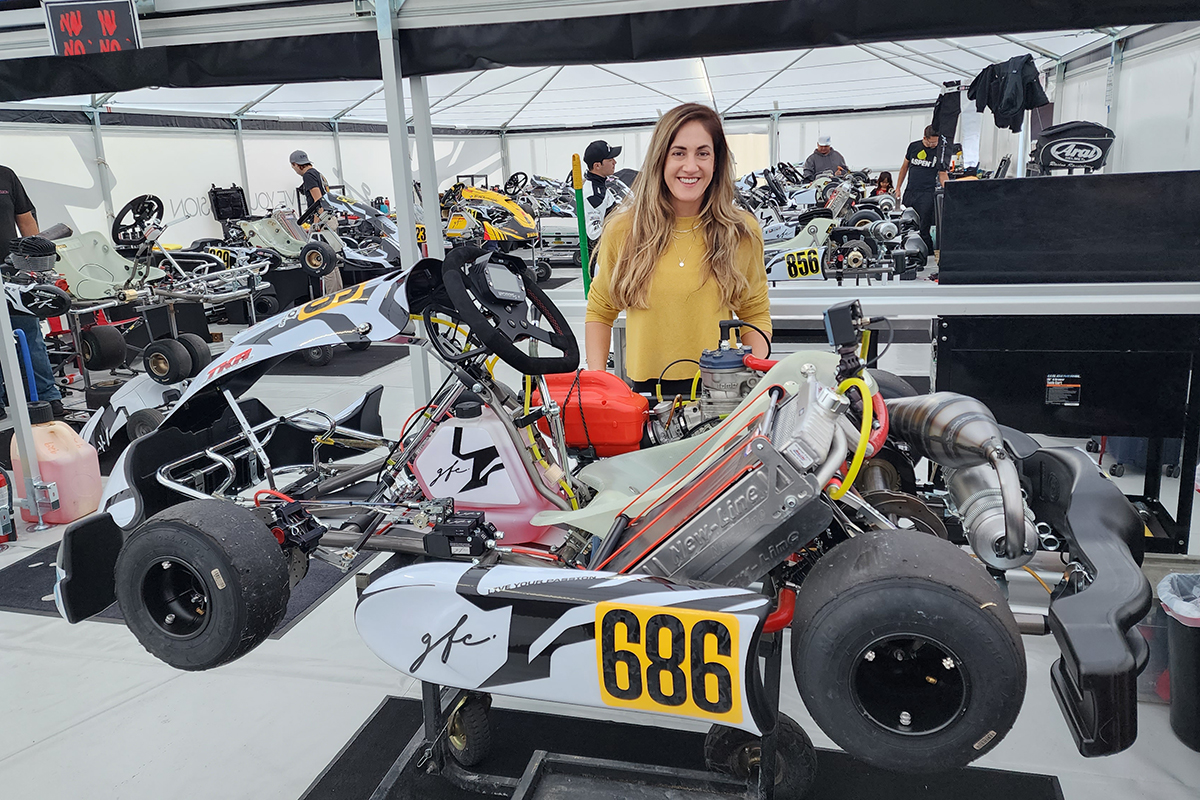 Tiffany Kelly and her husband Justin joined GFC Karting for the SKUSA SuperNationals 25
I will never forget the first time I watched a YouTube video covering Superkarts! USA SuperNationals in Las Vegas. I had no idea that the event even existed until after we bought our first shifter karts, and Justin told me I should look it up. I was blown away by the intensity and magnitude of the event. I viewed it as the Super Bowl of karting. I remember fantasizing about what it would be like to be there, with all the lights, and the crowds, while racing bumper to bumper. It seemed so out of reach and unattainable, that I figured I had a better chance at winning the Powerball than ever competing at SuperNats. I would have never thought, in a million years, that I would end up turning that dream into a reality a couple of years later.
It was time. Justin and I had spent the year traveling around in our van to race and now we needed to prepare to for the biggest race of the year. The first thing we needed to decide on was what tent we would be running under. We had started the season on CRGs, and we were originally going to go under the Ron White Racing tent. Toward the end of the season, we had teamed up with Reggie Brown with R3 SpeedFab. He was a friend we raced with at the Kansas City Karting Association, and he had given us the opportunity to try out the new GFC chassis. Justin and I liked both karts and had jumped back and forth, so it was hard to decide which one we would end up going with. Justin felt I was more comfortable driving the GFC, and he has learned a happy wife makes a happy life, so we ended up going under Gary Carlton's GFC Karting tent.
The next important thing we needed to figure out was how we were going to get to Vegas. The furthest we had ever traveled with the karts was 10 hours. To get to Las Vegas from Nebraska, we needed to drive 19 hours. We knew our little van would make it, but we were worried about the karts being on the open trailer and exposed to harsh weather. Justin came up with the brilliant idea of shrink wrapping both karts, which we ended up doing, and it worked perfect. We also tried to make sure we had at least one spare engine, because neither one of us wanted to have something blow up and not be able to race. It was not going to be a short weekend like the others we had gone to. Practice started on Wednesday, followed by more practice, and qualifying on Thursday. Heat races on Friday and Saturday and the Final on Sunday. I had built strength and endurance over the season, but I was still a little intimidated by the schedule and hoped I would not be completely worn out before the big race. I was also extremely intimidated by all the drivers who had signed up. There were 42 drivers in our class and every top driver I had heard about throughout the year was going to be there.
So, we loaded up the van, asked Justin's little brother to come along and crew for us, and drove straight to Vegas. We had parked our van on the top level of the parking garage at the Rio, which ended up giving us a bird's eye view of the track that was still being built. I could not believe they were turning a parking lot into a racetrack, even pouring rumble strips, in the middle of a city that never sleeps. The view was breathtaking. I still could not believe that I would be racing at SuperNats. It did not really sink in until the next day when I went to register and pick up my packet. The gentleman who was trying to check me in said he could not find me in the system. He even called another lady over to help, who asked what my kid's name was. I realized they were not looking me up as a driver, but as a spectator. It was in that moment, that it really hit me, that I was really making this happen. I had the biggest smile on my face when I told them "I am a driver!"
After finishing check-in, I walked out to the parking lot and found the GFC tent amongst the sea of colorful canopies. It was sensory overload walking into the giant tent with tons of other karts after racing under our little pop up all year. Also, meeting Gary Carlton felt like I was shaking hands with a celebrity. He was known around the karting community and was one of the many legends I had heard about. Gary showed us around, introduced us to the team and got us set up next to the three guys we would be competing with in our Master Shifter class.
Later in the day, after I had run around the entire parking lot admiring karts, set ups, and saying hi to everyone, they opened the gates for a track walk. Gary had gathered everyone from under his tent to track walk together while he provided some feedback and pointers. I was so happy that he was doing that because all my anxiety was kicking in the moment I stepped onto the track. The barriers seemed so close with little run off, the rumble strips were extremely thick, and I could not stop thinking about how bad my chassis was going to get destroyed if I drove over one. Also, everyone around me was talking about their experiences from prior years and I was still trying to take it all in.
I repeatedly had to tell myself, "I can do this, I am ready, I can do this" to calm down my nerves. Justin asked me multiple times if I was ready and I told him point blank I wasn't, but he just laughed and told me it was too late now.  He was right, there was no turning back, and the next day the games would begin, and I needed to step up to the plate.
To be continued.…
---
Here are the links to Tiffany Kelly's previous columns: