Paddock Insider: 2023 Superkarts! USA Winter Series – AMR2 – Homestead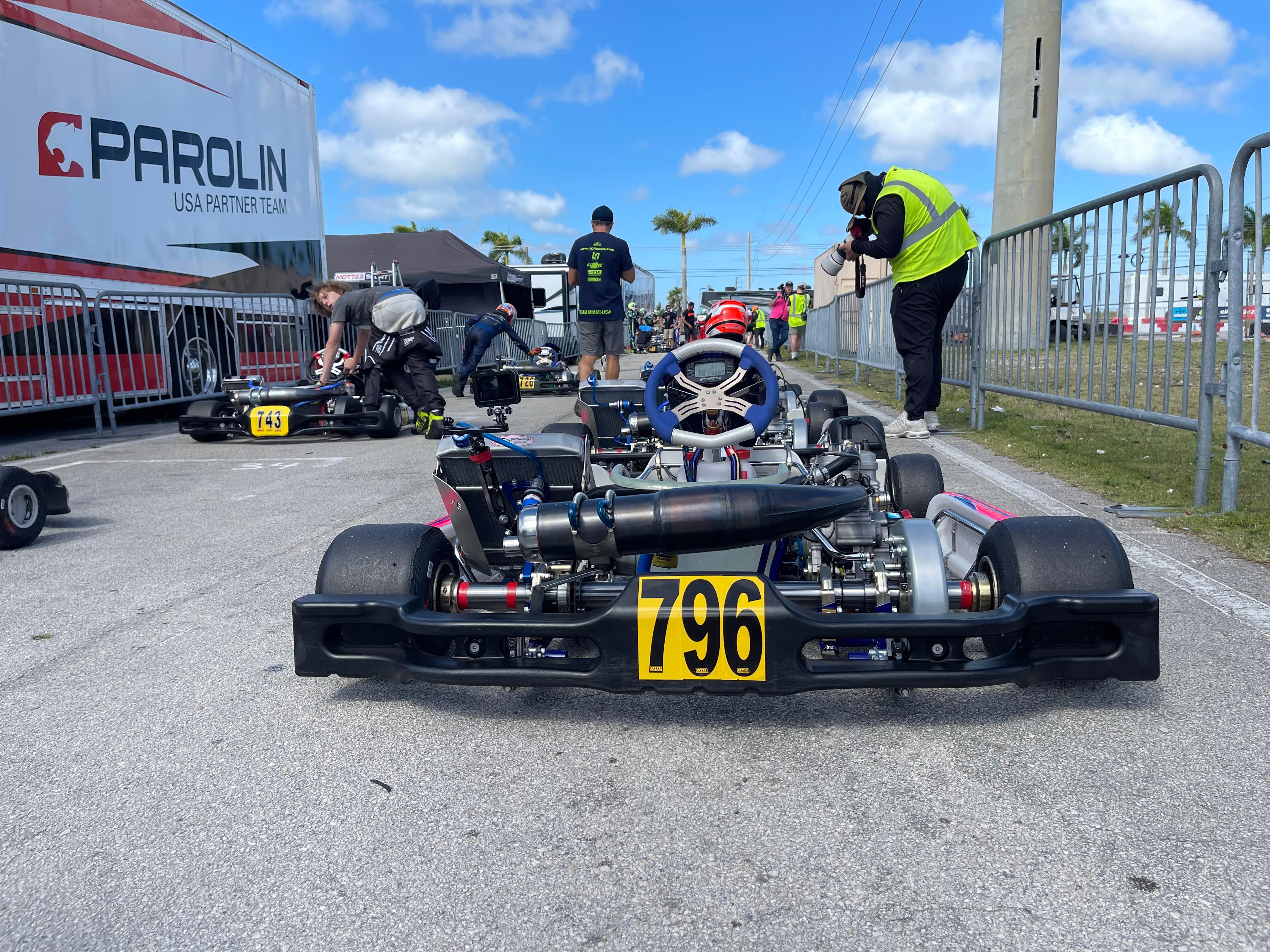 A large number of trackside walk-up registrations have pushed this weekend's entry count to 217
(Photo: EKN)
EKN's Paddock Insider is part of our Trackside coverage, bringing you notes, updates and breaking news as it happens. The article will feature notes from trackside at the final rounds of the 2023 Superkarts! USA Winter Series on February 10-12 at AMR Homestead-Miami Motorplex. This is insider info will not be seen anywhere else. Please feel free to comment and discuss our coverage and today's action in the EKN Global Members Discussion area below.
Solid Walk-up Numbers
In our OutLap preview podcast, we were working with a pre-registration spreadsheet that showed 190 entries for this event. We expected to see a few walk-up registrations and we'd already got a number of comfirmations after we sent out messages. However, once we got set-up trackside, SKUSA let us know that they received an impressive 27 walk-up entries to push the total to 217. A few of those entries came in KA100 Master, pushing the class to 15 drivers.
Turney Running DAP Colors in Florida
Factory Kart Republic driver Joe Turney is running the DAP colors this weekend. The British driver leads the X30 Senior points coming into the weekend following his strong US debut in January, one that included a win on Saturday and a fifth on Sunday. Turney drove the Kart Republic colors and brand to the top of the box in Round 1, so the team elected to switch the KR's alternate brand for this weekend. DAP is a legendary brand that was recently revived and is being produced by KR, as is the Alonso Kart.
Nash Motorsportz Focused on Energy Chassis for Cadet Program
Nash Motorsportz is one of the sport's primary national teams, running both East Coast and West Coast programs through the winter months. We spoke with team owner Seth Nash today and he's still stoked with the success that the team had at the Challenge of the Americas in Tucson last weekend. Nash has a smaller squad here in Homestead, including a pair of Cadet drivers on the Energy Storm chassis. Nash told us that he's fully-committed to the Energy Cadet program, which he'll put all of his Micro and Mini drivers on. With his full-size chassis, they are extremely pleased with the OTK product line, and they utilize the EOS brand, although he does expect to have a number of factory Energy drivers under the tent this summer, including SuperNationals KA100 Senior winner Tomass Stolcermanis.
Rolison Entered for KA100 Master
Among the 27 walk-ups is a new contender of the race win in KA100 Master. Rolison Performance Group owner Mike Rolison has donned his race suit for the weekend, jumping into the growing support for the air-cooled single-speed Master class, which was a highlight of the 2022 SKUSA SuperNationals last December. Part of Rolison's motivation is to run with his RPG team driver Mario Barrios, who is also entered this weekend, but he also just loves getting out every so often to stay sharp. As part of RPG's driver development program, Rolison regularly hits the track with his racers to push them, working on their racecraft.
Industry Paddock Rumor – Florida Team / New International Chassis Brand?
We spoke with a couple of individuals in the paddock today after hearing a rumor that a well-known South Florida race team would be making the switch to a major international chassis very shortly. Keep an eye on EKN next week for breaking news.