Three Wins, Five Podiums, and Two Rotax Grand Finals Tickets for BirelART
Father and son duo set for a trip to Dubai in December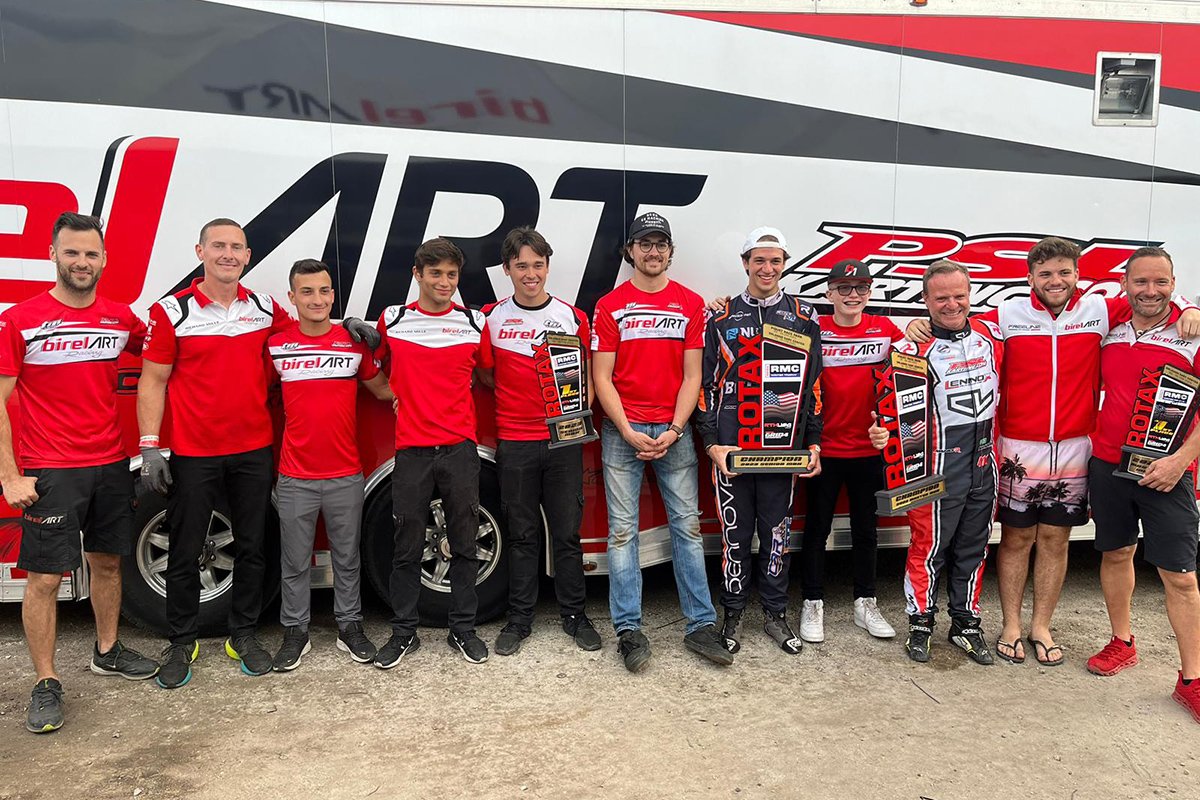 It was another winning weekend for BirelART North America at the final event of the 2023 Rotax Winter Trophy as the team earned three victories, five podium results, and two invitations to the Rotax Grand Finals later this year in Dubai. Leading the way with a pair of race wins was Rubens Barrichello in the Rotax Masters class while son Eduardo Barrichello earned a victory on Sunday to steal the championship and accompanying Rotax Grand Finals ticket.
With the two-weekend, four-event series ending at the Orlando Kart Center this past weekend, it was former Formula One driver and NTT INDYCAR Series pilot Rubens Barrichello who earned a pair of victories. Dominating the series and adding two additional wins in Orlando, Barrichello earned his trip to Dubai and the Rotax Grand Finals in December. Like father like son, Barrichello will be joined in Dubai by his son Eduardo Barrichello who managed to grab top honors in the Rotax Senior category. After finishing on the podium on Saturday with a third-place result, Eduardo drove to the win on Sunday. Needing luck to punch his ticket to the Rotax Grand Finals, Eduardo received just that and will fight for supremacy in Dubai. Fernando Barrichello had some issues on Saturday but returned Sunday to fight his way through the talented field of Senior drivers to put a pair of Barrichellos in the top-ten with a seventh-place finish. Fellow Senior driver Timothy Pernod showed speed in his BirelART, driving to third and sixth place results but was a victim of on track penalties that classified him in tenth and fourteenth in the results. Showing their pace on new Mojo tires, Barrichello and Pernod qualified first and third on Saturday and improved their performance on Sunday claiming the top-two positions and complete front row for the heats.
In the Rotax Mini Max class, Alexis Baillargeon looked poised for a podium result running second until the very final lap on Saturday, only failing to reach the checkered flag due to contact. Returning to the track Sunday, Baillargeon fought for redemption and secured a fifth-place finish. The Micro Max class saw Olivier Chassé cross the line fifth on Saturday and 11th on Sunday while Mathis Lacroix had a troublesome weekend and failed to finish both main events but will be back to fight again. Thomas Pelletier overcame a DNF on Saturday to score a top-ten result Sunday.
"Congrats to the Barrichello family on a terrific Rotax Winter trophy program," expressed Kevin King. "They fought tooth and nail to be at the front of the field and accomplished their goals. We had several other BirelART North American drivers who were in contention and while they showed speed, many did not have the luck they deserved. It was great to have a lot of our drivers at the front of the field, and we will look to do it again in two more events this month."
King continued, "There are few major points that presented themselves this weekend. First off, our in-house Rotax engine program is firing on all cylinders claiming several race wins, podium results, and championships at the Rotax Winter Trophy. We look forward to expanding this program more in the future. Also, a huge shoutout to Timothy Pernod during his first event south of the border in which he proved to have the speed to compete with some of North America's top drivers. He has a very bright future, and we can't wait to be a part of it."
Next up for the BirelART North America contingent will be a return trip to the AMR Motorplex for rounds three and four of the SKUSA Winter Series.
For more information to become part of the BirelART, Ricciardo, Charles Leclerc or TM Racing dealer networks or information on how to join the PSL Karting / BirelART North America Race Team for the 2023 season, please contact Raphael@PSLKarting.com.