Bogdan Cosma Cristofor Gets Accustomed to the Podium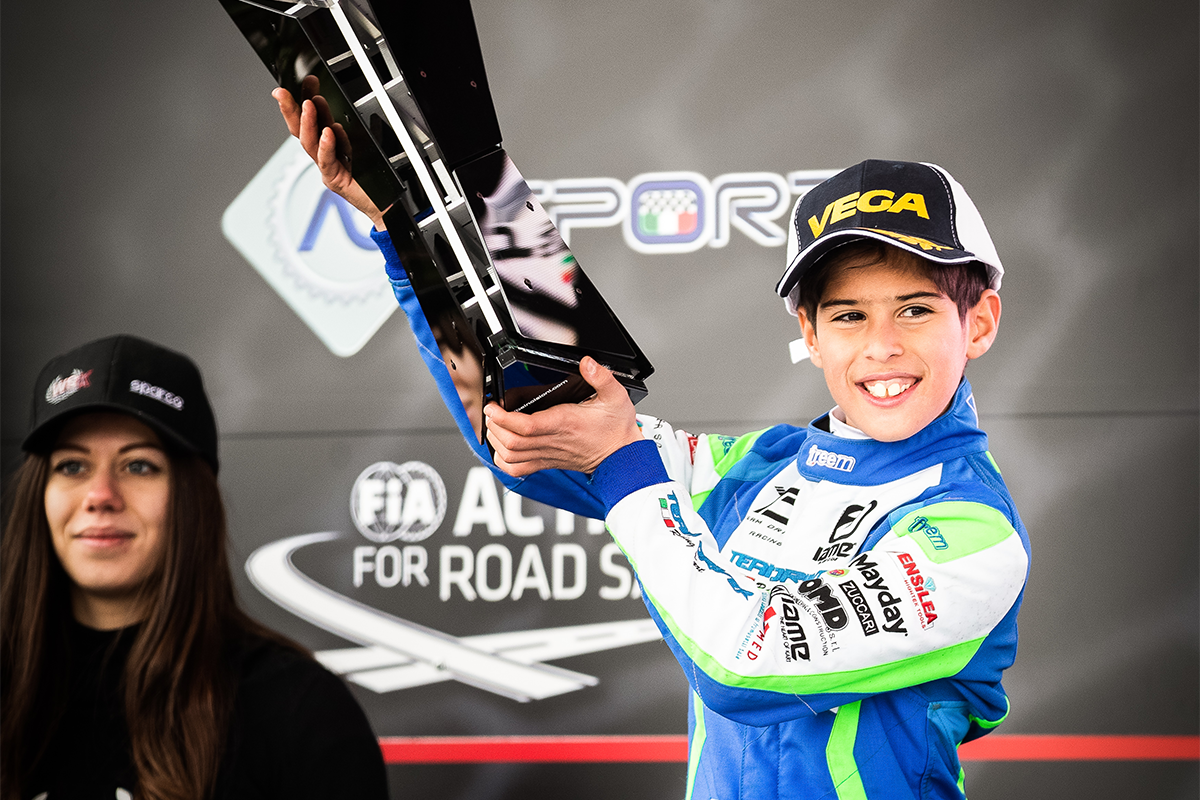 With the launch of the WSK Super Master Series, organised over four meetings, the season has really begun for Bogdan Cosma Cristofor, who is competing in his last season of karting in the international Mini category. As ambitious as he is talented, the young Romanian hopeful continues his rise to power in 2023. Ranked 3rd in the previous race, Bogdan was once again on the podium on the Italian circuit of Lonato. The Driver Racing Kart driver proved to be an excellent finisher, as he climbed back to 2nd place in the Final after a thrilling finish.
Just a week after the WSK Champions Cup, which saw Bogdan Cosma Cristofor finish in 3rd position, the Romanian flag flew again over the podium of the South Garda Karting, at the highest level of karting in the category for young drivers aged 8 to 12. Although he is still only 11 years old, Bogdan asserts himself at each race as one of the top representatives of his country. Cosma Cristofor: definitely a name to remember!
A high intensity Final
In Lonato, the event was difficult to manage, with strong international competition from 74 outstanding drivers! But Bogdan Cosma Cristofor spared no effort, working constantly with his team and his coach, Dragos Gulie, to improve both his driving and his equipment. "In Timed Practice it was important to get a good position, which I did by setting the 8th fastest time. If I had been a tenth faster, I could have been 2nd,"Bogdan said.
After two 2nd and one 3rd place in the Qualifying heat's in his KR-IAME kart, he confirmed his competitiveness in the Prefinal and ended up 5th on the starting grid for the Final. "As long as I'm not 1st, my aim is to work as hard as I can to achieve my goal, which is to win. Throughout the Final, I kept pushing to catch up with the leaders and I managed to make some very important passes at the end of the race to secure my place on the second step of the podium. I had to defend my position in the last corners, it was intense and exciting."
For the young Romanian driver, the WSK Super Master Series will continue in the next few months in Franciacorta near Brescia, in Sarno near Naples and in Cremona, without forgetting school work with the International School in Bucharest.