Great Challenges for the Win at the Opening Round of the WSK Super Master Series in Lonato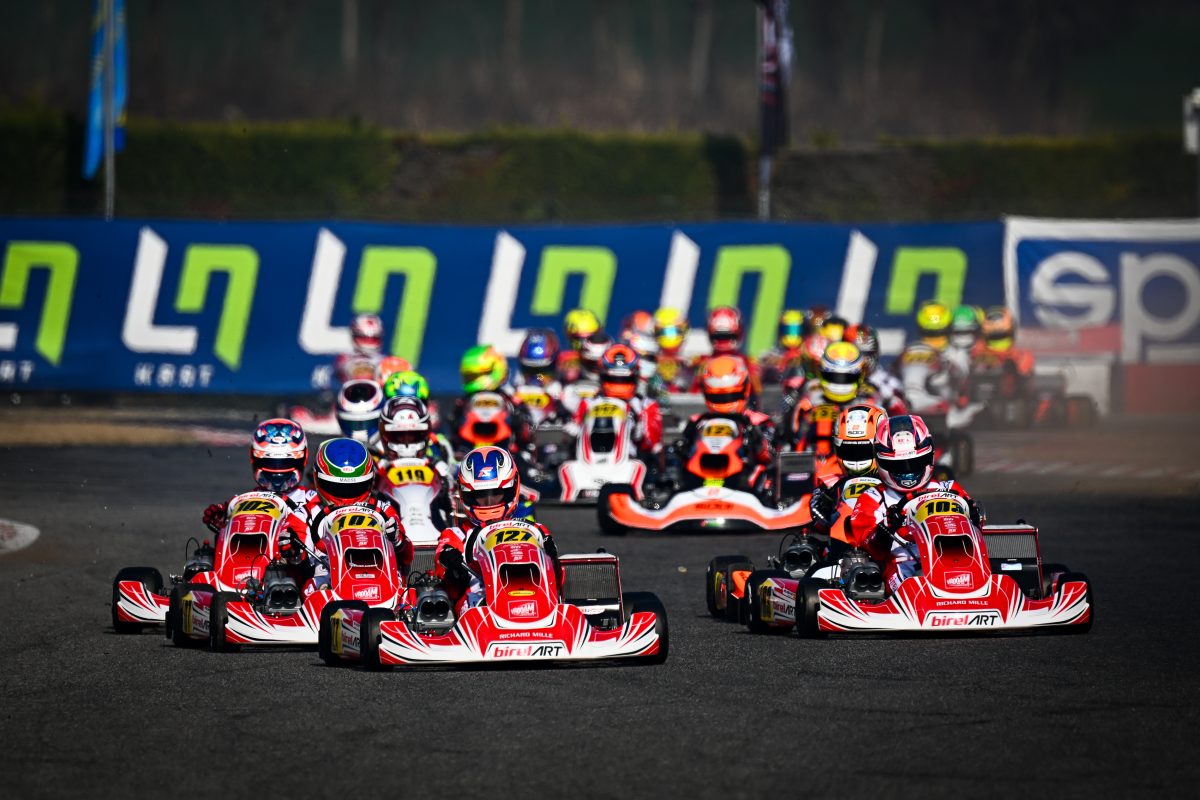 (Photo: Sportinphoto)
The opening round of the WSK Super Master Series is currently underway at the South Garda Karting in Lonato. The championship is organized by WSK Promotion and during the first two days, qualifying heats were held to select the main competitors from the 334 drivers from 51 countries participating in this first round.
This opening event of the WSK Super Master Series turned out to be a great competitive and technical challenge, with many candidates ready to add to the long record of champions that since 2010 includes Antonio Giovinazzi, Max Verstappen (winner in 2012 and 2013), Dennis Hauger (2015), Gabriele Minì (2017 and 2018), Andrea Kimi Antonelli (2019), and many other international competitors.
Between Friday and Saturday, 43 heats have been run to qualify for the final phase on Sunday, February 5th, with the Prefinals and Finals at 10:10 AM in live streaming from the websites WSK.com, Motorsport.tv and YouTube.com at the addresses:
https://www.youtube.com/@WSKPROMOTION.
KZ2 – Everyone chasing Bertuca.
The challenge for victory in KZ2 is open to several contenders, all with great chances to triumph. The Italian Cristian Bertuca (Birel Art Racing/BirelArt-TM-Vega), who won the recent round of the WSK Champions Cup, came to the fore but his teammates, the Spanish driver Pedro Hiltbrand and Giuseppe Palomba, are also aiming for victory, along with champions like the Frenchman Emilien Denner (Sodikart/Sodi-TM) who secured two wins in the heats, and another French driver, Jeremy Iglesias (CRG Racing Team/CRG-TM). Some other BirelArt drivers put in strong performances too, like the Romanian Daniel Vasile, who took the pole position, and the Italian Moritz Ebner, who won the last heat.
Penalties after the heats: 1. Bertuca pen. 5; 2. Denner 8; 3. Hiltbrand 17; 4. Palomba 18; 5. Iglesias 19; 6. Vasile 26; 7. Trefilov 29; 8. Slater 30.
OK – The very short classification is led by Walther.
The Italian Luigi Coluccio (Tony Kart Racing Team/Tony Kart-Vortex-LeCont) was having a solid run, setting the pole position and winning a heat, but a retirement heavily penalized him in the end. Emerging in a very short classification is the Dane David Walther (Koski Motorsport/Tony Kart-Vortex) with two wins, along with the Pole Gustav Wisnieswki (Forza Racing/Exprit-TM) and the Latvian Tomass Stolcermanis (Energy Corse/Energy-TM). The Brazilian Gabriel Gomez, the Italian Simone Bianco (CRG Racing Team/CRG-Iame), and the German Maxim Rehm (Ricky Flynn Motorsport/LN-Vortex) with one win also put in noteworthy performances.
Penalties after the heats: 1. Walther pen. 13; 2. Wisnieswki 18; 3. Stolcermanis 20; 4. Gomez 25; 5. Przyrowski 28; 6. Rehm 28; 7. Egozi 29; 8. Molnar 32.
OKJ – Lehtimaki takes four wins.
n OK-Junior, the Finnish driver Sebastian Lehtimaki (Koski Motorsport/Tony Kart-Vortex-Vega) stood out with 4 wins, the Ukrainian Oleksandr Bondarev (KR Motorsport/KR-Iame) secured 3 wins, while the Swede Elliot Kaczynski (Ward Racing/Tony Kart-Vortex) and the Spanish driver Christian Costoya (Parolin Motorsport/Parolin-TM) 2 wins. The pole setter, Dries Van Langendonck (Energy Corse/Energy-TM), lost some positions instead.
Penalties after the heats: 1. Lehtimaki pen. 5; 2. Kaczynski 15; 3. Bondarev 25; 4. Costoya 25; 5. Van Langendonck 36; 6. Sala 41; 7. Fardin 42; 8. Aksoy 48.
MINI GR.3 – A continuous challenge between Hoogendoorn and Zulfikari.
The challenge in MINI Gr.3 is extremely open in constantly renewing comparison among the main interpreters. The Turkish Iskender Zulfikari (BabyRace/Parolin-Iame-Vega) with his pole position and 3 wins has been matched by the Dutch Dean Hoogendoorn (Kidix/KR-Iame) with a full haul of 4 wins. Ilia Berezkin (Team Driver/KR-Iame) got 2 wins but also a retirement that forced him a few positions back.
Penalties after the heats: 1. Hoogendoorn pen. 0; 2. Zulfikari 8; 3. Lopez 22; 4. Ivannikov 30; 5. Cosma Cristofor 32; 6. Shen 34; 7. Arias Chavarri 35; 8. Walz 38.
MINI GR.3 UNDER 10 – Truchot in the lead, Legenkyi chases him.
The main protagonist of the Under 10 (ages 8 to 10) category was the French racer Alessandro Truchot (Parolin Motorsport/Parolin-TM-Vega), who took pole position and two victories. The Ukrainian Oleksandr Legenkyi (Team Driver/KR-Iame) and his fellow countryman Nikita Botte (CRG Racing Team/CRG-TM) had a solid weekend so far, with the latter making a comeback after qualifying.
Penalties after the heats: 1. Truchot pen. 8; 2. Legenkyi 13; 3. Venant 26; 4. Botte 27; 5. Stalmach 28; 6. Orlando 29; 7. Kutskov 30; 8. Eskandari 31.
The program in Lonato:
Sunday, February 5: Prefinals from 10:10, Final OKJ at 13:50, Final MINI U10 at 14:20, Final MINI Gr.3 at 14:50, Final KZ2 at 15:20 and  Final OK at 15:50.
The Live Streaming feed will be available from:
https://www.youtube.com/@WSKPROMOTION.
Results: www.wskarting.it/index.asp
The calendar of WSK Super Master Series:
1st Rd – 05/02/2023 LONATO / MINI – OKJ – OK – KZ2
2nd Rd – 19/02/2023 FRANCIACORTA / MINI – OKJ – OK – KZ2
3rd Rd – 05/03/2023 SARNO / MINI – OKJ – OK – KZ2
4th Rd – 30/04/2023 CREMONA / MINI – OKJ – OK – KZ2
WSK Promotion
Press Office
press@wsk.it