Two Wins and Four Podiums for BirelART North America at Rotax Winter Trophy
Barrichellos win and podium at Piquet Sports and Entertainment Park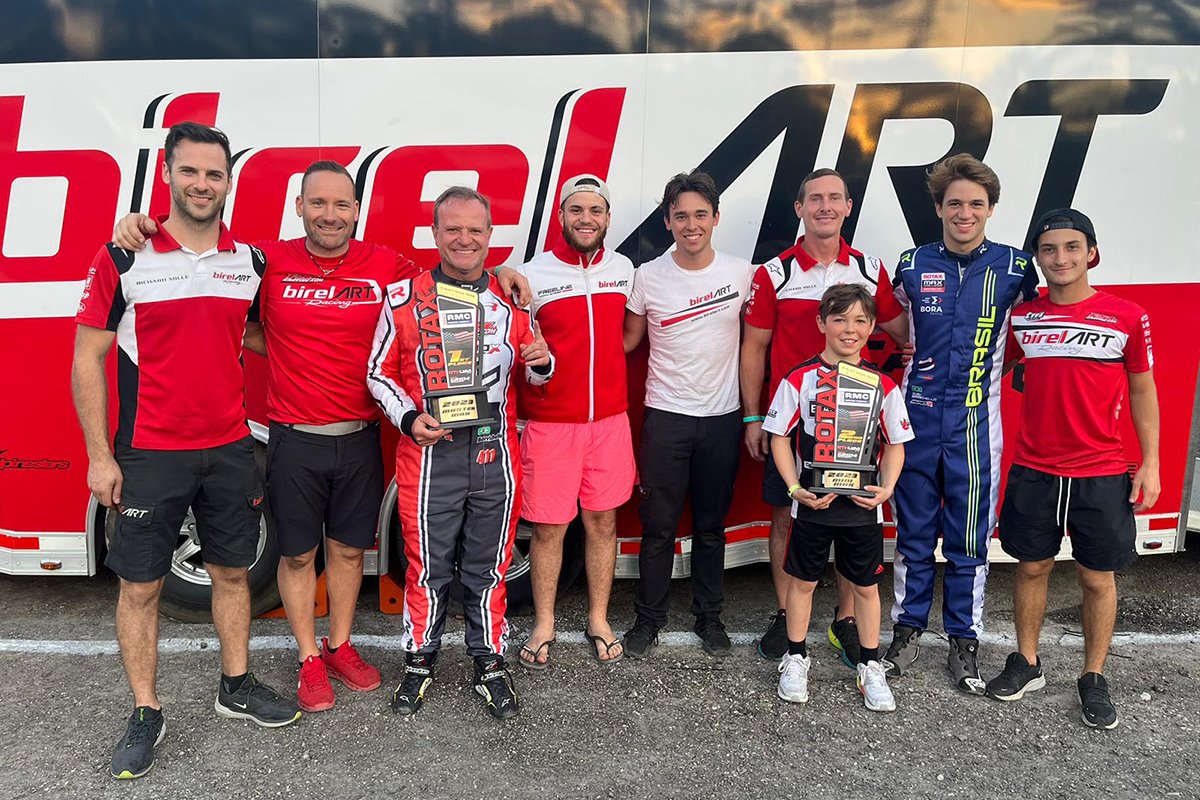 Continuing where they left off both the Superkarts! USA (SKUSA) Winter Series and ROK Cup USA Florida Winter Tour, BirelART North America claimed additional wins and podiums this past weekend at the Rotax Winter Trophy. Taking place at the Piquet Sports and Entertainment Park in Loxahatchee, Florida, the elite-level program earned two more wins and four podium results and now shifts its focus to upcoming February events.
"It was a great weekend for us just outside of West Palm Beach," explained Dominic Labrecque. "It was our first time at the Piquet facility, and we are looking forward to competing there again in a few weeks at the Florida Winter Tour. Congrats to Rubens Barrichello for taking home two wins this past weekend and a huge thank you to all our dealer teams, drivers, and hardworking crew."
With round one of the Rotax Winter Trophy taking place on Saturday, Barrichello, the former Formula One star and INDYCAR Series driver earned BirelART North America's first win of the weekend in the Rotax Master class. Also, competing in the more challenging Senior category, Eduardo Barrichello finished second on Saturday as Timothe Pernod put two BirelART North America drivers in the top-ten crossing the line in seventh.
In the Mini Max ranks, it was Alexis Baillargeon who put the BirelART North America program on the podium with a second-place result while Louis-Thomas Pelletier earned a top-ten finish coming home ninth. In the youngest class on the weekend, Micro Max, Mathis Lacroix scored himself a P5 result as he looked to improve on that finish the very next day.
Returning to the track Sunday, the Barrichellos would assume their positions near the pointy end of the field with Rubens once again winning in Rotax Master and Eduardo standing on the second step of the podium in Senior. Pernod added his second top-ten finish in as many days with a solid drive to eighth on the results sheets. Baillargeon added to his P2 podium result Saturday to earn a top-five finish Sunday in Mini Max while Louis-Thomas Pelletier fell outside the top-ten for the first time all weekend to finish 12th while Micro Max driver Mathis Lacroix added an eighth-place result.
Next up for the BirelART North America contingent will be a return trip to the AMR Motorplex for rounds three and four of the SKUSA Winter Series.
For more information to become part of the BirelART, Ricciardo, Charles Leclerc or TM Racing dealer networks or information on how to join the PSL Karting / BirelART North America Race Team for the 2023 season, please contact Raphael@PSLKarting.com .