OnTrack: Coyote Zenith
American-made chassis carries EKN Publisher to Legends class podium at CKNA Grand Nationals 6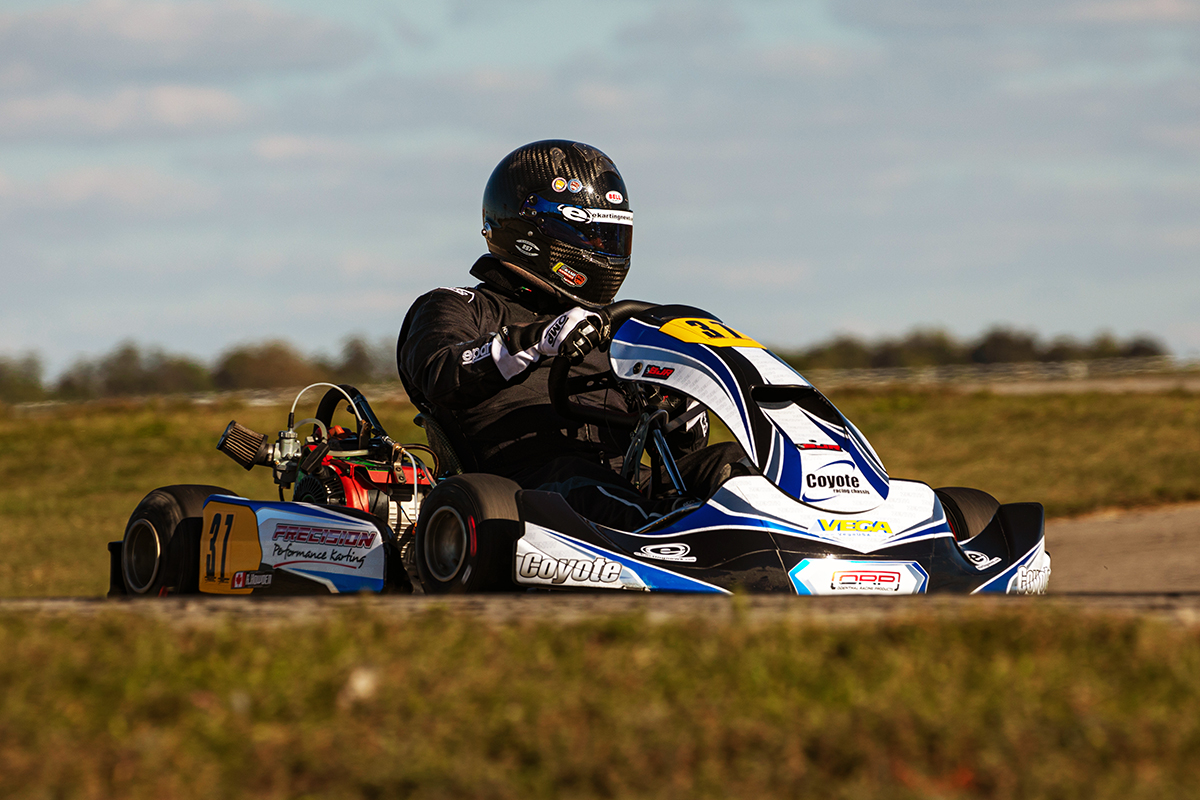 In late August of last year, I realized that time was ticking away for me to confirm a team to race with at the 2022 Cup Karts North America Grand Nationals at New Castle Motorsports Park, one of my favorite events of the year. Disappointingly, I'd missed the event in 2020 and 2021 due to COVID-forced re-scheduling of events on the Road to Indy, and I was thrilled when last year's weekend was conflict-free and open for a return to action. I wanted to work with a new team and run on a chassis I hadn't driven yet. In recent Briggs 206 events, I'd run a Birel, a Comet Eagle, and of course, multiple starts in the Margay Ignite program. It was time for a new brand experience. In the world of four-cycle karting, Coyote is a legendary and historic name and the manufacturer's recent relationship with multi-time USPKS champion Brandon Jarsocrak caught my attention. I fired off a quick text message to Brandon, and my program quickly took shape.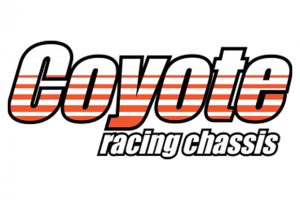 One of the intriguing developments in four-cycle racing over the past couple of years has been the pairing of Jarsocrak and Florida kart shop owner John Seglem of Precision Performance Karting. The two were connected at 2020 WKA Daytona KartWeek Manufacturers Cup Series event, and the conversations led to Jarsocrak driving for Seglem's recently-launched PPK shop at the 2021 CKNA Spring Nationals at Charlotte Motor Speedway. The duo found immediate success, and Jarsocrak's massive experience and skill set opened the door to an R&D program to evolve Coyote's current baseline, which was already successful. Brandon worked closely with Jim and Mark Lipari, the owners of Coyote Motorsports, as well as factory driver Chris Carroll, to develop the new 2022 Zenith chassis – the result of significant testing. There were also several 'non-Coyote' drivers who jumped into the kart to provide their feedback, including James Overbeck, Colin Warren, Mick Gabriel, Pauly Massimino and Hunter Fox, all of whom scored podium finishes as the kart was being developed, providing a direction for where the kart needed to be.
Manufactured in upstate New York for the last 40+ years, Coyote has always focused on four-cycle and low-horsepower two-cycle racing, and its resume of championships is stacked both north and south of the US-Canada border. I can state personally that the brand will be heading into the 2023 racing season armed with a seriously-quick chassis.
When I arrived at New Castle Motorsports Park on Wednesday afternoon of the CKNA Grand Nationals, I got my bearings and headed to the BJR / PPK tent, the partnership of Brandon Jarsocrak Racing and Precision Performance Karting, a powerhouse duo to be certain. This is where I first met my new 2022 Coyote Zenith as its build was being completed. Brandon walked me through the kart and its components. The kart has 1.25" cross members and 1.125" longitudinal rails, 25mm spindles and a 50mm axle. My Zenith package uses an MCP brake system and Greyhound seat, featuring the KG 507 nose and 508 sidepods.
My mechanic for the weekend was Terrin Odom, an accomplished karter from Charlotte, NC. Terrin's genuine personality and work ethic made him a joy to work with, and I'd have him on my wrenches any time. Throughout the weekend, he kept me calm and focused. Victor Peters of VP Racing Engines had handled the build on my Briggs 206 powerplant, which is part of Seglem's pool of engines, and he checked in after every session to make sure all was running at 100%. Outright power was never an issue.
Heading into the event, my plan was to focus on getting up to speed slowly, understanding how the track would change over the four days of the race. The only race that mattered was the main event on Sunday, so that was the end goal. We ran four practice sessions on Thursday, and I used each run to familiarize myself with the track once again, and to get a feel for the chassis. The weather was good all week, though quite cool in the morning. Our practice day went well, as I worked to come up to speed. Terrin had it pretty easy, he'll admit, with two hours between sessions and me not asking for any adjustments. The speed was all about me and my driving, and not the kart itself.
CKNA provides a short qualifying session that gets lined up by the times from the final official practice session, offering just four green flag laps. I was 15th out of the 37 drivers in the final practice on Friday and my run was fairly clean. I kept picking up the pace and was happy with my progression. Qualifying took place on Friday afternoon, and if there is one thing you need to know, having a drafting partner is key. After rolling off the grid, I was lucky to have my long-time friend DJ Ortiz find my rear bumper early, and he was right with me, pushing me forward as we reeled in and passed a couple karts ahead of us. I ended up timing in 11th, which put me on the inside of the sixth row for the first heat.
CKNA ran three progressive heat races for the event, which rewards consistency. You start the next race where you finish the previous one. Sadly, this was not my strong point in these qualifiers. I started 11th in the first heat and made a couple moves to advance into sixth, avoiding a couple drivers who got caught in an incident as well, and was staring down a super strong start to the day until I made a major miscue in the left-hand Monza on the final lap. I hit the turn-in and apex better than I had all week and the resultant increase in exit speed caught me just a little off-guard, and I dropped a wheel slightly on the exit, which sent me around. It was a huge error, as once I got turned back around, I had fallen to 21st in the order. I was really upset with myself, and only had the solace that I was gaining the speed I'd need to run in the top-10.
Sitting on the grid for the second heat race, starting on the inside of row 11, I knew we had trouble as soon as I rolled on the throttle to leave the grid. The kart did not take off as expected, and I was in for a tough battle. We'd find out when I got back to the tent that we didn't have full throttle, so I never got to the limiter on the straightway. I got passed several times during the 10-lap race and had to hustle the kart big-time in the tighter sections of the track. We had the Coyote set-up so well, and I was improving my lines each outing, so I was able to hold the lions at bay. Attrition in front of me limited the damage, and even without full power, I moved forward to 18th at the checker.
I knew heading into the third heat race that I'd need a good one to drastically improve my starting position for Sunday. I got a great start and nabbed a couple spots during the first lap and then went to work passing karts to advance to 10th by the checker. I was able to show my pace, which gave me confidence heading into Sunday's main event. With the heat race results combined, I started the final from 14th on the grid.
CKNA does a great job with their show on Sunday, rolling all the karts out onto the short frontstraight at NCMP for driver introductions. The weather was perfect and I was ready to move forward. The opening few corners were hectic with a driver going around on the exit of turn 2, and I thankfully slid through cleanly and went to work, advancing to 12th on the first run to the back corner of the track. My Coyote Zenith felt good out of the gate, and it only got better as the race went on. I steadily picked off drivers, aided by my 'wingman', Dan Roche, the Director of Motorsports for Briggs & Stratton. It was so cool to have Dan racing with us all weekend and he was seriously quick. He also had my back for the first 3/4 of the race. Dan pushed me as my kart came in, and we made passes together, moving to the front. It didn't go quite as well for Dan as it did for me. On the penultimate lap, running eighth and ninth, we approached a pack of four karts running nose-to-tail coming into the right-hand Scoreboard hairpin. I looked to the inside for an opening and had to slow up, and Dan went to the outside, passing me and looking to the outside of the driver ahead of us. That driver made a slight jerk to the left on entry and they made 'right front to left rear' contact, sending Dan off-track. Thankfully, he got back on track and recovered to finish 11th, turning the sixth fastest lap of the race as we moved forward. Like said, it was awesome to have the manager of the Briggs Racing program going wheel to wheel with our community.
The last lap was wild as I watched the battle unfold in front of me, trying to plan my strategy. Contact between two karts back in the 'cell tower' corner allowed me and the driver ahead to slip through for sixth and seventh. I took a wide line entering turn 11 and got a better run into turn 12, making the move to the inside to take over sixth. From there, I tried to close on fifth, but it wasn't going to happen. I crossed the line in sixth and was promoted to fifth after officials made a ruling on the last lap contact between the two drivers ahead of us.  After a long up-and-down weekend, I was super happy with the result and pleased to deliver for John, Brandon, Terrin, Victor, and Eddie Jarsocrak, who was in my corner all weekend.
From the minute I walked into the PPK tent, I knew I'd made a great choice for last year's CKNA Grand Nationals. The atmosphere is easy and relaxed, with the underlying expectations for success. My teammates included four-cycle rock stars like Chris Carroll and Sean Meier, so the focus was wins and podiums. I always say that 'culture is top-down', and John and Brandon set the tone for winning, and also for sarcasm. Check your thin skin at the door and come in and do your best. I love an atmosphere like that. It's a dedication to winning, with a side order of fun and laughter. Brandon expects to win every time he climbs into the seat, and it was easy to see that John does this to win, plain and simple.
The Coyote Zenith was everything I hoped for. It was a dream to drive, especially as I began to utilize its potential as I fine-tuned my driving. The main event was my best run of the weekend, and that kart in the hands of a more experienced driver would have fought for the victory. John was fully on-board when I said I wanted to come back with PPK in 2023. There's no doubt we have unfinished business, even with the podium result. As Ryan Cassity and I have discussed since the race, I need to step up my game so that he has a Coyote wingman up front, as if he needs one.
The Zenith handled like a dream, both in the fast sweeping corners and the slower, more technical segments. Once I stopped turning in so early and pushed deeper to get the chassis to jack weight, it rotated extremely well and sprung off the apexes, carrying massive exit speed. As I began to fully leverage its potential, it was a rocket over the second half of the final. My late race pace is proof of its raw speed.
And now, I just want to get back to the track with this team. We're heading back to the CKNA GNs this year to try it again, but ideally I'll find a way to race with PPK at least once before the big one at New Castle. They have Arrive-and-Drive programs available for the CKNA SpringNationals at Charlotte in March and if I didn't have a conflict, I'd be there racing a PPK/BJR Coyote Zenith.