Anthony Martella Impresses in Speed Concepts Racing Debut
Pole position and heat race wins for Canadian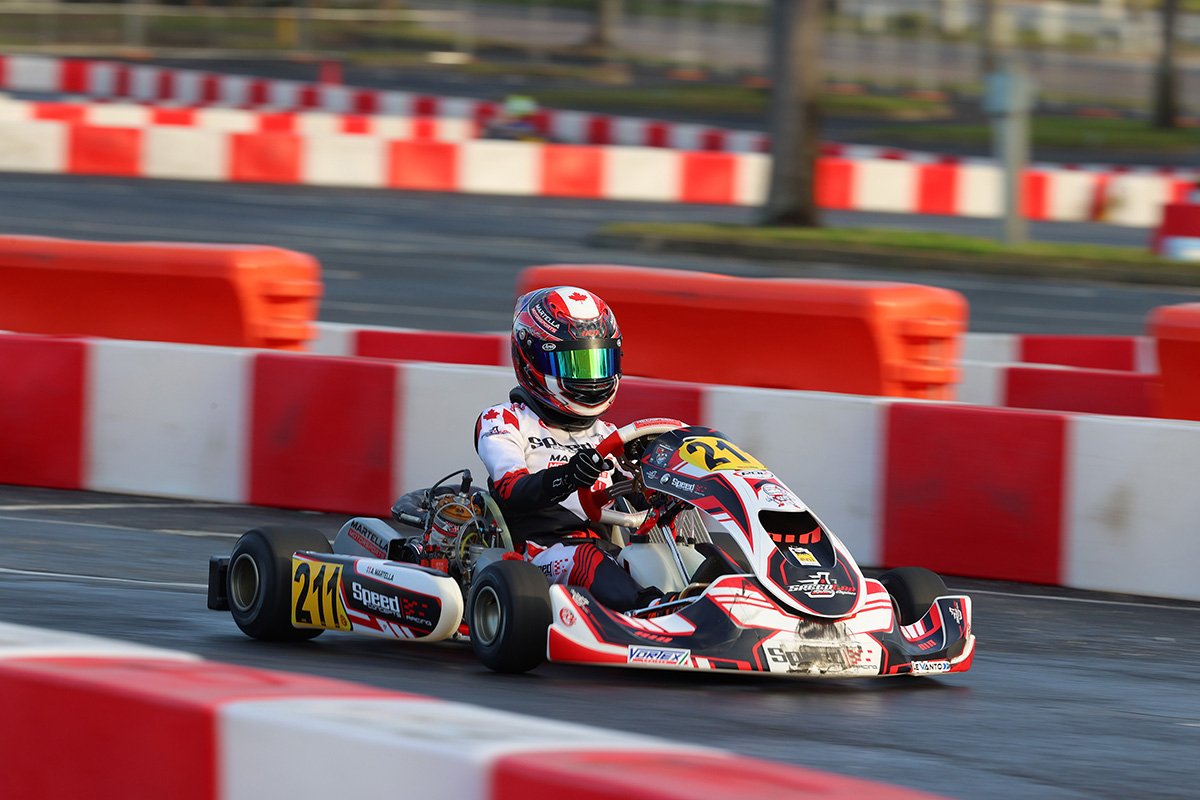 Anthony Martella turned heads at the opening round of the Florida Winter Tour
(Photo: Canadian Karting News)
With an up-and-down season in 2022 and a quick start to 2023, Anthony Martella was in mid-season form this past weekend at the ROK Cup USA Florida Winter Tour event at Tropicana Field. In his first race with Speed Concepts Racing, Martella took on a pair of junior classes and turned heads by showing the speed needed to run at the front of the field.
"It was a great first weekend with Speed Concepts Racing," expressed Martella. "The team welcomed us with open arms and the experience under the tent is second to none. It is a structured environment that I really enjoyed and am already looking forward to the next one."
Competing in the VLR Junior class, Martella lined up fourth for the prefinal following fourth, fourth and sixth place results in the three heat races. Saturday afternoon's prefinal saw Martella encounter some on track issues resulting in a penalty and an eventual classification in the ninth position. In the ROK Junior class, Martella scored the quickest time on Friday's qualifying session and started all three heat races from the inside of the front row. Winning heats one and three, the Speed Concepts Racing driver finished second in heat two earning the pole position for the prefinal. Scoring one of the fastest laps in the prefinal, Martella crossed the stripe second and shifted his focus to Sunday's main events.
Returning Sunday to a split schedule that saw the VLR Junior main event in the morning, and the ROK Junior final in the afternoon, Martella would suffer damage in the first final and be forced to retire. Starting on the inside of row five, contact from an over-anxious competitor yielded too much damage for the Redspeed Kart driver to continue and complete the full race distance. With his sights set on a good result in the afternoon, Martella led the ROK Junior main event before battling in the top-three for much of the race. Finishing fourth on track, a post-event start line penalty moved the Canadian to sixth on the result sheets, a result that was undeserving of his weekend performance.
Martella added, "I learned a ton. It is great to have the opportunity to race and compete with drivers who have much more experience that me. I think I did well but the speed and progress just makes me hungrier for more."
Looking forward to February, Anthony Martella will be back on track with Speed Concepts Racing at the second round of the Florida Winter Tour after completing the SKUSA Winter Series with Ryan Perry Motorsports.
Stay tuned for more information, news, photos, and results from the Anthony Martella racing program.
For more information on Anthony Martella and Martella Motorsports, please contact Tony Martella via email at Tony@SkilledLabourOfCanada.com or by phone to 647.564.0874.