Flying Solo: Tiffany Kelly Samples the Stars Championship Series
In karting, you're never really 'going at it alone'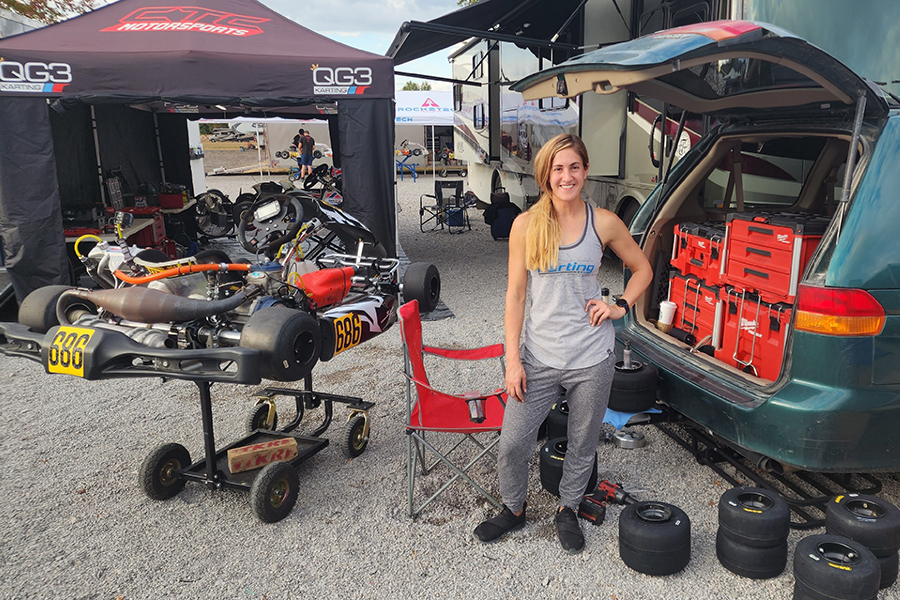 Tiffany Kelly took on the Stars Championship Series finale to continue her prep for SKUSA SuperNationals 25
As most people know, racing is not always sunshine and rainbows.  Besides the glorious moments of euphoria when standing on a makeshift podium, holding a priceless plastic trophy, spraying a cheap bottle of champagne, racing can be one of the most tasking endeavors anyone can undertake.  Yet, I have found that the grueling process of progression and becoming a better racer is almost as fulfilling as winning. I didn't have this epiphany until I decided to go to a shifter kart race all by myself and realized after that all the struggles I had experienced had turned into growth.
The SKUSA SuperNationals were over a month away and deep down I knew that I wasn't ready.  I needed some more seat time and needed to seize any opportunity I could get to practice in a kart. I found out that the Stars Championship Series was having their 'Clash at the Club' race at the Motorsports Country Club of Cincinnati (MCC) in a couple weeks, and I wanted to go. Unfortunately, my husband Justin was going to be in Indianapolis that same weekend, crewing for Skip Barber, so I figured it was out of the question. That is, until I talked to Joe and Brenna Ruch, fellow shifter competitor and his amazing wife, who were going, and they said I could pit with them if I wanted to go. I ran the idea by Justin, and he was hesitant at first, because if something went wrong, he wouldn't be there to help me.  But he also knew that I needed more seat time to build my confidence and I really wouldn't be all alone because the karting community is so helpful, and there is always someone willing to lend a hand.
So, we loaded up my kart and all the tools I would need in the back of our minivan, and I set off on my 12-hour journey to Cincinnati. I arrived the afternoon before practice to have time to set up my pit spot and get checked in. I was extremely nervous at first, but it went away quickly because everyone was so helpful.  While I was picking up tires and gas, AJ Noud, who I had raced with at SKUSA, was working at the event and offered to help me that weekend if I needed it.  While I was mounting tires, Jarrad Tracy, who was parked next to me, let me use his generator and air compressor, and offered a spot to store my kart at night under his tent. Also, Joe and Brenna brought out their camper that weekend and let me stay with them and their kids.  It was so nice to know that I wasn't truly alone, and it made the entire event less intimidating.
Then the challenges began.  We had four practice sessions on Friday before Qualifying and races on Saturday and Sunday.  Usually, I would feel like that that would be more than enough time to get things sorted out, but I always had Justin with me. I had never been to MCC before, so I spent the first session just figuring out the track and what gear I should be in. Also, because it was October, the temperature in the morning was about 40 degrees, but by the afternoon it would get up to the mid-60s, so I kept having to adjust my jetting to compensate. Lastly, I was running on a new chassis, a GFC, that I had only driven twice before I got there, and I was still figuring out where I should move my hubs and if I even had the right axle in.  Of course, I am not the expert on any of this, so I was just winging it and relying on the expertise of everyone around me. So, at the end of day, I decided to make a bunch of changes and hoped they were the right ones.
It was still chilly the next day for Qualifying and it felt like an ice-skating rink when we went on track. Of course, I spun, because I tend to do that, and by the time I finally got going again, my kart made a loud bang, and I heard a ton of scraping. I limped my kart back in and realized I had lost one of my motor mounts and I was dragging my engine along the ground.  Thank goodness one of my competitors, Brad Dandoff, had an extra one for me to use. I was also having issues with my temperature sensor and another one of my competitors, Morne Van Taak, had an extra one for me. So, I scrambled to change tires, fuel up, and fix my stuff before the first race started.
The next challenge I faced was push starting my IAME175 without killing it. Which I did unsuccessfully multiple times, the entire group had to take an extra warm up lap before gridding up for the race while they were waiting on me to get in line. To say I was embarrassed is an understatement and it didn't help that I was already nervous. After that race, I didn't want that to happen again, so I brought a strap and a block and pull started my kart on grid the rest of the weekend.
Another challenge I faced was learning to get around a competitor without wrecking them. Again, I was unsuccessful at this, and decided to race John Stapleton to the finish line, locked up my brakes and took us both for a ride off the track and into the grass.  The embarrassment was just piling on. Thankfully, he is one of the nicest guys ever and we hugged it out, which is why I really appreciate all of guys I was competing against.  Everyone was so respectful.  Mike Rivera, another competitor, and I had a little bump during one of the races, but instead of taking the position, he slowed down and gave me the position back. He didn't have to do that, but he is a very clean racer and said he would never take a position if he felt it wasn't gained the right way. That speaks volumes about the people I was racing, and he earned a lot of respect in my book that day.  Also, because he is a dealer for GFC, he was able to provide me with a couple brackets that broke on my kart, and I was able to keep racing.
In Sunday morning practice, I thought I was going to die. Ok, I am being a little dramatic, but it defiantly felt like I was going to crash hard. When I had made some jet changes the night before, I may have forgotten to tighten the tension on my throttle cable and a ton of it was flopping around under my pedal. I didn't realize this until I was given a push start to go on track and next thing I know, my kart is heading full throttle toward the gate because the cable was stuck wide open, and I couldn't stop. Thankfully my reflexes kicked in and I was able to clutch in and spin out before I hit the gate straight on. It was scary.
Finally, the last race came around and I was wanting to make some progress and see my lap times get better, but I needed someone to go over data with me.  Brian Chatfield, another competitor, was kind enough to pull my data and overlap it with his and show me some sections that I was losing time.  I was able to shave off almost an entire second in that last race, but it was short lived, because a wreck happened in front of me that I couldn't avoid, and I ended up bending my steering column and tie rod.  Instead of pulling in and quitting, I limped the kart along with my steering wheel facing one way and my tires facing another, because I had come too far and wanted to finish the race.
Overall, all the challenges I faced may have been a little overwhelming, but once I was able to fix them and keep persevering, it was extremely empowering.  I didn't want it to stop learning, so instead of driving straight home from MCC, I stayed in Indy for a couple days, AJ Noud helped me fix my kart, and I went to New Castle Motorsports Park to practice for an entire day on my own.  I even ran into Morne Van Taak there and he was able to help me figure out what brake pads I prefer on my kart.  The entire experience changed my perspective on karting and motivated me to keep learning because I was finally seeing results. Which is exactly what I needed before signing up for the biggest event of the year.
Next stop, SKUSA SuperNationals 25!