EKN's One to Watch: Lucas Palacio
Trinity Karting Group driver poised for championship contention in 2023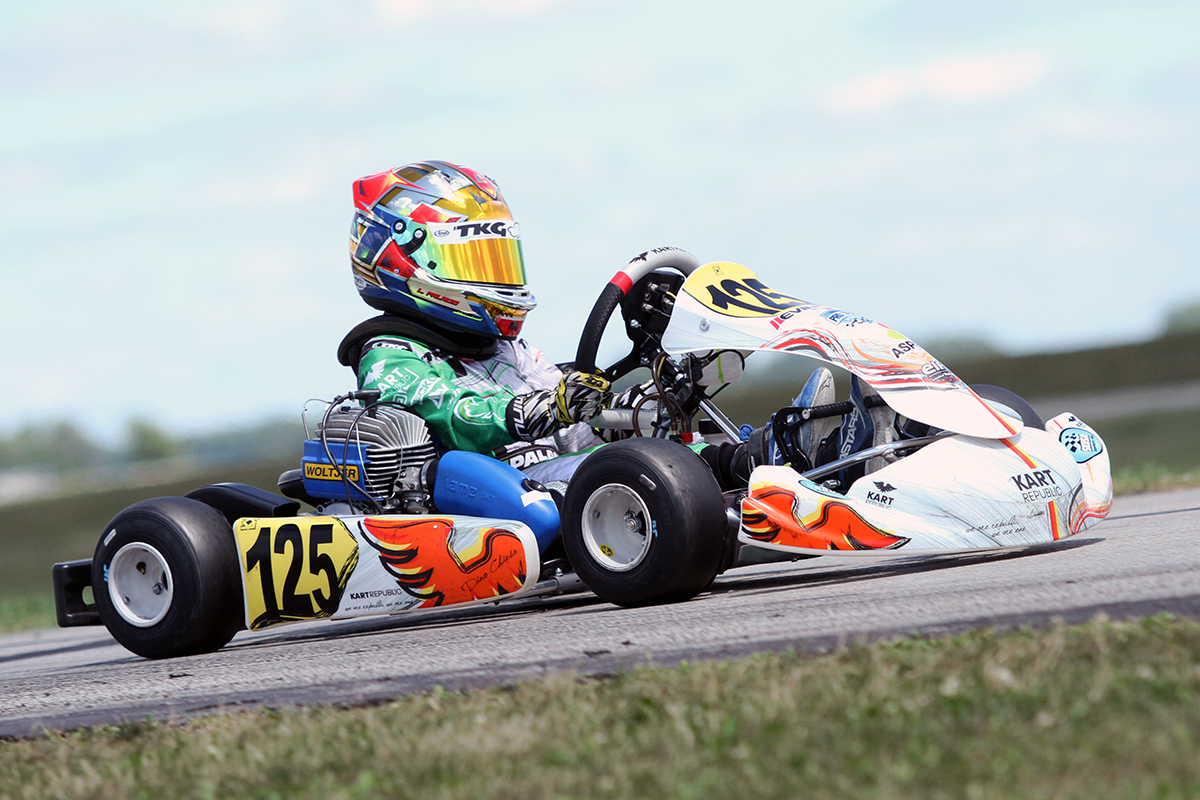 Lucas Palacio competing in the Mini Swift class at the SKUSA SummerNationals in 2022 (Photo: EKN)
On any given national event weekend, some of the best racing you'll see is in the Cadet categories. The racecraft is impressive, and race strategy is also often high-level, with the leaders working together to break away. One of the drivers we often saw in these lead packs in 2022 was Lucas Palacio. At just eight years of age, Lucas is definitely a driver to keep your eye on in American karting. The young Vienna, Virginia resident has been racing for four years and has quickly become one of the drivers to watch in the Cadet divisions at the national level. After a strong national level debut season in 2021 in the Micro Swift division, Lucas made the early jump to Mini Swift this year with the focus on gaining experience while gunning for top-10 results. His pace delivered much more than that, including finishing second on the SKUSA Pro Tour and fourth overall in the United States Pro Kart Series. Heading into 2023, he'll be one of the primary contenders for the Mini Swift championship titles.
Like many young racers, Lucas was introduced to karting by a parent who was a racer himself. Lucas' father Nick has been a racer all his life, having run F1600 and F2000 cars since in the mid-90s. As Nick tells the story, the start of Lucas' career and the end of his own occurred in 2018 while he was racing F2000 at the Pittsburgh International Race Complex. He and Lucas, who was four at the time, slipped over to the kart track and into the rental karts. This experience motivated Lucas, as losing to his dad what not something he particularly enjoyed. The competitive fire had been lit.
In 2019, they dove into the Kid Kart world, racing at the United Karting facility in Maryland and Sandy Hook Raceway, as well as events at New Castle Motorsports Park and GoPro Motorplex. Seat time was the focus and Lucas got a ton of it. The arrival of COVID-19 in 2020 changed everyone's schedules, but Lucas advanced to Micro Swift and raced extensively at GoPro, running their full club series. They also returned to the United Karting club program once the facility got rolling later in the summer.
With the 2021 season debuting with karting back to 100%, Nick challenged seven-year-old Lucas with multiple engine platforms. Not only did he win the Micro Swift championship in the GoPro Karting Challenge club series, but he also swept all four main events in the Rotax Trophy East series. Lucas made his national debut in 2021, running with Trinity Karting Group on a Kart Republic, coached by the well-respected champion Martin Pierce. In what was supposed to be a year of gaining experience, Palacio was quickly in the hunt, finishing second on the SKUSA Pro Tour at the Utah Motorsports Campus before winning in the SummerNationals at New Castle. He also scored podium finishes in USPKS and WKA Manufacturers Cup action.
"In the 2.5 years I have been working with Lucas, his rate of development from the six-year-old I first met to eight-year-old he is now is exceptional," Pierce told EKN "He is constantly seeking to improve, always asking questions, always giving feedback, he is brave on track and is naturally fast. I can only see him getting better the stronger and older he gets".
Palacio battled with many drivers throughout 2021's Micro Swift season, specifically Keelan Harvick, who went on to win both the SKUSA and USPKS crowns that year. When Harvick moved up to Mini in 2022, Palacio had a choice to stay in Micro and likely dominate, or level up with Harvick and dive into the deep end. Nick chose to keep his son being challenged, and Mini was the call.
As stated earlier, Palacio is part of the Trinity Karting Group, and he's certainly excelled in the atmosphere and culture develop by Team Principal Shawn Bayliff.
"When I was first introduced to Lucas running in Micro Swift at the 24th SuperNats in 2021, and saw his size and age, then learned they were going to campaign the USPKS and SKUSA ProTour in Mini, I made my case to Nick that he should keep his boy in Micro," Bayliff told EKN. "Boy, I'm glad they didn't take my advice as the kid totally proved me wrong. Watching him at the first race they did with us in Daytona (WKA Kartweek) was impressive. The attention to data review and his video is way beyond a good share of my senior drivers, from a seven-year-old, and the rest of the season only got better. I am very anxious for his sophomore season in Mini as he will be the one to beat. Not to mention his professionalism with his attire and presentation, as everyone knows that is as important to me as the on-track performance. We will be seeing plenty of Lucas on top of the charts for years to come and I'm really glad to have them part of the TKG family on the journey up the racing ladder."
For 2023, the plan is to run the SKUSA Winter Series and Pro Tour, and the United States Pro Kart Series in the Mini Swift category. Nick is also looking to take Lucas overseas to do some racing with the Kart Republic factory team. Lucas turns nine on January 1 so he's still four years away from moving into a car racing program, such as the first step of the USF Pro Championships – USF Juniors. That's the stated goal, but there is so much racing and learning still to be done. As we said, keep an eye out for Lucas Palacio. He's going to be one to watch over the next five years.