Midpack Mary: Tiffany Kelly Takes on SKUSA Pro Tour
Our favorite Master Shifter driver tackles the national circuit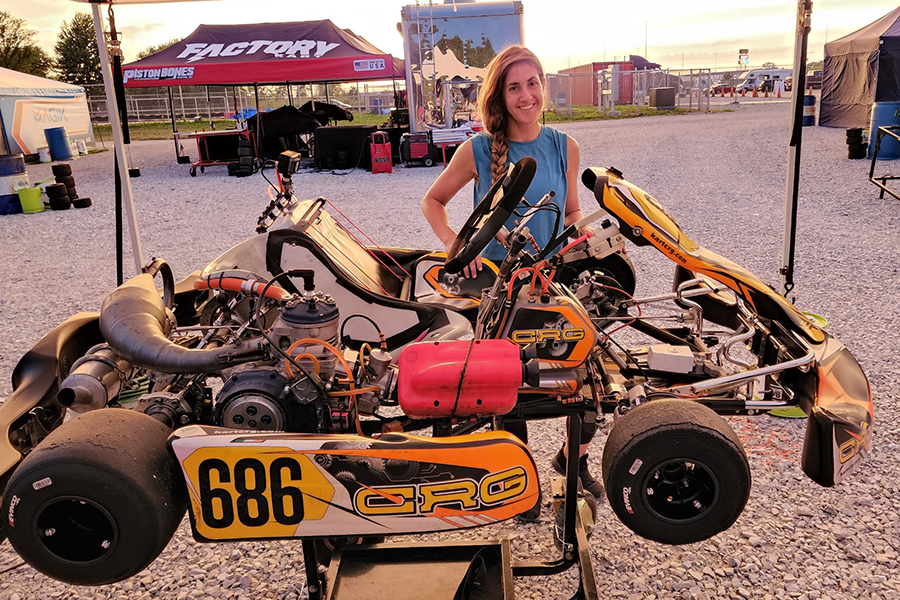 Tiffany Kelly made her first start at the SKUSA Pro Tour during the 2022 SummerNationals
The new column series from new karter Tiffany Kelly continues with the third installment. The Leveling Up was followed by Making History. Now she details her first start at the Superkarts! USA Pro Tour by competing at the SummerNationals.
I attended my very first SKUSA Pro Tour race this year and I experienced the most conflicting emotions ever. I was simultaneously wiping tears off face from being low-spirted, while also being overwhelmed with pride and smiling ear-to-ear. I am sure the people around me at that moment didn't know if they should give me a hug or a high-five, but I will explain how I got to that moment after I provide some background.
Through my entire life, I have been extremely competitive. No matter what it is, I only want to compete against the best of the best and see where I stack up. If I am not in the top percentile, I usually feel like I am failing and will put every ounce of energy to make my way to the top.  Unfortunately, racing shifter karts for the first time this year, the feeling of failing was becoming a familiar friend whose company I didn't enjoy.
To avoid feeling extremely overwhelmed and wanting to quit, I decided to make light of the situation.  This is when I created a fun naming system for how I finished in races. I know it sounds a little odd, but I assure you, it made me and many others laugh throughout the season and kept me in good spirits. I gave myself a somewhat reasonable goal this year to try and finish every race as a "Midpack Mary" and hopefully one day become a "Podium Polly".  I want to say I was never a "Backpack Barbara", but that would be a blatant lie.
I got my first taste of being at the back of the pack after Justin and I decided to sign up for our very first SKUSA Pro Tour race. Of course, in typical Kelly fashion, it was a last-minute decision, and we packed everything into the minivan and headed to New Castle Motorsports Park, hoping we were ready. I will never forget the conversation we had together on our drive to the track. Justin said we should keep our goals realistic and remember that we were competing against the best.  We shouldn't go into this race with high standards. I still laugh about that conversation, because we had no idea how the weekend would turn out.
When we arrived, we were blown away by all the extravagant tents and all the pro teams. It was a little intimidating and we felt under-prepared with our 10 x 20 pop up tent, with no mechanics or helpers. But we were determined to give it a try while.  We were also very surprised at how welcoming and friendly everyone was. After the first couple practices, a lot of our fellow competitors helped us with finding pace by giving us tips on tire pressure, chassis set up, and sharing data. Then qualifying came around and everything changed.
I went out for qualifying and did the one thing you never want to do. I spun my kart on the first lap in the first corner and killed it.  Thank goodness, I had previously spent an entire weekend practicing how to run and jump into my kart to pop start it, because that is exactly what I had to do to finish the session.  When I was pulling in tech, I was excited to tell Justin how I salvaged my blunder and started looking for him by the tech shed.  I thought he would be around to help me lift my kart, but to my surprise, he was being interviewed by the announcer. I honestly couldn't figure out why they would be talking to him until I started hearing over the speakers that he was P1 for qualifying. A pig could have flown right in front of my face, and I would have believed that before I believed Justin got P1. Not that I don't believe in his amazing karting skills, but we had literally spent the entire day before practicing, chasing kart set ups, and reviewing data and still felt like we were off the pace.  Plus, it was our very first SKUSA event with some of the best racers ever. To top it all off, he not only got P1, but he beat P2 by half a second! I was so proud, shocked, and jealous of him, all at the same time. Again, conflicting emotions.
I wasn't the only one who was shocked.  I am pretty sure a lot of people were wondering who this 'Justin Kelly' guy was and where did he come from. Which eventually got answered later that day when eKartingNews came over and interviewed him.  Plot twist, Rob Howden realized he knew Justin from 10 years ago when they competed together in the 12-hour Machismo 500 karting event in Vegas.
We didn't have too long to celebrate because we had to get ready for the first race.  Justin was starting in the front, and I was starting in the back and that is exactly how we finished the race.  Justin literally won it. I was going across the scales and looked up to find Justin in tech, in his race suit, trying to tear down his engine.  We had a good laugh later, because the guy running tech was asking Justin why we didn't know what to do and Justin told him that it was his first time. The guy rolled his eyes like he didn't believe him.  But honestly, we never had to tear our engines down at the club races in the beginning of the year, so it was all new to us.
The rest of the weekend, Justin continued battling out front with some extremely talented drivers like AJ Noud and John Crow. As for me, I gave it my all, but continued to be a 'Backpack Barbara'. I had repeatedly told myself the entire weekend that I wasn't going to quit, and I just needed to keep pushing if I wanted to get better. But by the last race of the weekend, I was feeling defeated. I started to get teary eyed while waiting in the scale line, but when I looked up and saw Justin had taken third place, I couldn't be prouder. I walked over to him while I was crying, with a massive smile on my face and gave him the biggest hug ever. I knew how hard he had worked and all the effort he had put in. He represented our team of two so well, with all his accomplishments that weekend and it reminded me to keep pushing. One day, all my hard work will pay off. I am just waiting for my moment.