eKartingNews.com Driver of the Month: November 2022 – Ernesto Rivera
Rolison Performance Group driver scores breakthrough victory on biggest stage of North American karting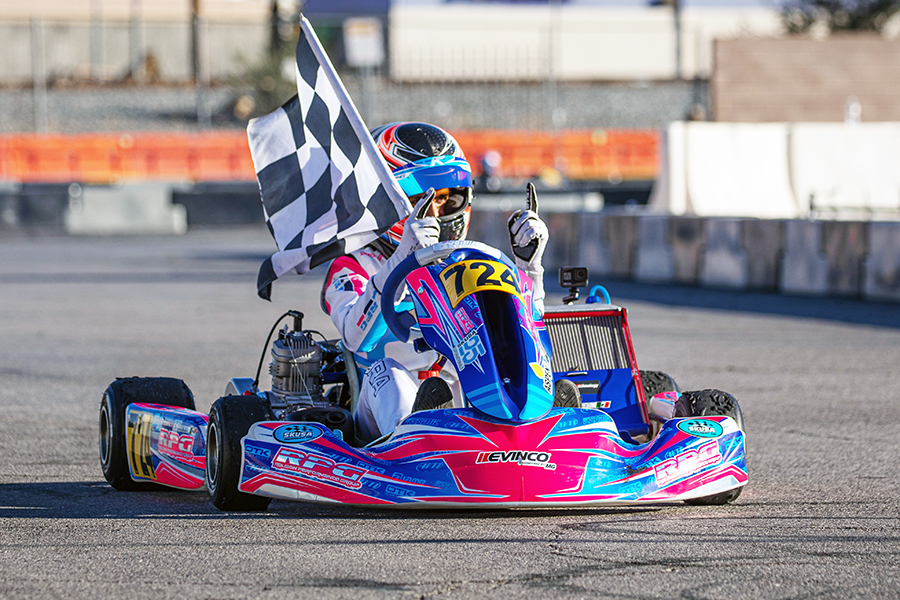 Ernesto Rivera drove to victory in the X30 Junior category at SKUSA SuperNationals 25 (Photo: EKN - Nate Dean)
In a continued effort to highlight the many outstanding performances by drivers around the country, eKartingNews.com is proud to introduce the 'Driver of the Month' program. Each month, the staff at EKN will determine the one driver who stood out above the rest and give the viewers a chance to know exactly what they accomplished and who they are.
The Junior division at the Superkarts! USA SuperNationals has been a storied category dating back to the first year in 2008. A total of 13 different drivers claimed victory on SuperSunday in the Junior TaG class, featuring now three current Formula One drivers, one Red Bull Junior Team member and one member of the Ferrari Driver Academy and others who are winning in multiple forms of motorsports. SKUSA SuperNationals 25 was set to welcome a 14th different driver having 2021 winner Jeremy Fletcher moving up to the Senior ranks. Stepping in to etch his name into the history books was Mexican driver Ernesto Rivera.
The now 14-year-old following his birthday in early December joined the Rolison Performance Group toward the start of the 2022 season in only his second season in the sport. He began karting back home in Mexico, competing in the Formula Karts Mexico and SKUSA Mexico programs. Under the RPG tent, he developed quickly, placing seventh in the United States Pro Kart Series X30 Junior championship with three podium results at three different tracks. His best finish on the SKUSA Pro Tour came at the SpringNationals in Utah, placing fifth, and did not compete at the SummerNationals. The 2022 SuperNationals would be his second, competing in 2021 and recording a DNF.
Rivera was inside the top-five of the six practice sessions over the opening two days at SKUSA SuperNationals 25. That translated into speed for the qualifying session at the end of Thursday, with Rivera laying down a 45.150-lap, finishing second to Rolison Performance Group teammate Caleb Gafrarar who was just over a tenth quicker. That would land him on the outside of front row for all three heat races. The first heat race showed how that was not the most optimal starting position. The first attempt was not bad, with Rivera able to make his way through the opening corners holding onto the second spot. An incident blocking the race track midway through the lap brought out a red flag. On the complete restart, Rivera was shuffled back to fifth and then caught up in an incident in front of him, ending his heat race early with a 40th place finish.
The second heat race under the lights played out Rivera's favor, holding onto the second spot through the 10-lap race without any major issues. Heat 3 on Saturday was the only racing session of the day. Again, starting on the outside of the front row was not the best position with over 40 drivers behind you trying to make up positions. Rivera was shuffled back to the eighth position on the opening circuit, but fought back up to fifth. In the closing laps, a lot of action took place that dropped him a few spots back, while still earning the fast lap of the race. A three-second penalty for a pushback bumper relegated him down to ninth in the final order. Those three heat race results placed him 13th on the grid for the main event on SuperSunday.
Starting from row seven put Rivera into the proverbial 'blender' that is the area where crazy things happen at the start. Thankfully for him, he was able to avoid any issues and gained four spots over the opening circuit. He continued moving forward, jumping up to fifth by lap two with some heavy racing early. He then settled in and was able to take advantage of more shuffling ahead of him, working up to second over the course of three laps. He lined up right behind top qualifier Gafrarar, who had gone on and won all three heat races from the pole position. Lap 11, Rivera made his move, and took the lead for the first time in the race and on the event. It was the laps after moving into P1 that stood out for everyone watching. He would put down a quicker pace with each circuit. It was on lap 19 of the 20-lap Final that Ernesto would put down his quickest time, helping to establish a one-second advantage. This allowed him to cruise, hitting his marks on the white flag lap to enjoy his first major victory in the USA, and become a first-time SKUSA SuperNationals winner.
Rivera also competed in the KA100 Junior division for the first time at the SuperNationals. He had run double duty throughout much of the season, taking part in the morning sessions at the SuperNationals for the 100cc category. It was a solid progress for Rivera in the class, qualifying fifth overall out of 67 drivers. Starting from inside row two of all three heat races, Ernesto kept his RPG / Kosmic machine at the front with finishes of 3rd, 4th and 3rd to end up fourth for the main event grid. He made it through the first lap and a half before getting spun around in turn seven on Lap 2, ending his bid at a podium finish in KA100 Junior. Prior to the SuperNationals, Rivera took part in the ROK Vegas event, earning a fourth-place result to lead the way for RPG in the Junior ROK division.
Mike Rolison of Rolison Performance Group has been very impressed with the work ethic and determination by Rivera over the last nine months. "Ernesto started racing with us in March. Since then, he's put in tons of hard work and proves to be extremely dedicated to improving his skills. Ernesto is one of our top students, pouring over data, listening to our coaches and always spending time in self-reflection. Ernesto made some major steps forward in 2022 and for 2023 there's even more work to be done! The future looks bright for this young man."
Rivera is scheduled to move up to the Senior level in karting for the bulk of the 2023 season in X30 at SKUSA and USPKS after competing in the Junior ranks for a final time at the SKUSA Winter Series program. Ernesto is also looking at competing in Europe along with doing some F4 testing.
November 2022 EKN Driver of the Month – Ernesto Rivera
Bio
Born: December 1, 2008
Hometown: Mexico City
Parents: Ernesto Rivera and Vera Pavlovich
Siblings: Sofia Rivera and Lucas Rivera
Height/Weight: 5.5' / 119lbs.
Education: 8th grade – IRISH Institute
Job: None
Racing Resume
Chassis: Kosmic
Engine/Engine Builder: IAME X30 / AVP – Alex Vincent
Sponsors: None
Series You Compete In: USPKS, SKUSA, SKUSA Mexico and Formula Karts Mexico in X30 Junior and KA100 Junior
Years Karting: 2
How did you get started in karting? A friend invited me to the track and I saw the teams.
What has been the high point in your racing career? Winning in Las Vegas at the SKUSA SuperNationals
What are your goals in racing? Make it to F1 and being a World Champion
In a few words, how would you describe your driving style? Aggressive, overdrive a lot and a little leaning
Funniest moment at the race track? Making jokes with Jone and Alex
Likes
Favorite Track: NOLA Motorsports Park
Favorite form of professional motorsports: F1
Favorite karting driver: Ryan Norberg
Favorite professional driver: Max Verstappen
Favorite website: Lamborghini designer
Favorite movie: Top Gun
Favorite actor/actress: Tom Cruise
Favorite music/group: Ozuna/ Del Mar
Favorite vacation/activity spot: Vail, Colorado / Skiing
Favorite food: Steak
The Real Deal
What do you do when not at the track? Study, Workout and hang out with my friends
What are your goals outside of karting? Go to college and do a master's degree at Harvard or MIT
What app or game do you play right now? F1 22
What type of street car would you like to drive? Lamborghini Aventador SVJ
What are your pet peeves or things that irritate you? Texting during a meal and interrupting during a conversation.
What do you think could be done to improve the sport of karting? That this sport becomes massive and that more people see it so that there are more sponsors.
What are your favorite aspects about the sport of karting? The racing is very close and aggressive.
November 2022 Driver of the Month – Honorable Mention:
– Jackson Gibson: SKUSA SuperNationals 25 – Micro Swift winner
– Renato Jader David: ROK Vegas – Master ROK winner / SKUSA SuperNationals 25 – 2x Runner-up (X30 Master / KA100 Master)
– Chase Jones: ROK Vegas – Senior VLR winner / Mazda Shootout winner
– Marjin Kremers: ROK Vegas – ROK Shifter winner (Senior ROK runner-up) / SKUSA SuperNationals 25 – Pro Shifter (6th) and X30 Senior (7th)
– Ian Koentges: ROK Vegas – Master VLR winner
– Gage Korn: Rotax Grand Finals – Mini Max (8th) – Top USA driver
– Isaac Malcuit: ROK Vegas – Mini ROK winner / SKUSA SuperNationals 25 – Mini Swift runner-up
– Ryan Norberg: ROK Vegas – Senior ROK winner
– Jorge Ortiz: ROK Vegas – Junior ROK winner / Rotax Grand Finals – Junior Max (14th) – Top USA driver
– Martin Stone: SKUSA SuperNationals 25 – KA100 Master winner / ROK Vegas – Runner-up (Master ROK)
– Jesus Vasquez Jr.: ROK Vegas – Junior VLR winner / SKUSA SuperNationals 25 – Two Top-10 Finishes