Drive to 25: Rob Howden's SuperNationals Journey – Part 6
The work had been done - it was time to race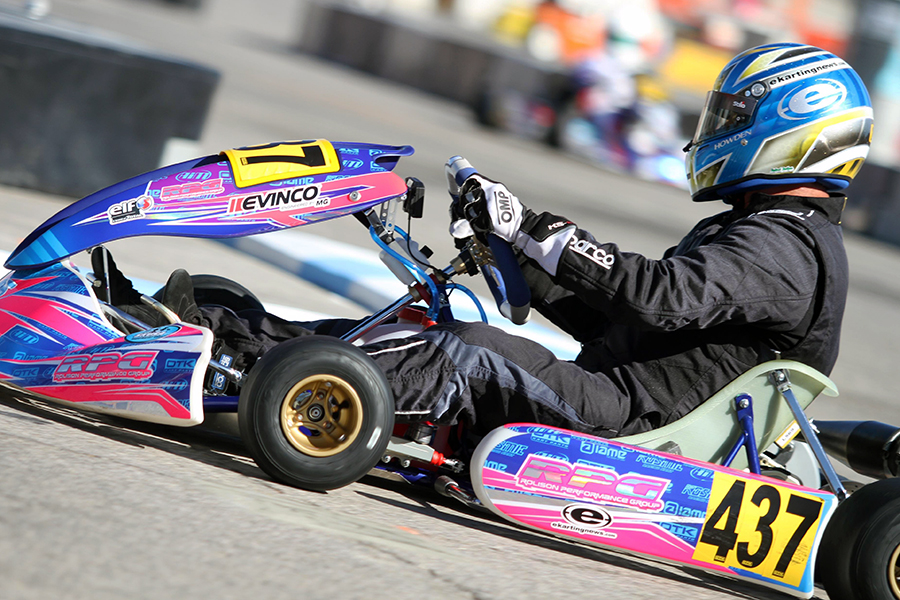 EKN's Rob Howden make his first laps at the SKUSA SuperNationals 25 (Photo: EKN)
Click HERE for Part 1 of the Drive to 25 series
Click HERE for Part 2 of the Drive to 25 series
Click HERE for Part 3 of the Drive to 25 series
Click HERE for Part 4 of the Drive to 25 series
Click HERE for Part 5 of the Drive to 25 series
---
My journey to the grid at the 2022 Superkarts! USA SuperNationals started back in August, when David Cole suggested that the addition of KA100 Masters provided the ideal opportunity to cross this event off my bucket list. This idea quickly took root, began to grow, and then left me with no choice: I was going to put together a program to participate in the biggest event in North American karting to celebrate its 25th anniversary.
I knew I'd need to put in three months of work to prepare for the race, and I did that, dropping 20 pounds in the process. Seat time would be crucial, so trying to figure that out with my heavy schedule was difficult. I did do a little driving, raced in the CKNA Grand Nationals, and to finish it all up, I spent a day with Alan Rudolph at Speedsportz Racing Park to learn a new track under the guidance of one of the sport's best ever. I'd done all the work. I'd put in the time. And as my fitness coach Chris Giumarra said, "you've done the work, now just enjoy it". Those words set me free to tackle this incredible experience as I boarded a plane to fly to Nevada on the Monday of the event.
We arrived in Las Vegas late Monday night, and after 45 minutes in line waiting to get checked into the hotel, I fell asleep with the excitement of the next day fully in the mind. On that first walk out to the track on Tuesday morning, I didn't turn right out the first set of doors at the Rio as usual, but instead kept walking down to registration. Yes…I needed to register. The line was thankfully quite short and I stepped up to SKUSA's Jody Reeder, who works registration at all of their national events. I think Jody was as excited as I was to get me set-up, and that really set the tone for the day. Everyone was thrilled about my effort, and that was such a motivator. I was all smiles.
Walking out of the Rio on Tuesday morning having completed registration, I had such an exciting feeling. I wasn't just heading to the paddock to start what would during any other year be the first of 100's of conversations with drivers, team owners, and parents. I had a focus. I was heading straight to the Rolison Performance Group compound to meet my kart, my mechanic, my coaches, and the man himself, Mike Rolison. My mechanic and good friend Mark Traylor was already going over the kart, checking things off the list. We decided on my seat size, which needed to be aggressively shoe-horned between the seat posts of my #437 RPG Kosmic Mercury. Even though I lost quite a bit of weight during my training, I have broad shoulders and a wide ribcage, so I need a big seat. Once installed, the seat fit perfectly when I was wearing my Stilo Carbon Curva rib protector. RPG runs exclusively Comet Racing Engines prepared KA100s, so as we awaited the arrival of our engine, Mark installed a new 5-degree engine mount provided by Odenthal Racing Products. The new camo color design and the laser-etched 'Rob Howden' on the back was such a cool touch. The same can be said for the Odenthal camera mount system that has revolutionized this area of components. It's a privilege to be able to partner with one of the legendary families in American karting. Check out all of their products at www.odenthalracing.com
I also received a cool package on Tuesday while we were working on the kart, which was delivered by Curtis Cooksey from Acceleration Kart Racing. They're located in Las Vegas, and SKUSA worked closely with AKR as a shipping point for drivers and teams coming to the event. Curtis dropped off a box that morning, and I knew what it was. My helmet painter Taylor Lawson of Taylord Designs was put on the time clock after my late decision to race, getting my Stilo ST5 painted, re-assembled, and shipped in time for the event. I'm so grateful to have worked with him again. When I first started in karting in 1995, Taylor painted my first two helmets, and as every karter will tell you, your first custom painted helmet is a trophy piece. Taylor was an extremely talented racer in those days, and he was part of the crew of guys who'd show up to the regional races on Friday night after work. We'd set up our work tents, grill some dinner, have some beers, and walk the track. He's an OG in my world of karting, and for him to paint by SuperNats helmet is so perfect, bringing this all full circle.
Later that afternoon, I headed out for the track walk with the team, and our group of Masters were guided by former SKUSA SuperNationals winner Ben Cooper. Our group consisted of myself, Will Power, Johnny Blair, Miguel Mier, Mario Barrios, and Pete Vetter. I was soaking it all in and making mental notes from Ben's insight. I love going on track walks at USF Pro Championship events, and I walk with different teams to watch how the team owners and coaches break down the racing line. It's fascinating. This track walk was a ton of fun, but once it was done, I had to quickly bolt back to my hotel room to get ready to host the SKUSA Pro Tour Awards Celebration, which was held that evening in the Rio.
One of the aspects of the event that I laughed about all week was that in the 24 editions prior, I'd never gone to bed so early at night or been up so early in the morning. I was out of bed by 5:30 am each day to get thing rolling for my 8:40 am opening session. Honestly, this felt so good. I was alert and feeling clear, totally focused on the job at hand. Wednesday morning meant it was time to hit the track, and I was pumped and ready. Mark had my ride ready and had pushed it outside the tent to warm up the motor. It was in the low 40s, which would certainly make the first session 'interesting' to say the least.
My first laps on the track were a bit of a blur. The track was so cold and dirty, and with new Evinco tires, my approach was simply to lay down clean laps to set a baseline. I stayed off the barriers and kept working to pick up my pace, carrying more and more speed through each corner as the tire temps rose. SKUSA did not require transponders for that session, so only half the field posted times, but I was 3.6 seconds off Billy Musgrave's leading pace. Understanding our stark differences in experience, I was cool with that. Billy went by me heading into Turn 1 like I was standing still and I couldn't believe how deep he broke in those slippery conditions, his kart twitching before he turned in. He definitely showed me where I needed to be, commitment-wise.
Heading to the second session, Ben (Cooper) told me that the track had picked up significant speed thanks to the previous sessions cleaning off the line and the rapid rise in ambient temperature due to the heat of the sun. I positioned myself at the back of the grid, because I wanted clear track and I didn't want to have to deal with guys dive-bombing the inside at every corner. Once on-track, I pushed harder through every lap and worked to carry more and more through the corners. I was 1.6 seconds faster in that session, which speaks to the improvement in the conditions. Of the 42 drivers who posted times, I was 34th and now 3.4 seconds off the best time of the session. Again, I was on my own program, comparing only against my own performance, so I was happy. Two sessions, no issues, I turned all the laps, and brought the kart to the scale line in one piece while others came back on the trailer.
The rest of the day went to plan and I was clean through all four sessions, and I continued to get quicker and quicker, eventually sitting 33rd out of 48, just 1.8 seconds off the pacesetter by the end. I picked up almost two seconds on the lead pace throughout the morning. We didn't do anything to the kart's set-up that first day, other than run different gearing among the five RPG KA100 Masters drivers to figure out what worked best. I was content with my progression, and I knew I'd get quicker with a night's sleep to let my brain process the information.
I knew going into Thursday's schedule that I'd be able to pick up where I left off on Wednesday. The amount of laps you do at the SuperNationals steadily decrease through the week, with Wednesday being the busiest day with four sessions. Thursday featured the final two practice sessions, with the sixth session being a longer 12-minute run. This is a great opportunity to do a qualifying simulation on new tires, as well as feel out the kart for its set-up evolution over the 10-lap heat race distance.
In the first of two practice sessions for the day, I made the gains I was hoping to after sleeping on Wednesday's experience. I found almost eight tenths on the quickest drivers to move to 21st, but I was actually faster than that, having caught the group in front of me in the final three laps just as my tires just started to hit peak temps. Again, more positive feelings of momentum and growth. Then, the final practice arrived and, devastatingly, I got collected in a Turn 9 incident on the second lap when a driver spun and rolled back into me as I tried to avoid him to the right. I was spun, and then hit by two other karts who spun to avoid the blocked track. A bent axle sent me to the sidelines to watch the rest of the session, and also the tail of the slower qualifying group, which was the cruelest result of all. As I stood on the side of the track for the rest of the session, I fully understood how this had changed the complexion of the rest of my week.
Heading into qualifying, I knew I was in some trouble, but I also knew I had the pace for the top-20. I waited on the grid before rolling off and was slow on the out-lap to give myself a massive gap, almost the full straightaway. Sadly, the first time through the chicanes, I was welcomed by yellow flags due to guys crashing through the barriers on cold tires. The chaos that ensued over the first two laps of the short five-minute session also left me driving into a pack of karts that had just spun together in Turn 6 and were just getting rolling again. I tried to weave my way through, but I couldn't get clear of them all and it was a mess after that. Over the final two laps of the short session, I was getting hammered in the rear bumper in a couple of corners just as I was transitioning from braking to acceleration, which required a slight lift and more wheel input, destroying my exit speed. Every time it happened, I cursed in my helmet. My bad luck was continuing. I didn't get a single clean lap and ended up 35th on the timesheet.
Here's that contrast in emotion that I talked about in my Morning Coffee column from last week, and the realistic understanding of the pressure of the event. I was gutted. We were getting faster and faster very session. My morning practice pace had us setting our sights on the top-20. Not being able to show what we could accomplish started my mind moving in a negative direction, and I knew I'd need to shut that down. Qualifying was done, and as I always say "it is what it is". I would start 33rd in the first heat and 35th in the other two. I knew what I needed to do, so I headed back to the announcing tower to call Thursday afternoons sessions armed with new experience that I was able to weave into my commentary alongside Mike Smith and Xander Clements.
In the next edition of 'Drive to 25', I'll chronicle the heat races that set up for my first ever SuperSunday as a driver. Stay tuned for the continuation of the adventure.
Book It!