Begin Again: Closer Than You Think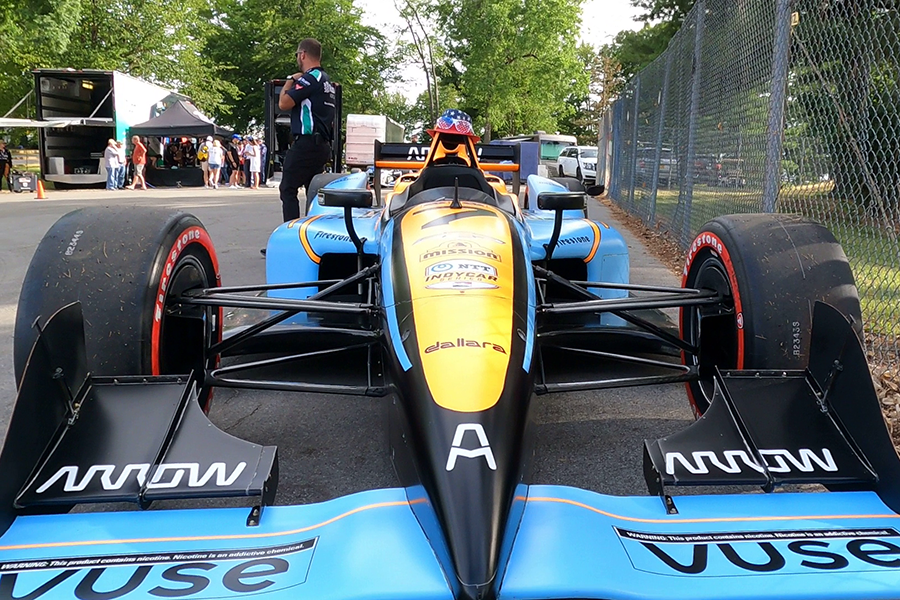 R.K. Siler gets up close and personal with NTT IndyCar Series experience at Mid-Ohio Sports Car Course
It has been a few months since we have heard from R.K. Siler and his Begin Again series. He's back, this time not behind the wheel but taking in an NTT IndyCar Series experience at the Mid-Ohio Sports Car Course, and a unique one at that.
A few years ago, my son Derek and I made a deal that we would try to take a boy's trip together once a year; now that Derek has his own career (read:  money in the bank), it's become more and more of a habit the past few years, and this year was no exception.  Given that my mom and sister are transplanted Texans living in Ohio, making the trip to Ohio for the Honda Indy 200 at the Mid-Ohio Sports Car Course and then making a junket across Ohio to visit the family is an easy way to kill two birds with one stone.
Now, to just set this story up a bit, one of the truly cool things about motorsports in general are the friendships that you establish through the sport.  For me, I have been very fortunate to count among my friends some of the movers and shakers in North American motorsports, my friend Sean Jones being one of them.  Sean and I are long-time friends, twenty plus years now, and he may as well be family.  Sean has a deep history in motorsport, his father Chuck having been a co-owner of the Ensign Formula One team back in the 1970's (sharp-eyed viewers of the movie "Rush" will see one of Chuck's cars in the movie), and Sean himself has been involved in the sport from the business side for his entire adult life, having put together teams in both Champ Car and Indy Car, the latest being the Steinbrenner / Andretti IndyCar team.
Once Derek and I had our travel plans set up for our trip from Dallas to Ohio, I made a quick call to Sean to confirm he would be there so we could at least hang out and catch up a bit.  It turned out that he had to be at Canadian Tire Motorsport Park to oversee the Saturday racing activities of the Bryan Herta Autosport Hyundai factory team, of which Sean is a part owner.  Sean assured me that his plan was to catch a flight out of Toronto early Sunday morning and fly to Columbus, and then drive to Mid-Ohio in time for the race. Of course, the reason Sean had to split his time that weekend was because Bryan Herta would be busy at Mid-Ohio on the Andretti Autosport timing stand, looking after his son Colton.
Sean put me in touch with Daniel Wale, Steinbrenner Racing's VP of Marketing, and the next thing I knew, Derek and I had team credentials for the weekend, including access to the Andretti Autosport hospitality center.  We rolled into Mid-Ohio at about lunchtime on Saturday morning, having taken a leisurely start to our day.  Upon our arrival, we were right in the middle of all the action, having headed down to pit lane to watch some of the Road to Indy races prior to IndyCar qualifying kicking off midway through the afternoon.
Now, I have had this kind of access to IndyCar races for years because of my friendship with Sean-as I like to say, "Every dud knows a stud", so while I am not exactly star-struck at IndyCar races, I have a deep appreciation for the sport and what goes on behind the scenes to make it all happen.  That said, given my renewed karting career, I have to say that the IndyCar Paddock and Pit Lane felt incredibly familiar. The atmosphere was very similar to what you'd find at a major kart race-competitive for sure, and yet there was that "we're part of the family" feel.  Yes, lots of money being spent by the teams and sponsors to be there, tons of fans milling around, television crews chasing down storylines, the incredible cars and the 18-wheelers that transport them, and yet, at its core, it kind of felt like I was at home.
As I was sort of mulling over these thoughts, Daniel walked up to me with a bit of smirk and said, "Would you be interested in a ride in the two seat IndyCar?"
"Are you serious?" I asked.  "Hmmm…let me think about this for about a nanosecond…yes!"
"I only have one spot open, so you are going to have to choose between whether you or Derek gets the ride," said Daniel.  "Sorry!"
Derek looked at me and I could tell he was dying to take the ride, but then he said, "Dad, you gotta do it", which was really kind because I really wanted to take that ride.  At the same time, I began to start feeling a bit overloaded with parental guilt, so much so that I began seriously considering the notion of giving Derek my ride.
"I can't believe you're not giving your ride to Derek, but whatever, be at the Two Seat IndyCar trailer at six o'clock tonight and I'll get you checked in," and off Daniel went to tend to some sponsors.
I spent the rest of the day trying not to think about it but to be completely honest, I was keenly aware of the fact that the clock was moving ever closer to six o'clock.  At the appointed time, I arrived at the paddock area for the Two Seat IndyCar program, standing in line with the other guests to sign our waivers and then went into one of the support trailers to get fitted into a driving suit.  Again, it all felt very familiar and perfectly normal; after all, all of us have stood in line at registration and pulling on a driving suit is something we do all the time.
As I exited the trailer with the driving suit on but tied around my waist (again, perfectly normal), I saw Derek standing in the registration line with Daniel.  "Hey, Derek, are you going to get to ride in the car, too?", I asked.    Derek was beaming, he was so excited.  "Yes sir!" was his response.  I looked at Daniel, who smiled and said that some of their sponsor's guests had pulled out of the event at the last minute and as a result, Daniel had two rides available.
"So, you knew all along that Derek had the other ride, right?" I asked.
"Yep! Just wanted to watch you squirm and feel guilty!" said Daniel with a laugh.
Awesome!  The Two Seat Indycar at Mid-Ohio…other than taking a ride in that thing at Indy, this was going to be amazing-and it would be guiltless at that!     Once Derek signed his waiver and got suited up, we headed down to the pit entrance with the rest of the guests.  There were about 30 guests waiting their turn to take a ride, and since Derek and I were towards the back of the line, I was just looking around, taking it all in.  Shortly after we arrived, Mario Andretti, who was one of my racing heroes when I was a kid (he still is!) arrived and climbed into one of Two Seaters and began giving rides to the guests.
Suddenly, I realized that the couple who were chatting up a handful of the guests about five feet away from me was Will and Liz Power.  Shortly after that, Alex Palou turned up to chat up and hang out with some of the NTT Data guests, and then Conor Daly turned up and sort of hung out.  It wasn't like those three guys came up to say "Hi and Bye", they actually hung out with the guests for the duration of the event.  I thought to myself, "This would never happen in F1!"
Finally, it was our turn.  Derek hoped into the car being driven by Spencer Pigot, and my car was driven by former Indy Lights driver Juan Piedrahita. The passenger compartment in the Two Seat IndyCar is very cramped if you are as tall as I am, and I caught myself wondering if my head was below the roll hoop or not.  Out of paranoia, I dipped my right shoulder and tightened up the shoulder harness a bit more, and then did the same with the left shoulder, just to snug myself down in the harness.
Shortly afterwards, I could hear the engine being spun up, it caught fire, Juan gave it the gas, dumped the clutch and we were off.  Juan wasted no time getting up to speed, and we were really moving by the time we got to Turn 1….through Turn 1 and up the long straight that is somewhat uphill approaching the Carousel, it actually felt a lot like my shifter kart.  And then, WHAM!, Juan jumped on the brakes, my head nearly hit the grab bar in front of me, and then Juan downshifted and drove through the Carousel, with no drama.  I thought to myself that everything felt pretty normal but what was up with those brakes?  Down the long downhill backstraight, I was enjoying myself hugely and then, once again, Juan nailed the brakes in the braking zone and it felt like that car bled off about 110-120 mph in, oh, fifty feet!  Holy Crap!  The rest of the lap continued as it had begun, with acceleration and lateral cornering feeling very similar to my shifter kart but the brakes in every corner were otherworldly.
The ride was over way too soon for my liking, of course, because it was amazing and such good fun, but the best part of the entire adventure was seeing the look on Derek's face when he got out of the car.  Grinning from ear to ear, the first thing he said was, "That was amazing!  I can't believe those brakes!  How an IndyCar driver does that for two hours is beyond me; I have huge respect for those guys and what they do."
The race Sunday was a good one, Derek and I spent a lot of time on pit road watching the race but we also drove around the outside of the track and watched the race from just about every vantage point that the Mid-Ohio Sports Car Course has to offer.  Our weekend was capped off with an exclamation point when, after the race, Derek and I were chatting with Sean and Daniel, kind of saying our thank yous and our goodbyes at the same time, when Romain Grosjean pedals up on a bicycle to speak to Sean about how disappointed he was about the race.  Derek's jaw dropped and he kind of elbowed me in the ribs, and I said, "Yes, Derek, I know who that is!" under my breath, again trying very hard not to be some sort of fanboy.  We wound up having a great conversation with Romain, who we found to be very personable and friendly; just like so many karters we know, a fierce competitor who is a really good guy out of the racecar.
So, an amazing weekend, one that I will be forever grateful to Sean, Daniel and the Steinbrenner Racing team.  I left Mid-Ohio that Sunday afternoon knowing that Derek and I had built some incredible memories, and it was really cool to know that one of the very top series in the world is actually very similar to the racing that I do.  I'll never get to actually drive an IndyCar but having the understanding that the sensations you get driving a shifter kart are similar to what pros like Power, Palou, Daly and Grosjean experience in their IndyCar is an amazing realization; no question about it, the bang for the buck that you get in a shifter kart is outstanding!