Making History: The Kellys Take on the Park
Tiffany Kelly is back with a new installment of her intro into karting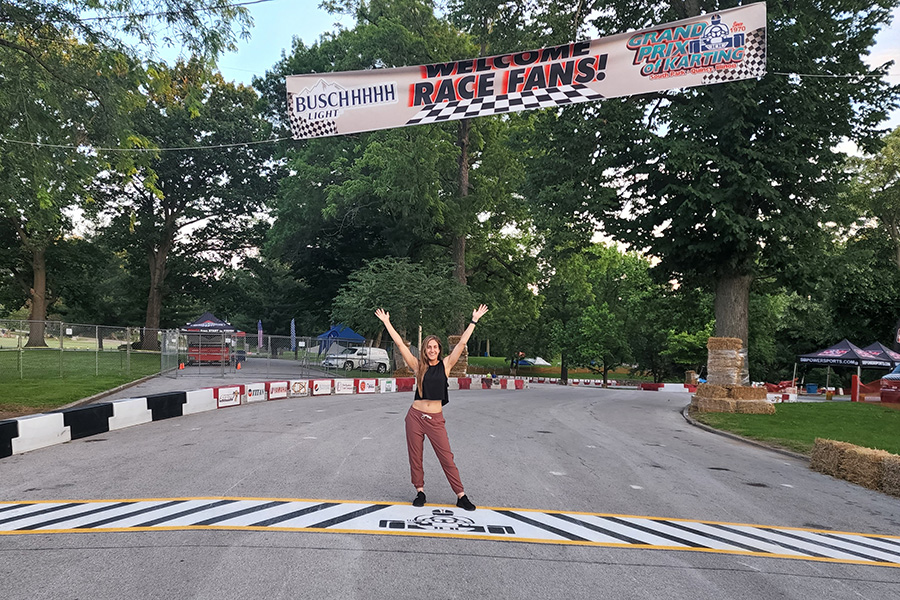 Tiffany Kelly made her first trip to the Quincy Grand Prix this past summer
A new column series has been established by new karter Tiffany Kelly. 2022 was a full dive into the sport on the competitive level, hitting major events throughout the country. Her first column – Leveling Up – provided the background of her journey into the sport. Now, in the second installment, she's discusses the opportunity to compete at the Quincy Grand Prix.
This year has been a real eye opener for me on how popular karting is and how seriously it is taken. I honestly didn't know that so many karting tracks and events even existed. But of all the races I participated in, the Quincy Grand Prix will forever be burned into my memory as one of the most unforgettable races. What made it even more special was I had literally heard about the event just a week before I raced in it.
Let me begin by explaining how I even ended up at such a spectacular event. Justin and I had been racing at a couple sprint tracks in Missouri at the beginning of the year, and we wanted to branch out and try something new. Google directed us to TNT Kartways, about five hours away from our house in Taylor, Missouri. We reviewed their website and noticed that they had a club race we could join. It seemed right up our alley and we figured we could try a new track, race against new people, and gain more experience. So, we loaded up the old minivan with all our stuff, put the karts on the trailer, and headed out.
We got there a day early so we could practice and slept in our van that night, to race the next day. I know, I know, you are asking why are they sleeping in their van? Honestly, it is extremely convenient with time and money. Most tracks have showers we can use, and we don't waste time driving back and forth from a hotel. Plus, when we spontaneously travel to a track every weekend, it just makes it easier. But, of course, it draws attention, and because every person in the karting community practically gives the shirt off their back to help you, we got to know the manager of TNT, Jeff Miles. He was excited to have new people and let us have the keys to the garage and use the facilities at the track that night.  But during our conversations, he kept asking us if we were coming back the following weekend for the race in the park.
Race in the Park? We were intrigued. Jeff excitedly told us how the entire city of Quincy bands together, blocks off the city park and builds a kart track, Grand Prix style, for hundreds of karts to race at. Now, I took it with a grain of salt, and imagined a little road course with a couple hay barrels and maybe a couple hundred people max. We told Jeff we would look into it, but didn't seriously consider it, and we didn't think it would be worth it. In hindsight, I was completely wrong.
We finished up racing that weekend and met the Smith Brothers, a father and son duo, who were worthy competitors and as nice as can be. They too, asked us if we would be returning the following weekend to race in the Park, and even offered us a spot under their tent. So, on the way home from TNT, we referred to Google again and realized how serious the Quincy Grand Prix was and decided we were locked in.
When I went to sign us up online, I was astonished at the history of the Quincy Grand Prix. The race started in the 70s, and we were going to be participating in the 36th event. The event committee builds a 1.2-mile street circuit with a variety of blind corners, elevation changes, and high-speed sweepers in the middle of the city park. They even pour concrete for rumble strips and paint a start-finish line on the park road. Hundreds of competitors compete across a variety of classes and the purse for the top five winners is thousands of dollars.
Justin and I race the IAME 175 engine, so we were only able to sign up for the Open Shifter class, even though they had a 125cc shifter class as well.  Looking back, I should have signed us up for both classes, because it would have given us more time to learn the track, but again, hindsight. When we showed up the next weekend, it was sensory overload. I couldn't even fathom the amount time and effort it must have taken to get it all prepared. We did a track walk and right away I was overwhelmed.  Reality was sinking in on how fast some of the sections were, next to jagged rock walls, steep drop offs, and large curbing and trees. Also, there was a large bump right after the finish line that you have to hit just right, or your kart gets airborne.  I mentally told myself, "don't mess up Tiffany, or you are going to get injured for sure".
On Saturday, all racers had a 4-minute warm up, two 6-minute practices, and a 6-minute qualifying session for Sunday's race, finishing off the day with an 8-lap sprint. So, let's do the math, the track took over a minute to complete in the shifters, so I was looking at roughly about 15 laps on a brand new, scary as hell track, before I was expected to put down a solid qualifying lap. To add more complexities, it was blazing hot, and the humidity was so bad, sweat was dripping into my eyes while waiting on grid.  Justin, of course, did amazing and qualified second. I, on the other hand, was about three seconds off the pace and was still trying to get my hands to stop shaking every time I went out. It was extremely challenging, but also, exhilarating, to keep pushing myself and face my fears. The hundreds of spectators cheering us on were very motivating as well. Especially, the group of drunk guys at the end of the fast straightaway, who continued to hoot and holler at the top of their lungs, while swinging their shirts above their head, every time I drove by. They were extremely distracting but entertaining at the same time.
By Sunday, I had finally found some pace and was feeling a lot more comfortable, but my qualifying time had me starting toward the back in the final. I had an amazing start and was running in the top-five for a majority of the race until we had just three laps left, and I messed up.  Remember those sections I told myself not to mess up in? I don't listen well. I came over a big bump and my kart got airborne, I turned a little too much when I landed and clipped the apex of the curb, which was a storm drain.  It swung me around and I drove backwards for a couple seconds, trying not to touch the jagged rock wall on my right side, until I got my kart to a complete stop. I was so pumped with adrenaline, I tried to convince the guys dragging my kart off track to let me go back out. Until one of them pointed out that my back wheel had exploded. I was officially out of the race. On the plus side, I was so proud to watch Justin finish the race and take second place. Not only did he get a check, but the trophy he received was made of crystal and I was properly jealous.
We were both on cloud nine when it was all done, and we were so glad we decided to take the last-minute trip to experience one of the best street races ever.  Unfortunately, it was recently announced that they will no longer continue the Quincy Grand Prix. Even though I didn't leave with a check or an expensive trophy, I do get some bragging rights.  I get to say that I was, and will be, the only woman who has ever raced a shifter kart at the Quincy Grand Prix. Which makes me so proud to be breaking barriers, no matter how challenging they can be. The moral of this story is, seize every opportunity that is presented to you, because it may be the only chance you get, and you could possibly make history.