Morning Coffee: An Unforgettable SuperNats Experience
One taste leaves our Editor-in-Chief wanting more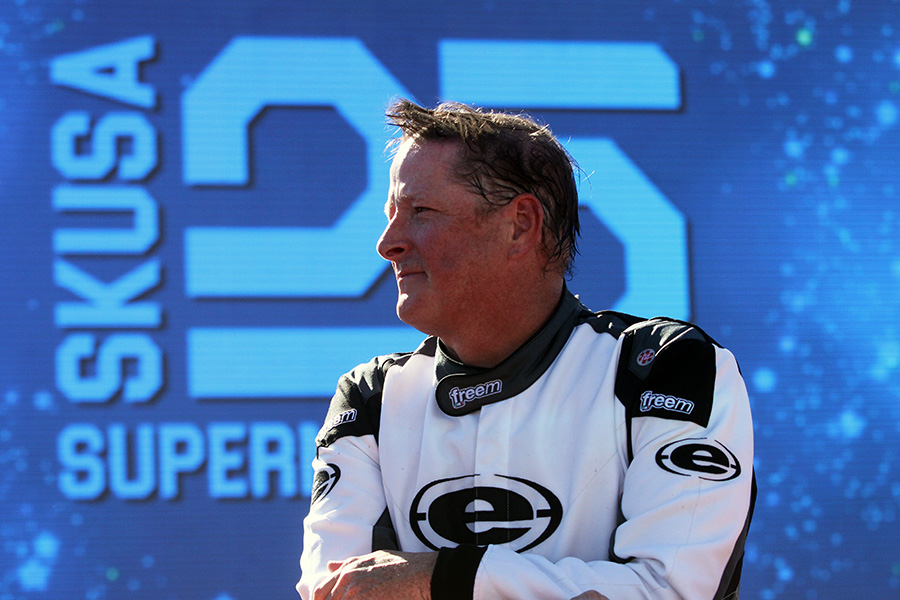 EKN's Rob Howden SuperNationals 25 experience was unique and filled with life-long memories (Photo: EKN)
As we pushed down from the Rolison Performance Group tent to the fuel farm for the first practice session on Wednesday, the realization washed over me. This was actually happening. With three months of gym time and a 'clean-ish' eating program prepping me to be as ready as I could be, I about to participate in the Superkarts! USA SuperNationals. After 24 years in the PA booth, calling the wheel-to-wheel action of an event that further develops its history and pedigree with every new edition, my perception of this race would be forever changed over the course of the next five days. Immersing yourself in an event as the commentator and as a journalist is one thing but being in the trenches to experience all the highs and lows as a driver certainly expands one's true understanding of a race's character and importance.
I'm currently working on a number of follow-up installments of my 'Drive to 25' article series, which will detail my weekend and will provide additional commentary on the event and my own program, so today's 'Morning Coffee' edition is just from my heart after a week's recovery and reflection time. The 2022 SKUSA SuperNationals was such a special event for me, from top to bottom, so here's just one angle that I'm feeling right now. Let's say it's just a 30,000 foot view of the weekend as a whole.
I couldn't have asked for anything more from Mike Rolison and the Rolison Performance Group. I'll go much deeper later, but this team is just first class. My workspace was set alongside fellow KA100 Masters drivers and veterans Pete Vetter and Miguel Mier. Chase Hand and his father Joey were nearby, and we were right beside Australian Oscar Priest. Oscar's family travelled with him to the event and are fantastic people. They were there after a majority of my sessions and were great cheerleaders. Oscar had a strong SuperNationals, qualifying through the LCQ to make the KA100 Senior main event, and then driving from 30th to 23rd. It was a strong performance within a tough field of 79 drivers.
The RPG staff is stacked with talent, experience, and passion. Being under the tent and both witnessing and experiencing their culture and systems, it's easy to see why they've been so successful. I relished the opportunity to work closely with Ben Cooper, a consummate professional. Ben knew my limited experience and limitations, and he was a tremendous coach. His delivery and approach were massively important to my end success. The same goes for Jace Denmark, who was also coaching me throughout the weekend. I have worked with Jace over the past two years as part of his USF Pro Championships (formerly Road to Indy) program. As a USF2000 title contender last season, Jace joined me on our live broadcasts twice in 2022 as a driver analyst, where I was the teacher and he was the student. The turning of the tables for the SuperNationals presented me with a fantastic opportunity to see Jace's growth. His knowledge of the technical side of driving a competition kart is deep, as is his obvious patience, dealing with a 54-year-old commentator / journalist who completely lacks the ability to get heat into his tires during the warm-up laps. More on that humorous effort in an upcoming 'Drive to 25' segment.
Working with Ben and Jace was a massively enjoyable part of the weekend. The positive feelings I had after my race on SuperSunday, hopefully making them proud of my development throughout the weekend, will never be lost. I wanted so much to succeed for everyone who helped get me there. Being part of a competitive team is something that one loses when you're in the media, so this was refreshing. At the track, people often ask me how my day went, and I always answer with "awesome….never too high, and never too low". That's how it is in the media. You have to stay unbiased, so you don't overly revel in someone's successes and, at the same time, you have no way to feel the pain and disappointment of a defeat or failure to meet expectations or goals. We run the middle of the road. This SuperNationals adventure provided me with the opportunity to push the limits of my emotions in both directions. While I wasn't pleased with the lows at the time, I now realize that they'll benefit me in the future as a commentator and writer.
On-track, I was pleased with my end result on SuperSunday. I took the checkered flag and finished in the top-20. My fastest lap of the week was Lap 12 of the final, which I expected, considering my lack of experience in a KA100. I knew I'd get faster all week. I just needed to keep digging. Selfishly, I had hoped for a completely clean week at the SuperNats. I wanted to finish every lap and go faster with each session. I know it was a very optimistic goal, but one can always hope. You don't always get what you wish for and, more often than not, that's a good thing. My week had its share of bumps in the road and, while going in, I wished to avoid the hurdles I eventually needed to jump, they gave me a much more honest view and experience.
My unique adventure at the SuperNationals was not without its ups and downs, and for that, I am truly grateful. As the 25-year 'voice' of the event, I have never had a better understanding of what a driver goes through during the week than I do now. I experienced the wide-eyed thrill of hitting the track for the first time on Wednesday, the cool air permeating my race suit and whistling past my exposed neck, the complete lack of grip in the cold morning temperatures, and the green track offering zero connection to my tires. Rolling off the grid and onto the track for the first time is something I'll never forget. I also experienced the pure frustration of getting collected in an incident that I was trying to avoid. That incident in the final practice robbed me of the extended run in the 12-minute session and it also pushed me to the tail of the slower qualifying group, which totally changed the complexion of my weekend. Instead of gunning for a top-20 in qualifying as my speed was increasing, I was 35th on the time sheets after chaos on the opening laps of the short five-minute qualifying session left me without a single clean lap as my tires came up to temperature. Again, just another experience that I'll be able to bank for my future SuperNationals commentary.
Working closely with a good friend helped elevate the overall experience as well. When you watch a race from the sidelines or on the broadcast, you see and hear the driver's name, but it's definitely a multi-person effort. For me, having my friend Mark Traylor on the wrenches was an honor. We were definitely in this together, and when I got taken out in the final practice, I was disappointed for Mark as much as I was for myself. Outside of knowing we had to thrash to get the kart turned around for qualifying, I wanted to succeed for him as much as I did myself. I knew that the incident would change the course of our week, and I felt that internally as I stood on the sidelines. I'm sure the other 500+ drivers and their mechanics in the paddock feel the same way. It's a big part of the human component of our sport. One small incident that veer you off the path of improvement that you're on.
For me, I had my most enjoyable SuperSunday ever for many reasons. Getting up that morning knowing that I would be racing on my favorite day of the year was a plus. I was a bundle of excitement and nerves. I'd done everything I could over the three months leading up to the race. Mark and I had done everything we could through the week to improve speed and be ready for the race. I knew that it was time to just go race. The opening ceremonies are always fun and SKUSA certainly pushed me off-center with my induction into their Hall of Fame. I consider it a great honor to join the previous inductees, who I respect so greatly. But when it was all said and done, once I had dropped my annual 'Welcome to SuperSunday', I was in unfamiliar territory. I wasn't just going back to the booth to call a day's worth of amazing racing. I had work to do before I could settle into the commentary box. That was such a fantastic feeling.
The ultimate success was finishing the main event on SuperSunday and then coming home in the top-20. I received the twin-checkers from my good friend Aaron Likens, and I rolled my kart through the scales to complete my first SuperNationals experience. Mark was happy with the outcome, as were Mike, Ben, and Jace. In the main event, I went faster than I had all week, and I pushed harder on the warm-up laps to get heat into my tires and the same went for the race. I pushed hard. Over the last five laps, in which I had a big gap to the driver behind me, I may have breathed the throttle in a few places to avoid a mistake. I'll admit that. I truly wanted to bring it home in one piece. All the work I'd done in my local gym and hotel gyms across the country over the last three months truly paid off over the second half of the race. The crossed halfway flags came and went, and I was still at 100% focus. The stamina I'd worked hard to build was being put into use. I'll send another shoutout to Chris Giumarra from Chris G's Coaching for the guidance, motivation, and accountability.
Going into this effort, I kept saying that this would be a 'one and done'. I'd get a chance to experience this incredible event from a different angle and then call it a day. As soon as I was done with my race, and sitting back in the RPG tent recounting the run, I already wanted to come back. I wanted more. I wanted to improve on my weaknesses and be faster out of the gate. I wanted to give Ben and Jace the opportunity to fine tune my lines, instead of focusing on how to get heat in my tires and to charge the corners to make the chassis work. So, after a week of recovery and reflection, running the event again is certainly a desire. It was just that much fun, and that much of a rush. Why wouldn't I want to race the SuperNationals again?
Will I do it again?  It's a definite 'maybe'.
Book It!