EKN Trackside: Superkarts! USA SuperNationals 25 – Friday Report
Hiltbrand and Norberg double up on opening day as Gafrarar wins four heats in Junior competition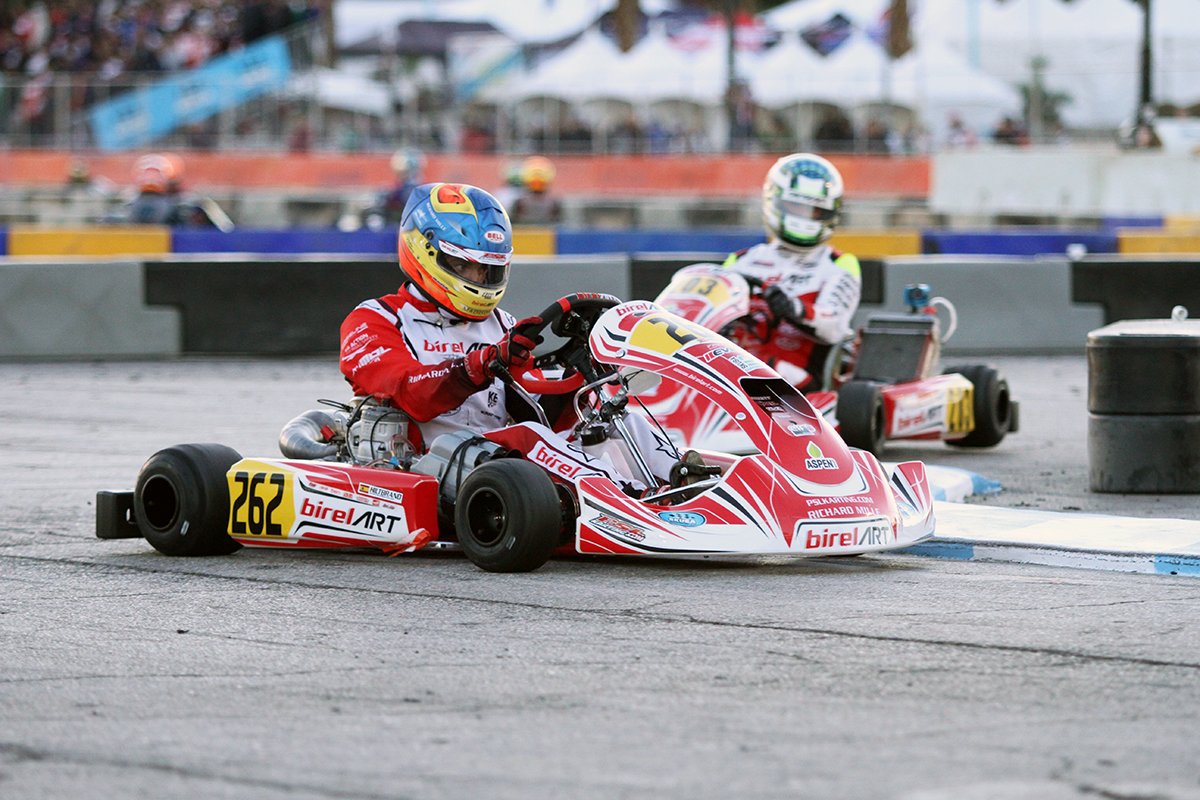 Pedro Hiltbrand won both his heat races in Pro Shifter (Photo: EKN)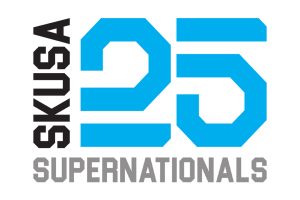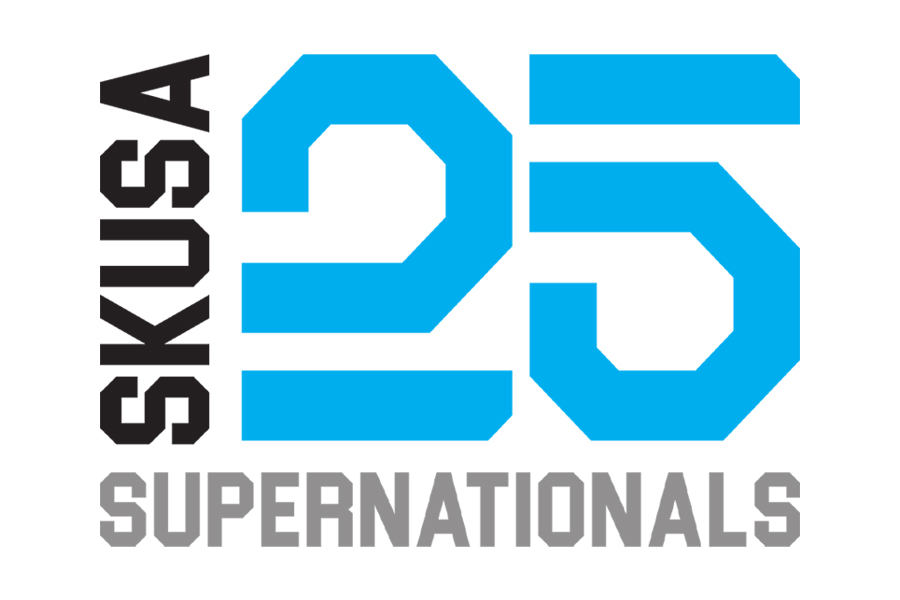 Racing action kicked off on Friday at the Superkarts! USA SuperNationals 25 outside the Rio All-Suite Hotel & Casino. Two rounds of heat races for both the morning categories and afternoon group were completed to set the opening act toward victory on SuperSunday in Las Vegas. The weather was overcast, as temps remained in the lower 60s with a stronger wind once the sun set, bringing a cool crisp air into the area for the final few heat races on the day. Spanish driver Pedro Hiltbrand (PSL / Birel ART) and Ryan Norberg (RPG / Kosmic) set the tone in the headline divisions with two heat race wins each while Junior driver Caleb Gafrarar (RPG / Kosmic) won four on the day.
Gafrarar was able to win the opening heat race on the day, starting the KA100 Junior AvsD race from sixth. Gafrarar knifed his way to the front, taking the win by 1.7 seconds over Rolison Performance Group teammates Max Taylor and Ernesto Rivera. Junior rookie and last year's Mini Swift winner Enzo Vidmontiene (MottazSport / Kart Republic) won the BvsC race, climbing up five positions and bringing Oliver Wheldon (JC / LN Racing Kart) with him to second. USPKS champion Helio Meza (IRM / Tony Kart) improved six spots on the AvsC heat with top qualifier Steven Miller (CDR / Alonso Kart) in second. Gafrarar closed out the day for the class with a win ahead of SKUSA Pro Tour champion Jesus Vasquez Jr. (Nash / EOS) and Max Garcia (MPG / Kart Republic).
Four different drivers took a win on the day in the KA100 Senior division. Top qualifier Alex Stanfield (GWR / Tony Kart) was able to break away with Chase Jones (MPG / Kart Republic) in the AvsD heat race for a 1-2 finish. Latvia driver Tomass Stolcermanis (Nash / Energy) was able to edge out fellow Senior rookie Christian Miles (MDR / LN Racing Kart) for the win in BvsC heat while Chase Hand (RPG / Kosmic) was a close third. Hand responded in the second round of heat races, joining Stanfield at the front of the AvsC race. Hand led the majority of the race toward the victory with former SuperNationals winner Connor Zilisch (REM / Tony Kart) up 10 spots to third. Miles was able to fend off Stolcermanis in the BvsD heat race with Alexander Kardashian (MDR / EOS) in third.
KA100 Master top qualifier Renato Jader David (Orsolon / Tony Kart) continued his pursuit to a sweep of the event, winning both heat races. RJD led all 10 laps of Heat 1 over Danillo Ramalho (REM / Kosmic) and Bobby Kelley (MMK / Redspeed). It was the same result at the front in Heat 2 with Renato leading flag-to-flag for another win. Laurentiu Mardan (TecnoKart USA) worked up to second with Eric Molinatti (RWR / CRG) finishing third.
Two wins was the recipe in Micro Swift for SKUSA Pro Tour champion Rocco Simone (Parolin USA). The Canadian led the majority of Heat 1, crossing the line first ahead of Alexander Procuna (Parolin) and Troy Ferguson (Benik). It was another fight in Heat 2 as Simone held off Ferguson and Royce Vega (Benik), who finished second and third in the SKUSA championship standings. Both those driver received pushback bumper penalties, dropping them down to 12th and 13th, and putting Cameron Marsha (Nitro Kart) and Jackson Gibson (RPG / Kosmic) into second and third.
The Mini Swift class was the first on the track in the afternoon groups, and featured some dramatic heat races. Turner Brown (SCR / CRG) pulled off a photo finish in Heat 1, edging out top qualifier Michael McGaughy (RPM / Parolin). In Heat 2, it was a three-wide finish at the end with McGaughy ahead of Isaac Malcuit (Nitro Kart) and Tyler Roberts (IRM / Parolin) at the line.
The order was mixed up throughout the heat races in Master Shifter. Top qualifier Davide Fore (Italkart) suffered an engine failure while leading in Heat 1, collecting Brian Keck (GFC) in the process. That allow 2004 SKUSA ProMoto Tour champion Alan Sciuto to take the race win ahead of former Formula One driver Antonio Pizzonia Jr. (Orsolon / Birel ART) and AJ Noud (LEM). The four-time world karting champion Fore recovered with a win in Heat 2, leading all 10 laps ahead of Keck with Sciuto in the third position.
Four heat races were conducted in the X30 Senior division with three different winners. Oliver Hodson (CompKart) was the first to grab a win, taking the top spot in AvsD ahead of Alessandro de Tullio (Parolin USA) and Ariel Elkin (Racelab / TB Kart). Top qualifier Evan Giltaire (Trinity / Kart Republic) fell back to fourth. SKUSA Pro Tour champion Ryan Norberg (RPG / Kosmic) was able to win a dual between he and SKUSA Winter Series race winner Edoardo Villa (Racelab / TB Kart). It was only six thousandths of a second that separated the two, with Norberg able to win the drag race to the line. Giltaire held the top spot in the AvsC heat race, driving away to a 1.3-second advantage ahead of Hodgson and Louie Westover (Nash / EOS). Norberg and Villa led the way in their second heat race, this time with Norberg going unchallenged to the line for the win as last year's top qualifier Jake Drew (GFC) drove up to third.
X30 Junior top qualifier Caleb Gafrarar (RPG / Kosmic) went unchallenged on the day toward two heat race wins. The first was a 2.2-second advantage over Max Garcia (MPG / Kart Republic) and Leonard Escorpioni (Tony Kart). The second was only 1.7-second gap ahead of Ernesto Rivera (RPG / Kosmic) with Garcia in the third position.
A dramatic afternoon in the X30 Master field has it wide open. Four-time SKUSA SuperNationals winner Kip Foster (PSL / Birel ART) was able to hold off NTT IndyCar Series champion Will Power (RPG / Kosmic) at the line for the race win. Power, however, was handed a three-second penalty for a jump start, dropping him to fifth in the order and promoting Ben Cooper (RPG / Kosmic) to second and Thomas Grice (PSL / Birel ART) to third. Martin Pierce (Trinity / Alonso Kart) was able to get away in the second heat race for the win, up eight spots to the victory. Cooper was in the fight for second until his engine seized. Top qualifier Renato Jader David (Orsolon / Tony Kart) was able win the fight for second ahead of Chris Wehrheim (Nash / Energy).
Top Pro Shifter qualifier Pedro Hiltbrand (PSL / Birel ART) won both his heat races on the day to retain the top spot after Friday's action. Hiltbrand drove away to a 2.4-second advantage over teammates Marijn Kremers (PSL / Birel ART) and Jake French (PSL / Birel ART). Markus Kajak (RPM / Tony Kart) won the BvsC heat race, working by polesitter and three-time SuperNationals winner Danny Formal (RPG / Kosmic) with Fabian Federer (Magik Kart USA). Hiltbrand led all 10 laps in the AvsC heat race for his second victory with Kajak a close second at the line. Formal was able to pick up his first win of the event in BvsD as he held off three-time SKUSA Pro Tour champion AJ Myers (Magik Kart USA) for the win.
Situation Saturday is ahead with the third and final round of heat races left for all 10 categories, along with the Last Chance Qualifier for KA100 Junior, Senior, X30 Senior and Pro Shifter. Another exciting day of racing is ahead before we turn the focus on SuperSunday and the main events to close out SKUSA SuperNationals 25.