EKN Trackside: Superkarts! USA SuperNationals 25 – Thursday Report
Hiltbrand and Giltaire lead international dominance during qualifying day in Las Vegas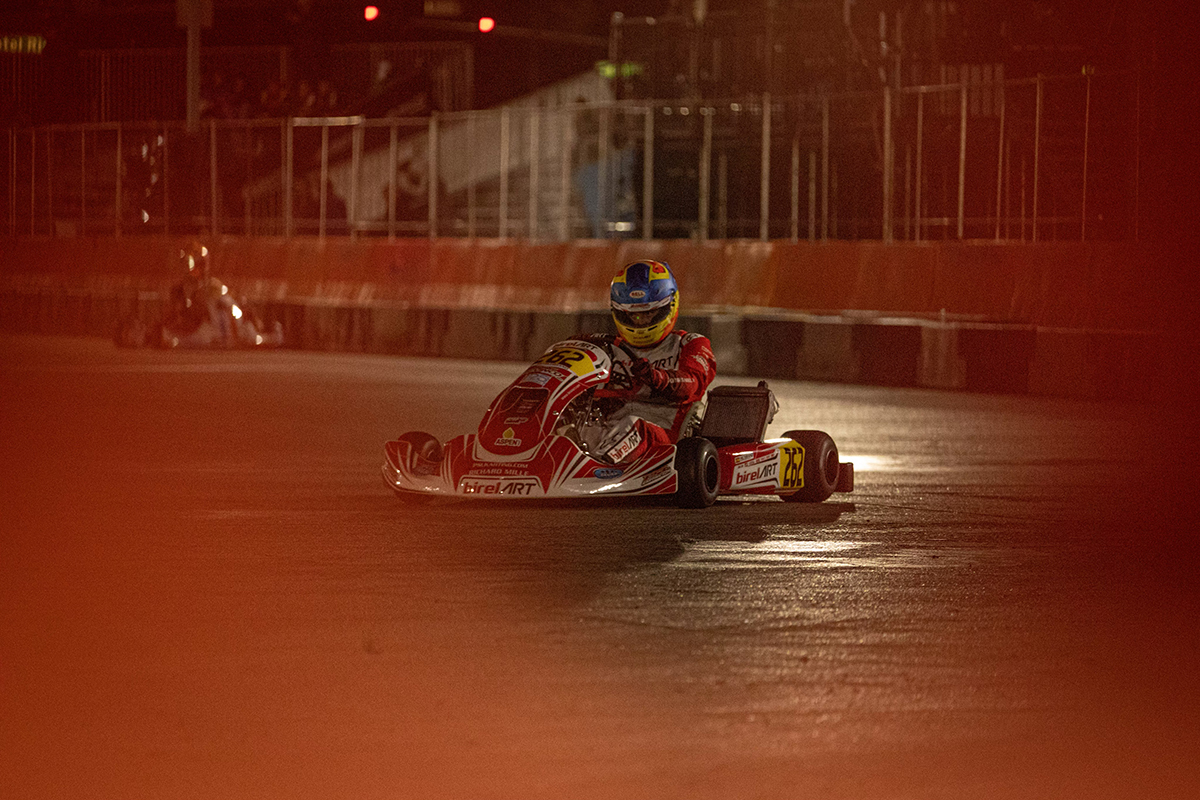 Pedro Hiltbrand earned his first SuperNationals top qualifier honor in first start for Pro Shifter (Photo: EKN - Nate Dean)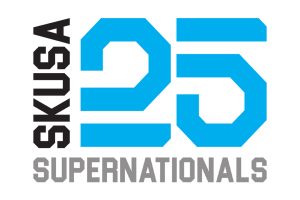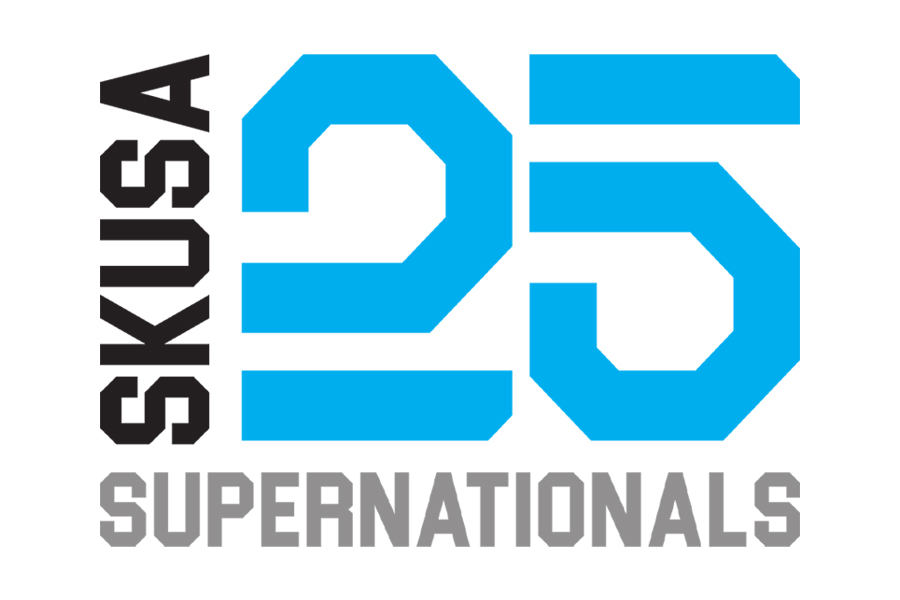 The Superkarts! USA SuperNationals 25 is officially underway outside the Rio All-Suite Hotel & Casino in Las Vegas. Following a full day of practice on Wednesday, the over 570 entries in 10 categories completed the lead up with the final two rounds of testing before competitors went all in for qualifying. The day was full of sunshine and slightly warmer feel then on Wednesday with less of a wind. That was until the sun set behind the Rio building and the lights on the Vegas strip began to shine that temperature continued to drop with the final laps of qualifying contested. The two headline categories in the afternoon group, along with six of the classes were led by international drivers in the timed qualifying sessions, with Pedro Hiltbrand and Evan Giltaire earning the B.R.M Chronographes timepieces in Pro Shifter and X30 Senior.
The first category to hit the track was the KA100 Junior division by Think60.org. The fifth and final lap of the session was the money circuit with nearly every driver in the 67-kart field posting their quick time on the last lap. Steven Miller (CDR / Alonso Kart) was able to edge out Max Garica (MPG / Kart Republic) by four thousandths of a second. Christian Cameron (AKR / Tony Kart) and Max Taylor (RPG / Kosmic) were all within 56 thousandths of Miller's time. Ernesto Rivera (RPG / Kosmic) rounded out the fast five with SKUSA Pro Tour champion Jesus Vasquez Jr. (Nash / EOS) back in 10th.
The 79-driver KA100 Senior class presented by AMR/Medic West was led in qualifying by Alex Stanfield (GWR / Tony Kart). The SKUSA Pro Tour vice-champion put in a 45.409 lap time in his fifth and final circuit to steal the top qualifier honor. Connor Ferris (TFR / Kart Republic) was an impressive second with Senior rookie Chase Hand (RPG / Kosmic) in third. Alexander Kardashian – winner of the 2022 Purdue Grand Prix – landed the fourth best time with Gavin Bayliff (Trinity / Kart Republic) rounding out the fast five. SKUSA Pro Tour champion and two-time SuperNationals winner Jeremy Fletcher (RPM / Tony Kart) was among the quickest throughout practice, ended up 32nd overall. Ferris received a four position grid penalty due to a pushback bumper for the opening heat race, thus will not start on the front row for Heat #1.
The inaugural running of the KA100 Master class presented by RLV at the SuperNationals will have Renato Jader David as the first ever top qualifier. The Brazilian native was able to post a 46.702 lap time to edge out fellow countryman Danillo Ramalho (REM / Kosmic) by 97 thousandths. Bobby Kelley (MMK / Redspeed) set the third quickest time with Kyle Walther (Hi5 / Tony Kart) and Eric Molinatti (RWR / CRG) capping out the fast five. EKN's own Rob Howden (RPG / Kosmic) was able to repair damage from getting caught in another driver's spin, pulling out to qualify last and end up 35th overall on the time sheets out of 49 drivers.
A sold out Micro Swift class presented by Parolin USA, featuring 46 drivers, was the final qualifying session for the morning categories. The session was led by Antonio Pizzonia Neto (Orsolon / Parolin), as the first-year driver put down a 49.758-lap to secure the fast time. Alexander Procuna (FLC / Parolin) and SKUSA Pro Tour champion Rocco Simone (Parolin USA) made it a 1-2-3 for Parolin in the session. Jackson Gibson (RPG / Kosmic) ended up fourth with SKUSA Pro Tour vice-champion Troy Ferguson (Benik) rounding out the fast five.
Mini Swift presented by Speed Concepts Racing was the first class in the order for the afternoon groups. Utah driver Michael McGaughy (RPM / Parolin) gave Parolin a second top qualifier honor on the day. McGaughy ran a 49.240-lap time to edge out Turner Brown (SCR / CRG) by five hundredths of a second. August EKN Driver of the Month award winner Isaac Malcuit (Nitro Kart) was third ahead of SKUSA Winter Series Micro Swift champion Alessandro Truchot (Parolin USA). Texan Gage Bailey (IRM / Benik) completed the fast five.
In his debut in the Master Shifter class presented by Nash Motorsportz, four-time world karting champion Davide Fore (Italkart) cleared the 42-driver field. A 42.042-lap was better by nearly two tenths over Master rookies Brian Keck (GFC) and Alan Sciuto (GFC). Former Formula One driver Antonio Pizzonia Jr. (Orsolon / Birel ART) – winner at the ROK Vegas event two weeks ago – was fourth with Scott Presti (TB Kart) completing the fast five. SKUSA Pro Tour champion Robert Fiege (Harden / HMG) was back in 22nd while five-time SKUSA champion Jordon Musser (PSL / Birel ART) suffered a flat rear tire and will start all three heat races from 29th.
Four groups separated the 88-driver field for X30 Senior presented by Rolison Performance Group. Frenchman Evan Giltaire (Trinity / Kart Republic) put his name into the list of contenders with fast time in the qualifying session. A 43.614 was better by 59 thousandths over five-time SKUSA Pro Tour champion Ryan Norberg (RPG / Kosmic). Former SuperNationals winner Connor Zilisch (Late Apex / Tony Kart) was only 86 thousandths off the quick time while Senior rookie Justin Adakonis (MDR / LN Racing Kart) and Alessandro de Tullio (Parolin USA) rounded out the fast five.
The only SKUSA Pro Tour champion from 2022 to secure fast time in qualifying was Caleb Gafrarar (RPG / Kosmic) in the X30 Junior class presented by AM Engines. Gafrarar's lap of 45.033 was best of the 48 drivers in the field. Teammate Ernesto Rivera (RPG / Kosmic) was second with Australian Ky Burke (Energy) in third. SKUSA Pro Tour winner Sebastian Wheldon (JC / LN Racing Kart) was fourth on the final time sheets, ahead of Max Garcia (MPG / Kart Republic).
For only the third time in SKUSA SuperNationals history, a driver secured fast time in two categories. Renato Jader David (Orsolon / Tony Kart) posted the fast time in qualifying to lead the 46-driver field, and to join Connor De Phillippi (2005) and Jimmy McNeil (2011) into the record books. It was two-time NTT IndyCar Series champion Will Power (RPG / Kosmic) that ended as the top challenger, coming up 47 thousandths short of fast time. Two-time SKUSA SuperNationals winner and Master rookie Ben Cooper (RPG / Kosmic) was a close third. Four-time SuperNationals winner Kip Foster (PSL / Birel ART) was fourth with Chris Wehrheim (Nash / Energy) completing the fast five in his Master debut at the SuperNationals.
The final class of the day to hit the track was the Pro Shifter presented by PSL Karting. Former world karting champion Pedro Hiltbrand (PSL / Birel ART) ended the session with a quick time of 41.287 to start all three heat races from the pole position. Three-time SuperNationals winner Danny Formal (RPG / Kosmic) was second, off by 28 thousandths. The top-seven on the time sheets were all within 89 thousandths, including Markus Kajak (RPM / Tony Kart), former SKUSA Pro Tour champion Jake French (PSL / Birel ART) and former world KZ champion and 2022 SKUSA Pro Tour title winner Marijn Kremers (PSL / Birel ART). Last year's winner Matteo Vigano (PSL / Birel ART) ended the session in 11th.
Friday is the first day at the SuperNationals for wheel-to-wheel racing. The morning classes and afternoon divisions will contest a warm-up and the first two rounds of heat races. Be sure to follow the updates and results on EKN social media, and tune into the live audio at ekartingnews.com/live or ekartingnews.com/radio.