Drive to 25: Rob Howden's SuperNationals Journey – Part 5
The preparations are complete, and it's time to go to work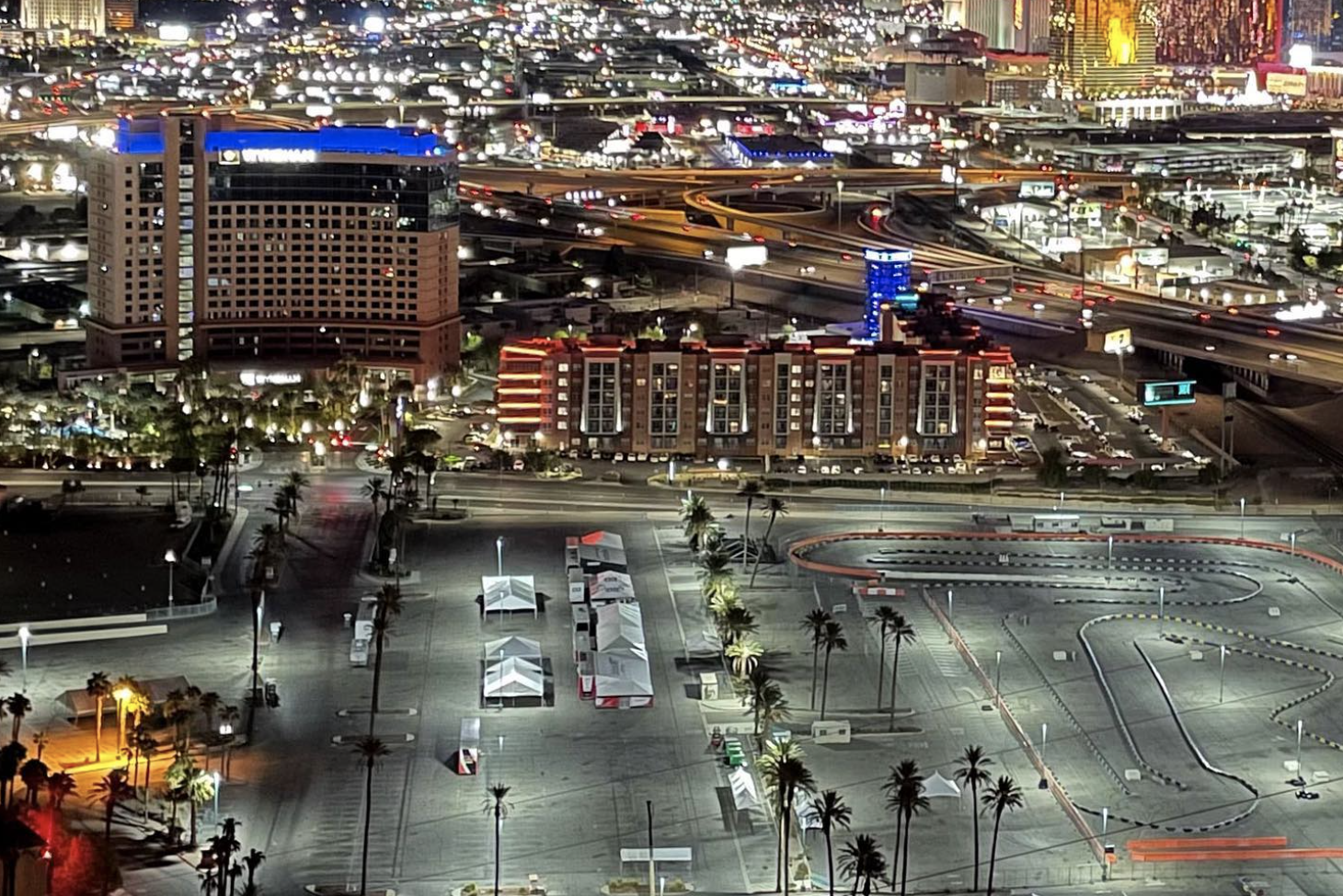 The track for the 25th SKUSA SuperNationals began coming together last week, and this year, EKN's Rob Howden will join over 500 racers on-track
(Photo: SKUSA)
Click HERE for Part 1 of the Drive to 25 series
Click HERE for Part 2 of the Drive to 25 series
Click HERE for Part 3 of the Drive to 25 series
Click HERE for Part 4 of the Drive to 25 series
---
It's Sunday afternoon, and I'm in our room in a resort in Cancun, putting a cap on this year's USF Pro Championships (formerly Road to Indy) Staff Planning Summit. We've powered through hours of super productive meetings, and then extended conversations on the beach and in the pool, and now I'm ready to flip that switch in my brain to full-on SuperNats mode. My EKN crew has been absolutely killing it for the last three weeks with our SuperNationals countdown content on our social media, David Cole's class-by-class preview articles, and a pair of primetime live OutLap preview shows on our YouTube channel. We've made our predictions, and it's time to head to Las Vegas.
As you all know, this year will be a little different for me, as I'm adding in my participation in the KA100 Master class to my commentary role. It's been three months since I decided to run the SuperNationals and jump headfirst into a health and fitness effort that would prepare me much more adequately for this amazing race. It's been a pleasure to work with Chris Giumarra from Rosamond Health and Fitness, and I was also on the front edge of his Chris G's Coaching program, which has helped to keep me on-track. I spent some quality time in the gym here at the resort, so I'm feeling good. I've done all the work I could be prepare myself for the race, so now it's just time to jump in and enjoy the experience. I started this journey at 211 pounds back in August, and I'm proud to say that I was under 190 when I left for Cancun. My work with Chris will continue, as the SuperNationals itself is only the halfway point to my ultimate goal weight of 170 pounds. I will continue to push when I get home.
On the way from Toronto to Cancun, I stopped in Houston to spend at day at Speedsportz Racing Park with the legend Alan Rudolph, and it was so worth it. I'll work on a full article outlining my day at the Alan Rudolph Racing Acadmey but suffice it to say that we fine-tuned my approach to learning a new track and Alan provided some valuable coaching in approaching specific parts of his track, which I'll be able to implement at any facility in the future. I'm sure that I'll be checking in with Alan at the SuperNats as well, to get some additional tips. Getting the opportunity to be at the track with my good friend made this entire decision to race the SuperNationals extra special.
I'm extremely excited to get to Las Vegas and to walk into the Rolison Performance Group tent on Tuesday morning. Getting fitted in my RPG Kosmic will be the first order of business, as will simply connecting with the people who I'll be working with throughout the event, including my teammates in the KA100 Master class. My good friend Mark Traylor will be arriving on Monday night, and he's wrenching for me at the SuperNats, and I know that he's super excited to get hold our kart and to begin working with the RPG technical staff. This year's track walk on Tuesday will be on a whole new level. The opportunity to learn from a multi-time champion and SuperNats winner like Ryan Norberg will be such a treat. For those of you following my journey and experience, please know that my fortune in having this opportunity is not lost on me. I fully understand how lucky I am to not only have this chance to drive in the biggest race in American karting, with arguably the best team in the paddock right now, but to simply to have the career and business that I do.
The SKUSA SuperNationals is the biggest race in our sport, so I knew I'd need to step up my safety equipment kit. My all-black gear will be set aside come Tuesday, as I'm super fortunate to be working with Freem Racing USA's Ryan Beachnor on a new EKN suit design that David Cole and Nate Dean will also get fitted for heading into 2023. I'll unveil the suit on social media this week, and I'll do the same with my new Stilo ST5 KRT helmet. When I first started karting back in 1995, I had a fellow racer paint my first two helmets and I remember staring at them for hours. I'm stoked that he's done the work for this memory-making weekend as well. Taylor Lawson of Taylord Designs worked up a fantastic design, and I'll show it through social media as well. I was late getting my Stilo to Taylor, so he had to bust his butt to get it done for the race. Thankfully, it's at the FedEx facility in Las Vegas as we speak. We shipped it to Acceleration Kart Racing, and Curtis Cooksey will bring it to the track for me. I can't wait to see it in person.
As we head into the weekend, I'll cap this edition of this article series by taking the opportunity to state how blessed and thankful I am to be part of this race for the 25th time. I look back at those early editions in the late 1990s and early 2000s and I can see how they shaped my future. We launched Shifter Kart Illustrated Magazine at the 1998 SuperNationals, beginning a new chapter in my life, and the 2004 event was our debut with ekartingNews.com, having bought the website earlier in the year. David Cole made his SuperNats debut that year as well, and he's only missed one since. I look forward to anchoring the Kart Chaser coverage alongside Xander Clements and Mike Smith, and I'm thankful that they'll allow me the time I need to cross this race off my personal bucket list.
We'll be firing up the EKN social media engine when we get trackside on Tuesday and will be pushing out a ton of content. Thank you to everyone who has commented on my posts or have sent personal messages on encouragement. I just can't believe this is actually happening. I always thought that the SuperNationals would simply be an event that I'd always just call, and never run. That changes on Wednesday morning.