EKN Exclusive: Superkarts! USA SuperNationals 25 – Preview Series – KA100 Senior
Fourth different winner to be decided in category featuring stacked driver roster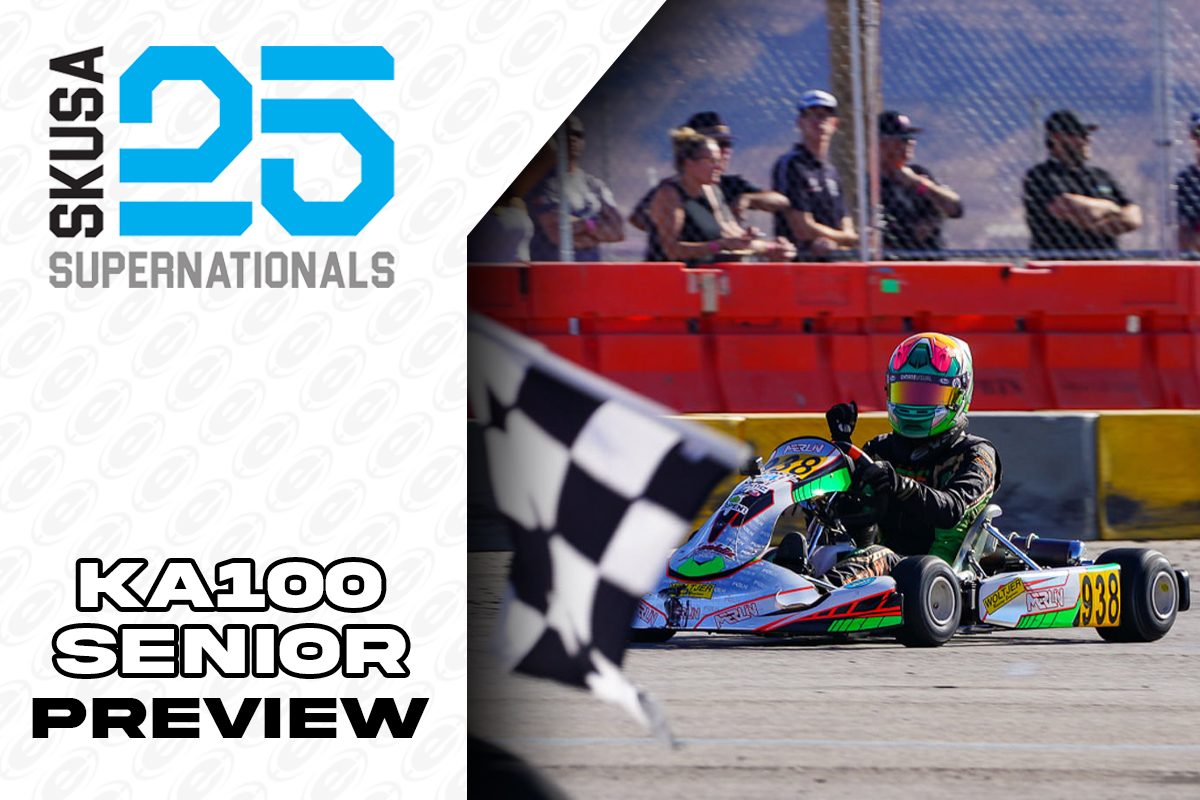 eKartingNews.com is proud to present our Preview Series for the SKUSA SuperNationals 25. Leading up to the on-track action of the silver anniversary edition of the marquee SKUSA event, EKN will preview each of the 10 categories that will compete on the temporary circuit located outside the Rio All-Suite Hotel & Casino in Las Vegas from November 16-20.
Trackside coverage is set to begin on Tuesday, November 15 as we set up our SuperNationals 25 home, roaming the Rio grounds with Paddock Insider and social media content while attending the 2022 SKUSA Pro Tour Awards Presentation ceremony that evening. Our coverage continues into Wednesday as karts hit the track for the first time. EKN Live begins on Thursday, November 17 as qualifying is conducted for both the morning classes and the afternoon divisions. Listen LIVE to the heat races throughout Friday, November 18 and into Situation Saturday, November 19, including the four Last Chance Qualifiers held on the day. That sets everything up for SuperSunday, with the main events for SuperNationals 25 audio streamed live on eKartingNews.com/live.
Complete coverage of the Superkarts! USA SuperNationals 25 can be found at the EKN EVENT PAGE.
---
KA100 Senior
The KA100 Senior division – featuring 74 entries – is set for its fourth edition at the SKUSA SuperNationals, and it will also welcome a fourth different winner. None of the three former victors will be competing at SuperNationals 25, including defending winner Brandon Lemke. Inaugural winner Steven Barros was 'one-and-done', Pauly Massimino is competing in X30 Senior only, and Lemke has elected not to defend his victory from 2021.
In fact, the top-10 will look a lot different this year with only three drivers returning from last year's finishing order. The lone podium finisher coming back is Nicholas Terlecki (Franklin / Exprit), who placed third in his Senior debut at the SuperNationals. Double SummerNationals winner Oliver Calvo (SCR / Redspeed) finished eighth in his second year in the category a year ago. Those wins put Calvo fifth in the SKUSA Pro Tour championship chase. Caleb Shrader (RPG / Kosmic) finished ninth at SuperNationals 24 in his Senior debut and has been among the top 100cc drivers all season long in 2022 finishing fourth in the SKUSA Pro Tour standings.
Two drivers have really stood out among the others in 100cc competition. Jeremy Fletcher ended his Junior career with a double-win SuperNationals last year, taking the victory in both KA100 and X30. Fletcher (RPM / Tony Kart) went on to claim three wins at the SKUSA Pro Tour to score the championship in his rookie season, while also placing third in USPKS standings with one win. Alex Stanfield was the driver to claim the title along the eastern half of the country, winning twice in the eight rounds while finishing second to Fletcher in the SKUSA standings. Stanfield (GWR / Tony Kart) placed 18th in his KA100 Senior debut at last year's SuperNationals.
Fletcher leads a solid rookie crop of drivers that will be making their first start at the SuperNationals. Four drivers finished top-10 in KA100 Junior a year ago, including Chase Hand (RPG / Kosmic), Elliot Cox (MPG / Kart Republic), Parker DeLong (RPM / Tony Kart) and Aden Rudolph (PSL / Birel ART). Ayden Ingratta (SCR / CRG) is making his move up to the Senior ranks for SuperNationals 25, after placing fifth in X30 Junior a year ago. Christian Miles (MDR / LN Racing Kart) – who was top-10 in X30 Junior last year – made the jump up to Senior at the USPKS finale to KA100 Senior. Miles, who was named the Trackhouse Karting Career Advancement Award during the IAME USA Grand National Championship, won in his Senior debut at New Castle, adding a third-place result the following day.
The list of possible podium contenders is long. We begin with some of the former winners in the field. While Brent Crews and Connor Zilisch have not been in the kart much for 2022, they are both possible favorites in the field. Crews (SCR / CRG) is a two-time SuperNationals winner with victory in Mini (2018) and KA100 Junior (2019). A DNF last year in KA100 Senior was followed up by a top-10 in Pro Shifter. He is coming off a Rookie of the Year campaign in the Trans Am Series. Zilisch (LateApex / Tony Kart) is also making his second start in KA100 Senior, coming just corners away from a possible victory last year while nearly landing on the podium in X30 Senior. It would have added to his Mini Swift win in 2017. Zilisch competed in both the MX-5 Cup series and Trans Am Series in 2022.
Chase Jones (MPG / Kart Republic) is fresh off victory at the ROK Vegas event in 100cc competition and is set to make his second start at the SuperNationals in KA100 Senior. Frankie Mossman (Benik / CRG) earned the championship at the California ProKart Challenge program in 2022. Top driver from the Route 66 Sprint Series is Austin Jurs (Franklin / Redspeed), who finished second behind Lemke in the series standings for 2022 and will make his SuperNats debut as a Senior driver. The Texas Sprint Racing Series featured record numbers all season with Stanfield earning the championship. Behind him was Peyton Phillips (Supertune / Tony Kart). Don't count out Blake Nash (Nash / EOS), or Cedrik Lupien (RPG / Kosmic), who ended up third in the SKUSA Pro Tour standings, Aiden Levy (Alonso Kart), Rotax US Trophy Final winner Oliver Hodgson (CompKart), the Bayliff brothers of Gavin and Finnegan at Trinity Karting Group on the Kart Republic, along with Jake French (PSL / Birel ART). The former SKUSA Pro Tour champion is pulling double duty, making his first start in KA100 Senior along with vying for that elusive victory in the Pro Shifter division. Hours prior to posting this preview, French announced this will be his final event, and taking a step back from the driver's seat following the SuperNationals. It will be a final chapter in an amazing career that span's roughly two decades.
---
SuperNationals Stats
0 – Former KA100 Senior winners in the field
4 – Former SuperNationals winner in the field
8 – Different countries represented in field
12 – Drivers from outside of the USA
---
Provisional KA100 Senior Entry List
| No. | Driver | Team | Chassis | Hometown | Nation |
| --- | --- | --- | --- | --- | --- |
| 914 | Aiva Anagnostiadis | | Kosmic | | AU |
| 963 | G3 Argyros | Speed Concepts Racing | CRG | Newport Beach CA | US |
| 949 | Finnegan Bayliff | Trinity Karting Group | Kart Republic | Batavia OH | US |
| 964 | Gavin Bayliff | Trinity Karting Group | Kart Republic | Batavia OH | US |
| 939 | Cadan Bell | Point Karting | Kosmic | Breckenridge CO | US |
| 920 | Jai Brown | Lennox Racing | Birel ART | | AU |
| 994 | John Burke | Supertune USA | Tony Kart | Carrollton TX | US |
| 975 | Oliver Calvo | Speed Concepts Racing | Redspeed | Stockton CA | US |
| 926 | Josh Campbell | Ryan Perry Motorsport | Tony Kart | Gilbert AZ | US |
| 943 | Gia Cicero | Rolison Performance Group | Tony Kart | Pound Ridge NY | US |
| 930 | Diego Contecha | Orsolon Racing | Kart Republic | | CO |
| 981 | Elliot Cox | MPG Motorsports | Will Power Kart | Indianapolis IN | US |
| 996 | Brent Crews | Speed Concepts Racing | CRG | Denver NC | US |
| 928 | Adrian Cruz | CRD | Exprit | Fort Worth TX | US |
| 958 | Alexander Dal Bon | LFB Racing | Tony Kart | Orlando FL | US |
| 997 | Parker Delong | Ryan Perry Motorsport | Tony Kart | Glendale AZ | US |
| 955 | Nickolay Doukhov | Trinity Karting Group | Kart Republic | Mason OH | US |
| 962 | Aaron Farhadi | Alex Keyes Racing | Tony Kart | Las Vegas NV | US |
| 942 | Alex Feldstein | Franklin Motorsports | Merlin | Madison WI | US |
| 974 | Matias Fernandez | SLA Kart Racing | Ternengo Kart | Orlando FL | AR |
| 918 | Connor Ferris | Team Ferris Racing | Kart Republic | Hackettstown NJ | US |
| 901 | Jeremy Fletcher | Gary Willis Racing | Tony Kart | St. Cloud FL | US |
| 969 | Anthony Freese | West Coast Motorsports / PSL | Birel ART | Salinas CA | US |
| 960 | Jake French | PSL Karting | Birel ART | Sanger TX | US |
| 925 | Brian Garcia | T1D Racers | Kosmic | Pembroke Pines FL | US |
| 967 | Liam Gerges | | Parolin | | AU |
| 927 | Chase Hand | Rolison Performance Group | Kosmic | Wilton CA | US |
| 945 | Oliver Hodgson | CompKart | CompKart | Phoenix AZ | GB |
| 935 | Dane Idelson | PSL Karting | Birel ART | Pacific Palisades CA | US |
| 954 | Ayden Ingratta | Speed Concepts Racing | CRG | | CA |
| 905 | Zhanbin Jia | | Tony Kart | Glen Head NY | CN |
| 922 | Chase Jones | Race Factory / MPG Motorsports | Kart Republic | Monrovia IN | US |
| 931 | Austin Jurs | Franklin Motorsports | Redspeed | Union IL | US |
| 993 | Alexander Kardashian | AMK Race Products | EOS | St. Paul MN | US |
| 978 | Hunter Kelly | SpeedSense Motorsports | Redspeed | Elk Grove CA | US |
| 995 | Ethan Lampe | HRT / MDG Karting | Kosmic | Hollister CA | US |
| 934 | Cameron Laws | Trinity Karting Group | Kart Republic | | AU |
| 990 | Aiden Levy | | Alonso Kart | Charlotte NC | US |
| 951 | Nazareno Lopez Cesaratto | PSL Karting | Birel ART | | AR |
| 966 | Rowe Luckinbill | Nash Motorsportz | EOS | Woodland Hills CA | US |
| 903 | Cedrik Lupien | Rolison Performance Group | Kosmic | | CA |
| 911 | Christopher Martin | GWR | OTK | Daly City CA | US |
| 953 | Jackson Menchu | PKS | Tony Kart | Fresno CA | US |
| 968 | Zak Meyer | Rolison Performance Group | Kosmic | Sherwood OR | US |
| 983 | Christian Miles | Mike Doty Racing | Kosmic | Paloma IL | US |
| 970 | Frankie Mossman | Team Benik | Tony Kart | Newport Beach CA | US |
| 904 | Blake Nash | Nash Motorsportz | EOS | Riverside CA | US |
| 952 | Randy Nelson | Taylyn Development | | Mooresville NC | US |
| 982 | Andy Nish | Msquared Karting | Kosmic | Centerville UT | US |
| 980 | Terrin Odom | Ryan Perry Motorsport | Tony Kart | Pittsboro NC | US |
| 986 | Rehn Palmquist | Nash Motorsportz | OTK | Newport Beach CA | US |
| 973 | Riley Pegram | Trinity Karting Group | Kart Republic | Hebron OH | US |
| 909 | Ryan Persing | Nash Motorsportz | EOS | Morgan Hill CA | US |
| 910 | Peyton Phillips | Supertune USA | Tony Kart | Austin TX | US |
| 956 | Oscar Priest | Rolison Performance Group | Kosmic | | AU |
| 989 | Brett Revetta | Sanner Racing | Tony Kart | El Cajon CA | US |
| 959 | Kieran Rogers | Rolison Performance Group | Kosmic | Mercer Island WA | US |
| 913 | Noah Rosser | MottazSport | Kart Republic | Bradenton FL | US |
| 979 | Aden Rudolph | PSL Karting | Birel ART | New Caney TX | US |
| 984 | Gracian Rzedzian | TecnoKart USA | Tecno Kart | Bloomingdale IL | US |
| 906 | Luke Sawyer | Arrow | Arrow | | AU |
| 921 | Caleb Shrader | Rolison Performance Group | Kosmic | Tigard OR | US |
| 929 | Alex Siragusa | GFC | GFC | Anaheim CA | US |
| 902 | Alex Stanfield | GWR | Tony Kart | Argyle TX | US |
| 923 | Tomass Stolcermanis | Nash Motorsportz | Energy | | LV |
| 948 | Lucas Szabo | Ryan Perry Motorsport | LN Racing Kart | Ridgewood NY | US |
| 998 | Nicholas Terlecki | Franklin Motorsports | Exprit | Gilberts IL | US |
| 987 | Charlotte Traynor | Mike Doty Racing | Tony Kart | Indian Hills CO | US |
| 940 | Travis Varney | Forward Direction Motorsports | CompKart | Highlands Ranch CO | US |
| 932 | Ryan Vincent | Nash Motorsportz | EOS | San Diego CA | US |
| 936 | Henry Wheeler | MPG Motorsports | Kart Republic | Chagrin Falls OH | US |
| 991 | Dylan Wilkins | Nash Motorsportz | OTK | Rocklin CA | US |
| 992 | Haopeng Zhang | Supertune USA | Tony Kart | Kalamazoo MI | US |
| 971 | Connor Zilisch | Late Apex Kartworks | Tony Kart | Mooresville NC | US |