EKN Exclusive: Superkarts! USA SuperNationals 25 – Preview Series – X30 Master
History on the horizon within the one of the toughest fields in Vegas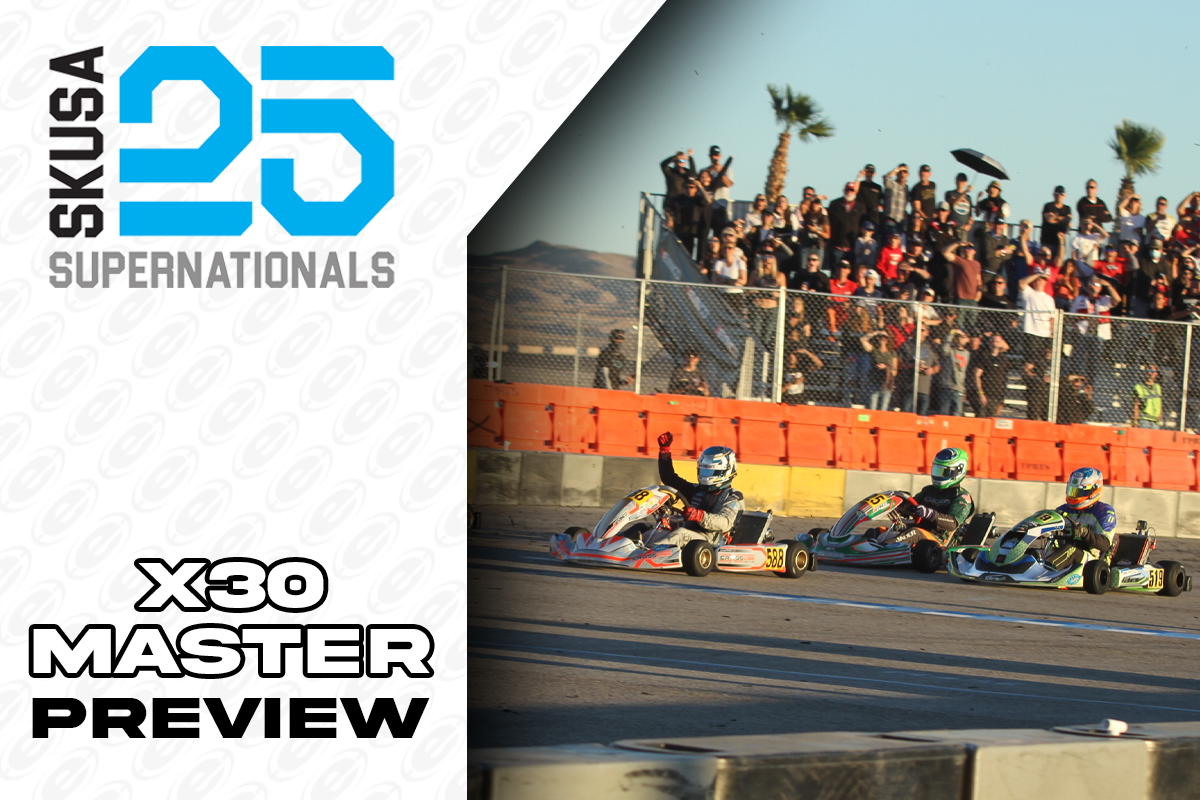 eKartingNews.com is proud to present our Preview Series for the SKUSA SuperNationals 25. Leading up to the on-track action of the silver anniversary edition of the marquee SKUSA event, EKN will preview each of the 10 categories that will compete on the temporary circuit located outside the Rio All-Suite Hotel & Casino in Las Vegas from November 16-20.
Trackside coverage is set to begin on Tuesday, November 15 as we set up our SuperNationals 25 home, roaming the Rio grounds with Paddock Insider and social media content while attending the 2022 SKUSA Pro Tour Awards Presentation ceremony that evening. Our coverage continues into Wednesday as karts hit the track for the first time. EKN Live begins on Thursday, November 17 as qualifying is conducted for both the morning classes and the afternoon divisions. Listen LIVE to the heat races throughout Friday, November 18 and into Situation Saturday, November 19, including the four Last Chance Qualifiers held on the day. That sets everything up for SuperSunday, with the main events for SuperNationals 25 audio streamed live on eKartingNews.com/live.
Complete coverage of the Superkarts! USA SuperNationals 25 can be found at the EKN EVENT PAGE.
---
X30 Master
SKUSA SuperNationals 25 will mark the 19th time for a Master category in the 'TaG' engine platform at the Las Vegas event. It all began in 2003 at the Rio All-Suite Hotel & Casino as the organization welcomed the class reserved for the elder drivers in the 'Touch & Go' machines. The division carried momentum each year, and eventually became one of the first to sell out once registration began. The X30 Master class was expanded past the 44-driver mark in 2016, however, reverted to just 44 in 2021 with numbers shrinking over at the SKUSA Pro Tour. During the span of the class at the SuperNationals, 11 drivers have claimed victory, with five earning multiple wins in the class.
The record for most wins by a driver is four, currently held by three different drivers. Current factory BMW driver Connor De Phillippi was the first to do so by 2007, as Billy Musgrave and Aussie Kip Foster each grabbed a fourth SuperNationals victory in 2019. Foster first enjoyed the top step of the podium in 2014 after having two previous provisional wins taken away in consecutive years. He backed up the win in 2015 and then went back-to-back in 2018 and 2019 to bring his total wins to four. The COVID pandemic kept him away in 2021, and now, the 'Driver for Five' is on with his return in 2022. In total, Foster has seven podium results in 10 starts that began in 2009.
Foster is not the only SuperNationals winner in the field as there are four others who have won in Las Vegas. Joining Foster as a former X30 Master winner is Renato Jader David. Regarded as one of the top Master drivers in the world, 'RJD' (Orsolon / Tony Kart) was a winner in 2016. He has six straight top-10 results, including finishing on the podium the last three editions. Renato is coming off his third ROK Vegas victory in five years, and a third title at the ROK Cup Superfinal in Italy last month.
Among the favorites – on and off the track – making only his second start in the class is three-time SuperNationals winner Bonnier Moulton. The SuperNationals began in 1997, and Moulton (MSquared / Tony Kart) finished on the podium at the opening event. To date, Bonnier is the only driver to compete in all 25 events with his upcoming start on SuperSunday. He secured his first victory at the 2004 event in G1, then went back-to-back in 2011 and 2012 for the S4 class. The 2017 inductee into the SKUSA Hall of Fame is seeking a fourth victory to celebrate the event's silver anniversary.
One driver is looking to match that three-win total at the SuperNationals via X30 Master, which would be his third different category to win in. Canadian Ben Cooper first tasted victory at the SuperNationals in DD2 back in 2013, adding to his previous three Rotax Grand Finals victories. He did not return to the SuperNationals as a driver until 2018 when he escaped a wild last lap for victory in X30 Senior. He recorded an 11th place finish in his defense the following year. Cooper is returning after missing last year's event, set to make his first start in X30 Master. Cooper is also coming off victory at the IAME USA Grand National Championship.
Also included in the 'young gun' club making their first start in X30 Master is another former winner. The 2000 K3 (Novice Shifter) winner was Colorado driver Greg Welch. The now owner of Forward Direction Motorsports is set to return behind the wheel at the SuperNationals for the first time since the KA100 Senior debut in 2018 where he placed 13th. Add in former SuperNationals podium finisher Chris Wehrheim (Nash / Energy) – who won in his USPKS debut – and Cody Hodgson (Aluminos) to the list of 'young guns'.
The most notable driver in terms of SuperNationals history making his X30 Master debut is Aussie David Sera (KSNA / Kart Republic). The 18-time Australian champion has to his credit 10 SuperNationals starts in Senior competition, and his name in the closest finish in the event's history. Unfortunately for him, it was on the wrong side of history as he came one thousandth of a second short of victory in 2010. In total, he has two runner-up finishes and a third-place result for three podium marks during that tenure.
A total of seven Australia drivers will be competing in the X30 Master category, however, only one of them is a current two-time NTT IndyCar Series champion. Will Power is set to make his fifth start at the SKUSA SuperNationals. The first came in 2013 with a DNF before placing runner-up to Foster in 2014. His return in 2019 led to the creation of the Will Power Kart and the restoration of MPG Motorsport with Billy Vincent working as his wrench that year. Last year's move to the Senior ranks was a rough week, and now 2018 Indy 500 winner is back in X30 Master, this time with Rolison Performance Group aboard a Kosmic.
Let's not forget the seven drivers who are returning from finishing in the top-10 last year. Absent is 2021 winner Derek Wang, who is set to compete for an 11th time at the Rotax Grand Finals as part of Team USA. What was one of the closest finishes in SuperNationals history last year on SuperSunday left Matt Johnson (Nash / EOS) sitting runner-up for a second straight year. Former Rotax Grand Finals winner Martin Pierce (Trinity / Kart Republic), 2022 USPKS champion and Rotax US Trophy Final winner Danillo Ramalho (REM / Kosmic) and RJD finished third, fourth and fifth. Add in now two-time defending SKUSA Pro Tour champion Mario Barrios (RPG / Kosmic), KC Cook (JHM / Tony Kart) and Challenge of the Americas champion Ian Koentges (FDM / CompKart) coming off victory at ROK Vegas in 100cc competition who rounded out the top-10 a year ago back for more.
To close out the preview, add in two-time USPKS champion Scott Kopp (Franklin / Exprit), Diego Pelosi (Orsolon / Tony Kart), former ROK Vegas winner Martin Stone (REM / Kosmic), Texas Sprint Racing Series KA100 Master champion Miguel Mier (CRD / Tony Kart) and former podium finisher Laurentiu Mardan (TecnoKart USA) as all possible contenders as well.
---
SuperNationals Stats
1 – Current IndyCar champion in the field
5 – Former SuperNationals winner in the field
11 – Wins in total by five drivers
12 – Different countries represented in field
20 – Drivers from outside of the USA
---
Provisional X30 Master Entry List
| No. | Driver | Team | Chassis | Hometown | Nation |
| --- | --- | --- | --- | --- | --- |
| 556 | Dylan Albiani | Racer Motorsports / RPM | Tony Kart | Fresno CA | US |
| 574 | Roberto Arato | SLA Kart Racing | Ternengo Kart | | AR |
| 501 | Mario Barrios | Rolison Performance Group | Kosmic | Miami Beach FL | PE |
| 511 | Carlos Calderon | Aluminos | Aluminos | San Jose CA | US |
| 533 | Cameron Cassels | Catalyst Driver Development | Italkart | | CA |
| 562 | KC Cook | JH Motorsports | Tony Kart | Long Beach CA | US |
| 531 | Ben Cooper | Rolison Performance Group | Kosmic | | GB |
| 521 | Alex Dal Bon | LFB Racing | Tony Kart | Orlando FL | US |
| 525 | Renato Jader David | | Tony Kart | North Miami FL | BR |
| 523 | Ariel Dominguez | Zaffaroni | Tony Kart | | AR |
| 520 | Kip Foster | PSL Karting | KF Kart | | AU |
| 570 | Michel Garrido | Alessandros Racing | Tony Kart | Plantation FL | CO |
| 508 | Tom Gerstner | Checkered Motorsports | Magik Kart | Rochester NY | US |
| 550 | Glauber Granero | Orsolon Racing | Tony Kart | Miami FL | BR |
| 517 | Thomas Grice | | Birel ART | | GB |
| 555 | Cody Hodgson | Aluminos / Double Nickel | Aluminos | Escalon CA | US |
| 547 | Sam Houston | Shamick Racing | Parolin | | AU |
| 543 | Matt Johnson | Nash Motorsportz | EOS | Corona CA | US |
| 573 | Ian Koentges | Forward Direction Motorsports | CompKart | Parker CO | US |
| 538 | Scott Kopp | Franklin Motorsports | Exprit | Mukwonago WI | US |
| 532 | Jaime Labastida | | Kart Republic | | MX |
| 506 | Jace Lindstrom | Team Benik | Kosmic | | AU |
| 518 | Darin Marcus | Fullerton USA | Fullerton | Northbrook IL | US |
| 582 | Laurentiu Mardan | TecnoKart USA | Tecno Kart | Arlington Heights IL | RO |
| 577 | Miguel Mier | Rolison Performance Group | Kosmic | Celina TX | MX |
| 515 | S.H. Moon | Rolison Performance Group | Kosmic | | KR |
| 549 | Bonnier Moulton | Msquared Karting | Tony Kart | Salt Lake City UT | US |
| 505 | Takeharu Nakamori | Supertune USA | OTK | | JP |
| 528 | Javier Nescier | Ternengo Racing – SLA | Ternengo Kart | | AR |
| 514 | Leigh Nicolaou | Parolin USA | Parolin | | AU |
| 522 | Diego Pelosi | Orsolon Racing | Tony Kart | San Diego CA | BR |
| 507 | Shane Petersen | AM Racing Team | Exprit | | AU |
| 564 | Martin Pierce | Trinity Karting Group | Kart Republic | Kinnelon NJ | US |
| 512 | Will Power | Rolison Performance Group | Kosmic | Troutman NC | AU |
| 502 | Danillo Ramalho | Racing Edge Motorsports | Kosmic | | BR |
| 535 | Tony Rossetti | Factory Karts | Factory Karts | Beaumont CA | US |
| 596 | David Sera | KartSport North America | Kart Republic | | AU |
| 597 | Sandrei Alberto Silva | | Kosmic | | BR |
| 529 | Martin Stone | Racing Edge Motorsports | Kosmic | Dallas TX | US |
| 544 | Robert Switzler | Independent Racers | Kosmic | Encinitas CA | US |
| 509 | Henry Taleb | Rolison Performance Group | Kosmic | | EC |
| 510 | Armando Watson Torres | Orsolon Racing | Kosmic | | PE |
| 527 | Ignacio Vivian | Zaffaroni | Tony Kart | | AR |
| 516 | Chris Wehrheim | Nash Motorsportz | Energy | Los Angeles CA | US |
| 545 | Greg Welch | Forward Direction Motorsports | CompKart | Parker CO | US |
| 554 | Steve Wiener | JH Motorsports | Kart Republic | Spring Valley CA | US |