2022 ROK Vegas Presented by Radical Cup – Sunday Report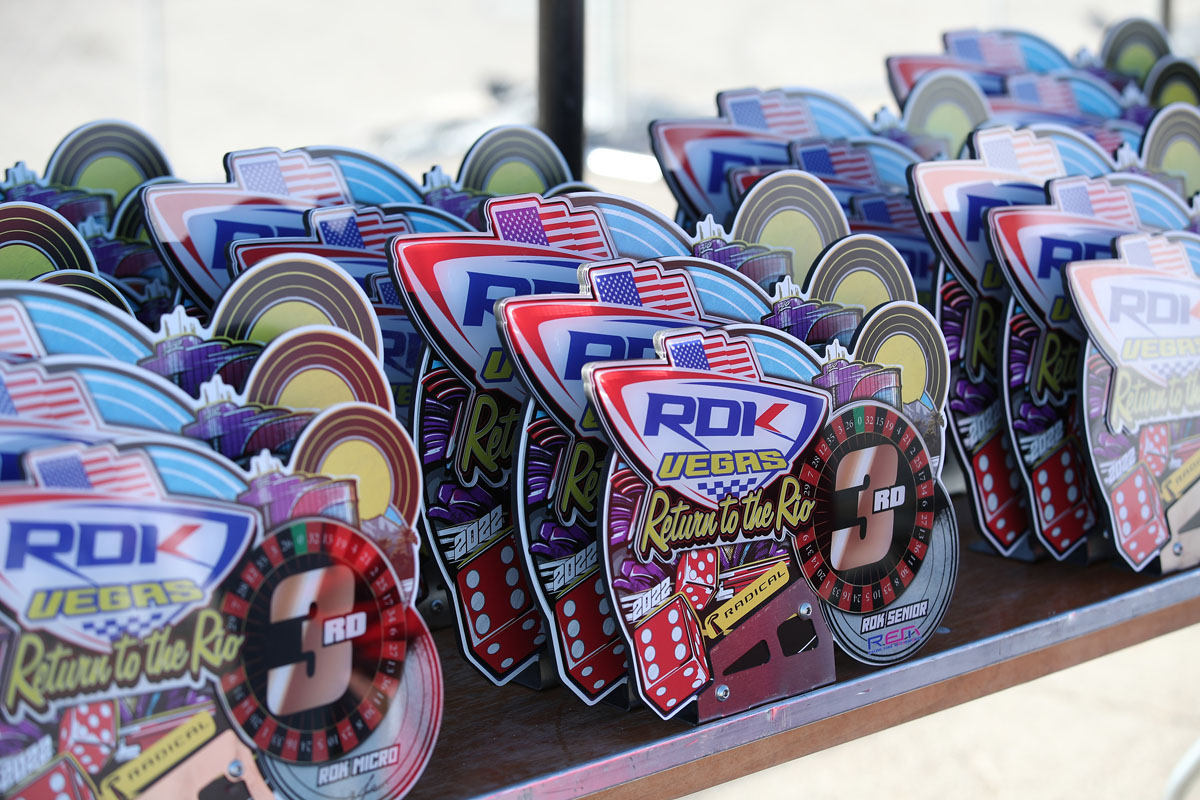 (Photo: ROK Cup USA - CKN)
Main Events
ROK VLR Junior – Nash Motorsportz
Main Event Starting Grid:
1. Helio Meza – Iron Rock Motorsports
2. Jesus Vasquez – Nash Motorsportz
3. Caleb Gafrarar – Rolison Performance Group
4. Stephen Eisert – Speedsense Motorsports
5. Max Taylor – Rolison Performance Group
The first final of the day kicked off at 9:00am PDT as the ROK VLR Junior drivers took to the track. Pole sitter Jesus Vasquez jumped to the early lead with Stephen Eisert and Helio Meza in tow. A small gap back to Caleb Gafrarar had opened after two laps as he battled with Oliver Wheldon (JC Karting). Wheldon was able to get by Gafrarar for fourth as Vasquez was able to open a small gap on Meza who was by Eisert for third. Some contact mid-pack took some drivers out of contention, but the focus was on the second and third place drivers who had begun to work together to catch the leader. On lap five, it was a three-kart race upfront as a trio of drivers now ran nose to tail. Ernesto Rivera was by Gafrarar for P5 as the RPG driver seemed to struggle with speed early on. Lap seven saw Vasquez jump out to a lead by half a second as the battle raged on behind him for second through fifth led by Meza. At mid-race distance, Vasquez had opened a seven-tenth gap on his rivals who were getting organized for a possible attack behind him as Meza was three-tenths faster than Vasquez on lap eleven to cut the gap in half. A lap later it was another tenth quicker for the trio of drivers on the hunt as Wheldon was by Eisert on lap fourteen for third. With five laps to go it was still anybody's race in the top four as Wheldon made another move into second giving Vasquez some breathing room of just over half a second. Pushing hard, Wheldon was slowly reeling in Vasquez but time was running out. Closing to within a couple of kart lengths with two laps remaining, the race was on for the ROK VLR Junior title. Wheldon got to the back of Vasquez in turn six but was unable to get by. Vasquez defended in the final corner as Wheldon got a run to get alongside the #877 but lost the drag race to the line by .031. Jesus Vasquez is your ROK VLR Junior Champion for 2022. Following the race, a few technical infractions were found with drivers in the top-five, but Vasquez remained the winner ahead of Wheldon and Eisert. Caleb Gafrarar was the new fourth-place finisher as Keagan Kaminski (GFC) was classified fifth.
Podium:
1. Jesus Vasquez
2. Oliver Wheldon
3. Stephen Eisert
---
ROK VLR Senior – Full Throttle Karting
Main Event Starting Grid:
1. Caleb Shrader – Rolison Performance Group
2. Chase Jones – MPG Motorsports
3. Chase Hand – Rolison Performance Group
4. Jeremy Fletcher – Ryan perry Motorsports
5. Adam Ali – Racing Edge Motorsports
Chase Jones jumped forward from his P2 starting spot to take the lead as he and Jeremy Fletcher were able to get by Caleb Shrader who started in the pole position. Shrader had fallen back to fifth by the end of lap two but lap three saw Hand and Shrader get by Cole Shroeder (Ruthless Karting) as Fletcher hounded Jones for the lead. Fletcher was able to make his way to the point on lap six as the front five were within half a second of one another. Chase Hand had contact on lap eight losing momentum and falling to P8 on track but regained his momentum to stay in the top ten. Fletcher and Jones ran nose to tail as they opened a gap on the third-place runner of Shrader as Adam Ali and Frankie Mossman (Team Benik) were able to move fourth and fifth respectively at the mid-race distance. The front nine remained unchanged for a few circuits but Mossman was flexing his muscles showing speed to close the gap as he looked to fight for the win. Things began to heat up again with five laps to go as the top six drivers were separated by less than one second. Mossman was the first to make a move as he leveled up to fourth on lap fifteen. Side-by-side racing then ensured as Shrader was shuffled from third to fifth elevating Mossman and Ali into a potential podium position. With three different chassis brands represented in the top three with two laps remaining it would all get mixed up on the final circuit. Mossman would go by Fletcher in turn eight bringing Chase Jones with him. Defending through turn nine and losing momentum, Jones was able to get by Mossman into turn ten as Fletcher did the same two corners later. Jones would take the win over Fletcher, Mossman, Adam Isambard (ANSA) and Adam Ali. Post-race Mossman was penalized two positions for a pushback bumper elevating Isambard to the third step of the podium ahead of Ali in fourth.
Podium:
1. Chase Jones
2. Jeremy Fletcher
3. Alan Isambard
---
ROK Mini – Speed Concepts Racing
Main Event Starting Grid:
1. Isaac Malcuit – MMR
2. Carson Weinberg – Speed Concepts Racing
3. Gage Korn – Race Factory
4. Turner Brown – Speed Concepts Racing
5. Baxter Jarrett – Parolin USA
Carson Wienberg was quick to dispose of Isaac Malcuit for the lead as Gage Korn followed suit pushing Malcuit to third. Canadian Ty Fisher (Racelab) found his way into the top-five early on as he slotted into the fourth position by the end of lap four as the front three had opened a more than three-second gap on the rest of the field. Contact amongst some of the front-runners including fourth-place starter Turner Brown, Michael McHaughy, and Cason Hodge saw them on the sidelines and out of the race. Things remained static up front until Lucas Palacio (Prime Powerteam) made a move to get by Tristan Murphy (Parolin USA) for sixth. With nine laps down and nine to go, Weinberg still led Korn and Malcuit as they had opened a six-second hap on Ty Fisher in fourth who led the train of another four karts. It was a tame race up front with Malcuit methodically working his way by Korn for second and then on the same lap, went by Weinberg for the lead. Weinberg took the lead back in turn twelve to lead another lap as the front three ran nose to tail with five to go. Lucas Palacio was able to get by Fisher for fourth as Tyrone Kemper Jr. (Team Benik) moved to fifth. Contact between Weinberg and Malcuit opened the door for Korn to take the lead with four laps remaining as he opened a gap of .484 as he had his eyes set on a ROK Vegas championship. Weinerg and Malcuit regained their composure and caught Korn with Weinberg taking the lead with two laps to go. Coming to the white flag Weinberg defended as Malcuit drove around the outside down the back straight to take the lead and never look back. Malcuit scored the win as Korn was able to get by Weinberg in the final corner to take second. Weinberg held on for the third step on the podium with Kemper in fourth and Palacio in the fifth position. Post-race there was a penalty for Weinberg that saw him fall to fifth on the results sheets elevating Kemper to the podium in third and Palacio in fourth.
Podium:
1. Isaac Malcuit
2. Gage Korn
3. Tyrone Kemper Jr.
---
ROK Master Shifter- ANSA Karting
Main Event Starting Grid:
1. Matthew Hamilton – Aluminos
2. Antonio Pizzonia Jr. – Orsolon Racing
3. Jordon Musser – PSL Karting
4. Neil Joseph – GFC
5. Bud Grossenbacher – Racelab
Antonio Pizzonia rocketed forward from his off-pole starting position to take the lead as pole position winner Matthew Hamilton was slow off the line. Pizzonia led with Musser moving into second pushing Hamilton back to third. Neil Joseph was able to hold onto the fourth position ahead of Kevin Woods (Ron White Racing) in fifth. Bud Grossenbacher and Rene Martinelli (Racelab) who had run in the top-ten all weekend were out early after contact ruined their chance of a top-five result. Pizzonia led by half a second over Musser who had a half-second gap on Hamilton in third. Evenly spaced and clicking off laps in the twenty-five-lap final ,the front four were within 1.8 seconds but it was an additional four seconds back to fifth. By lap thirteen, Musser had closed the gap to less than four-tenths of a second as it looked to be a two-driver race for the win. With ten laps to go, there were three drivers now within 1.5 seconds of the lead. The only item that had changed as drivers reached lap twenty is that Pizzonia opened the gap to one second over Musser as he looked unstoppable up front. Hamilton would sneak by Musser with three laps remaining to get to the second position, but it was all Pizzonia up front. Pizzonia scored his first ROK Vegas championship ahead of Hamilton and Musser while Neil Joseph and Kevin Woods rounded out the top-five.
Podium:
1. Antonio Pizzonia Jr.
2. Matthew Hamilton
3. Jordon Musser

---
ROK Senior – Racing Edge Motorsports
Main Event Starting Grid:
1. Marijn Kremers – PSL Karting
2. Zachary Claman DeMelo – Racing Edge Motorsports
3. Diego Ramos – PSL Karting
4. Frankie Mossman – Team Benik
5. Jack Jeffers – Speed Concepts Racing
Marijn Kremers maintained his lead from the pole position as Diego Ramos was able to get by Zachary Claman-DeMelo during the opening lap as Jack Jeffers was also able to get by Frankie Mossman for fourth. DeMelo was able to jump Ramos on lap three as Mossman got by Jeffers for fourth bringing Ayden Ingratta (Speed Concepts) with him to fifth. Jeffers continued to fall down the running order to ninth a lap later as he looked to get back on pace. DeMelo was faster than Kremers on lap five and made the move for the lead a lap later, in turn nine as Ramos followed him through. Lap eight saw Kremers and Mossman get by Ramos for second and third respectively as the battle was on in ROK Senior. Ryan Norberg (RPG) worked his way into the top five passing Ingratta for fifth as DeMelo opened the gap to around half a second. Mossman and Norberg both made moves on lap ten to move into second and fourth allowing DeMelo to jump out to a seven-tenth of a second lead. Mossman showed great pace mid-race as he began to close the gap on DeMelo. Cutting two-tenths out of his lead on lap eleven, Norberg was also on a charge disposing of Kremers for third and then got by Mossman on lap thirteen for second. Norberg closed the gap on DeMelo and by the start of lap fifteen, was right on the bumper of the leader before a mistake saw Mossman and Ramos sneak back by for second and third. Contact between Claman-DeMelo and Mossman saw them go hard into the barriers with Mossman out of the race and DeMelo back to 19th. Benefiting from the other drivers' crashes, Ramos moved to the lead over Norberg and Nate Cicero (Rolison Performance Group) as Kremers and Ingratta ran fourth and fifth. Norberg and Cicero moved to first and second on lap twenty-one as Kosmics ran first and second with BirelARTs third and fourth. Kremers was able to get by his PSL Karting teammate for the potential third step on the podium. Matheus Morgatto moved into the fourth position as he passed Ingratta and Ramos with two laps remaining but there was no catching Norberg. RPG score a one-two finish with Norberg winning ahead of Cicero, Kremers, Ramos, and Ingratta. Following the main event, Nate Cicero was given a three-position penalty relegating him to fifth on the results sheets and promoting Kremers and Ramos to podium positions, and Ingratta to fourth as Morgatto also incurred a multi-position penalty.
Podium:
1. Ryan Norberg
2. Marijn Kremers
3. Diego Ramos
---
ROK Master – Orsolon Racing
Main Event Starting Grid:
1. Renato Jader – Orsolon Racing
2. William Isaias – International Motorsports
3. Martin Stone – Racing Edge Motorsports
4. Derek Wang – Ruthless Karting
5. Mario Barros – Rolison Performance Group
The afternoon main events would kick off with the ROK Master class with newly crowned ROK Cup SuperFinals Champion Renato Jader starting from the pole position alongside William Isaias and just ahead of 2021 ROK Vegas ROK VLR SENIOR Champion Martin Stone. Jader jumped to the lead in the first complex of corners and brought Stone with him into second. By lap four, Derek Wang had worked his way to the third position but struggled to keep pace with the front two that began to open a gap. With a four-second margin back to third after only eight circuits, it looked as if Jader and Stone would duke it out for the ROK Master title. On lap ten, Jader led Stone, Wang, Isaias, and David Laplante (Premiere Karting). With the gap between the front two remaining at half a second, they continued to pace three-tenths of a second per lap faster than their rivals. The field remained static until lap seventeen when Laplante jumped Isaias for fourth and set his sights on a possible podium. With five to go, Jader continued to lead by a few kart lengths as Laplante had closed in on Wang for third. Jader drove handily to another ROK Vegas championship ahead of Stone, Wang, Laplante, and Isaias.
Podium:
1. Renato Jader
2. Martin Stone
3. Derek Wang
---
ROK Micro – GFC Karting
Main Event Starting Grid:
1. Royce Vega – Team Benik
2. Rocco Simone – Parolin USA
3. Jaxon Porter – Factory Karts
4. Nico Orbezo – Iron Rock Motorsports
5. Troy Ferguson – Team Benik
Strong all weekend long, Royce Vega led the ROK Micro drivers to the green flag for their main event and took the lead pulling Jaxon Porter with him by the Canadian Rocco Simone. Troy Ferguson, Tristan Murphy, and Cason Hodge all jumped Nico Orbezo on the opening lap as Julian Sanchez (GFC) was forced to retire. Simone was back by Porter on lap two as he looked to keep pace with Vega and on lap three, he went to the lead as Porter moved to second with him dropping Vega to third. It was racy up front as Porter was to the lead on lap four pushing Simone back to second as Michael McGaughy moved into the top five. Royce Vega went to second on lap five and then to the lead on lap six as Porter was shuffled back to third with Simone back in second as the Micro ROKKERs were putting on a show. There was no movement in the top-five on lap seven as things simmered down slightly but a move forward in the top-ten saw Antonio Pizzonia and Jaime Garcia move into ninth and tenth. McGaughy showed up to the party on lap three as he moved to third but was 1.6 seconds behind the lead duo. Running half a second faster than the lead, the 1.6 gap was now down to 1.1 at the mid-race distance and then down to .650 just a lap later as McGaughy was the quickest driver on the track. It was Ferguson who was making moves on lap eleven going from sixth to fourth on lap eleven and then McGaughy made his move forward jumping the lead duo of Simone and Vega to take the lead. With five laps left, three Micro drivers battling for the win were led by Simone as he was able to get back by McGaughy who had the fastest lap of the race. McGaughy returned the favor a lap later to put his #61 entry at the front of the field. With the top three nose to tail on the start of lap fifteen of eighteen, McGaughy led Simone, Vega, Alex Procuna (FLC), who had made moves to position himself in the top-five, and Orbezo. Simone led when the white flag flew but Vega took the lead in turn three on the final circuit. Defending for his life, the top-eight would go two-by-two as drivers tried to maintain or defend their positions all while keeping their momentum. In the end, Procuna was the first to the checkered flag ahead of McGaughy and Maxwell Macha (SLA Racing) to make it a Parolin 1 – 2 – 3. Nico Orbezo would end his day in fourth ahead of Simone who had contact with Vega on the final lap. Vega would finish seventh behind his Team Benik teammate Troy Ferguson who was airborne with two corners to go but managed to hang on. Following post-race technical inspection, Procuna kept the win ahead of McGaughy and Orbezo as Ferguson and Vega finished fourth and fifth.
Podium:
1. Alex Procuna
2. Michael Mcgaughy
3. Nico Orbezo
---
ROK Junior – Rolison Performance Group
Main Event Starting Grid:
1. Jorge Ortiz – Speed Concepts Racing
2.  Steven Miller – Chad Dokken Racing
3.  Ernesto Rivera – Rolison Performance Group
4.  Sebastian Garzon – Orsolon Racing
5.  Ryan Maxwell – Racing Edge Motorsports
The first attempted start for ROK Junior was waved off as drivers were too fast in the tram lines but start attempt number two was a good one and Jorge Ortiz led Steven Miller. Ryan Maxwell made a two-position jump on the opening circuit to third as did Leonard Escorpini (Zanella Racing) to fourth pushing Sebastian Garzon to fifth. Ortiz went purple on lap three to open a three-tenth gap over Miller as Garzon was by Maxwell and Escorpini and back to third. Ortiz and Miller were three seconds ahead of Garzon on lap three, but Garzon was setting consecutive fast laps on laps four and five. The two leaders up front proved to be the class of the field as their feverish pace was too much for the rest of the Junior ROKKERs. Miller seemed to be patient behind Ortiz as the lap count continued to climb pushing him away from any challenges behind. Ernesto Rivera oved to P4 ahead of Maxwell on lap nine as Caleb Gafrarar battled in seventh behind Escorpini. Lap twelve saw Escorpini jump Maxwell and into P5 and a lap later Gafrarar did the same thing to sixth. With ten to go it was all Ortiz and Miller upfront with the race for the third step on the podium led by Garzon ahead of Rivera and Escorpini. Lap seventeen saw Gafrarar make a move for fifth and a lap later, Miller attempted a move into turn one for the lead but was unsuccessful and was forced to settle back in line. Losing a little momentum, Ortiz opened the twenty-first lap was a two-kart length advantage but Miller hunted him back down by the end of the lap and was back to his bumper. Garzon and Rivera changed places and then back again a lap later as Garzon settled into third. With two laps to go, the focus was up front as Miller was now all over the back or Ortiz for as one of these two drivers could claim the ROK Vegas title. Ortiz defended like a champ into turn six and then again into nine to keep Miller behind him as they came to the white flag. Rivera was by Garzon for third at the start of the final circuit as Ortiz was putting on a clinic of defensive driving up front. Ortiz took the win by .041 for Speed Concepts Racing and Speed Lab Racing Engines as Garzon was back by Rivera to take the final podium position as Caleb Gafrarar rounded on the top-five.
Podium:
1.  Jorge Ortiz
2.  Steven Miller
3.  Sebastian Garzon
---
ROK VLR Master – Mosport Karting Centre
Main Event Starting Grid:
1. Ben Cooper – Rolison Performance Group
2. Matt Johnson – Nash Motorsportz
3. Laurentiu Mardan – Tecno Kart USA
4. Mike Smith – VMI
5. Ian Koentges – Forward Direction Motorsports
Ben Cooper and Matt Johnson jumped to the lead of the ROK VLR Master class as they took advantage of their front-row starting positions. After only three laps, it was a five-kart train upfront but on lap five, it all kicked off. Matt Johnson moved to the lead bringing Laurentiu Mardan with him to second and Mike Smith to third as Cooper was relegated back to P4. In the next lap, Johnson maintained the lead as Smith moved by Mardan as did Cooper and Adam Kasick (FDM), dropping Mardan to fifth. Cooper was back to second a lap later. Disaster would strike on lap eight as Cooper fell to eleventh after making contact with Mike Smith in turn six which opened the door for Kasic to move to second and Mardan back to third. Smith slotted into fourth after the contact as Ian Koentges ran fifth. Koentges moved to fourth at the mid-race distance as Johnson and Kasick had opened a one second gap to the third-place runner of Mardan. As the leaders battled on lap twelve, Mardan clawed his way back to the bumper of second place. Cooper, running a second faster than the leaders, worked his way from eleventh to seventh in just a few laps as Johnson maintained the lead up front. With several laps remaining, Cooper was 5.3 behind the leader but had the pace to close the gap as Koentges and Smith were by Mardan for third and fourth. Kasick took the lead on lap fourteen pushing Johnson to second and Cooper closed the gap to 4.9. With five to go, Johnson was back out front ahead of Kasick, Koentges, Mardan, and Smith. Koentges was into second and by Kasick as Cooper was within 3.5 seconds with four laps remaining, Smith slowed on the start of lap seventeen letting Cooper by for fifth and ultimately servicing his upcoming penalty on track as the leaders diced it up. With two to go, Johnson led Koentges as Cooper was within two seconds at the line. Kasick lost a little ground to the front two drivers at the start of the final lap but closed back to the bumper in the turns one to three complex as Cooper caught the back of the quartet in front. Koentges got by Johnson on the final corner to win the ROK Vegas Championship beating Johnson by .03. Kasick was forced to settle for third as Mardan and Cooper were fourth and fifth.
Podium:
1. Ian Koentges
2. Matt Johnson
3. Adam Kasick
---
ROK Shifter- PSL Karting
Main Event Starting Grid:
1. AJ Myers – Magik Kart USA
2. Billy Musgrave – Factory Karts
3. Jake French – PSL Karting
4. Kyle Wick – GFC
5. Hunter Pickett – PSL Karting
AJ Myers would get the jump on Billy Musgrave into the first corner, but Musgrave made a bold move on the inside of turn four to take the lead as Kyle Wick was into the back of Myers trying to overtake. Musgrave led lap one with Wick in second ahead of Myers and Oliver Askew (GFC). Wick had heavy contact with the barrier in turn four on the next lap as he and Musgrave were together opening the door for Myers to jump out to a huge lead. Jake French benefited moving into second ahead of Askew, Marijn Kremers (PSL Karting) and Remo Ruscitti (Italian Motors). Myers had opened more than a second lead by lap five as Askew was the fastest kart on track behind Kremers. Ruscitti was the next driver to go purple on lap six as had some ground to close on French. Kremers was slowly closing the gap on Myers, but an ill-working transponder saw him at the bottom of the charts. He and Askew seemed to have the pace on Myers with ten to go as they tried to close the gap. Kremers and Askew took three-tenths of a second out of Myers' lead on lap fifteen and then another two on lap sixteen as the rest of the top-ten remained static. With eight to go Myers was able to dig deep and match the pace of the drivers behind him to keep the gap steady for one lap but the next circuit, lost three tenths. With seven laps remaining, it was still anyone's race and the second through sixth place drivers were staying organized to chase Myers down. Kremers and Askew again were faster than Myers as the gap was below one second as Ruscitti was by French for fourth. The top seven were now together with four laps to go as they were separated by only 2.2 seconds as Myers was beginning to feel the pressure. Three to go and the front four had a slight gap to fifth as it was time to put it all on the line. Myers still led ahead of a charging Kremers and Askew as Ruscitti remained close. Kremers went wide in turn nine with three to go and lost a little ground but closed back in a few corners later and was by Myers before the start of the final lap and defended like a champion to score the ROK Vegas win. Myers crossed the line second with Ruscitti in third, Askew in fourth, and Hunter Pickett in fifth. Following a lengthy review and delay of the podium, Kremers was deemed the winner ahead of Myers, Askew, Pickett and French.
Podium:
1. Marijn Kremers
2.  AJ Myers
3.  Oliver Askew
Click HERE for all the ROK Vegas Presented by Radical Cup weekend results.
For more information on ROK Cup USA, ROK Cup Promotions, please feel free to contact ROK CUP USA at (407) 476-5635 or info@rokcupusa.com or Garett Potter at garett@rokcupusa.com