2022 ROK Vegas Presented by Radical Cup – Saturday Report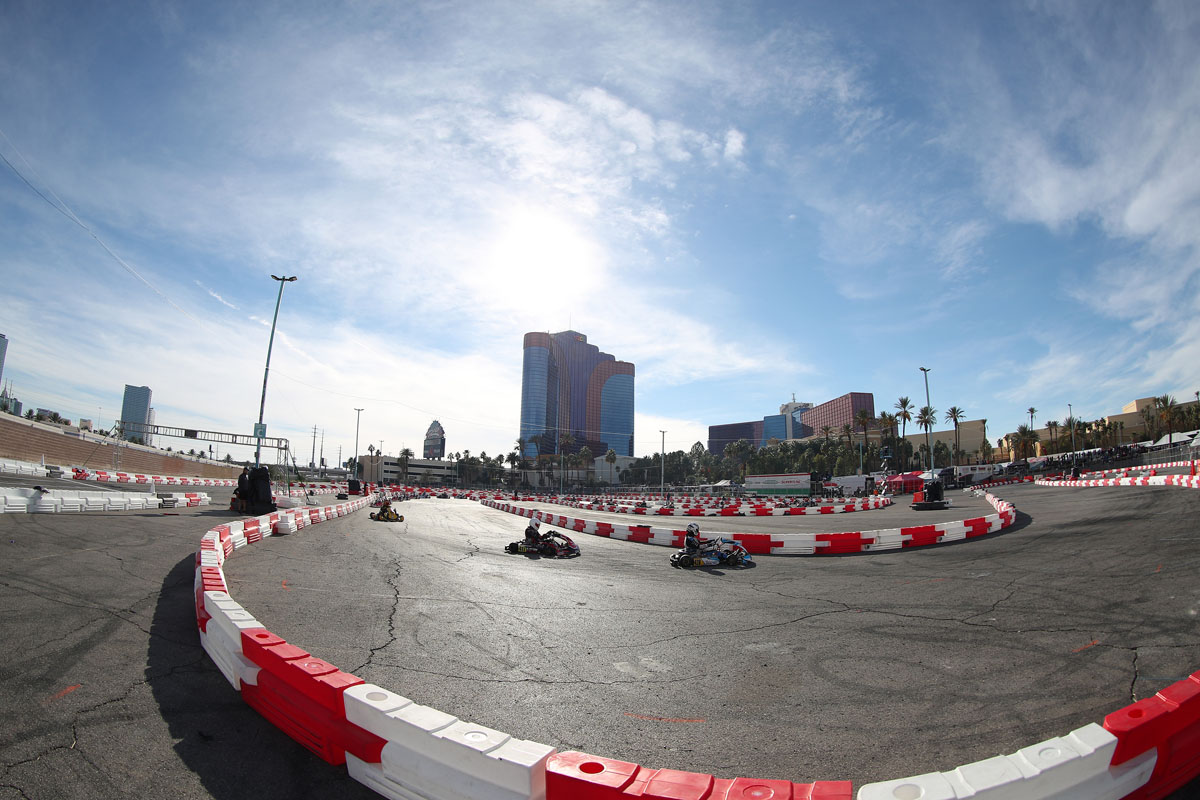 (Photo: ROK Cup USA - CKN)
Heat Races
ROK Shifter- PSL Karting
Saturday started with the second ROK Shifter heat of the weekend as Billy Musgrave (Factory Karts) got the jump on pole sitter and heat one winner AJ Myers (Magik Kart USA). Myers was able to get back by Musgrave at the start of lap two as Jake French (PSL Karting) ran third. Kyle Wick (GFC) held on to the fourth position with Andrew Bujdoso (Magik Kart USA) in fifth. With a few drivers out early due to contact, it was all Myers and Musgrave upfront. Myers scored the win ahead of Musgrave, French, Wick, and Bujdoso.
The third ROK Shifter heat took two attempts to get started as a red flag on the first start forced drivers back to the paddock for a thirty-minute repair period. When racing did get underway, it was Myers and Musgrave at the front with Wick, French, and Kremers in tow. Oliver Askew (GFC) was slow off the line and fell to just inside the top-ten. Halfway through the race, Andrew Bujdoso found the barriers and was forced to retire. With the front four separated by less than a second, the white flag flew but Myers was able to hold all at bay as the front five remained unchanged.
Myers and Musgrave led the trail of seven ROK Shifters that were engaged in an intense battle for the heat four win as the sun set in Las Vegas. Myers would get the holeshot yet again and a jump on Musgrave as the front two remained lock step throughout the entire ten-lap heat. Myers defended when he needed to as he went on to score the win with Musgrave in second. Marijn Kremers ran third ahead of Kyle Wick and Jake French, but it was the top-seven that finished bumper-to-bumper as nobody gave an inch.
ROK VLR Junior – Nash Motorsportz
It was Jesus Vasquez (Nash Motorsportz) who jumped to the front of the ROK VLR Junior field ahead of Caleb Gafrarar (RPG) in the opening laps of heat three. Helio Meza (Iron Rock) held on to third as Stephen Eisert (Speedsense) made a move around Max Taylor (RPG) for fourth early on. As the front three ran nose to tail, Gafrarar made a move to the front on lap seven, but Meza and Vasquez would move to first and second just a lap later and Vasquez moved to the point on lap ten. In the end, Eisert scored the win ahead of Meza, Vasquez, Gafrarar, and Taylor. Following the heat, Eisert was given a three-position penalty awarding the win to Meza.
The fourth and final ROK VLR Junior heat took a few attempts at starting and finally on the third try, got racing. Jesus Vasquez was in his familiar spot at the front of the field but followed closely by Meza and Gafrarar. Stephen Eisert fell back early but passed Ernesto Rivera (RPG) on lap four to move to fourth. Eisert was by Gafrarar on lap six while Mexican Ernesto Rivera disposed of Gafrarar the next lap pushing him down to fifth. Oliver Wheldon (JC Karting) moved into the top-five late in the race and was able to pick up another spot before the checkered flag. Vasquez grabbed another win with Eisert and Meza within .250 of his rear bumper with Wheldon holding off Rivera for fourth.
ROK VLR Senior – Full Throttle Karting
Caleb Shrader (RPG) led Chase Jones (MPG) at the end of lap one and at the end of lap three had stretched a gap on the rest of the field by nearly one second. Canadian Adam Ali (REM) ran third as Cole Shroeder (Ruthless Karting) was ahead of Chase Hand (RPG) in fifth. Jones moved to the point on lap five but was unable to maintain the position and fell to fourth when the checkered flag flew. Jeremy Fletcher (RPM) rose to the occasion to win heat three with Shrader in second ahead of Ali, Jones, and Hand.
Fletcher led the field to the green flag for heat four and jumped to the lease as Adam Ali and Chase Hand slotted into second and third at the end of the first lap. Jones moved back to third at the completion of lap two as Frankie Mossman (Team Benik) moved to P5. By lap eight, Mossman had worked his way to third behind Fletcher and Hand as Adam Ali had fallen back to fifth. Opening a gap of more than one second, Fletcher's lead upfront was safe. Mossman and Jones got by Hand with two laps remaining, but it was Fletcher who scored the win with Jones recovering for second. Chase Hand finished third with Mossman and Caleb Shrader rounding out the top-five.
ROK Mini – Speed Concepts Racing
Winning heat races on Friday, Isaac Malcuit (MMR) jumped to the early lead in Mini ROK as he and Gage Korn (Race Factory) pulled away from their rivals. Ty Fisher (Racelab) had a tremendous start moving into the top-five and into fourth on lap four, just behind Turner Brown (SCR) in third. Cason Hodge (Speedsense) made a move on lap five to get by Fisher as the front three remained unchanged. Carson Weinberg (SCR) moved into the top-five late in the race as he threw his name into the mix but was unable to catch the leaders. Malcuit defended nicely to take the win ahead of Korn by .022 as Weinberg got by Hodge for third with Turner Brown in fifth.
It was Carson Weinberg who assumed the lead at the start of the fourth Mini ROK heat as Malcuit settled into second early on. Turner Brown continued his drive forward and was third at the end of lap one ahead of Erik Doan (Speedsense) and Cason Hodge (Speedsense). As positions in the top-ten were exchanged all race long, it was Weinberg who controlled the pace up front. Weinberg took the win ahead of Malcuit, Brown, Gage Korn (Race Factory), and Hodge.
ROK Master Shifter- ANSA Karting
Jordon Musser (PSL Karting) returned to the front of the ROK Master Shifter field as he got the jump in heat three on Matthew Hamilton (Aluminos). Hamilton disposed of Musser on lap five to take the lead as Antonio Pizzonia (Orsolon Racing) closed the gap to make it a three-kart race. Hamilton stretched his gap to assume total control as Pizzonia was able to get by Musser for second before Neil Joseph (GFC) followed suit on the same lap. Hamilton scored the win ahead of Pizzonia, Joseph, Musser, and Bud Grossenbacher (Racelab) in fifth.
It was advantage Pizzonia at the end of lap one as he was able to sneak by pole sitter Matthew Hamilton on the launch with Musser, Joseph, and Grossenbacher lining up in third through fifth. The front five remained static until lap eight when Hamilton was able to sneak by Pizzonia for the lead and brought the quintet back together, but nobody was able to make any moves giving Hamilton the win.
ROK Senior – Racing Edge Motorsports
Marijn Kremers (PSL Karting) got a great start as he and Zachary Claman-DeMelo (REM) shot away from the field opening a gap of nearly a second by lap two. DeMelo took over the lead pushing Kremers back to second as the Speed Concepts Racing drivers of Jack Jeffers and Cameron Weinberg were third and fourth. Diego Ramos (PSL Karting) moved to third on lap three. Jeffers and Weinberg had slight contact on lap six dropping them down the order as Frankie Mossman (Team Benik) moved to fourth ahead of Ayden Ingratta (SCR) in fifth. Matheus Morgatto (AM Racing) started 30th and was in the top-ten in eight laps as he pushed hard. Ramos would get by Kremers on the tenth circuit but on lap eleven, would find himself out of the race with an issue. DeMelo would get the win ahead of Ramos, Kremers, and Ingratta who made a move around Mossman on the final lap for fourth.
Diego Ramos took the lead at the start from pole-sitter Zachary Claman-DeMelo as Frankie Mossman was able to work his way forward to third at the end of lap one. DeMelo took the lead on lap two, but Ramos was back by on lap three bringing Mossman with him to second. Out of nowhere, Ryan Norberg (RPG) found himself in fourth after not running in the top-five all weekend with Kremers in fifth just ahead of Ingratta. Norberg moved to third and set the fastest lap of the race with four laps remaining but needed to close the eight-tenth gap to the lead duo in a hurry. A new fast lap on lap seven saw Norberg take a chunk out of the gap as he was pushing hard in his best run of the weekend. Mossman took the lead with two laps remaining drawing the field closer and Norberg moved to second at the start of the final lap. Mossman earned the win with Norberg and Ramos hot on his heels. Kremers crossed the line in fourth as PSL Karting teammate Patrick Woods-Toth finished fifth.
ROK Master – Orsolon Racing
Renato Jader (Orsolon) continued to be the dominant force in ROK Master as he aimed to keep his perfect results weekend intact. Derek Wang (Ruthless Karting) ran second as REM driver Martin Stone moved into third and put his head down to catch the two in front. Catching and passing Wang on lap four, he had a clear line of sight to Jader and set the fastest lap of the race the next lap. William Isaias (International Motorsports) ran fourth, just ahead of Mario Barrios (RPG) in fifth. Stone would go purple again on lap six shrinking the gap to half a second halfway through the race. Stone would get to the rear bumper of Jader on lap nine and pulled the trigger on the final circuit to move to the lead and score the win. Jader's loss of momentum opened the door for others as Wang, Isaias, Barros, and David Laplante (Premiere Karting) with Jader crossing the line in sixth. Following the heat, Wang was dropped to the sixth position due to an on-track penalty.
Martin Stone led the ROK Masters field to the green flag in heat four, but Renato Jader took the point on lap four. Mario Barros was third for the first half of the race but was shuffled back to fifth as David Laplante and William Isaias snuck by to third and fourth. Jader and Stone opened a more than two-second gap on third. Derek Wang was just outside the top-five in P6 as the laps wound down but up front, the battle was on for the win. Jader took the win with Stone in second, LaPlante in third followed by Isaias and Barros.
ROK Micro – GFC Karting
Royce Vega (Team Benik) assumed the lead in Micro ROK as a few of his rivals at the front of the field had issues on the opening lap including Michael McGaughy (RPM) and Alex Procuna (FLC), who were out of the race in the first complex of corners. Tristan Murphy (Parolin) maintained the second position after the first few laps as Nico Orbezo (Iron Rock) gained a handful of positions on the opening lap to run third. Rocco Simone (Parolin) was one of the fastest drivers on track in fourth as Troy Ferguson (Team Benik) ran fifth before being overtaken by Jaxon Porter (Factory Karts). Orbezo and Simone both got by Murphy on lap six. Simone moved to second a lap later bringing Murphy with him to third. Vega would hold on for the win ahead of Simone, Orbezo, Murphy, and Ferguson.
It was a Benik party up front early in Micro ROK as teammates Troy Ferguson and Royce Vega ran one-two which was broken up by Canadian Rocco Simone who move to second on lap four. Vega was able to get back in front of Simone to protect the Team Benik one-two up front. Nico Orbezo ran fourth as Jaime Garcia (Parolin USA) was fifth, but it all shook up on the last lap. Orbezo ended up with the win ahead of Simone as the top three battled hard for the number one position. Ferguson was able to stay ahead of Vega to finish third while Garcia kept Jaxon Porter at bay to come home fifth.
ROK Junior – Rolison Performance Group
Jorge Ortiz (SCR) capitalized on his pole position to grab the lead in the third ROK Junior heat races with Steven Miller (Chad Dokken Racing) moving to second. Ernesto Rivera (RPG) jumped to third on lap three getting by Sebastian Garzon (Orsolon Racing) with Sebastian Wheldon (JC Karting) moving to fifth. Stephen Eisert (Speedsense) dropped to the tail of the field early on but managed to work his way back to 17th in only four laps. Caleb Gafrarar (RPG) started near the back after a heat two DNF and was into the top-ten by lap five. Ortiz and Miller were three seconds ahead of the rest. Miller got by Ortiz on lap ten, but Ortiz would return the favor on the final lap to take the win by .031 over Miller, Garzon, Wheldon, and Leonard Escorpini (Zanella Racing).
Ortiz looked like the driver to beat in ROK Junior as by lap three, he had opened a gap of more than two seconds. Steven Miller was the best of the rest in second as he was trying to hold a hard-charging Ernesto Rivera behind him. Charlie Smith (Nash Motorsportz) got by Rivera on lap four and set his sights on Miller as Max Taylor (RPG) was fifth. Leonardo Escorpini was forced to retire with an issue on track, but it was all Ortiz upfront as he had a three-second gap after five laps. Caleb Gafrarar moved up from his P11 starting spot to fourth in six laps as he was one of the fastest karts on track. Ortiz handily drove to the win ahead of Miller, Gafrarar, Rivera and Christian Cameron (SCR). Following the race, Cameron received a penalty dropping him to ninth.
ROK VLR Master – Mosport karting Centre
Ben Cooper (RPG) and Mike Smith (VMI) took control of the ROK VLR Master field with Cooper at the helm yet again. Matt Johnson (Nash Motorsportz) was by Smith on lap three with Adam Kasick (FDM) and Ian Koentges (FDM) moving to fourth and fifth on the same lap. Johnson chased down Cooper and eventually made his bid for the lead on lap seven to take over the top spot. Cooper went back to the point a lap later bringing Kasick with him as Johnson fell to third. Cooper earned another win followed by Kasick, Johnson, Smith, and Sean Owens (Gary Willis Racing).
Ben Cooper, Adam Kasick and Matt Johnson looked to battle for the win in the final ROK VLR Master heat of the weekend with Cooper leading early. Kasick was able to move to the front on the second lap as Johnson did the same one lap later. Laurentiu Mardan (Tecno Kart USA) ran fourth ahead of Mike Smith as the top five drivers were separated by seven-tenths of a second at the conclusion of lap three. Johnson slipped by Kasick for the lead on lap four as Smith was by Mardan. The action settled for a few laps before Cooper made a move to second on lap seven. Cooper took the lead from Johnson but gave it back the very next corner as the battle was on for the heat four win. Cooper took the lead on the final lap as he tried to defend as contact ensued as drivers ran three wide. Johnson took the win with Cooper in second just .028 behind. Mardan crossed the line in third ahead of Smith and Sean Owens who was a benefactor of Adam Kasick's barrier contact on the final lap.
Click HERE for all the ROK Vegas Presented by Radical Cup weekend results
All results unofficial at time of posting.
For more information on ROK Cup USA, ROK Cup Promotions, please feel free to contact ROK CUP USA at (407) 476-5635 or info@rokcupusa.com or Garett Potter at garett@rokcupusa.com