Leveling Up: Tiffany Kelly's Intro to Karting
Driving enthusiast finds karting as new chapter in quest to 'go fast'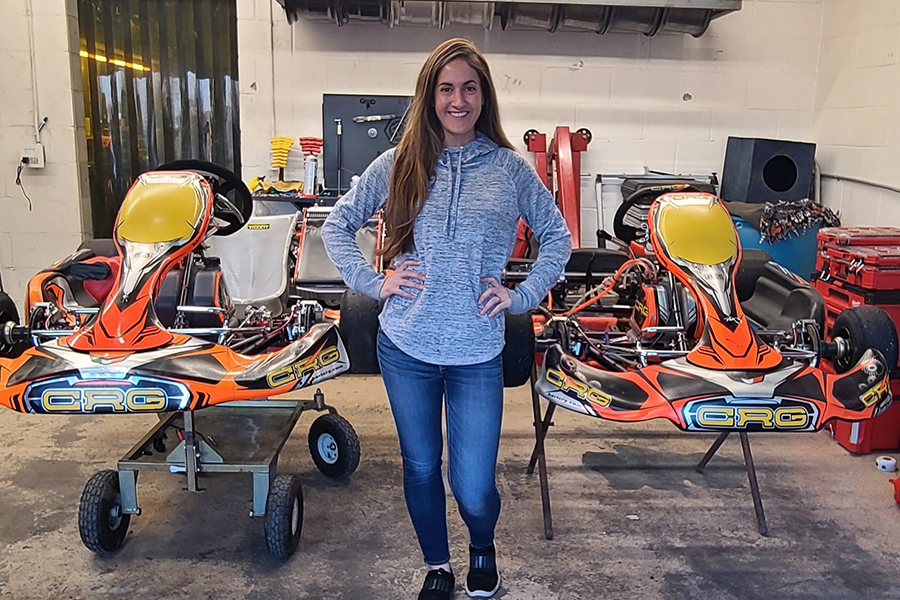 Tiffany Kelly is providing EKN and its readers a glimpse into her introduction to karting
At the SKUSA SummerNationals in July, I bumped into a racer who I first met in the late 2000s at multiple indoor karting events. Justin Kelly raced at an indoor track in Nebraska, and through that facility, he qualified to become part of my IndoorKartingNews.com team to run in the Machismo 500 at the SuperNationals in 2009. Justin has recently dove into shifterkart with his wife of six years, Tiffany. They're both gearheads and love driving and racing. Justin works for the Skip Barber racing team as a crew chief and mechanic, and Tiffany is also a part-time driving instructor for the school as well, alongside her full-time position as an HR Director. They also have their own driving school program that helps fund their racing called High Rev Motorsports, which they run at Raceway Park of the Midlands in Iowa.
When I first met Tiffany at New Castle, I was so intrigued. As a self-professed speed addict, she's just recently found karting with Justin and loves it. At 37, Tiffany dove into the deep-end to compete in the Master Shifter category, and their first forays into wheel-to-wheel racing were the Quincy Grand Prix street race and the SKUSA SummerNationals. This woman is a badass and should be a role model for any young woman who loves racing. Justin and Tiffany will be competing in the SKUSA SuperNationals this month as well, and I just had to ask her to become an EKN contributor. This is the first installment of what I hope to be many articles from Tiffany. Once you read it, you're going to be a fan and you'll be waiting, like I am, for the next edition. Enjoy. – Rob Howden, EKN Editor-in-Chief
---
Some people may call it 'manifesting' or 'envisioning your future', I just know that the moment I see a certain life for myself, I don't stop until I achieve it.  Sometimes I wish I would have used this unstoppable determination of mine to solve world hunger or something notably important. Instead, I took one ride on my friend's motorcycle when I was 17 and realized I would be spending the rest of my life and energy trying to go fast. I worked the rest of that summer saving every dollar I made and bought my first motorcycle behind my mother's back. Of course, she found out a couple days later and told me I couldn't live there if I owned a motorcycle. So naturally, I moved out, because I was already addicted, and no one was going to stop me. My story about my teenage years provides a lot of foreshadowing into how my life is now, twenty years later. I am still spending every dollar I make to race, and I am still not caring if anyone tells me I shouldn't do it.
It would have been awesome to be raised in a family of racers or had parents who tried to groom me into the next formula one driver at the age of seven. It would have made my current racing career a heck of a lot easier, but instead, I didn't get serious about competition until I met my husband, Justin Kelly, in my late twenties. We met at a gas station on our motorcycles and a couple years later I ended up marrying the male version of me. He eats, sleeps, and breathes racing and is just as competitive as me. So together, it's been a fast and furious lifestyle of cars, motorcycles and most recently, shifter karts.
My husband was one of those lucky kids whose parents did put him in a kart at the age of seven, so he had a lot more racing background when we met and has always been extraordinarily fast. This has been extremely beneficial for me over the years because it has always given me a carrot to chase.  After we raced motorcycles together for a while, he pushed me into racing cars. He was competing in Autocross at the time and convinced me to try it. I remember my hands were shaking, and I was extremely nervous and had to take some deep breaths at the starting line. Which is all very laughable to me now, because I was just driving a car around some cones in a parking lot, but at the time it was out of my comfort zone, and it scared the heck out of me.  So, I pushed through my irrational fear and spent the entire day running laps and destroying cones and, by the end, I wanted more.
Shortly after, we looked into road coarse racing with NASA. We originally planned on taking it slow and spending the first year going through all the HPDE classes and slowly move our way up to getting our time trials license. Except it only took us one weekend to pass all the classes and we were competing in time trials right away. Justin was breaking track records right out the gate, while I was still going through a learning curve. I started putting in a ton of practice to keep up and I was determined not to be left behind. Eventually, like all hard work, it paid off. We started wheel-to-wheel racing the next year and that was when my progression started to show. I broke multiple track records, won Rookie of the Year, Instructor of the Year and was the ST4 Regional Champion. You can probably guess what happened next. We wanted more. We started competing in Gridlife's GLTC series. GLTC is considered one of the best grassroots wheels-to-wheel racing in USA and we were wanting a challenge. We got extremely invested and both grew as drivers immensely. My first year, I became the first and only women to ever win a GLTC race weekend and took multiple 1st place finishes. Justin also won a couple weekends and had a bunch of 1st place finishes as well. Over time, the competition got steeper, and we had to start thinking of different ways to stay at the top of our game and stay competitive.
That is when we bought our first shifter kart. I will openly admit that I have no background in karts and only did some indoor karting with my husband over the years, but I was never truly prepared for the mind-blowing capabilities of a shifter kart. We had no idea what we were getting into. The first one we bought was an old 80cc and we were shocked at how much horsepower a little go-kart could have.  Justin didn't even let me drive it for the longest time until he was confident that I was ready.  He had me practice on our buddies DD2 with paddle shifters to get use to the feel before he finally let me take the shifter around a track for a lap. Unfortunately, I didn't get a lot of practice because there aren't any kart tracks close to my home in Nebraska. The closest track is Kansas City Karting Association that is three hours away in Liberty, Missouri.  So, we only drove the karts a handful of times over the last couple years for fun and stayed completed consumed into the cars.
Then I hit a wall, literally and physically. Yep, I hit a giant concrete wall during a race and totaled my race car. The team spent sleepless nights putting it back together so I could make the next race in two weeks.  And you know what happened? I hit another dang wall. To say I was devasted is an understatement. It was the first time in my life I wanted to quit something I had so relentlessly pursued. I started questioning my driving skills and if I really belonged in the sport. I let every doubt and every negative comment sink in, and I was ready to throw in the towel.
I approached my husband with my new idea of giving up racing and taking up something like bowling. I had no idea how he would react, but he didn't respond how I expected. He agreed that we needed to take some time off from the cars and get back to the basics of driving. The shifter karts had been collecting dust and he felt it would be the best way to teach me how to become a better driver. Looking back, I was a little naïve on what I was agreeing to. I knew it was going to be hard, but I didn't realize I would be stepping into a world of racing that has challenged me beyond my limits. Like always, I thought we would start off slow and just do a couple club races, but of course, that didn't happen. We decided to jump in the deep end and race in the pro series with the best of the best.
Now, I am prepping my kart to go to SKUSA SuperNationals in a couple weeks and looking back at the roller coaster of a season that has transformed me as a person and racer. I will continue to share all the steps I have climbed and tumbled down this year to get to this point. Hopefully, my story will let people know that they can level up at any point in their life, no matter what age, gender, or background, as long as they put in the work and effort. More to come…