EKN Exclusive: Superkarts! USA SuperNationals 25 – Preview Series – Mini Swift
Wide open field to decide 12th different winner on SuperSunday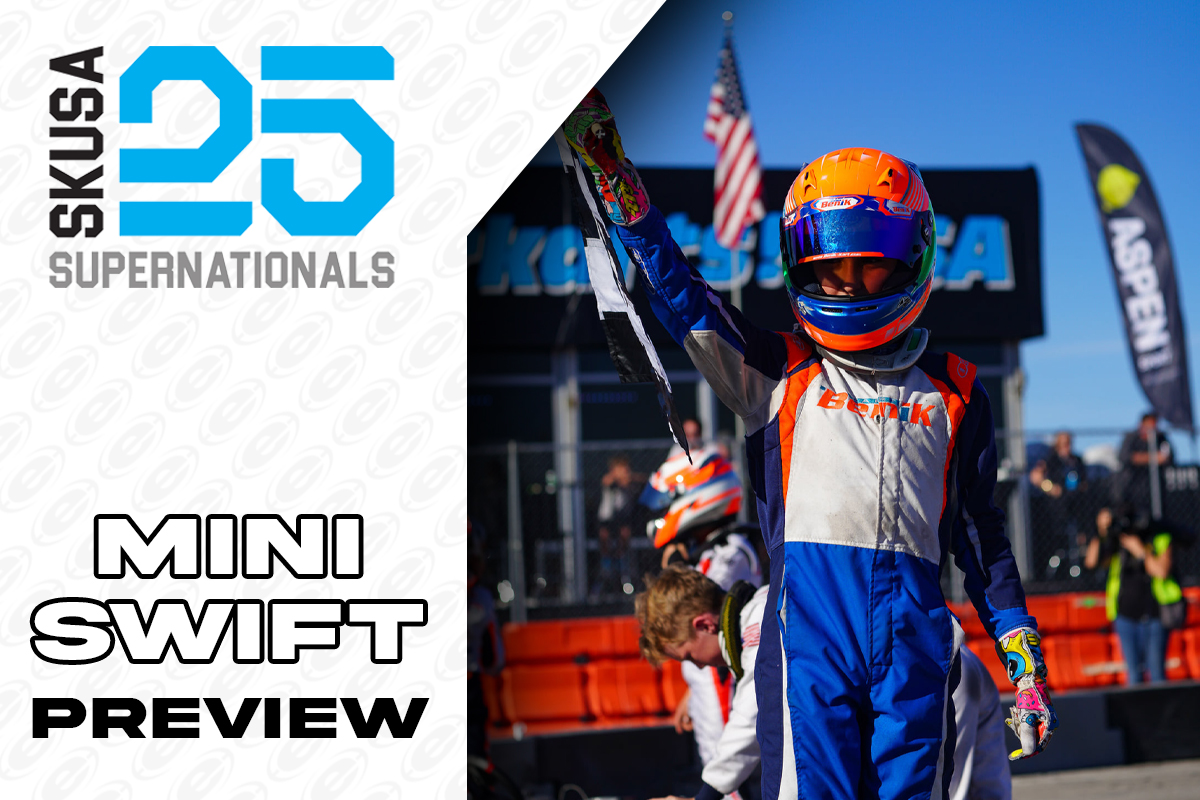 eKartingNews.com is proud to present our Preview Series for the SKUSA SuperNationals 25. Leading up to the on-track action of the silver anniversary edition of the marquee SKUSA event, EKN will preview each of the 10 categories that will compete on the temporary circuit located outside the Rio All-Suite Hotel & Casino in Las Vegas from November 16-20.
Trackside coverage is set to begin on Tuesday, November 15 as we set up our SuperNationals 25 home, roaming the Rio grounds with Paddock Insider and social media content while attending the 2022 SKUSA Pro Tour Awards Presentation ceremony that evening. Our coverage continues into Wednesday as karts hit the track for the first time. EKN Live begins on Thursday, November 17 as qualifying is conducted for both the morning classes and the afternoon divisions. Listen LIVE to the heat races throughout Friday, November 18 and into Situation Saturday, November 19, including the four Last Chance Qualifiers held on the day. That sets everything up for SuperSunday, with the main events for SuperNationals 25 audio streamed live on eKartingNews.com/live.
Complete coverage of the Superkarts! USA SuperNationals 25 can be found at the EKN EVENT PAGE.
---
Mini Swift
Cadet racing at the SKUSA SuperNationals was first introduced at the second edition of the event back in 1998 with the 60cc Novice shifter class. That category ran up to 2005 before the organization changed hands. It took the creation of the SKUSA Pro Tour in 2010 for Cadet racing to be back on the SuperNationals weekend schedule. Since then, a new winner in the TaG Cadet / Mini Swift categories has been crowned every year over this 11-race span. A 12th different winner will be crowned this SuperSunday and this driver will add his or her name to a distinct list that includes Formula 1, INDYCAR, and karting superstars.
This year's field of 49 drivers is unique, in that it does not include any former winners or major champions from the 2022 season. Defending winner Enzo Vidmontiene ended a solid 2021 season with victory at the SuperNationals and has graduated up to Junior. Winter program champions Oliver Wheldon (SKUSA Winter Series), Isaac Malcuit (FWT) and Gage Korn (COTA) are all absent from the entry list in Mini. Wheldon has moved up to Junior while Korn is competing at the Rotax Grand Finals in Portugal. 2022 SKUSA Pro Tour champion Jack Iliffe is currently racing in Europe, as is USPKS title winner and 2021 SuperNationals Micro winner Keelan Harvick.
The race to victory on SuperSunday is pretty wide open with a mix of drivers looking to make a name for themselves, while others are graduating up from Micro for this first Mini experience at the SuperNats. Only 11 drivers competed in Mini Swift last year, with Tyler Roberts (IRM / Parolin) entered as the top returning driver. The 2022 Texas Sprint Racing Series champion finished seventh in his first SuperNationals last year and is the only driver in the field to win at the SKUSA Pro Tour and USPKS programs in 2022. Asher Ochstein (Supertune / Tony Kart) is the only other driver in the field that finished in the top-10 a year ago, placing ninth.
Lucas Palacio (Trinity / Kart Republic) was solid in his rookie campaign in Mini this season, finishing second in the SKUSA Pro Tour championship and fourth in USPKS final standings. He leads a long list of drivers moving up from Micro last year. Five of the top-10 finishers from a year ago in Micro will take on Mini for the first time. Ethan Tovo (Tovo / Parolin) – this year's Route 66 Sprint Series champion – was runner-up, with Ashton Woon (DDW / Nitro) joining him on the podium in fifth last year. Woon went on to win the USPKS championship in Micro this season.
Panama driver Gianmatteo Rousseau (Trinity / Kart Republic) finished seventh last year in Micro after earning the SKUSA Pro Tour championship, and this season spent the year in Europe. He's coming off a victory at the IAME Warrior Final in Le Mans, France. British Jesse Philips (PSL / Birel ART) – among the 15 drivers from outside the USA on the entry list – placed sixth a year ago in Micro while Alessandro Truchot (Parolin USA) finished 10th at the race that was held outside the Las Vegas Motor Speedway last December. Truchot went on to win the SKUSA Winter Series title this February in Micro before moving up, and over to Europe to compete for much of the season.
There will be several drivers who have shown speed throughout the year to consider for a podium finish on SuperSunday. Gage Bailey (IRM / Benik) is among them, along with Turner Brown (SCR / CRG), Max Cristea (PSL / Birel ART), and Ty Fisher (Racelab / TB Kart). Johnie Stamps (KartNick / Parolin) won the California ProKart Challenge championship this season while Keegan Ellsworth (KartNick / Parolin) was runner-up. Nico Sarphati (GFC), Tristan Murphy (Parolin USA), Michael McGaughy (RPM / Parolin) and Bronson Koustas (Nash) are other West Coast drivers to consider for podium contention.
---
SuperNationals Stats
0 – Former winners in the field
8 – Different countries represented in field
14 – Drivers who competed in Micro Swift last year
15 – Drivers from outside of the USA
22 – First time SuperNationals competitors
---
Provisional Mini Swift Entry List

| No. | Driver | Team | Chassis | Hometown | Nation |
| --- | --- | --- | --- | --- | --- |
| 103 | Gage Bailey | Iron Rock Motorsports | Benik | Spring Branch TX | US |
| 118 | Gabriel Balog | Racelab | JV Kart | | CA |
| 145 | Felipe Jesus Benito | Speed Concepts Racing | Redspeed | | DO |
| 190 | Alan Bonilla | Orsolon Racing | Tony Kart | | MX |
| 136 | Turner Brown | Speed Concepts Racing | CRG | Alamo CA | US |
| 198 | Mateo Calderon | Aluminos | Aluminos | San Jose CA | US |
| 127 | McLaren Carroll | Ryan Perry Motorsport | Parolin | San Dimas CA | US |
| 180 | Zak Casagrande | MPG Motorsports | Parolin | | AU |
| 139 | Max Cristea | PSL Karting | Birel ART | Buford GA | US |
| 143 | Justin Di Lucia | Goodwood Kartways | Intrepid | Riviera Beach FL | CA |
| 171 | Acen Dramaliev | TecnoKart USA | Tecno Kart | Lincolnwood IL | US |
| 125 | Mason Duchesne | | Kart Republic | Peoria AZ | US |
| 184 | Keegan Ellsworth | Kart Nick / RPM | Parolin | Cherry Valley CA | US |
| 177 | Nixon Ellsworth | Kart Nick / RPM | Parolin | Cherry Valley CA | US |
| 138 | Ty Fisher | Racelab | TB Kart | | CA |
| 107 | Rayan Ghandour | Rolison Performance Group | Kosmic | | CA |
| 128 | Ricardo Agustin Gonzalez Silva | | Tony Kart | | US |
| 155 | Madison Grace | Ruthless Karting | Nitro Kart | Cave Creek AZ | US |
| 150 | Giuseppe Guidera | Team Benik | Benik | Rocklin CA | US |
| 132 | Gabby Guidera | Team Benik | Benik | Rocklin CA | US |
| 124 | Riley Harrison | Parolin USA | Kart Mini | | AU |
| 197 | Seth Huth | Parolin Australia | Parolin | | AU |
| 153 | Baxter Jarrett | Parolin USA | Parolin | | AU |
| 105 | William Kim | Team Nitro Kart | Nitro Kart | Darien CT | US |
| 176 | Bronson Koustas | | | Newport Beach CA | US |
| 121 | Xander Malatesta | Ruthless Karting | | Phoenix AZ | US |
| 116 | Jose Martinez | Parolin USA | Parolin | | MX |
| 161 | Michael McGaughy | Ryan Perry Motorsport | Parolin | Park City UT | US |
| 154 | Jensen Mechelke | Team Nitro Kart | Nitro Kart | Gilbert AZ | US |
| 182 | Jose Carlos Murad | Supertune USA | Tony Kart | | MX |
| 111 | Tristan Murphy | Parolin USA | Parolin | College Grove TN | US |
| 104 | Santiago Namnum | International Motorsport | Tony Kart | Miami FL | US |
| 170 | Luiz Nunez | Orsolon Racing | Tony Kart | | MX |
| 194 | Asher Ochstein | Supertune USA | Tony Kart | St. Petersburg FL | GB |
| 102 | Lucas Palacio | Trinity Karting Group | Kart Republic | Vienna VA | US |
| 140 | Juan Jose Paramo | HRI | Parolin | | MX |
| 126 | Jesse Philips | PSL Karting | Birel ART | | GB |
| 199 | Tyler Roberts | Iron Rock Motorsports | Parolin | Bertram TX | US |
| 110 | Gianmatteo Rousseau | Trinity Karting Group | Kart Republic | | PA |
| 119 | Nico Sarphati | GFC | GFC | San Ramon CA | US |
| 163 | Tyren Scott | Ryan Perry Motorsport | Kart Republic | San Diego CA | US |
| 181 | Johnie Stamps | Team Kart Nick | Parolin | Eastvale CA | US |
| 113 | Ethan Tovo | Tovo Motorsports | Parolin | Warrenville IL | US |
| 117 | Alessandro Truchot | Parolin USA | Parolin | Miami Beach FL | US |
| 191 | Devin Walz | RDX | Kart Republic | Boise ID | US |
| 120 | Max Weiland | Checkered Motorsports | Magik Kart | Westlake OH | US |
| 195 | Ashton Woon | DDW Partners Auto Sales | Nitro Kart | Mooresville NC | US |
| 106 | David Ybarra | Speed Concepts Racing | CRG | Lewisville TX | US |
| 172 | David Zhao | Goodwood Kartways | Intrepid | Miami FL | CN |