Drive to 25: Rob Howden's SuperNationals Journey – Part 4
Getting back in the seat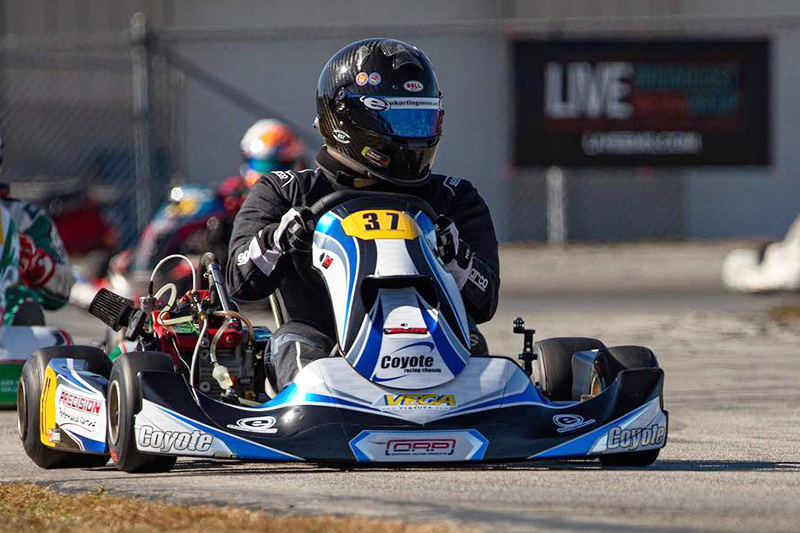 The first test of Howden's endurance was a success with a P5 finish at the CKNA Grand Nationals 6 (Photo: EKN - Nate Dean)
Click HERE for Part 1 of the Drive to 25 series
Click HERE for Part 2 of the Drive to 25 series
Click HERE for Part 3 of the Drive to 25 series
---
Let me set the scene. It's the 25th running of the American karting's biggest race – the SKUSA SuperNationals. The promoter elects to offer a new class for the event – the KA100 Master program – and my Managing Editor convinces me to take this as a challenge and add actual participation to my commentary duties this year.
What's my first thought?
Uh…I haven't driven ANYTHING in over two years.
Yep, that was the quick realization I had when I decided to pull the trigger and cross the SuperNationals off my personal racing bucket list. I haven't been in the seat for a while. My schedule over the past couple of years has been growing, to the tune of 26-27 race weekends a year. In the past, I normally found my way into 4-5 races each year, running locally at my club or through events like the Rock Island Grand Prix. The COVID shutdown and its effect on racing schedules wasn't helping. In 2019 and 2020, I raced the USAC Karting Battle at the Brickyard at IMS and had really enjoyed it. I raced in the CKNA Grand Nationals in 2019 and had a chance to drive a VLR100 in the Challenge of the Americas finale earlier that year as well. I did a test day and a Hamilton Kart Club race in the summer of 2020 during the COVID shutdown, but the 2020 Brickyard race was the last time I had went wheel-to-wheel.
Thankfully, I had three months to get ready for this year's SuperNationals. And still, I don't race regularly like most of the drivers I'll be out there with. As I detailed in my last installment, I committed to a focused fitness effort, and to losing significant weight and getting into much better shape. That program is well underway and I'm currently down almost 20 pounds from my starting point. The next effort was going to be seat time, and lining up driving opportunities was actually pretty simple, one being already on the schedule.
I started with an outing at my local track in late August – the Waterloo Regional Kart Club – with my good friend Gary Colling lining up a seat in a Birel ART / Briggs 206 machine to run Masters on a Saturday morning. My primary focus was to shake out the cobwebs and despite the fact that we had some type of issue with the engine, the day still did its job. It beat me up, stressed the racing muscles, and woke up my racing mind. I was off and running.
My next outing was a couple of weeks later, set up for the weekend following the Road to Indy (now USF Pro Championships) finale in Portland. We traveled down from Portland to San Francisco and eventually up to Prairie City in Rancho Cordova, CA for the annual Trackmagic Owners Group Rally. This was a unique training weekend, because I wouldn't be driving modern-day equipment, but instead my 20-year-old 2003 Trackmagic Memo Gidley 125cc shifter. Talk about throwing myself into the deep end. Driving the TM K9 shifter engine, with all that bottom end power, was such a rush. It had been over a decade since I drove a shifter, and I felt more and more comfortable each time I hit the track. I also had a chance to test out Jason LaPoint's new Daytona 190cc four-stroke shifter engine, which he's mated to a new Trackmagic chassis, and that was truly fun to drive. I could have driven it all day. The day at Prairie City really pushed me, which set up nicely for my next day at the track, which ended up being just three days later.
Following Prairie City, we flew to Austin, Texas for the finale of the USF Juniors Presented by Cooper Tires program at the Circuit of the Americas. Before the race weekend, we stayed with the Traylor family for a couple of days, and Mark offered to prep a KA100 kart for me to drive with his son Thomas at the Hill Country Kart Club track at New Braunfels. It was such a positive to get back at it immediately, and this would be my first time in a KA100 as well. The Birel ART chassis was dialed in, and Thomas did a great job showing me the fast line around the track, coaching me throughout the day. We put down 40+ laps and it was again part of my training to log seat time and get a feel for the KA.  All in all, it was a great day. I'd love to go back right now, as I'm about 10 pounds lighter and in much better shape already. Mark is going to wrench for me at the SuperNationals, so it would good to get into that groove now.
The final track day from this past six weeks was the Cup Karts North America Grand Nationals, at New Castle and I detailed that event in my last installment. Getting in a full-distance 20-minute main event was a really positive midway point to check in on my fitness level, and if I can keep focused for the next three weeks, I should be at my peak conditioning in years when I slip into the season of my Rolison Performance Group Kosmic for the first practice session on Wednesday morning in Las Vegas for the SuperNationals 25.
All along this three-week journey of race commentary and karting, I hit the gym whenever I could. I logged treadmill and dumbbell time in Portland, San Francisco, Rancho Cordova, and Austin. Getting supported by Chris Giumarra from Rosamond Health and Fitness and his 'Chris G Coaching' program kept me accountable. It's not difficult to convince yourself to skip a day to rest, but if it's not time for recovery, you need to stay consistent. Messages from Chris kept me digging, and it's going to be the same for the next 12 days before I head out on the travel trip that will end in Vegas at the SuperNationals. I've enrolled in Chris' new 'Accountability & Coaching' program, which is going to pay dividends well past the SuperNats.
I'm home for the next 10 days and it will be a hardcore fitness push. Giumarra has developed custom HIIT (High Intensity Interval Training) workouts for me to add to my regime, all focused on getting me ready for the SuperSunday main event in Vegas. I'm eating super clean and will be focused on workouts and quality recovery. I'm going to also focus on stretching and yoga to keep preparing my body for the brutality of five days of racing on a rough parking lot in Las Vegas.
I'll get one more track day before the race, which I'm so excited about. I'm heading to Houston on November 6 to spend a day on-track at Speedsportz Racing Park with the one and only Alan Rudolph. This will be a chance to fine tune my driving, and try to cure some of the bad habits I have. I've been wanting to get in a day with Alan since they cut the ribbon at the track and introduced the Alan Rudolph Racing Academy. This experience will certainly be an installment of this 'Drive to 25' feature. Look for that before the SuperNats. Next week, I hope to be able to unveil the new suit and helmet paint I'll have to make sure I at least 'look' good at the race.
Book It!