Drive to 25: Rob Howden's SuperNationals Journey – Part 3
Over and above the racing, it's a pure health and fitness journey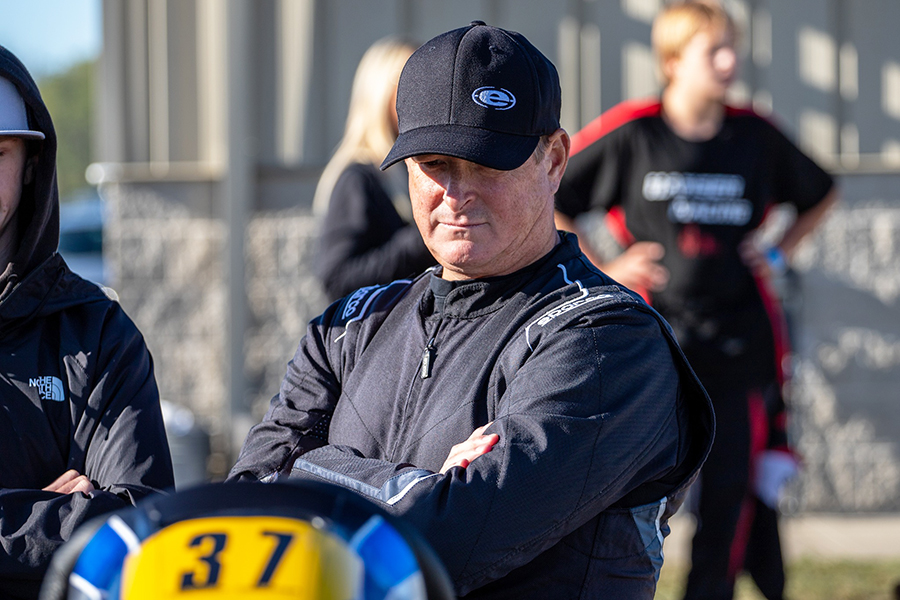 (Photo: CKNA)
Click HERE for Part 1 of the Drive to 25 series
Click HERE for Part 2 of the Driver to 25 series
---
It's been just over a month since my second 'Drive to 25' update, and I've been on the road for most of that time, attending karting and Road to Indy events all over the United States. Thankfully, during this gap, I've been able to spend some time in the seat of a kart, getting my mind and skills back up to speed. As we all know, competition karts are quite physical, and the strains on your body while driving are much different to those felt when playing other sports. With the SKUSA SuperNationals 25 closing in, it felt great to log all those laps, and to begin finding more and more speed. I felt much more comfortable each time I slipped into the seat, with the residual aches and pains subsiding. What every one of these outings also told me was that my time in the gym was paying off.
One of key components to this entire effort is my health and fitness journey. Making the decision to race at the SuperNationals was easy, as was deciding on the team that I'd race with. But I knew that drastically improving my fitness level was going to make or break the enjoyment I'd have in Las Vegas in November. When I confirmed this program back in August, I weighed in at a disappointing 211 pounds, likely the heaviest I've ever been. I was tired a lot, and just plain out of shape. I can make all the excuses for this, like living out of airport lounges and hotels, but it comes down to discipline. This has been the busiest year of my entire career. Adding the USF Juniors schedule to my already intensive calendar of karting and Road to Indy events ballooned my travel to 26 weekends, and I can tell you from experience that the accompanying amount of meals that come from the airport lounge, local specialty restaurants, fast food, and track food stands will take its toll. Again, all excuses. While I try to make the best choices, it's not always the case, especially for a self-professed 'foodie' like me.
So, with 211 pounds as the starting point, I committed to hitting the gym and beginning a running program with the goal of competing in an organized 5K run sometime before the SuperNats. Whether it was working out in my local fitness center, pounding the pavement near my home, or early mornings in the hotel gym before heading to the track, I was all-in. I've been out of bed and in the gym by 5:30 am on numerous occasions. Commitment aside, early in this running journey, I tweaked my right knee during a jog, hauling this heavy and aging body around the downtown core of my hometown. I mentioned this slight injury on my Instagram story, and quickly received a message from Chris Giumarra, a long-time karter and Masters racer who owns a gym in Rosamond, CA (Rosamond Health and Fitness).
"Rob, stop running so much. I want you to try something for a few days for cardio."
Now to set the scenario, I turned 54 in September, so for those of you who need to get into shape for racing, listen closely. Chris suggested that I try walking on a treadmill, setting the incline between 10-13 degrees, at 3.3 mph. He also added that I could wear a sweatshirt if I wanted to amp up the level of this 'Low Intensity Steady State Cardio'. I can tell you this, this approach kicked my butt. For my first shot at this idea, I went with 11.5 degrees at 3.3 mph, and the sweat session was intense. I was in a hotel gym in St. Louis, MO and was drenched when I was done. Even with my sore knee, the absence of the jarring pounding from running made it painless. I started with 20 mins and worked my way up to 30 mins. Now that I'm back home for just under a month before the SuperNats, I'll push to 40-45 mins. It's super easy on my joints, and the workout is awesome. Chris has been a fantastic motivator and supporter as well. It's awesome to have him in my corner. I'm seeing steady progress, and that's always encouraging.
I've added in weight workouts three or four times a week, and I've been slowly introducing core workouts as well, which sadly, I hate. I've started with planks, but I've added in other movements as well. I fully understand that a strong core is super valuable for a racer, and I'm trying, believe me. Chris has suggested adding in some High Intensity Interval Training (HIIT), which I will begin soon, as my knee is feeling much better. We're talking jump rope, pushups, mountain climbers, and jumping jacks, etc. Driving a kart is dynamic, and this workout is sure to raise my preparation.
The final component to this effort is my nutrition…my food intake. You can work out as hard and as often as you want, but if you put garbage into your body's fuel tank, you're not going to get the results you want. I'll be brutally honest in stating that my overall journey has been 'two steps up and one step back'. As a guy who loves a great burger or a quality pizza, and one who has been known to enjoy a beer, cocktail, or glass of wine, staying away from these indulgences for long periods of time has been tough. This is where being on the road is the hardest. Finding quality food options at restaurants is not easy, but I'm doing the best I can. I'm offered a beer at every tent I stop into at the end of a raceday. The struggle is real. As I finish up this piece, we're a month out from Wednesday practice at the SuperNats, and my current nutrition goals are to focus on lean protein, lots of fiber, loads of vegetables and healthy fats. Am I doing well with this focus? Truthfully, yes and no. I'm committed to this health and fitness effort being long-term and not just part of my prep for the race, so I'm not beating myself up about it. I lose my willpower now and then, but for the most part, I'm going in the right direction.
My initial weight goal of 180 for the race is not looking overly achievable, but a weight under 190 is definitely on the horizon. I weighed in at 194 pounds this morning, so I'm down a total of 17 pounds from Day 1, which is a huge win in and of itself. As a positive, I competed at the Cup Karts North America Grand Nationals at New Castle at the start of October, and I knew that the longer 16-lap main event would be a good halfway point test. I was good during the shorter heat races, and in the final, I felt good through the race, and pushed past my waning energy over the final laps as I was catching a group in front of me. I turned my fastest lap on lap 14, which I think was a huge win, and the full race time was over 20 minutes, which is what I expect for the KA100 Master final at the SuperNats. Yes, the KA100 is a more physically demanding machine, so while I know there is still work to do, I'm thrilled with my progress and my grade at the halfway point.
I can say this, all of the messages and comments that I've been receiving through my social media update posts have been so motivating. When I try to convince myself to stay at my desk because I have work to do instead of heading to the gym or out for a walk, it's these messages of encouragement that kick me in the butt and push me to strive for more. I'll be rolling on-track for practice at the SuperNationals in one month, and I'll be bringing all of you along with me for the ride!
BOOK IT!