Caleb Gafrarar Wins IAME USA National Finals in X30 Pro Junior
Another National Champion honor for Caleb Gafrarar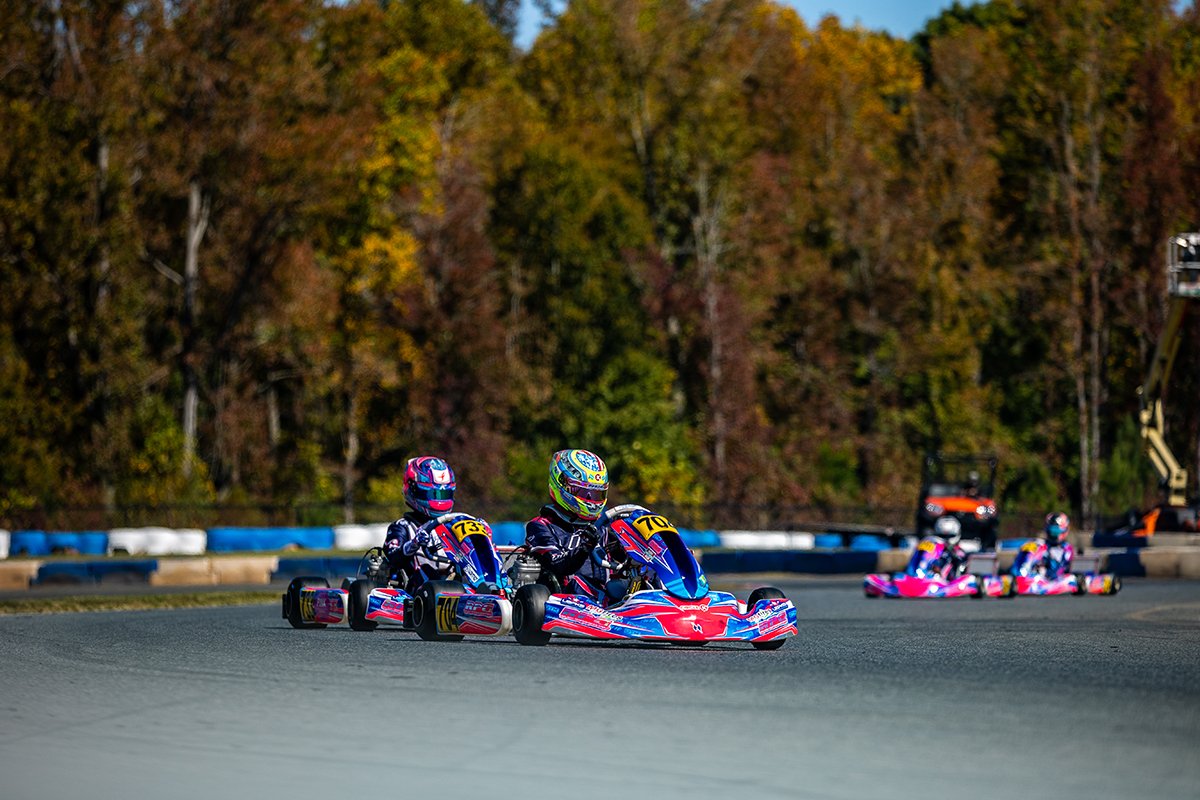 Caleb Gafrarar dedicated his win to his Mom and Mimi, both breast cancer survivors
(Photo: Kart Chaser)
Racing for both his Mom and Mimi, both breast cancer survivors, during Breast Cancer Awareness Month, multi-time national champion Caleb Gafrarar took on his home track of the GoPro Motorplex in Mooresville, North Carolina. Competing in the KA100 Junior and X30 Pro Junior classes, the Rolison Performance Group (RPG) pilot was the junior driver of the weekend claiming four heat race wins on his way to another National Championship.
Gafrarar's best results of the weekend came in the X30 Pro Junior category. After qualifying third, the RPG driver went on a heat race winning streak taking top honors in three of three heat races. Earning the pole position for Sunday's prefinal, Gafrarar fell two positions to cross the line third in a hard-fought battle at the front of the field. Put in high-pressure situations all season long and consistently coming out on top, Gafrarar performed flawlessly in the main event to grab the race win and the title of the IAME USA Grand National Champion.
"This win is for my mom and Mimi," expressed Gafrarar. "A huge thank you to them and everyone else involved in making 2022 a success. We have a few more races to win still and I am ready!"
With the goal of earning two main event victories, Gafrarar battled for the win but contact late in the race took him out of contention. Qualifying in the fourth position and finishing sixth in heat one, Gafrarar went on to win heat two before falling back in heat three crossing the stripe sixth again but earning the fastest lap of the race. Pushing hard in the prefinal to work his way back forward and a shot at the win in the main event, Gafrarar ended the prefinal second and would start the main event on the front row.
Gafrarar added, "It was a close battle up front, and I led but fell back to third at the start of the last lap. There was some contact in front of me, and I got into the back of one of the drivers unintentionally and caused him to spin and my bumper to get pushed back resulting in a penalty. Tough way to end the KA100 weekend but we proved that we had the speed to be up front in both classes and that is a positive take as we look towards future events."
Next up for Caleb Gafrarar will be the annual ROK Cup USA ROK Vegas event at the RIO All-Suite Hotel and Casino in Las Vegas, Nevada.
Caleb Gafrarar would also like to thank Rolison Performance Group, OTK USA, Kosmic, AVP Engines, his mechanic, Will Orsini, Circle K, Molecule, Bell Helmets, Minus 273, ULV, From the Ashes, and CPI Security for the continued support in the 2022 racing season.