AKRA: Trio of Hat Tricks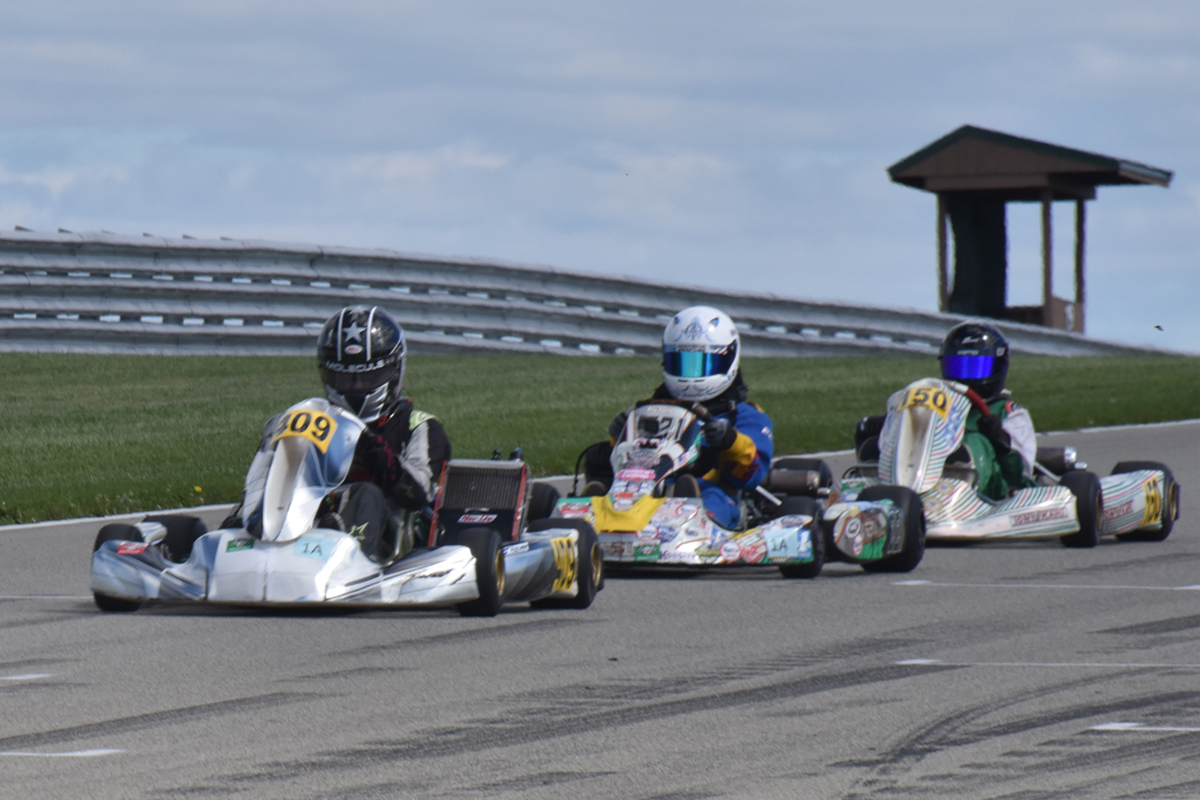 Four of 252 racers entered in this year's AKRA/ Hoosier Kartsport National Road Racers turned Hat Tricks on the 2.8- mile asphalt road course of Pittsburgh International Race Complex in Wampum, PA Saturday for their sixth and final national of the season. Turning Hat Tricks that weekend on the Full 2.8-mile asphalt course were, Makena Rice, Author McKenny and Mike Ray.
Weather forecasters correctly predicted sporadic rain and strong winds for the Pittsburgh metro area forcing racers to scramble between rain tires and slicks.
After her third win, Rice, of Mooresville, NC said, "It takes a great mechanic, and a lot of support from my family. It also takes a lot of confidence.  It's like you have to bring a lot of confidence with you so that you can be there when you need to be there."
Rice captured her first win that Saturday morning leading a dozen SA2c Air Cooled TaG Senior Sprint Final-1 racers across the stripe. Behind her in the top five were: Ryan Miller, David Casaperalta, Eric King and Dennis Griffith.
Earning the remaining top 5 position's in Sunday's Final-2 were: Casaperalta, Eric King, Miller and Walter Troup.
Rice also ruled Sunday's SU11b DKC IAME Sprint Final- 2.There she was seven seconds ahead of Greg Heberle at the stripe. Indy Kassy, Gary Sircy and Ariady were behind them under the checkers.
"The Merlin kart was awesome.  But I had to make the tough decision on tires-slicks   or rain tires. Fortunately I, choses slicks. And because BBS motor was recently rebuilt, it was fast."
Behind her in the top five were; David Casaperalla, Eric King, Ryan Miller and Walter Troup.
Two years ago legendary Vintage kart racer Arthur Kenny came up with a race he called 'The Vintage Celebration."    The plan was simple. Run a 20-minute, two-class race giving vintage style photos to the winners.   Now in it's second season the race is seeing growth with over a dozen entries this year.
Like last year, McKenny was this year's 01c Vintage Open race winner. This year's field included, Greg Hartley and Chuck Morgan.
McKenny's #6W would see two more sets of checkered flags waving for him.  In Saturday's second race SA2a Vintage Piston Port.  Behind him in the top five were, Ben Eberhart, Greg Hartley, Micah Damon and Adam Trumbley.
Mike Ray ruled the Stock Honda Heavy Finals 1 and 2 plus adding a Stock Honda win to take home for his collection.
Double winner Mallory D'Augustine earned two wins Saturday. Between races on her way to the grid she had a few minutes for questions. Here are highlights of what she said, "We're in a rebirth, everyone wants to get in it, young and old want to get into karting, she said."  It's very competitive. Very competitive across the series. Every track we go to the finishes are close; very close."
D'Augustine then turned her attention to the racing that day.  The kart handled perfectly today I could stick it wherever I wanted it.  Just like it's supposed to. It never slipped."
That puts a wrap on the AKRA/DKC Road Racing Series 2022 season.  According to AKRA President/CEO Bill McCutcheon says plans are in the works for next year.