OnTrack: EKN Back in Action at CKNA Grand Nationals 6
Howden and Cole set for competition at New Castle Motorsports Park this weekend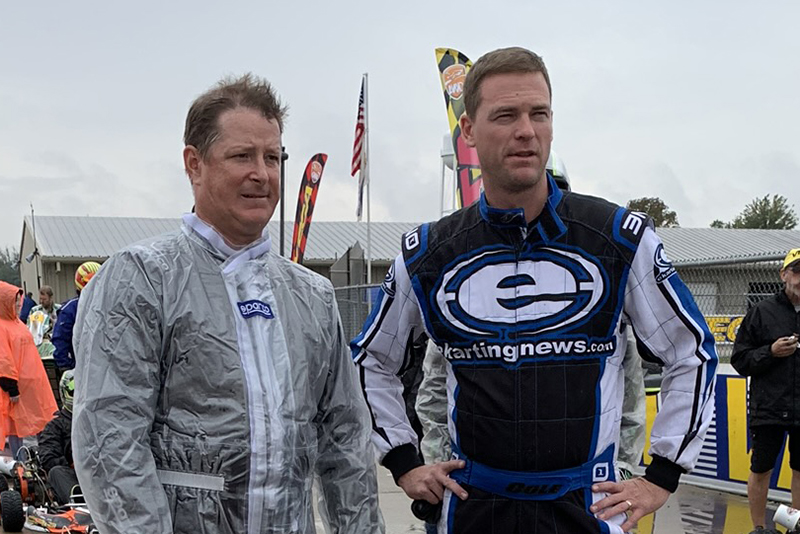 Rob Howden and David Cole are both back this year for the Cup Karts North America Grand Nationals 6 (Photo: Alycia Hodapp)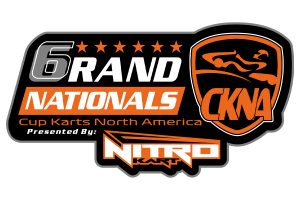 It's been two years since the EKN duo of Rob Howden and David Cole hit the track at the same event, stepping away from the microphone and their laptops to get back behind the wheel. That was the 2020 USAC Karting Battle at the Brickyard at the Indianapolis Motor Speedway. This weekend, again in the Indy area, Rob and David will finally be back in action for the Cup Karts North America Grand Nationals 6 at New Castle Motorsports Park, along with over 300 other Briggs 206 racers. Sadly, there won't be the standard head-to-head battle this time around, with Rob concentrating solely on the Legends class while David aims to pull double-duty in Senior Heavy and Masters. Our hashtags will need to wait for the next duel (#BeatDavidCole / #BeatRobHowden).
So, let's have a look at the equipment and partners for this weekend's monumental event, which has already set a new entry count record. For his fourth straight event, Cole will return to the event with LSR Motorsports / Target Distributing on a CRG, while Howden has set up a program to run with Precision Performance Karting and the factory Coyote team drivers in his return to the CKNA Grand Nationals.
Cole has raced in three CKNA Grand National events with Marshall Martin's operation, supported by CRG Nordam and Euan Jeffery. Martin is a karting veteran, based out of the South Bend, Indiana area. He was the national Rotax race director during the early 2000s and has been a longstanding CRG dealer for decades. The Cole/CRG/Kart City Performance Briggs 206 combination was a good one, showing pace in qualifying the opening two years. All three years at the Grand Nationals have seen changing weather conditions that made for three challenging weekends. A DNF in the 2019 main event was followed by a flat tire in 2020. Last year, they simply made the wrong tire selection guessing what the weather would do. Despite the difficulties, Cole is committed that the fourth year will be the one that shows the potential of the CRG FS4 chassis.
With the combination of Martin, Jeffery, and Sean Scott turning the wrenches, and the many drivers under the tent, there will be no shortage of information to put the CRG karts to the front of the field, including Cole in Senior Heavy and Masters in his first race since last year's Grand Nationals.
For the 2022 edition of the race, Rob reached out to Brandon Jarsocrak, who works closely with Coyote Motorsports' Jim Lipari. Jarsocark is a well-known national karting champion who has refocused his energy on the business side of the sport, running Brandon Jarsocrak Racing, while also working for Precision Performance Karting and Mike Doty Racing. This year's focus for Howden's program was put on a domestic American-made product, and Coyote is certainly one of the legendary brands in US karting.  Ironically, Howden has never raced a Coyote despite battling many of them in his early years of racing four-cycle kart in Ontario in the mid-1990s. The call went out to Jarsocrak, who has been driving for, and working closely with, John Seglem from PPK for some time now. Brandon was also heavily involved in the R&D of Coyote's new Zenith chassis, which Rob will pilot using VP Racing Engines Briggs 206. Designed over multiple years of engineering, development and testing, the Zenith is Coyote's CIK chassis package. The design approach employs a more European-style concept that features the Sniper caster/camber adjustment system. The chassis is a mix of 1-1/8" and 1-1/4" alloy frame tubing and uses 25mm chrome spindles and an MCP brake system. Coyote uses a Greyhound seat and finishes the build with the KG 507 nose and 508 fairing and Evo Stilo side pods.
After having not raced at all in 2021, Rob his extremely excited to get back into action this weekend at New Castle for what is also a good midway stop of his effort to race at this coming November's SKUSA SuperNationals in Las Vegas.
Rob and David won't be the only EKN staffers at this year's Cup Karts North America Grand Nationals. EKN Editorial Assistant Nate Dean will front-and-center to quarterback our Trackside coverage from the event, providing daily reports, social media content, and session-by-session top-10s on Facebook and Twitter. Make sure to follow our coverage and social media content to get the behind-the-scenes action of our guy's racing exploits.