Drive to 25: Rob Howden's SuperNationals Journey – Part 2
Putting The Pieces Together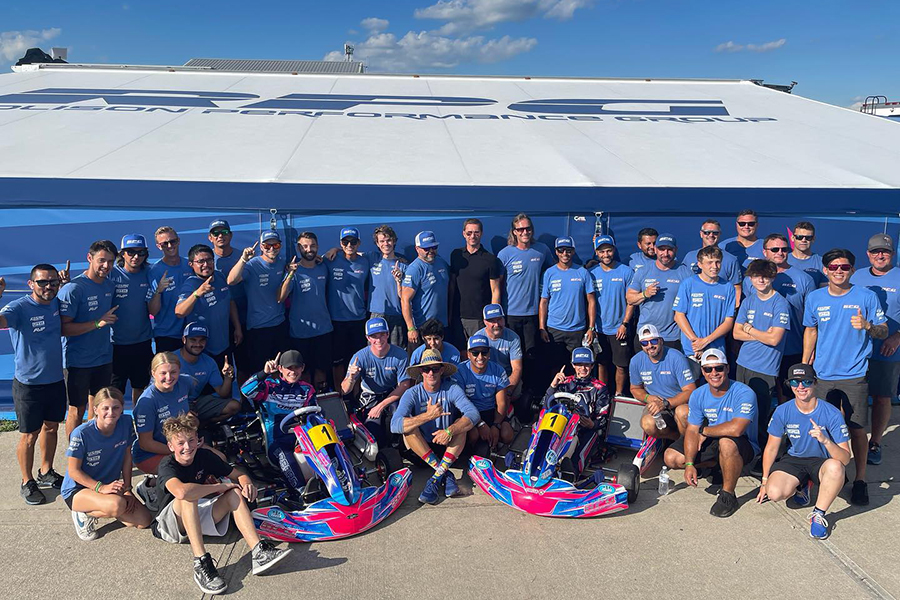 Rolison Performance Group (Photo: RPG)
Click HERE for Part 1 of the Drive to 25 series.
When I made the decision to race at this year's SuperNationals, the very next move was deciding on the team that I'd hope to run with. We're fortunate to work with, and enjoy the support of, so many fantastic teams and shops on eKartingNews.com. I wanted to work with one of our valued partners, so the list was extensive and, to be honest, I really couldn't go wrong. Selfishly, I wanted both the best chance to have a strong outing at the event and the opportunity to develop some intriguing editorial. If I was going to run for a team, and really get inside the operation as an official driver, I fully expect that EKN Nation would want the scoop. What's it like inside the team? What's the culture? How intense are the debriefs? How are chassis and engine tuning approached? The good stuff, right? To me, this kind of information could be gold for the club racer looking to take their own programs to the next level.
In our sport currently, among the powerhouse operations, the Rolison Performance Group was my choice. Can you blame me? Their lead driver is the defending SKUSA SuperNationals X30 Senior winner and now a five-time SKUSA Pro Tour champion, and the opportunity to work with Ryan Norberg is a no-brainer. I expect that everyone will enjoy a first-hand look into what makes RPG work. I won't be divulging their trades secrets, but I'll give our readers a little taste of the experience. I've known RPG owner Mike Rolison for over 20 years, and I greatly respect his dedication and passion for excellence. The opportunity to work this closely with Mike is another huge prize within the entire effort.
Equipment-wise, the plan is to run a new Kosmic Mercury RR. The chassis is a 30mm OTK product that has won races and titles in virtually every two-cycle single-speed class and every series in the country. I might as well give myself every opportunity to meet my realistic expectations. RPG works with Mark Dismore Jr. and Comet Racing Engines for their KA100 power program, and I've worked with Mark before when we ran their Comet Eagle chassis at the USAC Battle at the Brickyard inside Indianapolis Motor Speedway. It's awesome to have two well-respected industry veterans as part of my program.
On the technical side, I've enlisted the mechanical experience of my good friend Mark Traylor to spin the wrenches for me. Mark's been in the sport of karting for years, working with his son Thomas, and we've been friends and craft beer buddies for a decade. The technical decisions on our kart set-up will come down from the RPG brain trust, but I trust Mark explicitly to prep and tune my kart for every session. We're still over two months out from the race, but my support line-up is already coming together.
To round out this edition of my 'Drive To 25' series, I was able to get back behind the wheel this past weekend at Prairie City as part of the annual Trackmagic Owners Group Rally, as I mentioned in the first installment of this series. A pristine 2003 Trackmagic Memo Gidley Edition shifter with a TM K-9 ICC engine awaited me when I arrived at the Rancho Cordova, CA track, and it was such a fun weekend. I haven't driven a shifter in over a decade, so the first sessions where just about letting my brain catch back up to the intensity and speed of the action. It was a good test of my increased fitness and stretched my 'karting muscles' to prepare from my next on-track opportunity. I'll dive deeper into my weekend and how I felt in the kart in my personal overview of the Rally. I'm working on that editorial now as well as I fly to Austin, Texas for the USF Juniors finale at the Circuit of the Americas. I'll be back in the gym on during the week and maybe find my way into the seat of a KA100 this weekend as well.
Thanks for following along with my journey. Until next time….BOOK IT.