Team STC's Mission For Accessible Karting
Eric Kappes' journey through racing as a paraplegic
Eric Kappes
Karting as a sport is not the easiest to get into. You can't just drive a few minutes to your nearest dollar store and have all the equipment you need. There are numerous factors and questions we all need to have answered before getting into it karting. Where do I buy a kart? What's the nearest track to race it at? What gear do I need and what does a race weekend look like? These are all questions and concerns most karters have going in. However, the question of whether you can physically drive a kart is something most people don't even think about. We take it for granted, however, it is a serious question that would face the millions of people in America who live with paralysis before entering the sport of karting.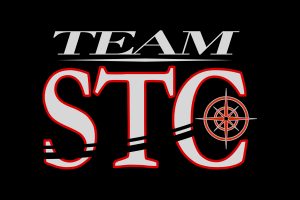 Eric Kappes and his wife Kayli are the founders of Team STC, which they established to showcase and create a path to karting as an option for those who live with paralysis. STC was created in 2020, two years after Eric had become a paraplegic. STC stands for 'Stay the Course' – with a mission statement of 'No matter how difficult, do not ever give up on your journey… endure and overcome'. Based out of West Lafayette, Indiana, the organization is a professional kart racing team that provides physically disabled individuals with the opportunities and tools necessary to discover, develop and showcase their racing skills.
Eric has been around motorsports and competing since he was 15. He started with Micro Sprints and drove many different cars – both open-wheel and stock car – throughout his time behind the wheel. He found success racking up many heat wins and main event top-five finishes, but really found his success on the dirt circuit was as a mechanic. During that time, he wrenched for teams running dirt series such as USAC and the World of Outlaws.
Kappes had a vision of wanting to start a race team to give a chance to up-and-coming drivers and mechanics. He was close to doing so in the dirt track racing world, however, it never came to be due to multiple factors, one being his health.
From birth, Eric has had spinal nerve issues that for most of his life were mostly in his upper spine. It caused him occipital nerve and migraine pain 24/7, and never really expected it to escalate from there. Things started to change however in the summer of 2018. "I woke up one morning with an ungodly, shooting pain down my legs. I ended up in the hospital for nine days and, eventually, surgery was done to relieve the pressure that was being put on my spinal nerves from a disc that had deteriorated," said Eric when talking about his journey. The surgery was unsuccessful, and the real problems started to come at him in the following months. Six months later from the surgery, around Christmas time, Eric had fully lost the ability to walk or stand.
Eric got into karting after a friend heard about his condition and how hand controls can be utilized to allow him to get back behind the wheel. What started as an off-handed comment turned into Eric pitching the idea of STC to a room of people a week later. He mentioned that around that time, he knew he wanted to do this for himself. As things evolved, Kappes wanted a program like this to be made available to any, and everyone that is interested.
To start, he contacted John Copeland at Fox Valley Kart located in West Lafayette, Indiana, Copeland helped the Kappes' find a kart for them to use and then converted that Kosmic chassis to work with a hand control system. From that time to now, there remains very little in the market for drivers with disabilities, including hand controls and fully fledged karts aimed at drivers who are paralyzed.
The original hand control system came from Tecno Kart, which at the time was the only manufacturer to support such a product. The system works by using his left hand to operate the brakes, including a master cylinder mounted to the wheel, and a clutch paddle found on shifterkarts to operate as the throttle, all while using his arms to steer and hold himself up in the seat. Further modifications included rounding off the pedals to hold his feet in place as to not have them slide around and adjusting the tension of hand controls with springs to get a better feel for the kart.
To help in the mission, STC has partnered with organizations and individuals within motorsports, such as Sam Schmidt – the co-owner of Arrow McLaren SP IndyCar team, and his Conquer Paralysis Now foundation. STC also has an alliance with Whiteland, Indiana based NEWGEN Motorsport as the two independent teams will work together to further help those who are paralyzed have an easier time accessing the sport.
We asked Kappes about his inspirations in motorsports, bringing up the names Robert Wickens and Alex Zanardi, both knowing how hard it is to compete in motorsports with a disability. Eric said what they have done in the sport is incredible, and how they are the true representation of the human spirit being able to overcome.
"When I think about what we're doing, I look more to a guy like Nicolas Hamilton," Kappes offered. Hamilton is a 30-year-old British racing driver who currently competes in the British Tour Car Championship. Hamilton was born with Cerebral Palsy, a movement disorder that Hamilton has had since birth. "He's battled his issues from day one and still managed to climb that ladder. Looking at the landscape of motorsports, a life story like his is a little rare in my opinion."
Eric went on to talk about how what Hamilton has proven in his racing career is what they at STC want to pioneer. They want to help racers that already have those disabilities get to the higher levels of racing.
STC very much has its sights set on the future, and some big plans along with it. Kappes wishes to create karts for those with disabilities and is already working in collaborating with NEWGEN Motorsport to produce hand controls specifically tailored for karting. The team has the goal to be able to put on 'Day Out' programs. They describe these as "programs that allow for disabled individuals to arrive at the track for a day out and participate in programs that have nothing to do with competition and everything to do with physical and mental therapy, recovery and encouragement."
Eric also stated how having a kart that can be run off of hand controls is the main goal for STC. "Basically, the remainder of the kart doesn't need to be altered to allow for the hand control system.  This also allows us to do it at a much lower cost than we originally did and enables us to pass that on to the customers," he continued.
Team STC will be at the Cup Kart North America Grand Nationals 6 at New Castle Motorsports Park, where the team is set to compete and showcase its brand-new hand control kit.
To learn more about team STC, visit their website at www.teamstckart.com, and follow them on social media on Facebook, Instagram, Twitter and Youtube. For more information, contact the team at teamstc.kart@gmail.com