Solid Close to the SKUSA Pro Tour for Birel ART North America
Wins, podiums, and championships for powerhouse team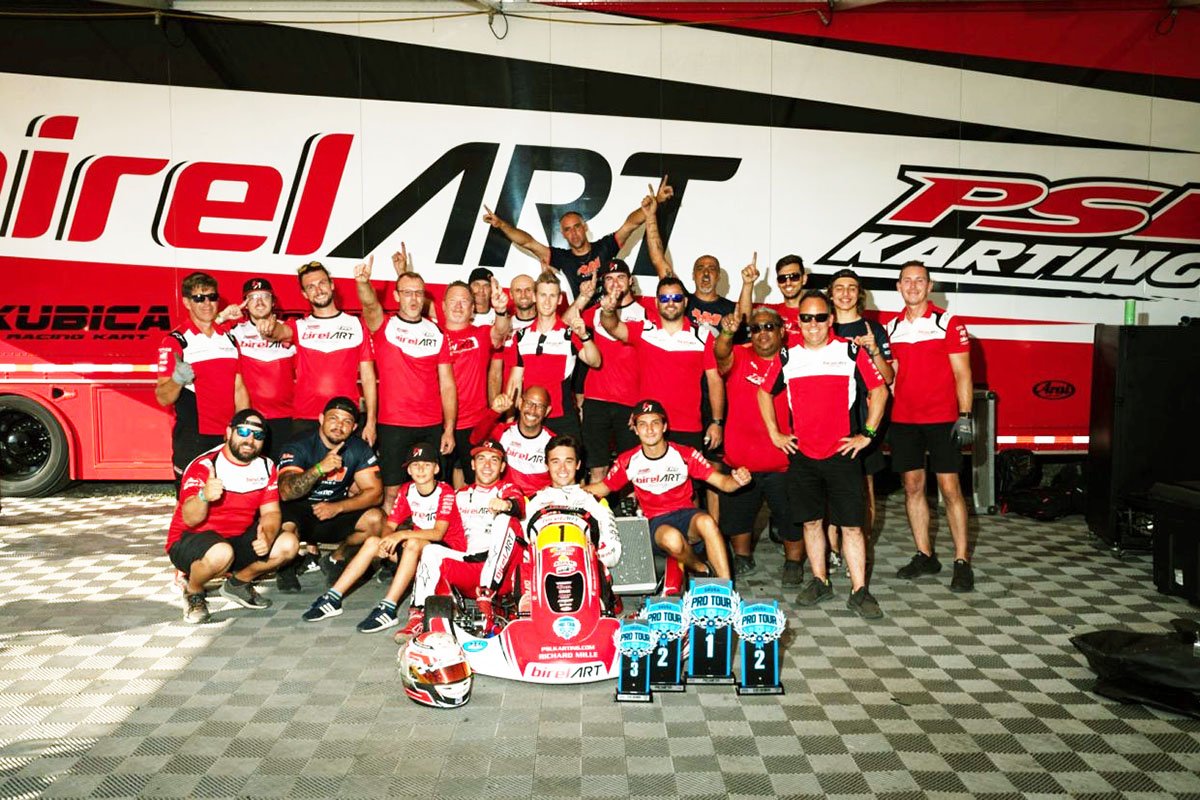 From Canada to the United States, Birel ART North America was back on track for the final rounds of the Superkarts! USA (SKUSA) Pro Tour at the ultra-fast New Castle Motorsports Park (NCMP). With multiple drivers across many different classes and from several dealers, the potent squad earned race wins, podium results, and a Pro Tour Championship.
Saturday started off the results for Birel ART North America with one pole position, two wins and four podium results led by newly crowned Pro Shifter Champion Marijn Kremers. Earning the pole position on Saturday morning, Kremers carried that success through the day to stand atop the podium with the win. Jake French qualified in the third position while Hunter Pickett was fourth, but the drivers would swap positions in the main event with Pickett joining Kremers on the podium in third as French fell back to P4. In the Master Shifter class, AJ Noud added to the Birel ART North America win total taking the checkered flag in dominating fashion.
In the X30 Senior class, Diego Ramos turned his seventh-place result in qualifying into a podium performance in the day's main event. Climbing five positions throughout the prefinal and long main event, Ramos crossed the line and celebrated with a P2 finish. Two more top-ten results came from the Mini Swift contingent as Max Cristea and Tyrone Kemper Jr. finished seventh and tenth respectively.
One more pole position, three podium results, and six top-ten finishes came on Sunday with Kremers and Noud once again leading the way. Pickett, Kremers, and French all secured top-ten results in the Pro Shifter qualifying session clocking the second, third and tenth quickest laps of the session with only Kremers able to find his way to the podium. Crossing the stripe in second for his second podium result of the weekend, he was joined in the top-five by French who moved from tenth to third throughout the day but was dropped to fifth after a post-race penalty. Jordon Musser had a spirited drive into the top-ten to close his weekend with a solid seventh-place result.
Qualifying was not the best for Ramos and Pedro Hiltbrand in X30 Senior as the pair were back in eighth and tenth but they both improved once wheel-to-wheel racing commenced. Hiltbrand was able to drive to the front and garner a podium result in third while Ramos was able to maintain his positioning in the top-ten with a seventh-place finish.
AJ Noud put his Birel ART North America machine on the pole position in Shifter Master and was able to back up his Saturday victory with a second-place podium result on Sunday.
"It was a good weekend for the boys, and we were happy to leave New Castle with some solid results and of course a Pro Tour title," explained Birel ART North America's Dominic Labrecque. "Keeping with the SKUSA theme, we are looking forward to the SKUSA SuperNationals later this year and have already begun solidifying our driver lineup. Stay tuned!"
Are you interested in any of the Birel ART line of products or joining one of their dealer race teams? Contact Birel ART North America today.
For more information to become part of the Birel ART, Ricciardo, Charles Leclerc or TM Racing dealer networks or information on how to join the PSL Karting / Birel ART North America Race Team for the 2022 season, please contact Dominic@PSLKarting.com
Birel ART North America (PSL Karting) is the National Importer and Distributor of Birel ART products and accessories, including Ricciardo Kart, Kubica Kart, and Freeline accessories. Birel ART North America is also a new North American importer for the TM Racing line of products. Visit www.pslkarting.com to find a retailer near you. Follow our racing team and product updates via our social media @pslkartingofficial.