Great start for the WSK Euro Series in Lonato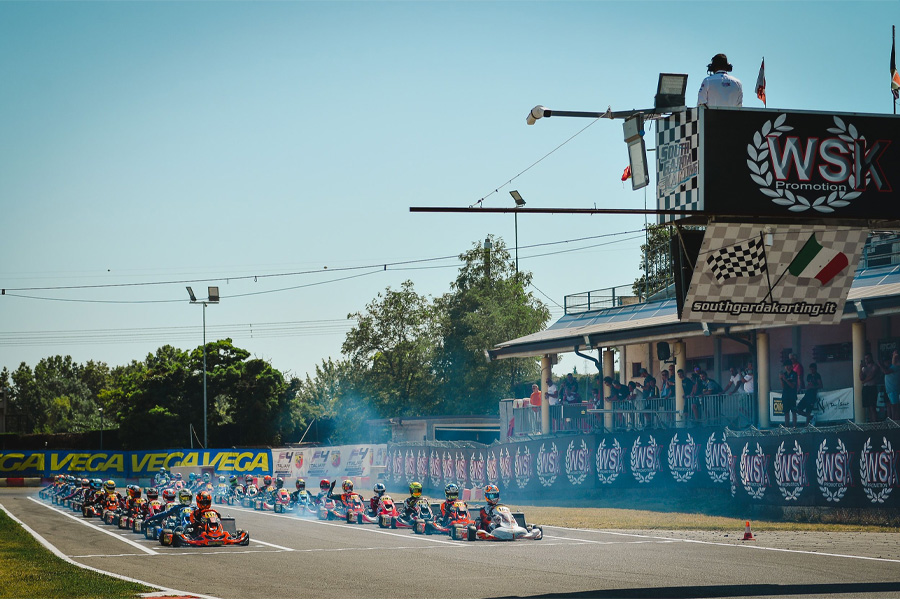 (Photo: Sportinphoto)
The spectacle is on at the South Garda Karting circuit of Lonato where the first racing day of the opening round of WSK Euro Series went underway today. Qualifying practice has been in fact held today as well as the initial heats that named the protagonists of this international event. Despite the intense hot weather of this mid-July, drivers did not hold anything back and put in strong performances in all categories. A total of 244 drivers from 53 countries made it to the start and will be busy until Sunday, July 17 when the final stages that will be run enjoying live TV and streaming coverage from the website wsk.it and Motorsport.tv.
Albanese sets the fastest time in KZ2's qualifying.
In KZ2, the Italian Danilo Albanese (KR Motorsport/KR-Iame-LeCont) set the pace in qualifying with a best time of 45.315s, which was slightly faster than that of the CRG Racing Team's drivers from France Jeremy Iglesias (+0.041s) and Sweden, Viktor Gustavsson (+0.093s), both on CRG-TM Racing. The fourth time was posted by the young Italian driver Michael Paparo (IPK Official Racing Team/IPK-TM Racing) at 0.103s, while the Spanish driver Genis Civico (Modena Kart/Birel ART-TM Racing) was fifth and the French Tom Leuillet (Leclerc by Lennox Racing/Birel ART-TM Racing) was sixth. Some drivers were hit by a penalty. Among these, the Italian Giuseppe Palomba (Birel ART Racing/Birel ART-TM Racing) and the Swede Paavo Tonteri (CRG Racing Team/CRG-TM Racing), that were stripped of their times as they waited to get on track longer than allowed by the regulations.
Ippolito very quick in OK.
The Italian Paolo Ippolito had a great debut. He is usually one of the protagonists of the shifter KZ2, but on this occasion he had a go with the OK direct-drive category with team KR Motorsport on KR-Iame-Vega. His debut has been very convincing since the beginning as he went quickest overall in 46.169s, which was 0.039s faster than the French Enzo Deligny (Parolin Motorsport-Parolin TM Racing) and 0.133s than the time posted by the Italian Nicolò Cuman (Forza Racing/Exprit-TM Racing). Cuman's teammate from Sweden Joel Bergstrom was also very quick and was 0.172s off the lead as Lithuania's Tomass Stolcermanis (Energy Corse/Energy-TM Racing) who had a gap to the top of 0.174s.
The nearly-rookie Lindblom to the fore in the Junior.
In OKJ, the Swede Scott Lindblom (CRG Racing Team/CRG-TM Racing-Vega), who comes from MINI, headed the 66 drivers posting a 47.631s in his first experiences in OKJ, while Anatoly Khavalkin (Parolin Motorsport/Parolin-TM Racing) was the quickest of Session-2 in 47.668s and the Belgian Thibaut Ramaekers (VDK Racing/KR-Iame) in Session-3 (47.729s). The Pole Marcel Kasprzycki (Ward Racing/Tony Kart-Vortex) was the second in Session-3 in 47.655s and the Brit Lewis Wherrell (Forza Racing/Exprit-TM Racing) second in Session-2 (47.697s).
MINI's pole position to Zulfikari.
Despite the very high temperatures of this mid-July weekend, the drivers did not hold anything back and put in very fast times also in MINI Gr.3. Out of the 110 verified drivers, the young Turkish Iskender Zulfikari (Team Driver/KR-Iame-Vega) displayed a good growth and posted the fastest time overall in Lonato (52.775s). Vladimir Ivannikov (Gamoto/EKS-TM Racing) was the fastest of Session-3 in 52.860s, the Dutch driver Dean Hoogendoorn (Alonso Kart by Kidix/Alonso-Iame) set the pace in Session-2 (52.879s) and the Czech Oliver Palocko (BabyRace Driver Academy/parolin-Iame) did the same in Session-4  (53.045s).
The first protagonists of the heats on Friday:
KZ2 – Manche1: 1. Albanese; 2. Iglesias; 3. Leuillet; 4. Gustavsson; 5. Paparo; 6. Civico; 7. Bertuca; 8. Irlando.
OK – Manche1: 1. Ippolito; 2. Stolcermanis; 3. Deligny; 4. Nakamura-Berta; 5. Cuman; 6. Bergstrom; 7. Al Dhaheri; 8. Popov.
OKJ­ – 1. Lindblom pen. 2; 2. 2. Przyrowski pen. 2; 3. Olivieri pen. 3; 4. Lammers pen. 4; 5. Go pen. 6; 6. Ramaekers pen. 7; 7. Kasprzycki pen. 7; 8. Molnar pen. 8.
MINI – 1. Ivannikov pen. 0; 2. Zulfikari pen. 4; 3. Pancotti pen. 4; 4. Hoogendoorn pen. 5; 5. Costoya pen. 5; 6. Kamyab pen. 6; 7. Cosma-Cristofor pen. 7; 8. Tonalini pen. 8.
Live TV and Streaming on Sunday, July 17.
The event will be broadcast live in TV streaming on Sunday, July 17 on wsk.it and Motorsport.tv, that is granting international coverage to all the Series organized by WSK Promotion.
The program of the weekend in Lonato:
WSK Euro Series, Round 1
Saturday, July 16
08:30 – 09:55: Warm-up
10:00 – 18:30: Qualifying heats
Sunday, July 17 (Live Streaming on wsk.it and Motorsport.tv)
08:45 – 10:12: Warm-up
10:20 – 12:30: Prefinals
13:00 – 15:00: Finals (13:00 OKJ; 13:30 MINI; 14:00 KZ2; 14:30 OK).
THE WSKS EURO SERIES CALENDAR
1st Rd – 17/07/2022 LONATO – MINI-OKJ-OK-KZ2
2nd Rd – 31/07/2022 SARNO – MINI-OKJ-OK-KZ2
Info: www.wskarting.it/index.asp