Parolin Motorsport is European OK-Junior Champion with Khavalkin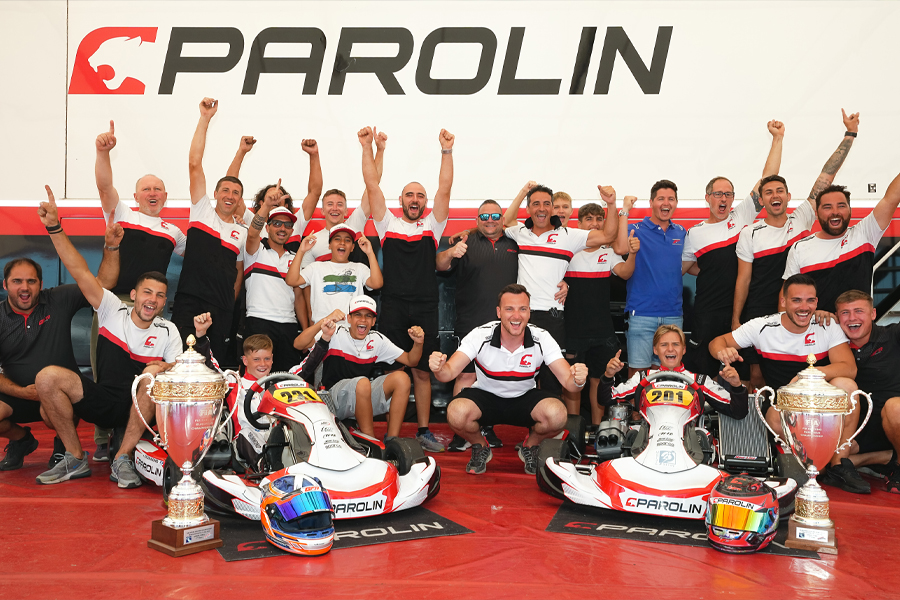 The fourth and final round of the FIA Karting European OK and OK-Junior Championship in Franciacorta saw a succession of top performances for Parolin Motorsport. Anatholy Khavlkin managed to win the OK-Junior title while Zac Drummond finished 2nd in the Final. Enzo Deligny took the OK pole position and won all the heats to secure his 4th position in the Championship while Maksim Orlov secured 8th place in the Final and the Championship.
The battles were fierce throughout the weekend in the heat of Franciacorta. Well supported by their ultra-competitive equipment and the responsiveness of the technical team, the Parolin Motorsport drivers managed to avoid most of the difficulties of this intense meeting. Khavalkin withstood the pressure of an explosive OK-Junior Final to win the European title brilliantly.
"My first reaction is to congratulate Anatholy. The end of the OK-Junior European Championship was tough. The risk of losing everything was there and he had to show great composure to stay the course until the end. To bring home the European title in these conditions is a superb achievement. He built up his success with four heat wins before confirming in the Super Heat. Starting on pole in the Final was an asset, but the crazy intensity of the race itself was difficult to predict. 6th on the first lap, he came back to the lead after eight laps before falling back to 5th. He then managed the last laps perfectly to finish 3rd and win the title. There were many reasons to be satisfied in Franciacorta. Zac Drummond did better than confirm his progress over the last few races. Amongst his achievements of the weekend, we will remember his four top five finishes, his eight-place improvement in the Super Heat and his 10-place climb to 2nd in the Final."
"In OK, we could hardly have hoped for better than Enzo Deligny's 4th place in the Championship. However, the Frenchman undoubtedly deserved a better result in the Final after his pole position and his five heat wins. He set the fastest lap in Super Heat B, but was penalised for a race incident and lost his win. He managed to refocus for the Final and waited for 4th place in this difficult race. On the other hand, Maksim Orlov had a very good race with very few mistakes and an 8th place to conclude."
"Parolin Motorsport can be proud of the competitiveness of its equipment and the level reached by several of its drivers. Our team is capable of aiming for high results in the important events at the end of the season, and this is the goal we have set ourselves."
OK-Junior
Anatholy Khavalkin
7th in Qualifying, four heat wins, 2nd in Super Heat B, 3rd in Final, European Champion
Zac Drummond
11th in Qualifying, four heats between 2nd and 5th place, winner of the Super Heat B (+8 pl), 2nd in Final with a gain of 10 places, 7th in the European Championship (+6 pl)
René Lammers
26th in Qualifying, 24th after the heats, gain of eight places and 4th in Super Heat B, retirement after three laps in the Final, 8th in the Championship
OK
Enzo Deligny
Poleman in Qualifying, five wins out of five heats, 1st on the finish line of Super Heat A with the fastest lap, 10" penalty, ranked 13th. 3rd at the start of the Final, 5th at the finish, 4th in the European Championship
Maksim Orlov
8th in Qualifying, 4th in the heats, 10th in Super Heat B, 5th at the start of the Final, 8th at the finish, 8th in the European Championship