The Progression from Indoor to Competition Karting
K1's outdoor track and the hole it fills from rentals to racing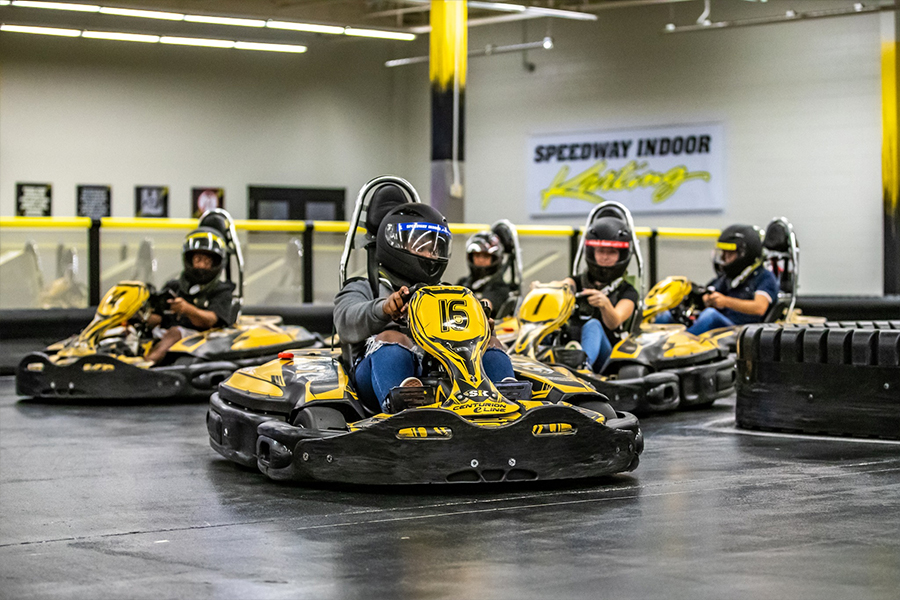 (Photo: Speedway Indoor Karting)
Motorsports in America is going through a resurgence as of late. More and more people are tuning in and going to tracks all across the country to get their weekly dose of adrenaline. Just last year, the United States Grand Prix at the Circuit of the Americas was the most attended Formula 1 race in the sport's 71-year history at the time, with over 400,000 fans attending the event. This year's Indianapolis 500 brought together over 325,000 people in attendance for the 'Greatest Spectacle in Racing'.
With interest in motorsports as high as it has been in years, more and more people are going to want to get a taste of the action. Since not many people have $200 million dollars to join the Formula 1 grid, the most attractive way to fulfill that childhood dream of becoming a racecar driver is to get into karting. More specifically, rental karting. Rental karts are a fun, cheap way to get a taste of motorsport, and they're extremely accessible. There are hundreds of indoor rental kart facilities scattered all across North America. But with 40 locations and more coming soon in the United States, few are more popular than K1 Speed.
K1 is an industry leader in indoor rental karting but, in 2018, they also announced plans to create an professional outdoor circuit, and that facility is scheduled to open this year. The K1 Circuit in Winchester, California is an outdoor, 1.1-mile kart track set to host rental karts, rental leagues and it also has ambitions of attracting the top karting series in America to host rounds at the facility.
This new location opens the door and creates the opportunity for those who want to get into karting, that in some places can be difficult to find. Offering rental karts at an outdoor, professional karting facility like what K1 plans to do, is a vital and commonly overlooked step on the ladder of progression in motorsports.
Indoor karting is a perfect way to get into the sport, however, drivers who go from this unique form of the sport into competition karting at an outdoor track will commonly struggle to adapt, and many share the same issues. While those who utilize the rental kart programs at their local outdoor track, at least in my experience, are significantly more acclimatized to what competition karting racing will actually feel like.
To give some background, I started karting in 2015, but before that, I had been doing rental karts for at least seven years. Nothing competitive like leagues, just on nice days or on family vacations, we would venture out to the kart track. I've done a significant amount of laps at assorted K1 Speed locations and had been going to my local track for rentals a handful of times each summer. Even though they are both rental kart programs, the difference between the indoor and outdoor rental experience was massive. On the indoor tracks, if you make a mistake, you can get away with it for the most part. But when you make that jump up to a longer, faster outdoor track, that same mistake can cost you massive amounts of lap time because of those longer distances between braking zones.
I spoke to drivers in my area of Minnesota who started off doing indoor rentals and asked them about the struggles and differences they faced during their first seasons in competition karting. I also spoke with seasoned racers and track personnel about how vital using outdoor rental karting can be to a new racer.
One of the biggest reasons why it's important to take advantage of outdoor rental karting before making the step up to race karts is the race craft. I talked with Jacob Green, a driver who is new to karting at Stockholm Karting Center and started off racing indoor rental karts. He said this was a major difference between the two disciplines and the style of racing between indoor rentals and karting.
"The indoor rental racing involved a much smaller track with minimal passing zones and the karts just weren't powerful enough to pull off a clean pass. In order to pass someone, you kind of had to get on their bumper and try to push them out of the way, which often meant people were crashing or getting pushed out so far that five other karts would pass them."
This kind of race craft is looked down upon in karting and changing the way you have learned to race for X number of years is not an easy task. Where if you utilize outdoor karting, the conditions are much closer to what you'll find in competition karting and drivers will be much more prepared for the road ahead.
Another point that we came across was braking. Indoor tracks are usually, tight, technical, and lacking long straightaways. I've been karting for eight years now and have seen a lot of new drivers that have come from indoor karting and almost all of them tend to struggle to get the kart slowed down at the end of the straights. It's simply just not a challenge they have ever come across in their years of indoor racing a learning to slow a kart down from high speeds is never an easy task for those new to the sport. Where if you use outdoor rental karts as another step toward competition karting, drivers would be more familiar and comfortable with these situations before making the jump up.
The point is this; most tracks you're going to race at in karting don't have the same characteristics as an indoor track. Kart tracks are longer, and faster with deeper braking zones and that is something most indoor tracks can't provide. I find it equivalent to preparing for running the 24 Hours of Daytona by doing laps around Monaco.
What K1 is doing with their new track in Southern California is amazing. They're creating a ladder system where you get them started at the indoor locations, and advertise their bigger, faster K1 Circuit as a step up. Eventually, some of those people who graduated to the outdoor rental karts will end up moving up to competition karting, buying a kart and joining our ever-growing community. This is not only a great business idea, but it's good for the sport of karting. My hope is that more people from the general public will be introduced to the sport we are all in love with and want to see grow.