Learning weekend in Franciacorta for Birel ART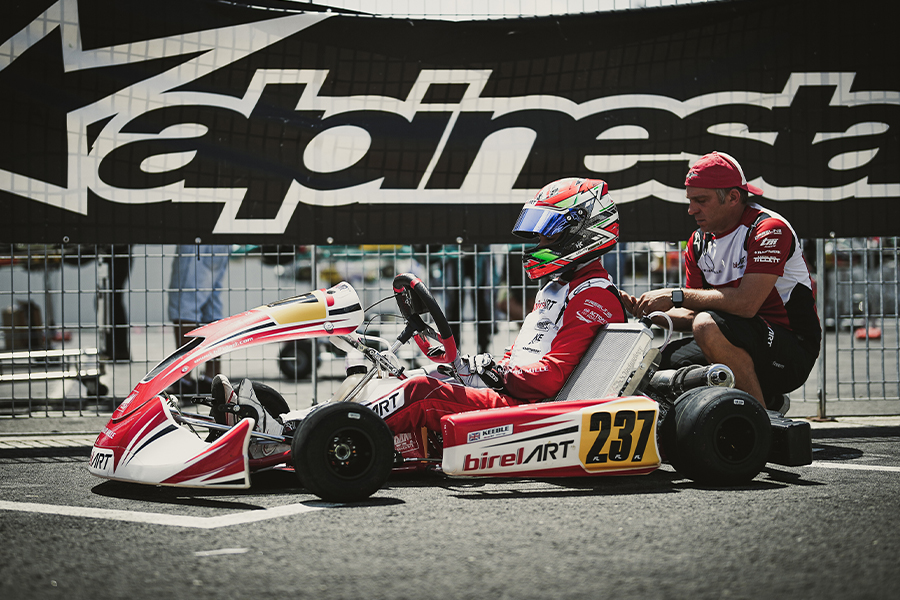 The fourth round of the Champions of the Future Euro Series which has just taken place on the Franciacorta track has perfectly fulfilled its role by allowing the official Birel ART
Racing team to prepare for the conclusion of the OK and OK-Junior European Championship which will take place there in less than two weeks. The whole team has progressed and will be able to work on a good basis thanks to the data recorded in Franciacorta. Special mention for Cristian Bertuca who gained eight places during the OK Final to finish 16th.
However, the technical team worked hard and our performance improved quickly. All our drivers were able to make up ground in the heats, despite the bumps that affected their progress significantly. Cristian Bertuca proved to be our best asset by improving 12 places during the OK heats, despite a retirement. His eight-place improvement in the Final confirmed our potential. Harley Keeble was in the same dynamic until he retired in the first lap of the Final, although he had made up four places in the Super Heat. Karol Pasiewicz and
Ella Stevens encountered many obstacles on
their way. In OK-Junior, problems delayed Reno Francot, who made up eight places in his first heat. With two unfinished heats, his efforts were not rewarded. Zoe Florescu Potolea, on the other hand, made good progress and climbed 14 places in her heats. Kirill Kutskov's performance was unfortunately interrupted too early. We remain confident for the conclusion of the European Championship where he will have a good card to play with his 10th place in the provisional OK-Junior ranking."
The weather was hot in Franciacorta, but more bearable than in Cremona the week before. The compact track layout kept the drivers busy, especially in terms of finding the best grip and
preserving the tyres. During the lively races, there were many collisions and run-offs, while penalties calmed down the over-enthusiastic competitors.
"The Franciacorta track requires a lot of work to set up the chassis," said Riccardo Longhi, the Birel ART Racing team manager. "It's all about finding the right settings to go fast while taking care of the tyres. We made a big step forward in this direction during the weekend and we will fine-tune our work in the workshop to be fully ready for the European Championship. For the Euro Series, we were lacking in Qualifying. The times were not very good, which reduced our chances of doing well.