Caleb Gafrarar Earns Top-Ten Finish in Italy
Busy schedule ahead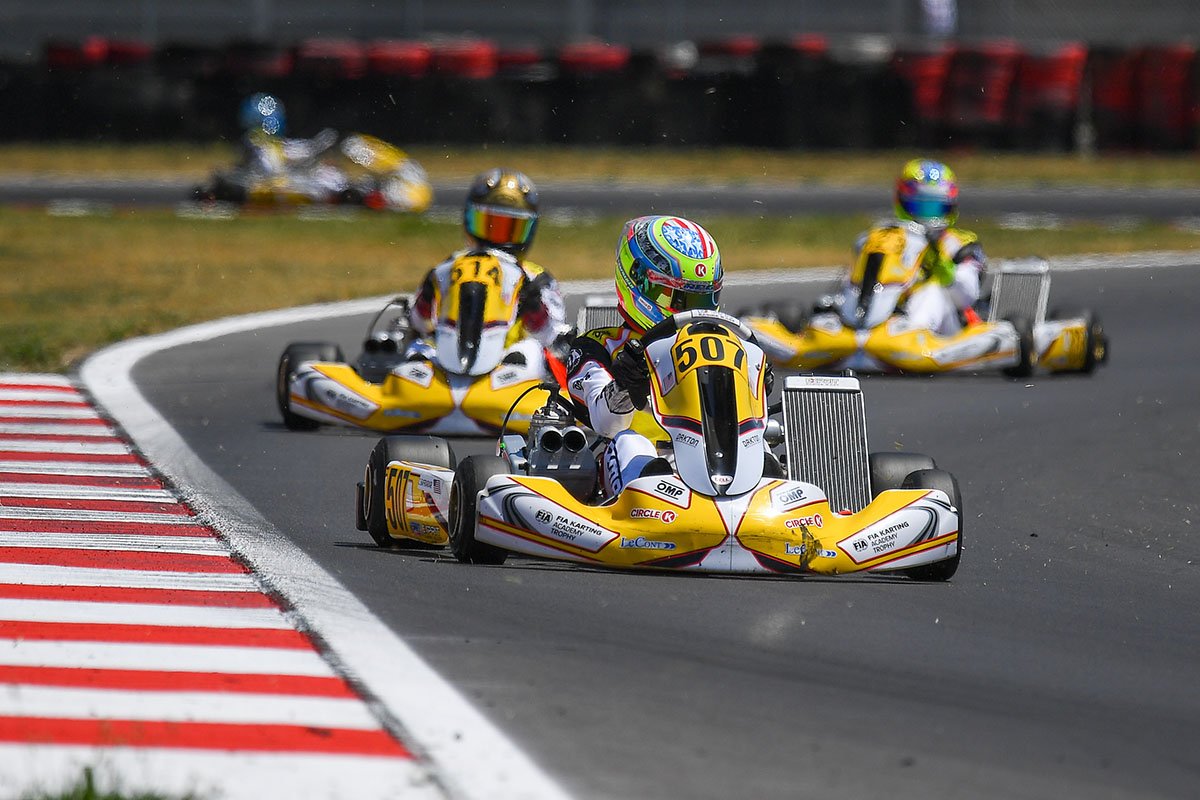 Caleb Gafrarar finished tenth at Cremona Karting despite running with a flat tire
(Photo: Sportinphoto)
Jet-setting his way around the globe, American karting standout Caleb Gafrarar took on the world this weekend at the FIA Karting Academy event at Cremona Karting in Italy. Flying straight from the Superkarts! USA (SKUSA) Pro Tour event across nine time zones, Gafrarar has now departed Italy with a solid tenth place result in the Olympics of Karting style event.
"Good weekend for myself as we never really ran outside the top-ten," explained Gafrarar. "All three of our heat races were top-ten results and in the final, I was moving forward before my right front tire started to go flat. Holding on the best I could, I was able to salvage a tenth place finish."
After progressing through the practice sessions and into qualifying, Gafrarar would put his Team USA entry in the 13th position before the wheel-to-wheel racing began. Taking part in three heat races that would set the grid for the main event, Gafrarar earned fifth, fourth and seventh place results to start Sunday's final from the inside of row five in P9.
Gafrarar added, "The goal was to move forward early and try and get in position for a top-five finish or to even battle for a podium result. Knowing that the win was likely not possible from ninth, we set out to do the best we could do and make my friends, family, partners, and competitors at home proud."
Moving from ninth to seventh in the opening laps and challenging for sixth in the latter stages of the race, Gafrarar began to lose pace with three circuits remaining. Suffering from a right-front tire that had begun to lose air due to earlier race contact, Gafrarar dropped down the running order but managed to hold on and soldier to a tenth place result.
"It was not the result we wanted but we had great pace all weekend, including in warmup on Sunday morning when I was able to run down the eventual race winner in practice," explained Gafrarar. "If I would have done the job in qualifying a little better, I believe we could have fought for the win."
With no time off, Caleb Gafrarar will travel nine time zones across the globe and back to Portland, Oregon. Looking to catch up on some sleep and much needed rest, Gafrarar will begin his preparations for the next round of the California ROK Championship at the Pat's Acres Racing Complex. Following that event and onwards into July, Gafrarar will also see action at the United States Pro Kart Series at the Briggs & Stratton Motorplex as well as the SKUSA Pro Tour finale in New Castle, Indiana.
Caleb Gafrarar would like to thank Rolison Performance Group, OTK USA, Kosmic, Circle K, Bell Helmets, Minus 273, From the Ashes and CPI Security for the continued support in the 2022 racing season.