Charlie Smith Wins in Utah
Smith grabs first career SKUSA Pro Tour win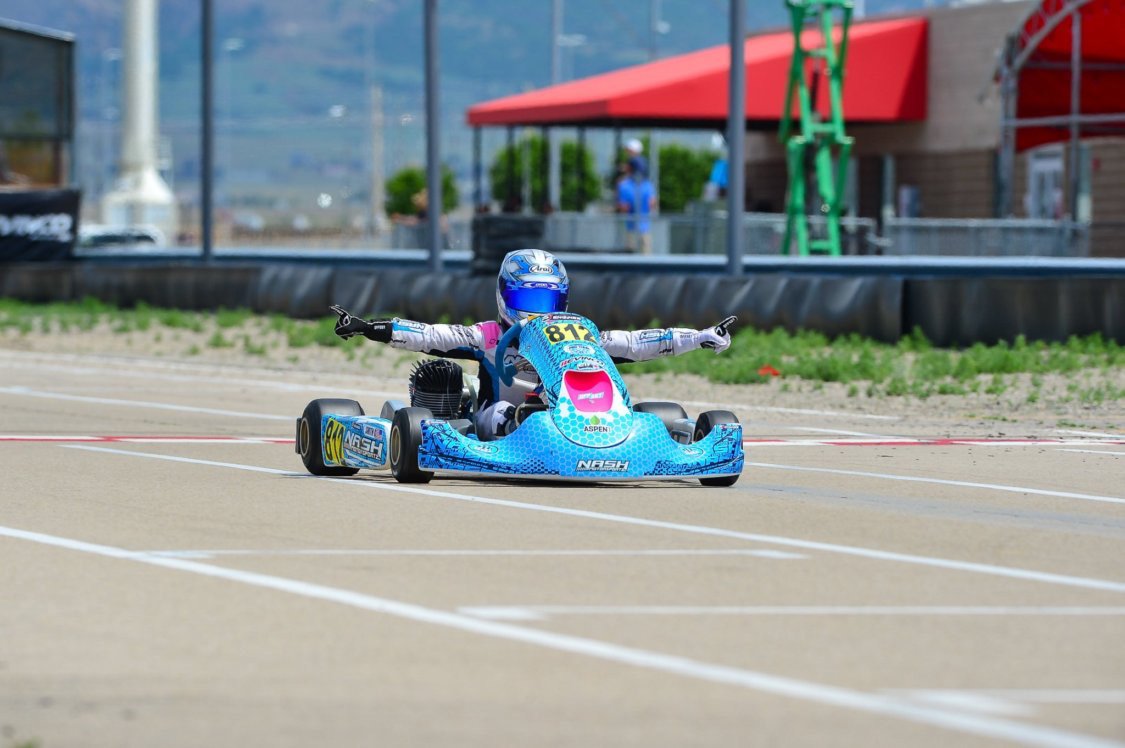 Charlie Smith won the Saturday KA100 final, his first Pro Tour victory
(Photo: Smith Factory Racing)
It was the second event of the Superkarts! USA (SKUSA) Pro Tour as North America's top karters descended on the ultra-fast Utah Motorsports Campus (UMC) for the annual SKUSA SpringNationals. For Charlie Smith and the Smith Factory Racing / Nash Motorsportz team, it was an opportunity to get back on track at a national competition level, but also hunt for that first career SKUSA Pro Tour win.
Taking advantage of an unofficial practice day on Thursday, Smith was able to get up to speed quickly and challenge for some of the top times of the day in the talent filled KA100 Junior class. Progressing through Thursday and Friday's test sessions, Smith was anxious heading into the race weekend and excited for some wheel-to-wheel competition.
With qualifying taking place in the morning, Smith was able to secure the third fastest lap and inside row two starting position for the prefinal. Maintaining that position through the prefinal, Smith would go on the attack in the day's main event. Advancing to P2 during the opening lap of the main event, Smith stalked the leader and just before the mid-race distance, pounced to take the lead. Running some of the fastest laps of the final, Smith drove to an unchallenged 1.3 second victory, his first SKUSA Pro Tour win.
Returning to the track Sunday in the hopes of repeating his performance, Smith qualified on the outside of row two in the fourth position. Once again showing his pace and race winning prowess, the Nash Motorsportz driver jumped to the lead and went on to take the prefinal win and elusive pole position for the day's main event. Again, jumping to the lead and holding the point for most of the main event, Smith was in contention for his second win of the weekend.
"Unfortunately, on Sunday I could not keep the pace that I needed to win," explained Smith. "It was a great battle, but I conceded and finished second after a great wheel-to-wheel battle with my Nash Motorsportz teammate. To leave Utah with first and second place results is great and will really help my position in the championship point standings."
With only one event weekend on the Superkarts! USA Pro Tour calendar left, the SKUSA SummerNationals at New Castle Motorsports Park, Charlie Smith will look to repeat his Utah performances in New Castle, Indiana in August.
For more information on Charlie Smith, please contact the Smith Group via email to smithgroup@axisrei.com
.