Ayden Ingratta Wins X30 Junior at the SKUSA Pro Tour
Canadian closer to claiming a Pro Tour championship title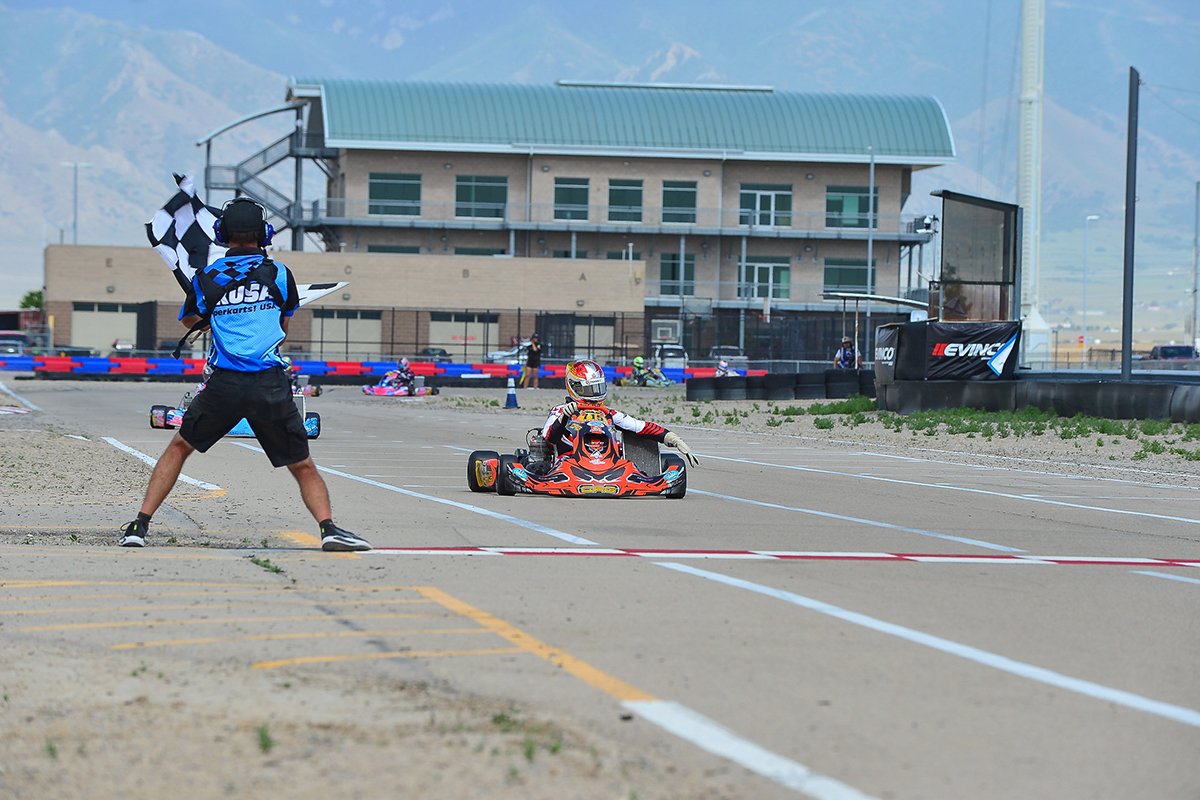 Ayden Ingratta scored the fastest race lap and the victory in Sunday's X30 Junior main event
(Photo: On Track Promotions)
It was a winning weekend for Ayden Ingratta at the Superkarts! USA (SKUSA) Pro Tour event this past weekend at the Utah Motorsports Campus (UMC). Piloting a Speed Concepts Racing and Speed Lab Racing Engines powered CRG, Ingratta earned several fast lap honors and a pole position before standing on the top step of the podium on Sunday.
"What a great weekend," expressed Ingratta. "We had the speed on Saturday but could not get the job done. I was happy with the finish but also a little frustrated. I made it a point to return Sunday and win for all the people that put in the hard work to keep me at the front of the field, especially Speed Concepts Racing and Euan Jeffrey for helping develop and tune such a great CRG chassis."
After qualifying fourth on Saturday, Ingratta went on to score the fastest race lap in both the prefinal and final despite finishing second and fourth, narrowly missing out on a podium result. With the goal of winning going into the weekend, the Canadian would sleep it off and return Sunday with a bigger motivation.
With fine tuning changes overnight to his equipment and renewed focus coming into Sunday, Ingratta charged to the X30 Junior pole position and inside front row starting spot. The prefinal was his only hiccup on the day as even though he crossed the finish line first, Ingratta was scored in the fifth position after a start line infraction despite starting from the pole position. Not angered in the call against him but using it as motivation for the day's main event, Ingratta rocketed his way back to the top of the charts scoring the fastest race lap and SKUSA Pro Tour SpringNationals victory.
Ingratta added, "After finishing fourth on Saturday and seeing the official results of Sunday's prefinal, I had something to prove and did just that with the win. That motivation will carry me towards my next event as I look to claim my first SKUSA Pro Tour title."
For more information on Ayden Ingratta, please contact RTD Media & Management at 317.270.8723 or via email to Mike@RTD-Media.com.