2022 Indianapolis 500 Starting Grid – The Karting Version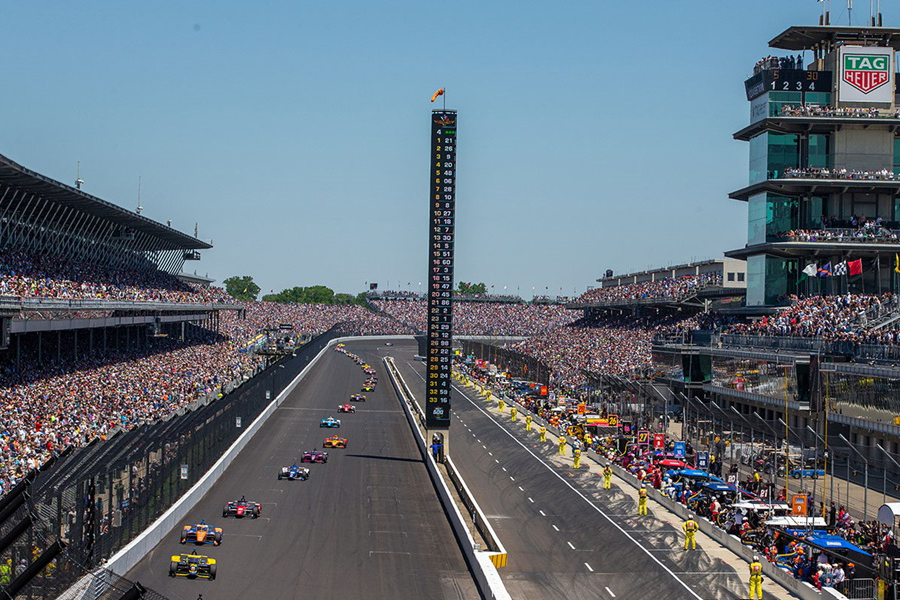 (Photo: indianapolismotorspeedway.com
Karting – it's a passion, a hobby, a lifestyle, or a path to other forms of motorsports. It can be whatever it is you want it to be. For many, the sport of karting is the ideal platform for skill and racecraft development for those looking to begin a path toward professional racing. The starting grid for the 106th running of the Indianapolis 500 proves this point, as the large majority of the 33 drivers set to take the green flag this Memorial Day weekend began their journey in the seat of a kart.
Below is a karting photo from each of the 33 drivers in the 11 rows on the grid for this year's Indy 500, set to battle on May 29 at the Indianapolis Motor Speedway to put their image on the Borg-Worner Trophy.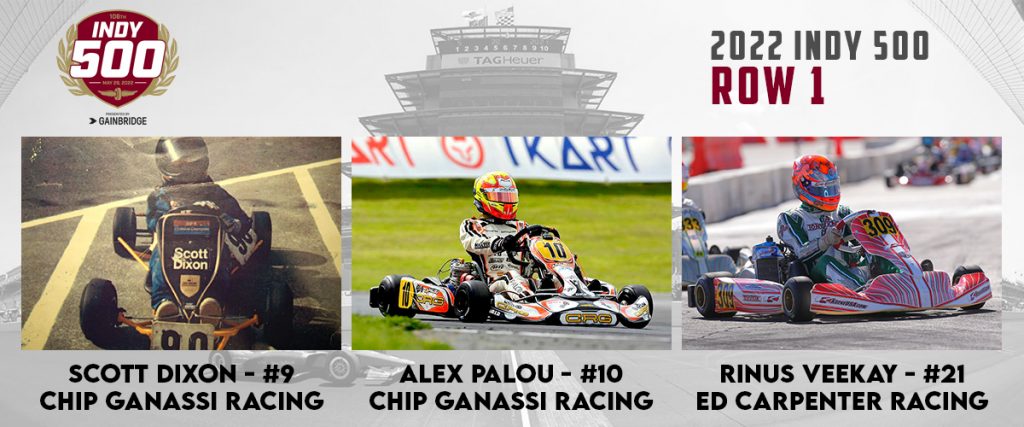 Row 1:
Scott Dixon – "All of my early memories are of being at racetracks, watching my dad race, then watching my cousins race at a local go-kart track and then having a go at the end of the day," he said. "And then just hammering on my parents for two weeks to get a go-kart and then racing every weekend after that. It's never really been anything else. At school, I loved math and graphics and design, but it was just a matter of getting through that and waiting for the weekends to come around (so he could race)." – from The Athletic
Alex Palou – Palou started racing karts in Spain, it was a family affair with his dad as his mechanic, in part to save money. As the wins and championships racked up and travel became more frequent, his uncle became his mechanic. After scoring six Spanish karting championships, Palou was accepted into a high-performance center for athletes in Barcelona. Palou landed a role as a factory karting driver (CRG) before moving into open wheel cars. – from IndyCar.com
Rinus VeeKay – "In October 2015 at the Rotax US Open in Las Vegas, after my crash in Heat 1, I drove from 18th to fourth place in Heat 2 and then went on to win Heat 3 and Heat 4. I was scouted by the Road To Indy organization, which gave me a free USF2000 test at COTA later that month! This moment changed my life and really helped me to start my career in the United States."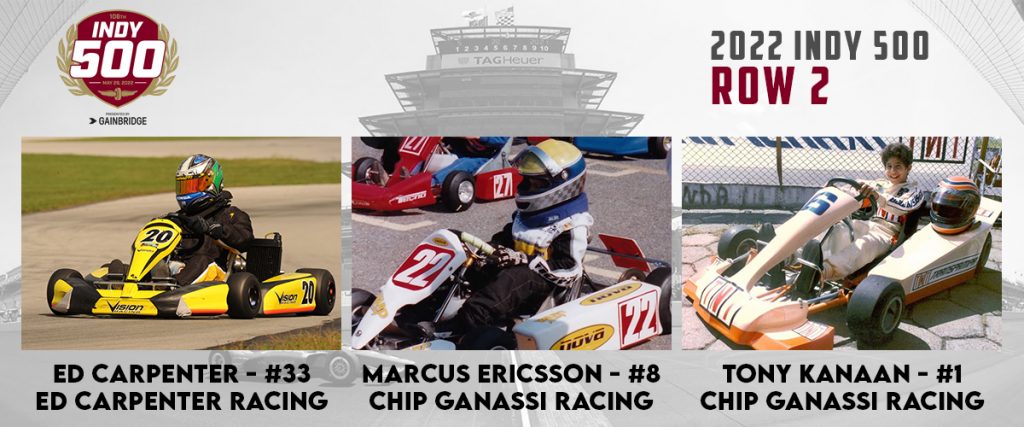 Row 2:
Ed Carpenter – While karting was not part of Carpenter's youth, he managed to attend the kart track while competing regularly in the IndyCar Series. The biggest moment for Carpenter in karting came in 2009 when he and Nathan O'Rouke won the famed RoboPong 200 at the New Castle Motorsports Park – the 2 hour TaG endurance event.
Marcus Ericsson – The Swedish driver won multiple championships in his country after beginning karting at the age of nine.
Tony Kanaan – "The best workout for a race car driver is to drive, and it's karting that gives you that. So, that's No. 1. As far as reflexes and reaction, karting is the quickest thing you have in racing, to be honest. It's even quicker than an IndyCar because it's so short and so little. It's something that I did since I was a kid, and it's fun and relaxing for me. Now I can go back to the kart track and don't have the pressure that I used to have as a kid." – from Popular Mechanics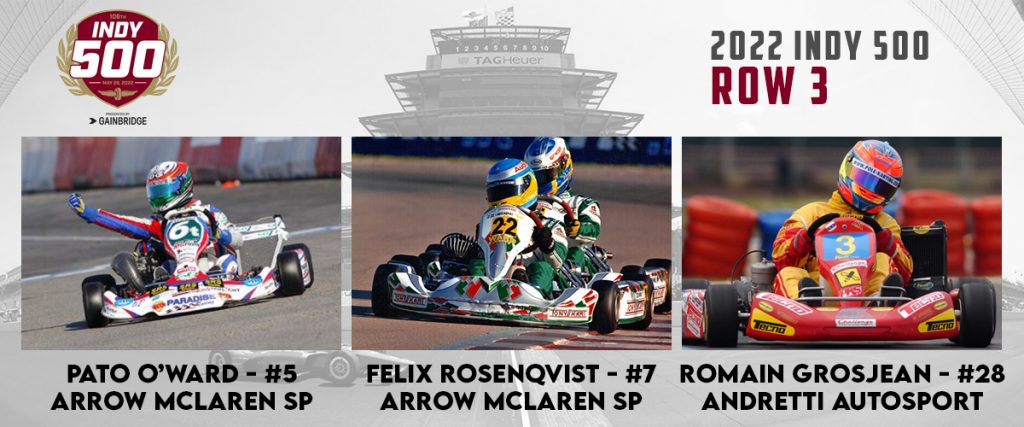 Row 3:
Pato O'Ward – The 23-year-old began karting in 2005 and is known for his two victories at the Superkarts! USA SuperNationals, winning the debut of the TaG Cadet class in 2010 and the S5 Junior division in 2012.
Felix Rosenqvist – The Swedish driver began karting at a young age, competing throughout Europe up until 2006 when he moved to the open wheel ranks.
Romain Grosjean – Three seasons were spent in karting for the Frenchman from 2000 to 2002 before moving into the open wheel ranks in Europe.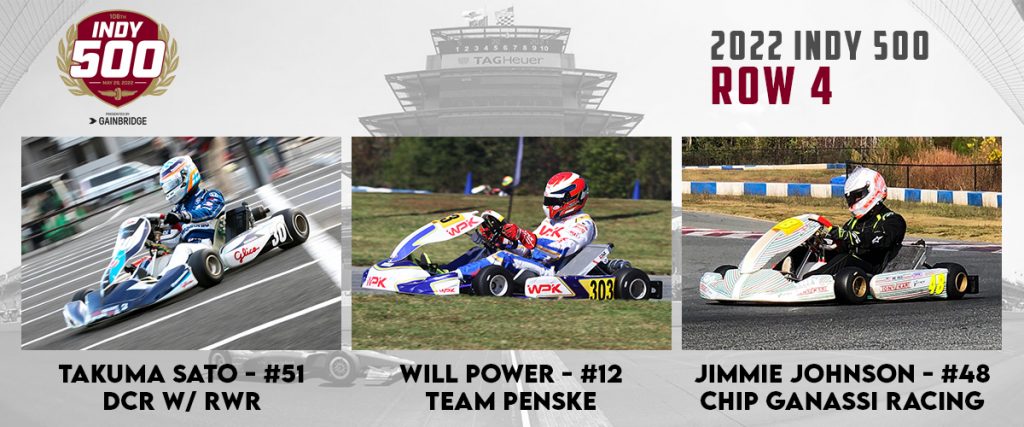 Row 4:
Takuma Sato – While his career did not begin with karting, Sato takes part in charity events – including the 'With You Japan' event. His son Rintaro is currently in karting, competing in major European events.
Will Power – Winning a heat race in the wet at the 2013 Superkarts! USA SuperNationals. It was Power's first start at the Las Vegas event. He started the main event from P2, and led only to retire early. He led again in 2014 before fellow Australian Kip Foster earned his first of now four SuperNats victories
Jimmie Johnson – In recent years, Johnson has been spotted at the GoPro Motorplex in Mooresville, North Carolina – training by taking laps in a kart.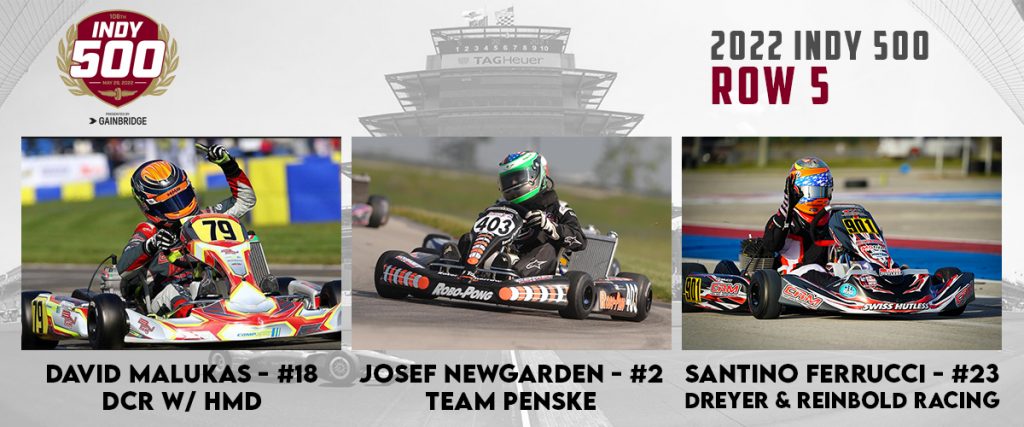 Row 5:
David Malukas – "Winning the 2015 IAME International Finals in the X30 Junior division is my favorite memory from karting."
Josef Newgarden – One of the events that helped to elevate Newgarden's name in the sport was the RoboPong 200 at the New Castle Motorsports Park – his home karting track where he won multiple club championships. Newgarden won the 200-lap TaG endurance event in 2011 with track owner and former IndyCar driver Mark Dismore and then again in 2013 with Mark Dismore Jr. of Comet Kart Sales / Comet Racing Engines. He teamed up with IndyCar's Scott Dixon and finished second in 2015.
Santino Ferrucci – "One of my most recent memories in karting was at the 2020 Superkarts! USA Winter Series at the AMR Motorplex when we were able to sweep the day in KA100 Senior. I was working with my good friend and mechanic Chris Rock."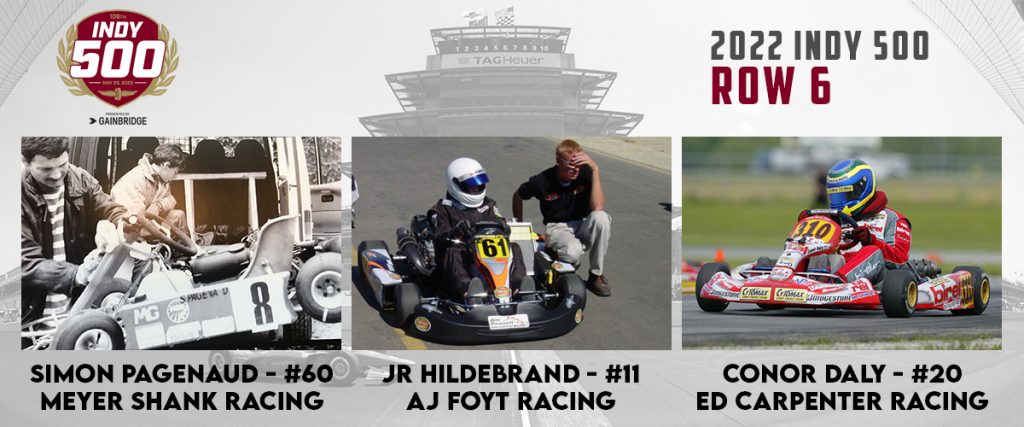 Row 6:
Simon Pagenaud – The 38-year-old began karting in 1994 at the age of 9. By the time he was 16, he was into open wheel cars. Pagenaud is another IndyCar alum who competed at the famed RoboPong 200. He teamed up with Will Power at the 2010 event and also raced at the 2011 Machismo 500.
JR Hildebrand – "It goes back to the first time in a kart. I will never forget it. There was no idea what it would lead to, and I didn't care. I just loved the chaos of it, the freedom, the sensation of speed and was hooked. That feeling is why I still do it today."
Conor Daly – The home track for Conor Daly was the New Castle Motorsports Park. From there, Daly competed at the regional and national level in Junior and Senior level before making his move into Skip Barber. Daly has competed at recent SKUSA SuperNationals along with the RoboPong 200 event.
Row 7:
Callum Ilott – The British driver began karting in 2008 and began racking up major victories and championships by the age of 13, including the WSK Masters Series, WSK Final Cup and runner-up at the WSK Euro Series and FIA World Championship in KF3. In 2014, Ilott would claim the WSK Super Master championship and the FIA European Karting title in KF.
Alexander Rossi – The California native began karting at age 10, earning multiple victories and championships at the regional and national level in International Kart Federation competition from 2002 to 2005. He returned to his roots in 2016, competing at the Superkarts! USA SuperNationals 20 in Las Vegas.
Graham Rahal – "My favorite memory would definitely be winning my first major national event at Pat's Acres Racing Complex in 80cc Junior against the best there was in that day!"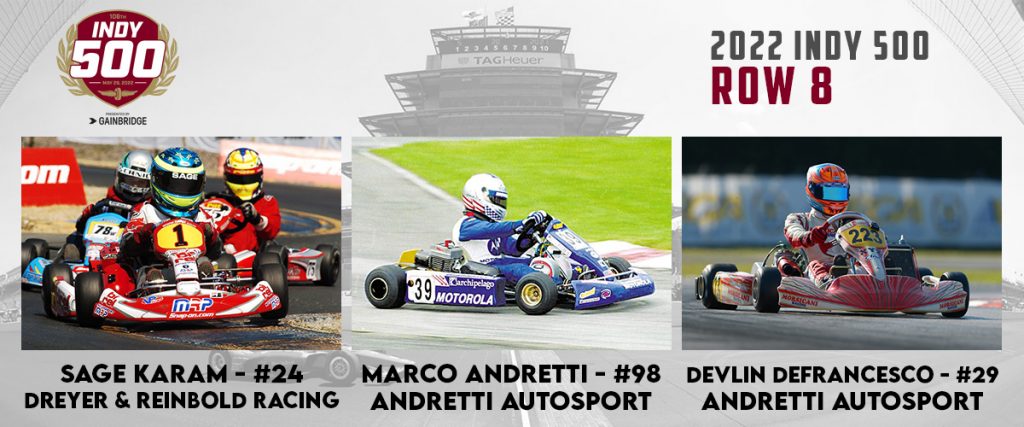 Row 8:
Sage Karam – "In 2007, I was able to win both the Stars of Karting East and West titles along with the overall national championship in addition to the World Karting Association Triple Crown award taking the Manufacturers Cup Series championship in all three Cadet/Sportsman categories (Comer/HPV/Yamaha)."
Marco Andretti – Along with Karam and Ferrucci, Andretti also got his start at the kart tracks in New York state. Andretti began his racing career in karting before moving into Skip Barber. Marco competed at the SKUSA SuperNationals in 2014.
Devlin DeFrancesco – His last year in karting, Devlin finished third in the 2013 FIA European Championship with a best finish of third at the La Conca event in Italy. That year, DeFrancesco competed against drivers like Mick Schumacher, Logan Sargeant, Juan Manuel Correa, Lorenzo Travisanutto, and fellow Indy 500 starter Christian Lundgaard.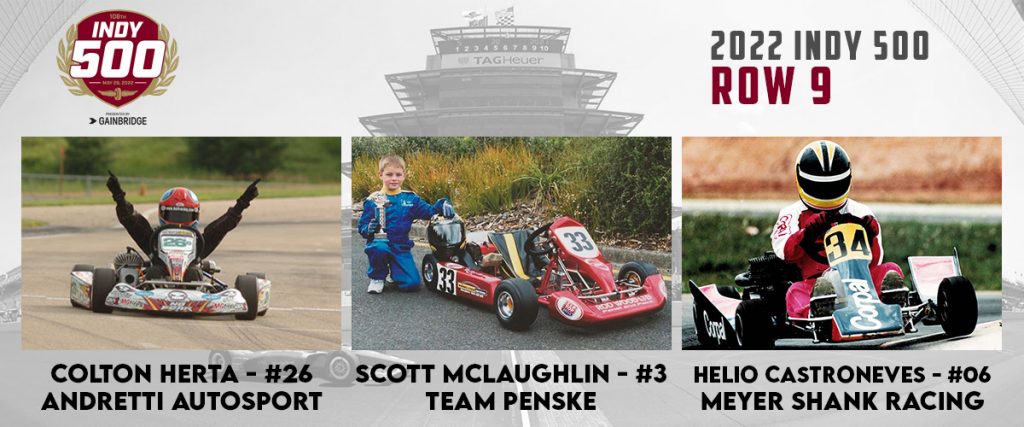 Row 9:
Colton Herta – "My favorite memory was probably winning the SKUSA Pro Tour championship! The series was awesome and we went to some amazing tracks that I would never go to if I didn't race in the series! Another highlight was winning in Shawano, Wisconsin during the year I won the championship. That track is still one of the coolest tracks I've been to in cars and karts!"
Scott McLaughlin – In 1999, McLaughlin began racing karts in his native New Zealand, winning his first title in 2002. McLaughlin represented Team New Zealand at the 2008 Rotax Max Challenge Grand Finals. It was at the SKUSA SuperNationals that McLaughlin met his wife.
Helio Castroneves – The Brazilian began karting at the age of 11 and eventually began competing in Europe until moving to cars in 1991.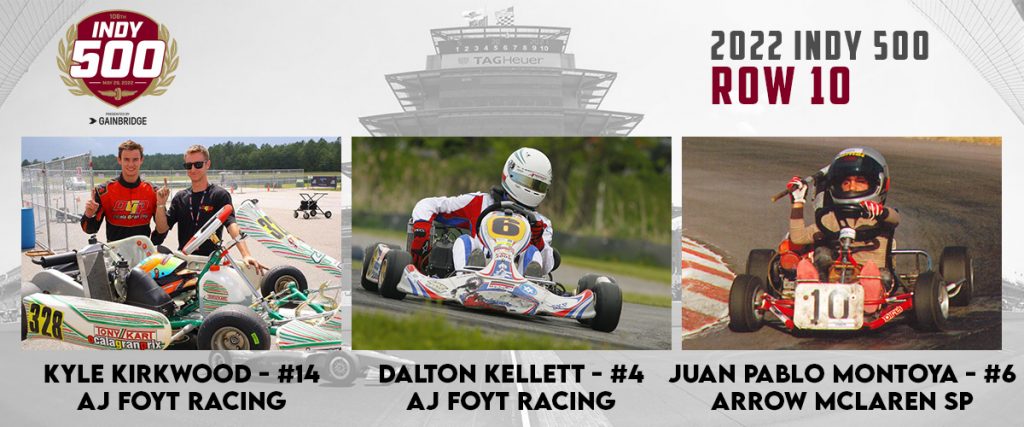 Row 10:
Kyle Kirkwood – Winning the 2015 US Rotax Grand Nationals at the Carolina Motorsports Park in Kershaw, South Carolina. Kirkwood would go on to finish 4th at the Rotax Grand Finals event in Portimao, Portugal.
Dalton Kellett – The Canadian competed throughout the Eastern portion of the country, and ventured into the United States, beginning the sport at the age of 14.
Juan Pablo Montoya – At just five years old, Montoya began karting in Colombia. He went on to multiple championships in his home country before competing in Europe and finding success there. His son Sebastian began karting, earning many victories and championship in the USA.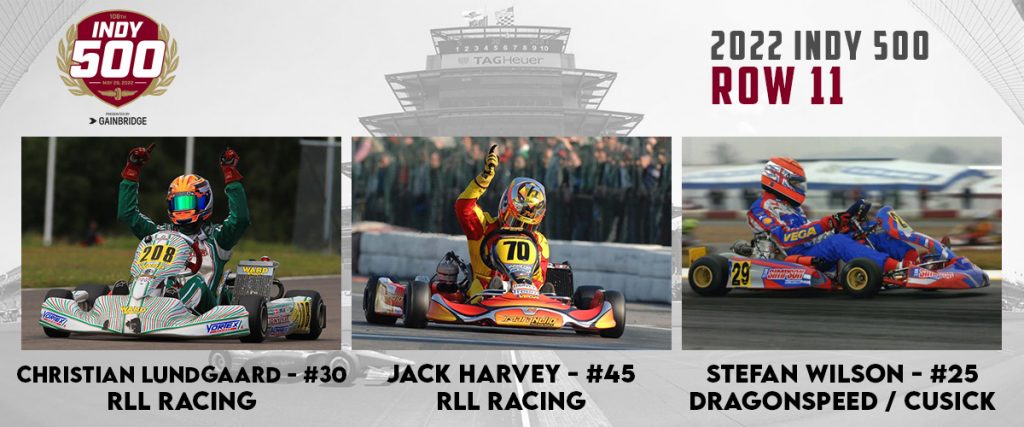 Row 11:
Christian Lundgaard – The Danish driver has a stellar karting resume, dating back to when he began at the age of seven. Titles include 2012 Denmark Cadett Junior championship, 2015 Winter Cup victory in KFJ and the FIA European Championship.
Jack Harvey – At the age nine is when Harvey began racing karts. By 2006, he was among the top Junior champions at the MSA Super One British program. He went on to earn the 2007 FIA European Championship in KF3 and the FIA Asia-Pacific Championship for KF2 in 2008 while earning many other podium finishes throughout Europe.
Stefan Wilson – The younger brother of Justin Wilson began karting at the age of nine. He would compete throughout the UK and eventually in Europe, along with events here in the USA including the RoboPong 200 and the PRI All-Stars Karting Classic.