'10 Questions' with Rick Jump
USPKS and Route 66 Sprint Series Technical Director keeps busy with love of racing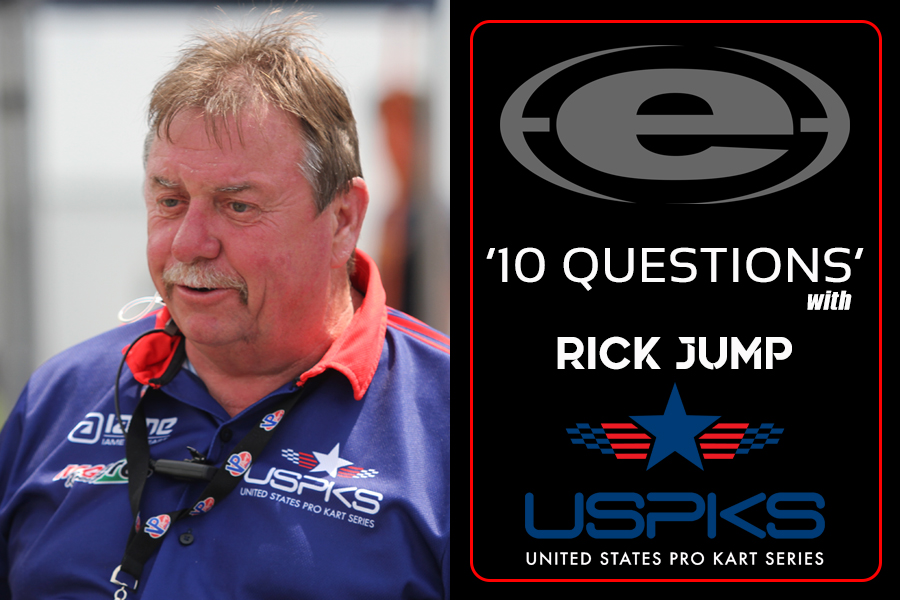 In our never-ending quest for fun and intriguing editorial, the EKN staff is offering up a new interview series for 2022. We're calling it '10 Questions' and it's a series that will spotlight many of the important people in our community who may not otherwise find their way onto EKN's homepage. EKN will sit down with our guest to discuss the sport and their experiences as part of the karting family. If you know someone who would be a perfect '10 Questions' candidate, drop us a line.
One of the key components to the success of the United States Pro Kart Series and the Route 66 Sprint Series is Technical Director Rick Jump. A member of the karting community for multiple decades, Jump was one of the figures to help establish the USPKS program back in late 2012 before it launched in 2013. He is one of the first staff members to the event, and one of the last to leave. Jump has been in all different roles within the sport, beginning as a karting dad to his two sons, helping to promote club and regional events, and now is considered one of the most respected technical inspectors in the sport. EKN Managing Editor sat down with Jump during the USPKS Carolina Grand Prix at GoPro Motorplex in Mooresville, North Carolina.
EKN: First off, thank you Rick for sitting down with us for another edition of '10 Questions'. Our first few guests have been key roles trackside, and now, we are going behind the scenes with one of the more specialized positions of our sport as the Technical Director for the USPKS. We are into the 10th season of the program and you have been here from day 1. Did you expect to see yourself here 10 years later, and beyond that, did you think we would have the record numbers at this point?
Rick Jump: No, I never dreamed it would be this big and we would be where we're at. I hoped it would be, but I did not ever think that it would be the size we have grown to, and continue growing along with the success that we have. And side from Mark (Coats), I'm the only guy that's left out of the original crew. I have a lot of passion for this series. Mark's an ex-racer and has had drivers race for him for years. Tim (Koyen) has been involved in the karting industry and the sport itself with his kid racing. I had both of my kids racing. We know what key elements to keep our program going for the last 10 years. And my thing is, I haven't forgot how I wanted to be treated when I was a dad with two sons racing. A lot of people come up and yell at me, scream at me and I listen to them. I nod my head and try to solve their problem because they are my customer without them, we are not going to be here.
EKN: We know you have a love for racing. Tell us where that passion comes from and how you became involved in karting.
RJ: I started working on dirt lake models or dirt cars when I was 14 years old, and I just turned 65 years old. I've been in it a long time. I have a lot of passion for dirt late models. I traveled all over the country, working on dirt late models, and almost got divorced (laughing). So, I told my wife, Barb, what if I buy a couple karts because that'll fill my need of racing and I'll spend time with my kids. And that's where it all started in karting. I never raced karts, but I just wanted to do stuff with my kids and I wanted to be involved in racing. Both of my kids, as most people know, do not race anymore. And I've just kept on because of the atmosphere and the people that I met in karting. It's a big family.
EKN: We had the pleasure to see you in action as mechanic/tuner with your son Tony and of course, helping Cole drive to a fifth-place finish at the 2014 Rock Island Grand Prix. What are some of your favorite memories as a karting dad?
RJ: Well, the biggest is teaching my son's about overcoming obstacles and teaching them life lessons. My oldest eventually stopped racing due to unfortunate circumstances we encountered with decisions made by the series we were racing with during the time, while Tony continued. We won multiple championships and multiple ROCK trophies at the Rock Island Grand Prix. We've had success but the biggest thing is the time that I got to spend with my kids. It was just me and my two boys. We didn't have tuners, we didn't have people wrenching on our karts for us. There were people who supported us, like Margay, and then later with Eric Jones and KartSport North America because they had seen what we did together. And it was a very proud moment for me to have people wanting to help us out with our racing.
EKN: What was it that put you on this side of the sport, specifically with Mark Coats and the Route 66 Sprint Series and the USPKS?
RJ: I became involved with the tech side of the sport because there was nobody doing it. I was raised in the era of Gary Schneider. Everybody called him the 'Tech Nazi' (laughing). But when we got done racing for the weekend and we were heading home, we were not talking about getting beat by cheaters. We talked about what we needed to do to get better because when I walked out of tech and Gary Schneider got done, I felt that we got beat fair and square. And that's what I told my sons. And, at the time, there was nobody doing that. And I hope that's what people think about me. I know I can be a jerk at times, quite often, but I think there's a lot of people that respect me for it, because I'm hard when I need to be. And yet, I'm compassionate and I'll help people out anytime they want. I tell anybody that's new in this series, or even Route 66, you have any questions come and talk to me because I would rather get going in the right direction. I don't like having to disqualify racers. That's not the 'good thing' about my job, but it's what I have to do for the other 300 plus competitors that are following the rules correctly.
EKN: We all know that being a tech director at track the involves a lot of time in the tech tent for pre-race inspection and the post-race inspection. What are some of the tasks or pre-season tasks that you conduct between races or before the season starts?
RJ: I wrote the rule book for USPKS and Route 66 Sprint Series. When we first started, we used another series rule book. And after the first year, I'm like, we need to get away from that. It was my feeling that is where we needed to go with both series, and I think that was one of the best things we could have done. I try to be fair. I look at things and, I do a lot of stuff outside. I'm always constantly thinking about how I can make it better for the competitor first and make it fair for everybody. I manage a lot of the equipment we use and of course trailer, making sure that stuff is in there and where it's at, so that when somebody come and asks me where's this at, I can tell 'em. But I'm also thinking of new ways to check things, to make sure that everybody is legal, Building new tech tools and designing new tech tools specifically for the IAME engines we use. I went to L.A.D. Specialties in Chicago and had them make a tool for checking the timing on a KA100, because I didn't like the way it was. And right now, we are working on basically the same thing to check the X30 to eliminate the gray area. I hate gray areas (laughing). Some people don't like it, but a lot of people love it.
EKN: As you reflect on the last 10 years of the USPKS, what has been the most difficult task with the series and what has been the one thing you have been the proudest to see during that time.
RJ: The most difficult that I think about is that we are here for the racers. No matter what, the racer comes first to me. I remember how I felt when I was a dad with two kids racing. When we get to this level of USPKS, especially the level that it is now with the entries that we're getting, I feel like I need to be more strict. At this level, you need to have your stuff together. You need to be on your game. And my proudest thing is just where we've come. I mean, it was a couple years ago in Autobahn where we had less than a hundred entries. I was very nervous, but you know, the team got together, and we talked about it and we just didn't want to give up. It was, and always has been done as a team. I feel like we have a great team and that's very important to me. I have a great group in the tech, and we've had people come and go through the rest of the positions, but we get the job done as a team. Working together. I respect them and they respect me, and we all know what our goal is.
EKN: Aside from karting, what is your favorite form of motorsports and who is your racing idol or favorite professional driver?
RJ: I love dirt track racing. I think my opinion NASCAR is the worst thing for our racers to watch because they see their favorite driver pulling off the bump and run. They run into the corner, knock 'em out of the way and go on, I believe Talladega was won a week or so ago by basically a bump and run on a super speedway. On dirt, a guy will pull off a slide job and if he did it wrong, he's gonna get told about it. Racing should be clean in my opinion. I love Bobby Pierce. He's an Illinois boy. Illinois has a lot of excellent dirt track racers. They have a lot of excellent dirt tracks only a couple hours from my house. And soon as we get done, I'm turning on the TV and watch some dirt track racing. I love it. And that's what's in my blood. I hitch hiked over to the Sycamore Speedway, which is five miles away when I was 14 years old, to work on dirt cars. That's what I love.
EKN: I know that you are recently retired. What was it that you did away from the track for work, and aside from karting, how are spending your retirement days?
RJ: Well, I am semi-retired as I'm still working. Now, I'm working as a contractor. I retired from the electric company in Northern Illinois. But I kept having people coming to me so I went back to work as a contractor for the electric company. I work anywhere from 20 to 40 hours a week as I choose. I do it because I want to keep busy. I want to keep my mind sharp, and you know, it's better than sitting out at my shop and drinking beer and watching TV all day.
EKN: What keeps you busy when you are not trackside on a free weekend?
RJ: I spend time with my grandkids, my family, you know, try to golf (laughing), I'm a piss poor golfer. I get my strokes when I go out. I've never shot under a hundred, so I get my money's worth when I go golf.
EKN: And now our final question, that we ask all our guests. If you could change one thing about the sport of karting, what would it be?
RJ: That that's a tough question. I have heard stuff at the scales that just blows me away. It's sad. If you are going to go out there and win by knocking someone off the track or out of the way, that's not a win in my opinion. I've never been into that form of racing. Anybody that I ever helped has never raced that way, and my two boys didn't race with that attitude either. I would love to see every competitor respect one another, race hard, battle to the very end for the victory, and show good sportsmanship when they hop out at the scale line. But it begins with the parents and the coaches.