Enzo Deligny 2022 – Already a first podium in the European OK Championship!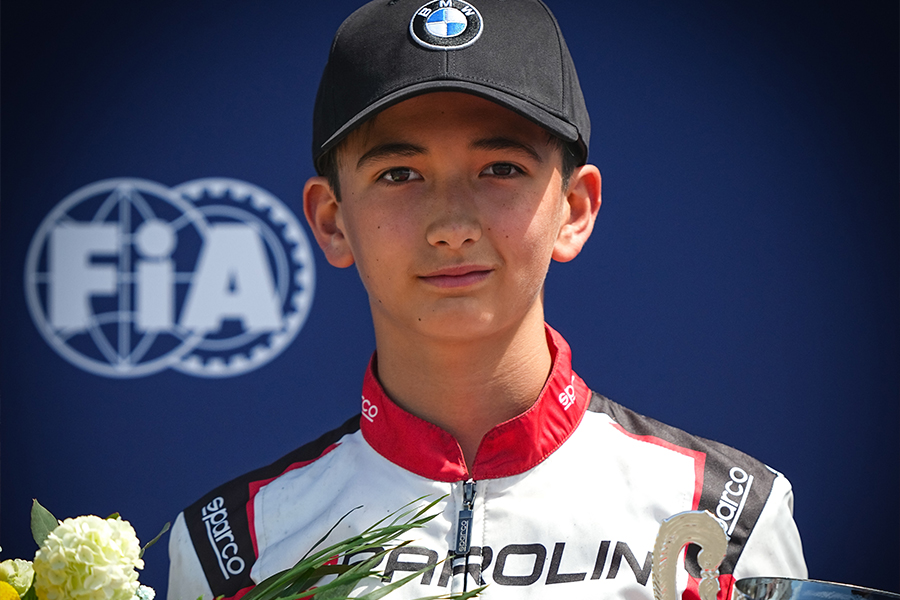 Having just celebrated his 14th birthday, Enzo Deligny more than ever is one of the great hopes of French motor sport. In Spain, during the second round of the FIA Karting European Championship in the OK category, he took 2nd place in the Final and is now in 2nd place in the overall standings at the halfway point. Talented and determined, this young driver with an atypical background has not finished making a name for himself.
The majority of the world's best car drivers raced in OK during their karting career and often this is when they developed the qualities necessary to make them into future champions. At each event, the confrontation is intense between the experienced drivers and the young rookies, among whom Enzo Deligny is now the leader in the FIA Karting European Championship.
His gamble to leave the Junior category at the end of 2021, when he had the possibility to stay on for another season, has paid off, as has his decision to remain loyal to the Parolin Motorsport team and to the TM Racing factory represented by the engine builder GFR. With three podiums already – including two victories – during the first international events of the season, without forgetting a top three lost on the wire in the Euro Series at Portimao, Enzo Deligny confirmed all his potential as soon as the serious events started…
A rookie at the highest level
On the international circuit of Zuera, the young Frenchman maintained a faultless performance. Very fast from the Free Practice sessions onwards, he achieved the 4th best overall time out of a total of 66 drivers on Friday. Enzo was consistent in the Qualifying Heats, with places of 4th, 3rd, 2nd, 2nd and 2nd. "As the weekend progressed, we were able to perform better and better thanks to some good set-up work with the team," said Enzo. "I was the fastest on track in my last run on Saturday, then Sunday started with the fastest time in my warm-up. I followed that up with a win in the Super Heat, which earned me my place on the inside of the second row for the Final. This was important, because starting from the outside is quite a disadvantage in Zuera."
On Sunday 1st May in Spain, the Final saw some great duels in the leading group, immortalised by the TV cameras all around the track. Enzo even briefly took the lead, before battling all the way to the end against fierce competition to climb to the second step of the podium. Finishing in the top five in the first race in Portugal was already an excellent performance, especially if one compares Enzo Deligny's still limited experience in FIA Karting events. This time, it was the podium that awaited Enzo… "At the end of the race, I gave everything to keep my place. I'm happy with this performance which has given me 2nd place in the European Championship. This is a great motivation for me to continue this momentum in the next two races in Sweden in early June and in Italy in July. I really want to thank the whole Parolin Motorsport team, Simone my mechanic, my team manager, Lorenzo Travisanutto for the advice, TM Racing and Franco Drudi for his support, GFR – Gordi and Aitor – for the incredible equipment, my partners Offset, Group A Apparel, Kyorene, Armor Guys and of course my family."