Product Spotlight: KartLift Kart Stands – Chassis Table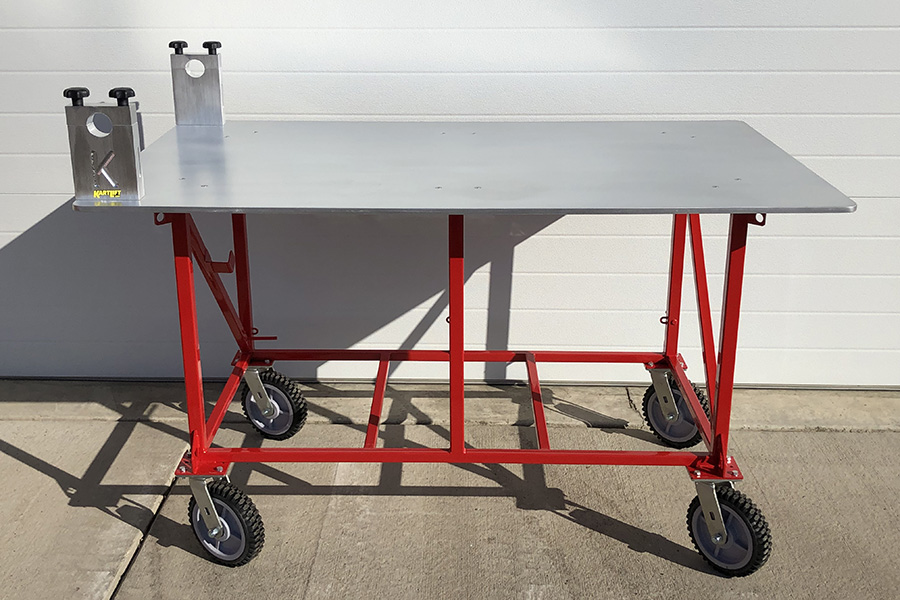 The Kartlift Chassis Table will provide racers with the opportunity ensure chassis straightness before dialed in their race weekend set-ups
(Photo: Kartlift)
A key component to winning is preparation. You may have the perceived best equipment that money can buy, however, a true karter must understand the concept that it may be the work that happens off the race track that determines if you earn a podium finish or if you come up short. One aspect to race preparation is chassis measurement and alignment. A millimeter off in one direction at the front or the rear of the kart, and your setup may not be exactly what you want it to be.
The KartLift Kart Stands Chassis Table is the solution to ensuring that your kart is spot on with the tape measure before each session or race weekend. The table is made from 1/2 inch aluminum with axle clamps for 50mm, and includes bushings to support karts with 40mm, 30mm and 25mm axles. The complete package, which sits on wheels to move around the shop or take with you in the trailer, comes with straightening bars and height gauge.
One of the newest recipients of a KartLift Chassis Table is CKR-USA.
"We've had the opportunity to use our KartLift frame table in the shop a few times this spring," stated James O'Brien of CKR-USA. "It's manufactured from very good quality materials and the table itself is accurately machined. My favorite accessory is this stub axle bar. They did an excellent job packaging the unit for freight shipping."
To learn more about the KartLift Kart Stands Chassis Table, email info@kartlift.com or call 877-777-8020. And to learn about the many products KartLift has to offer for the karting community, or to find a dealer near you, visit www.kartlift.com.