EKN Trackside: 2022 Superkarts! USA Pro Tour WinterNationals – Preview
13th season of program begins at NOLA Motorsports Park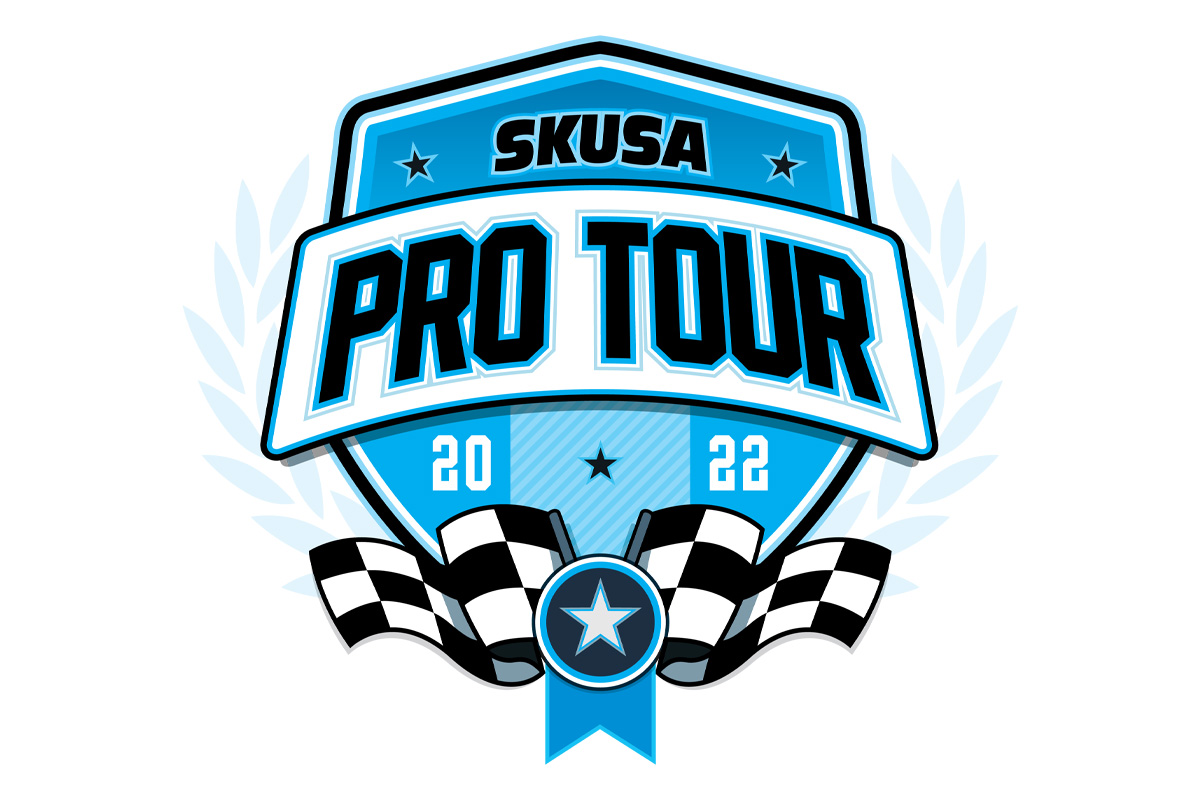 The 2022 Superkarts! USA Pro Tour is set to kick off this weekend (March 31-April 2) at the NOLA Motorsports Park. The fifth edition of the SKUSA WinterNationals at the Avondale, Louisiana will host the opening two rounds of the championship program, which celebrates the 13th season. The 'Big Easy' always provides a threat of rain, with Saturday looking to be the day that could be the most impacted in terms of wet weather racing.
This weekend's is the largest WinterNationals on record before walk-up entries at 224 in the five-year history of the event. The first edition came in 2017 at NOLA and was there the year after before moving to the CalSpeed Karting facility in 2019. COVID-19 halted the 2020 edition as Friday practice was wrapping up and the world changed over the coming days. The WinterNationals returned in 2021 to NOLA, with all four previous editions featuring over 200 entries.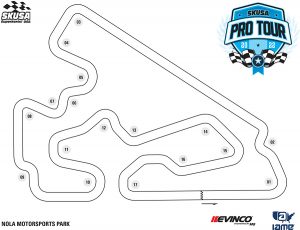 NOLA Motorsports Park was built in 2011 and has become a world-known facility. The track hosted the 2013 Rotax Grand Finals, the only time the 'Olympics of Karting' was held on USA soil. The 1.1-mile course features one of the longest straights in North America, many back-and-forth corners, and very fast sections with plenty of passing opportunities across the 17 turns.
The largest category is the X30 Senior division, featuring 45 drivers. 2021 champion Hannah Greenemeier (RPG / Kosmic), the first female driver to earn the headline title, begins her title defense at a track she won on-track last year, but lost the victory due to a pushback bumper penalty. She got her first win in Utah and went on to earn the championship. Four-time Pro Tour champion Ryan Norberg (RPG / Kosmic) won twice last year (Utah/NewCastle) however suffered two DNF finishes that put him third in the point standings. NOLA is the one Pro Tour track he has not won at. Diego Ramos (REM / Kosmic) leads a solid international contingent, coming in as a race winner from NOLA last year. Among those from outside the USA includes Marijn Kremers (PSL / Birel ART), Pedro Hiltbrand (PSL / Birel ART), and Canadian Thomas Nepveu (Trinity / Kart Republic). Top rookies include Junior champion Carson Morgan (RPM / Tony Kart), Jeremy Fletcher (GWR / Tony Kart), Aden Rudolph (PSL / Birel ART), Cameron Weinberg (SCR / CRG), and Noah Baker (Supertune / Tony Kart). The field features several other drivers that will contend for a spot on the podium, with Pauly Massimino (RPM / Tony Kart) and Dante Yu (Nash / EOS) finishing 1-2 at the Texas Sprint Racing Series event last weekend.
The Pro Shifter division has grown since last year, welcoming 19 drivers set to compete. The target is three-time series champion AJ Myers (Magik Kart USA), who won five of the six rounds in 2021 – including both features at NOLA. The usual suspects are there to battle, including former champion Jake French (PSL / Birel ART) and four-time SuperNationals winner Billy Musgrave (Factory Kart). GFC Karting is going all-in on the Pro Tour for the 2022 season, bringing four drivers with three winning already this year at Challenge of the Americas. Hunter Pickett (GFC) claimed the championship off three wins, while Kyle Wick (Trackmagic) won twice and Jacob Gulick (GFC) got that first shifterkart victory. Add in Cole Shade (Trackmagic) to contend for a podium finish. The big story is four-time SuperNationals winner Danny Formal (LEM / Formula K) unable to compete due to a positive COVID-19 test prior to returning to the USA. Formal was coming off three straight wins and the championship at the Florida Winter Tour. A solid replacement was brought in as Connor Zilisch will make his Pro Shifter debut. With championships and victories in Cadet, Junior and Senior single-speed competition, the 2022 Trans Am Series and Mazda MX-5 Cup will make his shifterkart debut.
The field is at 25 drivers for the competitive KA100 Senior division. Coming in with the momentum is 2022 SKUSA Winter Series champion Carson Morgan (RPM / Tony Kart). Morgan is a six-time Pro Tour champion in Cadet and Junior action. Now the Senior rookie begins his bid for a possible seventh title. His brother Cole Morgan won the championship last year, however, is not listed as racing in the KA100 Senior class. Double duty driver Jeremy Fletcher (GWR / Tony Kart) joins him as one of the top rookies. Among the veterans are Oliver Calvo (LEM / Redspeed), Connor Ferris (TFR / Kart Republic), Canadian Cedrik Lupien (RPG / Kosmic) and Caleb Shrader who won at the Pro Tour in Utah last year. Coming off victory at the TSRS event last weekend is Alex Stanfield (GWR / Tony Kart), with Gia Cicero (RPG / Kosmic) putting in a podium finish after showing speed all winter.
The X30 Junior and KA100 Junior divisions will welcome new champions with two-time defending champion in both classes Carson Morgan graduated. Among those leading the way in both is Caleb Gafrarar (RPG / Kosmic). Gafrarar won both divisions at the TSRS, and won all four main events at the final SKUSA Winter Series event in February. Canadian Ayden Ingratta (SCR / Redspeed), SKUSA Winter Series winner Steven Miller (CDR / Kosmic), last year's runner-up in the championship Max Garcia (MPG / WPK), and SKUSA Winter Series champion Sebastian Wheldon (JC / LN) are among the early favorites. Helio Meza (IRM / Tony Kart) made his X30 Junior debut at the TSRS, finishing second with Max Taylor (MDR / LN) finishing third to end a strong winter program.
Both categories have 31 drivers in the field, with many going double duty. Gafrarar, Meza, Cooper Shipman (IRM / Tony Kart), Parker DeLong (RPM / Tony Kart) and Jesus Vasquez Jr. (Nash / EOS) among those racing both classes. A number of other drivers could be in podium contention, including west coast drivers Christian Cameron (AKR / Tony Kart) and Stephen Eisert (SSM / Exprit) who both won at the series final for Challenge of the Americas, with Cameron taking home the title. Gafrarar and Meza went 1-2 in KA100 with Ivanna Richards (HRI / Parolin) placing third last weekend.
Numbers are down once again in the X30 Master division, with only five pre-entries. Defending champion Mario Barrios (RPG / Kosmic) is attempting to repeat with SKUSA Winter Series champion Danillo Ramalho (REM / Kosmic) his top rival. The Master Shifter division has six in the entry list, which does not include the top-two from last year. Five-time champion Jordon Musser is not competing along with Bermuda driver Scott 'Skitchy' Barnes. Victor Jimenez (RPG / Tony Kart) and Vincent Cossard (PSL / Birel ART) come in with the most experience in the field, however, Harden Motorsports Group has a trio of drivers, including Robert Fiege, Anthony Stiffler and Ken Schilling looking to contend for podium finishes.
A total of 39 drivers are set to compete in the Mini Swift division, with another champion graduated up to the next level as Enzo Vidmontiene is now in the Junior ranks. This opens up the door for a new champion in the category, with many drivers the odds-on early favorites. Jack Iliffe (IRM / Parolin) finished second in the standings last year, picking up a victory. He leads a host of returning drivers including TSRS race winner Carson Weinberg (SCR / CRG). SKUSA Winter Series champion Oliver Wheldon (JC / LN), Asher Ochstein (Supertune / Tony Kart), Isaac Malcuit (AKT / Kart Republic), Vivek Kanthan (Parolin USA), and Sarah Bradley (Parolin USA) lead the 'veteran' Cadet drivers. A good group of rookie drivers are coming in from Micro last year, including last year's champion Gianmatteo Rousseau (Supertune / Tony Kart), race winner Keelan Harvick (Harvick / Parolin), Phaethon Saradpon (AKT / Kart Republic) and 2022 SKUSA Winter Series champion Alessandro Truchot (Parolin USA) making the jump up for this weekend. Finishing behind Weinberg and Iliffe at the TSRS event was Tyler Roberts (Parolin USA), coming off victory at the USPKS opener.
No returning Micro Swift winners in the 23-driver field for this weekend with the large contingent of drivers graduating to Mini. Ashton Woon (Nitro Kart) is among the more experienced drivers in the field, winning on the west coast in Mini competition while finishing second at the Winter Series. Rocco Simone (Parolin USA) was right there all winter, coming off a win at the USPKS opener. Troy Ferguson (Benik), Jaime Garcia (Parolin USA), Jackson Gibson (RPG / Kosmic), Jaxon Porter (Benik) and Drew Walz (Mottaz / Birel ART) are among the names to watch.
Tune in to the EKN Social Media channels for updates, photos, videos and more all weekend from the NOLA Motorsports Park for the fifth edition of the SKUSA Pro Tour WinterNationals and watch for daily reports after Saturday and Sunday.
---
Provisional Entry List – X30 Senior
| No. | Driver | Team | Chassis | City/State | Nation |
| --- | --- | --- | --- | --- | --- |
| 398 | Adam Ali | Racing Edge Motorsports | Kosmic | | CA |
| 330 | Daniel Ali | Racing Edge Motorsports | Kosmic | | CA |
| 349 | Noah Baker | Supertune | Tony Kart | Pinehurst TX | US |
| 318 | Donovan Bonilla | Orsolon Racing | Tony Kart | | MX |
| 304 | John Burke | Supertune | Tony Kart | Carrollton TX | US |
| 326 | Josh Campbell | Ryan Perry Motorsport | Tony Kart | Gilbert AZ | US |
| 341 | Timothy Carel | Ryan Perry Motorsport | Tony Kart | Pacific Palisades CA | FR |
| 382 | Nathaniel Cicero | Rolison Performance Group | Tony Kart | Pound Ridge NY | US |
| 321 | Zachary Claman De Melo | Team Benik | Tony Kart | Mount-Royal QC | CA |
| 320 | Alessandro de Tullio | Parolin USA | Parolin | Doral FL | US |
| 329 | Jake Drew | Formula Works / GFC | GFC | Fullerton CA | US |
| 335 | Wes Duchak | Rolison Performance Group | Kosmic | Jupiter FL | US |
| 369 | Santiago Fernandez | Orsolon Racing | Kosmic | Miami FL | US |
| 322 | Jeremy Fletcher | Gary Willis Racing | Tony Kart | St. Cloud FL | US |
| 301 | Hannah Greenemeier | Rolison Performance Group | Kosmic | Parker CO | US |
| 307 | Enzo Guimaraes | Racing Edge Motorsports | Kosmic | | BR |
| 317 | Dalton Hanes | | Tony Kart | Greensboro NC | US |
| 386 | Leonardo Hassan | Medstep Racing | Tony Kart | Miami FL | US |
| 340 | Pedro Hiltbrand | PSL Karting | Birel ART | | ES |
| 361 | Jacob Hoover | Alex Keyes Racing | FA Kart | Dana Point CA | US |
| 316 | Hayden Jones | Rolison Performance Group | Tony Kart | Matthews NC | US |
| 305 | Gabriel Kawer | PSL Karting | Birel ART | Ft. Lauderdale FL | CR |
| 342 | Marjin Kremers | PSL Karting | Birel ART | | NL |
| 328 | Laurent Legault | Rolison Performance Group | Kosmic | | CA |
| 384 | Jason Leung | Rolison Performance Group | Kosmic | Richmond BC | CA |
| 373 | Zachary Mabry | Mike Doty Racing | Exprit | Magnolia TX | US |
| 308 | Pauly Massimino | Ryan Perry Motorsport | Kosmic | Indian Trail NC | US |
| 338 | Tyler McIntyre | MottazSport | Birel ART | Palmetto FL | US |
| 388 | Carson Morgan | Morgan Racing | Tony Kart | Newport Beach CA | US |
| 363 | Cole Morgan | Morgan Racing | Tony Kart | Newport Beach CA | US |
| 377 | Frankie Mossman | Team Benik | Tony Kart | La Verne CA | US |
| 394 | Blake Nash | Nash Motorsportz | EOS | Riverside CA | US |
| 324 | Thomas Nepveu | Trinity Karting Group | Kart Republic | | CA |
| 303 | Ryan Norberg | Rolison Performance Group | Kosmic | Orlando FL | US |
| 343 | Oscar Panozzo | MottazSport | Birel ART | Bradenton FL | US |
| 313 | Diego Ramos | Racing Edge Motorsports | Kosmic | Kissimmee FL | BR |
| 389 | Brett Revetta | Sanner Racing | Tony Kart | El Cajon CA | US |
| 309 | Aden Rudolph | PSL Karting | Birel ART | New Caney TX | US |
| 347 | Kyriakos Sioukas | Alex Keyes Racing | OTK | Sacramento CA | GR |
| 397 | Robert Soroka | Racing Edge Motorsports | Kosmic | | CA |
| 323 | Santiago Trisini | Supertune | Tony Kart | Key Biscayne FL | US |
| 332 | Ryan Vincent | Nash Motorsportz | EOS | San Diego CA | US |
| 379 | Cameron Weinberg | Speed Concepts Racing | CRG | Carrollton GA | US |
| 334 | Dante Yu | Ryan Perry Motorsport | Tony Kart | Temple City CA | US |
| 331 | Haopeng Zhang | Supertune | Tony Kart | Kalamazoo MI | US |
---
Provisional Entry List – Pro Shifter
| No. | Driver | Team | Chassis | City/State | Nation |
| --- | --- | --- | --- | --- | --- |
| 291 | Cooper Becklin | PSL Karting | Birel ART | West Linn OR | US |
| 237 | Danny Formal | Leading Edge Motorsports Inc. | Formula K | Boca Raton FL | CR |
| 202 | Jake French | PSL Karting | Birel ART | Sanger TX | US |
| 214 | Davide Greco | PSL Karting | Birel ART | | CA |
| 215 | Jacob Gulick | GFC Karting | GFC | Vancouver WA | US |
| 212 | Ayrton Hernandez | JHMotorsports | Kart Republic | San Antonio TX | US |
| 272 | Liam Jones | Factory Karts | Factory Kart | Ventura CA | US |
| 251 | Kyle Kennedy | Harden Motorsports Group | Race Factory | St. Peters MO | US |
| 231 | Blake Korth | Magik Kart USA | Magik Kart | Pickerington OH | US |
| 203 | Billy Musgrave | Baldozier Racing / Factory Karts | Factory Kart | Riverside CA | US |
| 201 | AJ Myers | Magik Kart USA | Magik Kart | Mooresville NC | US |
| 236 | Hunter Pickett | GFC / Pickett Racing | GFC | Alamo CA | US |
| 261 | Jared Ramnarayan | Pro Racing Ontario / PSL Karting | Birel ART | | CA |
| 204 | Annie Rhule | Magik Kart USA | Magik Kart | Beaver Falls PA | US |
| 219 | Vicente Salas | Musgrave Racing Co. | Factory Kart | Temecula CA | US |
| 285 | Cole Shade | Squadra Trackmagic / GFC | Trackmagic | Yuba City CA | US |
| 244 | Michael Stevens | PSL Karting | Birel ART | Weeki Wachee FL | US |
| 209 | Kyle Wick | GFC / Trackmagic | Trackmagic | Auburn WA | US |
| 224 | Tahlon Yockel | Magik Kart USA | Magik kart | Mooresville NC | US |
---
Provisional Entry List – KA100 Senior
| No. | Driver | Team | Chassis | City/State | Nation |
| --- | --- | --- | --- | --- | --- |
| 913 | Taila Akigami | Rolison Performance Group | Kosmic | Lynnwood WA | US |
| 998 | Adam Ali | Racing Edge Motorsports | Kosmic | | CA |
| 930 | Daniel Ali | Racing Edge Motorsports | Kosmic | | CA |
| 924 | Brooke Berry | Iron Rock Motorsports | Tony Kart | Katy TX | US |
| 956 | Oliver Calvo | Leading Edge Motorsports Inc. | Redspeed | Stockton CA | US |
| 926 | Josh Campbell | Ryan Perry Motorsport | Tony Kart | Gilbert AZ | US |
| 972 | Drew Chappell | Core Karting | Redspeed | Coppell TX | US |
| 943 | Gia Cicero | Rolison Performance Group | Tony Kart | Pound Ridge NY | US |
| 935 | Alex Dancho | OVRP | Tony Kart | Easton CT | US |
| 955 | Nicholas D'Andrea | Leading Edge Motorsports Inc. / ANSA | Tony Kart | Boca Raton FL | US |
| 928 | Jack Doyle | Rolison Performance Group | Kosmic | Beaverton OR | US |
| 918 | Connor Ferris | Team Ferris Racing | Kart Republic | Hackettstown NJ | US |
| 922 | Jeremy Fletcher | Gary Willis Racing | Tony Kart | St. Cloud FL | US |
| 914 | Shawn Kozma | Arcane Motorsports | Redspeed | Richmond TX | CA |
| 920 | Cedrik Lupien | Rolison Performance Group | Kosmic | | CA |
| 929 | Logan McDonough | M2 Race Team | Redspeed | Hahnville LA | US |
| 948 | Vinnie Meskelis | Gary Willis Racing | Redspeed | Dallas TX | BR |
| 984 | Carson Morgan | Morgan Racing | Tony Kart | Newport Beach CA | US |
| 989 | Brett Revetta | Sanner Racing | Tony Kart | El Cajon CA | US |
| 977 | Brayden Robertson | Crosslink | Exprit | McGregor TX | US |
| 959 | Kieran Rogers | Rolison Performance Group | Kosmic | Mercer Island WA | US |
| 921 | Caleb Shrader | Rolison Performance Group | Kosmic | Tigard OR | US |
| 906 | Alex Stanfield | Gary Willis Racing | Tony Kart | Argyle TX | US |
| 995 | Nolan Tidwell | Mike Doty Racing | Tony Kart | Fort Collins CO | US |
| 941 | Josiah Tracy | Iron Rock Motorsports | Tony Kart | Whitesboro TX | US |
---
Provisional Entry List – X30 Junior
| No. | Driver | Team | Chassis | City/State | Nation |
| --- | --- | --- | --- | --- | --- |
| 796 | Diego Ardiles | Supertune | Tony Kart | Doral FL | CR |
| 763 | G3 Argyros | Speed Concepts Racing | Redspeed | Newport Beach CA | US |
| 799 | Cameron Brinkman | Mike Doty Racing | Kosmic | Springfield IL | US |
| 719 | Christian Cameron | Alex Keyes Racing | Tony Kart | Sonoma CA | US |
| 730 | Brandon Carr | Team Benik | Benik | | GB |
| 723 | Michael Costello | Team Benik | Kosmic | Naples FL | US |
| 778 | Julian DaCosta | Ryan Perry Motorsport | Tony Kart | Myakka City FL | US |
| 729 | Parker Delong | Ryan Perry Motorsport | Tony Kart | Glendale AZ | |
| 758 | Brayden Domingue | Iron Rock Motorsports | Tony Kart | Duson LA | US |
| 755 | Leonardo Escorpioni | Zanella Racing | Tony Kart | Windermere FL | BR |
| 704 | Caleb Gafrarar | Rolison Performance Group | Tony Kart | Midland NC | US |
| 702 | Max Garcia | MPG Motorsports | Kart Republic | Coconut Grove FL | US |
| 716 | Christian Garduno | Orsolon Racing | Tony Kart | | MX |
| 715 | Ayden Ingratta | Speed Concepts Racing | OTK | | CA |
| 725 | Fernando Luque | Supertune | Tony Kart | Mexico City CDM | MX |
| 706 | Anthony Martella | Racing Edge Motorsports | Kosmic | | CA |
| 787 | Alex Mercado | Alex Mercado Racing | Tony Kart | Washington UT | US |
| 727 | Helio Meza | Iron Rock Motorsports | Tony Kart | Spring TX | US |
| 707 | Christian Miles | Mike Doty Racing | Kosmic | Paloma IL | US |
| 773 | Steven Miller | CDR | Kosmic | Tierra Verde FL | US |
| 709 | Camryn Reed | Iron Rock Motorsports | Kosmic | Youngsville LA | US |
| 720 | Ivanna Richards | HRI Mexico | Parolin | | MX |
| 724 | Ernesto Rivera | Rolison Performance Group | Kosmic | | MX |
| 714 | Cooper Shipman | Iron Rock Motorsports | Tony Kart | Austin TX | US |
| 712 | Charlie Smith | Nash Motorsportz | OTK | Corona del Mar CA | US |
| 733 | Max Taylor | Full Tilt Racing | Exprit | Hoboken NJ | US |
| 742 | Jay Urwin | Supertune | Tony Kart | | NZ |
| 770 | Jesus Vasquez, Jr. | PKS | Birel ART | Rancho Cucamonga CA | US |
| 795 | Enzo Vidmontiene | Team Benik | Tony Kart | Windermere FL | US |
| 798 | Sebastian Wheldon | JC Karting | Kosmic | Coral Gables FL | US |
| 705 | Gavin Whitt | Team Benik | Kosmic | Littleton CO | US |
---
Provisional Entry List – KA100 Junior
| No. | Driver | Team | Chassis | City/State | Nation |
| --- | --- | --- | --- | --- | --- |
| 891 | Christian Cameron | Alex Keyes Racing | Tony Kart | Sonoma CA | US |
| 871 | Spencer Conrad | Team Nitro Kart | Tony Kart | Suffolk VA | US |
| 830 | Gabrielle DaCosta | Ryan Perry Motorsport | Tony Kart | Myakka City FL | US |
| 829 | Parker DeLong | Ryan Perry Motorsport | Tony Kart | Glendale AZ | US |
| 858 | Brayden Domingue | Iron Rock Motorsports | Tony Kart | Duson LA | US |
| 874 | Santiago Duran | Supertune | Tony Kart | League City TX | US |
| 839 | Stephen Eisert | Speedsense Motorsports | Exprit | Galt CA | US |
| 831 | Joey Friend | Iron Rock Motorsports | Tony Kart | Burleson TX | US |
| 826 | Beckett Friesen | Arcane Motorsports | Tony Kart | Omaha NE | CA |
| 820 | Caleb Gafrarar | Rolison Performance Group | Tony Kart | Midland NC | US |
| 804 | Valentino Garbarino | Ryan Perry Motorsport | Tony Kart | Martinez CA | US |
| 868 | Naomi Garcia | U Race | Tony Kart | | TT |
| 848 | Diego Guiot | Supertune | Tony Kart | Shenandoah TX | US |
| 817 | Oscar Iliffe | Iron Rock Motorsports | Tony Kart | Austin TX | US |
| 843 | Walter Jenkins IV | Xtreme Racing | Tony Kart | Homestead FL | US |
| 834 | Keagan Kaminski | Formula Works / GFC | GFC | San Dimas CA | US |
| 827 | Helio Meza | Iron Rock Motorsports | Tony Kart | Spring TX | US |
| 873 | Steven Miller | CDR | Kosmic | Tierra Verde FL | US |
| 809 | Camryn Reed | Iron Rock Motorsports | Kosmic | Youngsville LA | US |
| 810 | Ivanna Richards | HRI Mexico | Parolin | | MX |
| 824 | Ernesto Rivera | Rolison Performance Group | Kosmic | | MX |
| 825 | Davin Roberts | Team Nitro Kart | Kosmic | Walker LA | US |
| 806 | Sawyer Roussel | M2 Race Team | Tony Kart | New Orleans LA | US |
| 841 | Cooper Shipman | Iron Rock Motorsports | Tony Kart | Austin TX | US |
| 812 | Charlie Smith | Nash Motorsportz | OTK | Corona del Mar CA | US |
| 833 | Max Taylor | Full Tilt Racing | Exprit | Hoboken NJ | US |
| 866 | Graham Trammell | Rolison Performance Group | Kosmic | Fort Worth TX | US |
| 877 | Jesus Vasquez, Jr. | PKS | Birel ART | Rancho Cucamonga CA | US |
| 869 | Gavin Wardle | Rolison Performance Group | Kosmic | Herriman UT | US |
| 819 | Eli Warren | Jimmy Simpson Racing | OTK | Louisville KY | US |
| 896 | Jackson Wolny | MottazSport | Birel ART | Glen Ellyn IL | US |
---
Provisional Entry List – X30 Master
| No. | Driver | Team | Chassis | City/State | Nation |
| --- | --- | --- | --- | --- | --- |
| 501 | Mario Barrios | Rolison Performance Group | Kosmic | Miami Beach FL | PE |
| 506 | Tom Gerstner | Checkered Motorsports | Magik Kart | Rochester NY | US |
| 518 | Danillo Ramalho | Racing Edge Motorsports | Kosmic | | BR |
| 569 | Curtis Terry | | Kosmic | Covington LA | US |
| 525 | Pete Vetter | Vetter Construction/ All About Glass | Tony Kart | St. Louis MO | US |
---
Provisional Entry List – Master Shifter
| No. | Driver | Team | Chassis | City/State | Nation |
| --- | --- | --- | --- | --- | --- |
| 608 | Vincent Cossard | PSL Karting | Birel ART | Houston TX | US |
| 696 | Tim De Belloy | PSL Karting | CRG | Houston TX | US |
| 644 | Robert Fiege | Harden Motorsports Group | Race Factory | Indianapolis IN | US |
| 623 | Victor Jimenez | Rolison Performance Group | Tony Kart | The Woodlands TX | MX |
| 621 | Ken Schilling | Harden Motorsports Group | GP | Gainesville FL | US |
| 603 | Anthony Stiffler | Harden Motorsports Group | Race Factory | Mooresville IN | US |
---
Provisional Entry List – Mini Swift
| No. | Driver | Team | Chassis | City/State | Nation |
| --- | --- | --- | --- | --- | --- |
| 169 | Gage Bailey | Iron Rock Motorsports | Benik | Spring Branch TX | US |
| 145 | Felipe Jesus Benito | Speed Concepts Racing | Redspeed | | DO |
| 192 | Alan Bonilla | Orsolon Racing | Tony Kart | | MX |
| 114 | Sarah Bradley | Parolin USA | Parolin | Fishers IN | US |
| 136 | Turner Brown | GFC Karting | CRG | Alamo CA | US |
| 121 | Lucas Bruncati | Ryan Perry Motorsport | Parolin | Rancho Cucamonga CA | US |
| 127 | McLaren Carroll | Ryan Perry Motorsport | WPK | San Dimas CA | US |
| 148 | Josey Chambers | Team Nitro Kart | Nitro Kart | Rosharon TX | US |
| 139 | Max Cristea | PSL Karting | Birel ART | Buford GA | US |
| 184 | Keegan Ellsworth | Ryan Perry Motorsport | Kart Republic | Cherry Valley CA | US |
| 177 | Nixon Ellsworth | Ryan Perry Motorsport | Kart Republic | Cherry Valley CA | US |
| 138 | Ty Fisher | Racelab | TB Kart | | CA |
| 132 | Gabby Guidera | Team Benik | Benik | Rocklin CA | US |
| 150 | Giuseppe Guidera | Team Benik | Benik | Rocklin CA | US |
| 162 | Keelan Harvick | Harvick Racing | Parolin | Harrisburg NC | US |
| 102 | Jack Iliffe | Iron Rock Motorsports | Parolin | Austin TX | US |
| 164 | Cade Jaeger | Team Nitro Kart | Nitro Kart | Kewaskum WI | US |
| 122 | Vivek Kanthan | Parolin USA | Parolin | Westport CT | US |
| 141 | Tyrone Kemper, Jr. | AKT Racing Team | Kart Republic | New Orleans LA | US |
| 144 | Edward Kennedy | Titans Racing Team / Trinity Karting Group | Kart Republic | | CA |
| 146 | Bobby Klein | | Birel ART | Georgetown TX | US |
| 176 | Bronson Koustas | | | Newport Beach CA | US |
| 175 | Isaac Malcuit | AKT Racing Team | Kart Republic | Strasburg OH | US |
| 161 | Michael McGaughy | RDX | Birel ART | Park City UT | US |
| 111 | Tristan Murphy | Team Nitro Kart | Nitro Kart | College Grove TN | US |
| 194 | Asher Ochstein | Supertune | Tony Kart | St. Petersburg FL | GB |
| 140 | Juan Jose Paramo | HRI Mexico | Kosmic | | MX |
| 199 | Tyler Roberts | Parolin USA | Parolin | Leander TX | US |
| 110 | Gianmatteo Rousseau | Supertune | Tony Kart | | PA |
| 185 | Phaethon Saradpon | AKT Racing Team | Kart Republic | Relay MD | US |
| 119 | Nico Sarphati | GFC Karting | GFC | San Ramon CA | US |
| 181 | Johnie Stamps | Team Kart Nick | Parolin | Eastvale CA | US |
| 117 | Alessandro Truchot | Parolin USA | Parolin | Miami Beach FL | US |
| 133 | Devin Walz | MottazSport / RDX | Birel ART | Meridian ID | US |
| 178 | Derek Wargo | DEW Racing | Kart Mini | Metairie LA | US |
| 120 | Max Weiland | Checkered Motorsports | Magik Kart | Westlake OH | US |
| 187 | Carson Weinberg | Speed Concepts Racing | CRG | Carrolton GA | US |
| 104 | Oliver Wheldon | JC Karting | Kosmic | Coral Gables FL | US |
| 106 | David Ybarra | Arcane Motorsports | CRG | Lewisville TX | US |
---
Provisional Entry List – Micro Swift
| No. | Driver | Team | Chassis | City/State | Nation |
| --- | --- | --- | --- | --- | --- |
| 42 | Pasha Ali | Parolin USA | Parolin | Trophy Club TX | US |
| 65 | Bristol Borneman | Sanner Racing | Tony Kart | Ramona CA | US |
| 56 | Byron Borneman | Sanner Racing | Tony Kart | Ramona CA | US |
| 48 | Matthew Cagle | Sanner Racing | Tony Kart | Escondido CA | US |
| 45 | Sawyer Chambers | Team Nitro Kart | Nitro Kart | Rosharon TX | US |
| 26 | Alex Chandler | Iron Rock Motorsports | Tony Kart | Houston TX | US |
| 43 | Troy Ferguson | Team Benik | Benik | Seal Beach CA | US |
| 13 | Jaime Garcia | Parolin USA | Parolin | | MX |
| 11 | Jackson Gibson | Rolison Performance Group | Kosmic | Lake Oswego OR | US |
| 68 | Luke Giglio | MottazSport | Birel ART | Milton GA | US |
| 57 | Gage Harden | Harden Motorsports Group | CompKart | Nashville IN | US |
| 50 | Emerson Laine | Arcane Motorsports | Birel ART | Colleyville TX | US |
| 32 | Kai Mars | Trinity Karting Group | Kart Republic | Roswell GA | US |
| 58 | Nicolas Orbezo | | Tony Kart | San Antonio TX | US |
| 23 | Antonio Pizzonia Neto | | Birel ART | Manaus Am | BR |
| 21 | Jaxon Porter | Team Benik | Benik | Scottsdale AZ | US |
| 66 | Alexander Procuna | FLC | Parolin | Aventura FL | MX |
| 27 | Colton Schniegenberg | | OTK | Colleyville TX | US |
| 91 | Rocco Simone | Parolin USA | Parolin | Venice FL | CA |
| 33 | Royce Vega | Team Benik | Benik | Rockwall TX | US |
| 19 | Drew Walz | MottazSport / RDX | Birel ART | Meridian ID | US |
| 95 | Ashton Woon | DDW Partners Auto Sales | Nitro Kart | Scottsdale AZ | US |
| 77 | Aston Wyatt | Speedsportz | Birel ART | Huntsville TX | US |