Ayden Ingratta Stands on the Podium at Florida Winter Tour Finale
P3 in the Championship points battle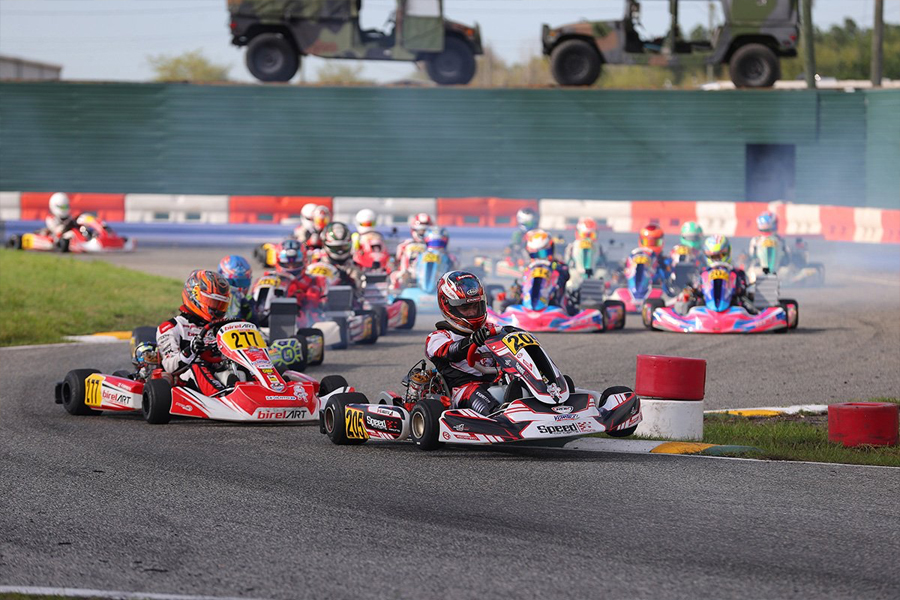 After falling back at the start of the final, Ayden Ingratta had a masterful drive forward to battle for the win
(Photo: Canadian Karting News)
It was the final event of the ROK Cup USA Florida Winter Tour as Canadian Ayden Ingratta was back in action at the Orlando Kart Center. Racing a Speed Concepts Racing prepared and SpeedLab Racing Engines powered Redspeed by OTK chassis, Ingratta continued his podium streak as he ended the event weekend on the second step of the podium and third in the overall championship.
Taking on the ROK Junior class, Ingratta instantly asserted himself as one of the drivers to beat this past weekend. In a class that featured more than thirty ROKKERs, Ingratta qualified his Speed Concepts Racing machine in the third position before taking a pair of heat race wins.
"It was a challenge for sure as the weather was changing all weekend long," explained Ingratta. "At first we had really nice weather and it was hot. Then we had torrential rain and Sunday had a lot colder temperatures and wind. We were always having to adjust and stay ahead on setup changes but for the most part, I think we did very well."
After finishing third, first and first in his three heat races, Ingratta would start Saturday afternoon's prefinal from the pole position as he looked to carry the momentum forward. In a race that featured hard racing and a lot of passing, the Speed Concepts Racing driver would fall two positions to third and needed to work his way forward in Sunday's final.
Sunday would provide the drive of the year for Ingratta as he was able to move into the second position just before mid-race distance. With the leader three-seconds up the road, Ingratta began a culmination of fast laps after fast laps to close the gap. Catching the leader with two laps to go and taking the lead on lap eighteen, he was unable to hang on as he started the final lap in second. Again, taking the point in turn ten and holding it all the way until the exit of turn thirteen, Ingratta lost the drag race to the line as he crossed the stripe in the second position.
Ingratta added, "I can't be disappointed as we showed the pace today. Unfortunate that I fell so far back at the start, but that is racing. I am glad that we are back in form and fighting for race wins each weekend."
Ayden Ingratta will next take on the Superkarts! USA (SKUSA) Pro Tour over the April 1-3 weekend at NOLA Motorsports Park. Stay tuned to his social media pages for news, information, photos and results throughout the 2022 season.
For more information on Ayden Ingratta, please contact RTD Media & Management at 317.270.8723 or via email to Mike@RTD-Media.com.