EKN Trackside: 2022 United States Pro Kart Series – Southern Grand Prix – Preview
Debut visit to Orlando Kart Center kicks off 10th season of program with record numbers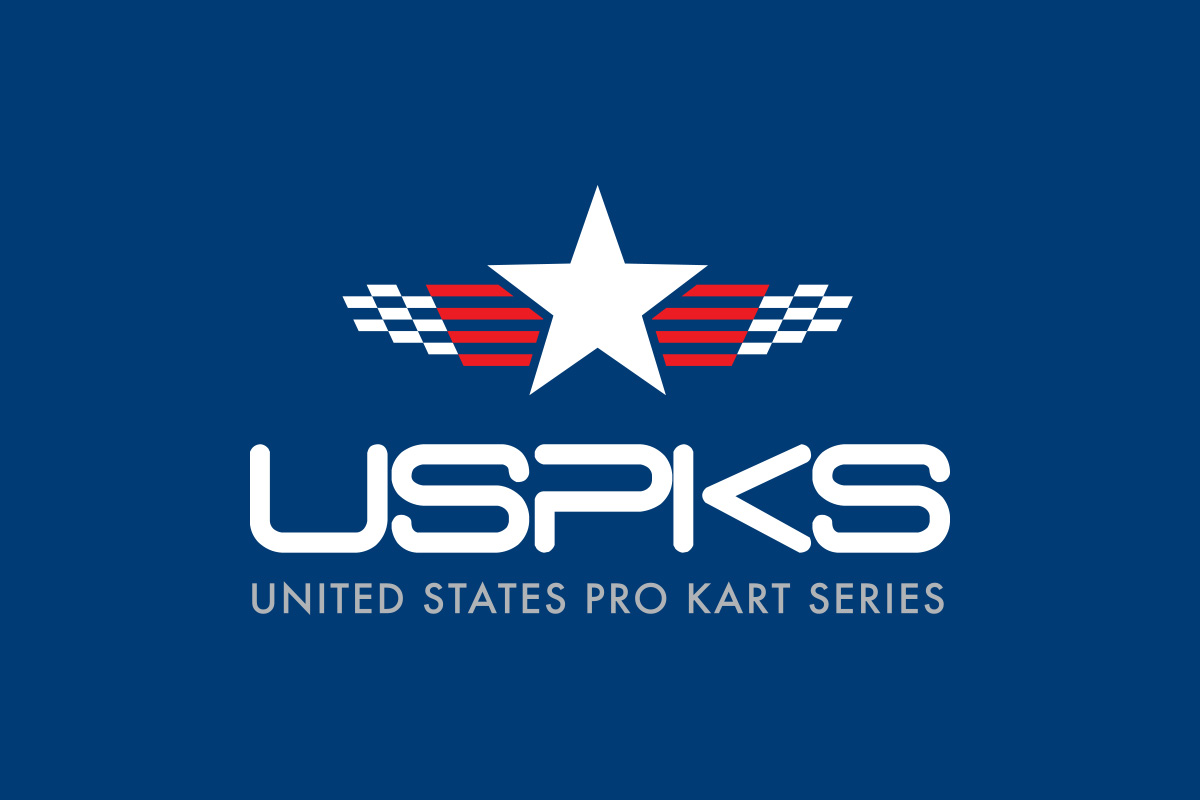 History will be made this weekend when the United States Pro Kart Series opens their 2022 season with the Southern Grand Prix at the Orlando Kart Center. To begin the 10th season of the championship, USPKS is making its first visit to the Orlando, Florida facility on March 4-6 with the opening two rounds of the year. The weekend already features a record-setting 317 pre-entries, with more possibly schedule to enter at-track in the seven IAME categories.
The Orlando Kart Center was developed in 2009, situated a few miles from the Orlando International Airport. It has hosted several major events, with this weekend's USPKS the largest ever for the facility. The circuit measures out to 8/10-mile and will be contested in the clockwise direction. This weekend also brings a new format change for USPKS with the large number of entries. Four of the seven categories will feature split Prefinals, with the top-18 transferring directly into the Final. The rest of the field will battle in the Last Chance Qualifier for one of the four transfer positions. X30 Pro, KA100 Senior, KA100 Junior and Mini Swift will be those with the extended fields. For all categories, competitors will qualify for Saturday and Sunday at the end of the day on Friday. Those qualifying sessions will set the Prefinal grids for Round One Saturday and Round Two Sunday.
The X30 Pro category was the fourth class expanded past the cap mark, welcoming 56 drivers in pre-entries. Ryan Norberg (RPG / Kosmic) returns as the defending series champion, cutting the streak of Brandon Jarsocrak to just four. For the first time in USPKS history, Jarsocrak will not be competing. Norberg now has the challenge of trying to repeat, beginning with a historic field in Orlando. Among the international drivers include FIA World Karting KZ champion Marijn Kremers (PSL / Birel ART), British driver Oliver Hodgson (J3 / CompKart), Brazilian Diego Ramos (REM / Kosmic) and former IndyCar driver Zachary Claman DeMelo (Goodwood / Exprit) from Canada. Home track knowledge will be key, and includes two-time USPKS Junior champion Jeremy Fletcher (GWR / Tony Kart) making his first start at the series at the Senior level.
The largest category with pre-entries is the KA100 Senior class with 57 drivers. No returning champion as Connor Zilisch has graduated to Trans Am and MX-5 Cup in 2022. The only returning winner from 2021 is former series champion Brandon Lemke (FMS / Merlin). The field is full of young talent, including Fletcher who is among the four Senior drivers doing both Senior classes, along with Adam Maxwell (AMaxx / Tony Kart), Josh Campbell (RPM / Tony Kart) and Aaron Benoit (U-Race / Tony Kart). Jake French (PSL / Birel ART), Josh Hotz (FMS / Merlin) and Nicholas Terlecki (FMS / Merlin) are among the more experienced drivers along with Connor Ferris (TFR / Kart Republic), Peyton Phillips (Supertune / Tony Kart) and Gia Cicero (RPG / Kosmic) who were quick this winter in Florida. One Senior rookie to watch for coming off a runner-up at the SKUSA Winter Series standings is Aden Rudolph (PSL / Birel ART). Others include Jake Walker (MDR / Kosmic) and Collin Lloyd (T1D / Tony Kart), and Chase Hand (RPG / Kosmic).
The X30 Junior class is capped at 44 drivers, featuring only two of the five different winners from last year. Canadian Ayden Ingratta (SCR / Redspeed) finished second in the championship chase a year ago and Caleb Gafrarar (RPG / Kosmic) won two races in 2021. Gafrarar is coming off a four-win performance this winter while Ingratta was among the top contenders to begin 2022. Max Garcia (MGP / WPK) finished third last year in his Junior rookie campaign, returning to improve along with Christian Miles (MDR / LN), starting his third year in the Junior ranks placing fourth in the title standings. Jorge Ortiz (Tony Kart), Sebastian Wheldon (JC / LN), Steven Miller (CDR / Redspeed) and Parker DeLong (RPM / Tony Kart) are names to watch this weekend. Rookies moving up from Mini include 2021 champion Enzo Vidmontiene (Benik / Kosmic) and Diego Ardiles (Supertune / Tony Kart).
No former champion or winners are returning in the 46-driver KA100 Junior class for 2022, which will set up for some exciting wins as the season moves along. For Orlando, seven drivers are racing both X30 and KA, including Gafrarar, Garcia, DeLong, and Miller in addition to Max Taylor (MDR / LN), Olivier Piatek (PM / Tony Kart) and Christian Cameron (SCR / Tony Kart), who is coming off a win last weekend at Challenge of the Americas. Helio Meza (IRM / Tony Kart) is on a streak of two wins at the Florida Winter Tour, carrying momentum into the weekend. Camryn Reed (IRM / Tony Kart) is a winner already in 2022 at WKA Daytona KartWeek. She is among the many females drivers that will be at the event, and competing in KA100 Junior.
Several of the same faces and names are battling once again in X30 Masters with the top-nine from last year helping to make up the 20-driver roster. Two-time defending champion Scott Kopp (FMS / Exprit) is back for a three-peat, hoping it will be easier than the tie-breaker he need in 2021 to get the championship ahead of SKUSA Pro Tour champ Mario Barrios (RPG / Kosmic). Three-time winner in 2021 Scott Roberts (SCR / Redspeed) is back, along with Danny Robertson (RPG / Kosmic), race winner Miguel Mier (SCR / Redspeed), former champions Cristian Vomir and Laurentiu Mardan along with John Robicheaux under the Tecno Kart USA tent, and Robert Maier (RPG / Kosmic) all returning for 2022. A couple new faces with veteran Pete Vetter (RPG / Kosmic) and Evan Batt (TFR / Kart Republic) looking to break up the order up front.
A new champion will be crowned in the Mini Swift category, which features 53 drivers. Those returning with success last year in the class include race winner Kai Johnson (Energy), Oliver Wheldon (JC / Kosmic), Asher Ochstein (Supertune / Tony Kart), Tyler Roberts (Parolin USA), Carson Weinberg (SCR / CRG) and Sarah Bradley (Parolin USA). Notable rookies in the class moving up from Micro include last year's champion Keelan Harvick (Harvick / Nitro Kart) along with top contenders Ethan and Jackson Tovo (Nitro Kart), Tristan Murphy (Nitro Kart), SKUS Pro Tour champion Gianmatteo Rousseau (Supertune / Tony Kart) and Lucas Palacio (TKG / Kart Republic). Others to watch include Salvador dell Vecchia (SAR / Parolin), two-time Challenge of the Americas winner Gage Korn (Race Factory), and many more.
New faces are the emphasis in the 41-driver Micro Swift class. With many of last year's front runners graduating, many drivers will be new to the front of the field. One that is returning is Ashton Woon (Nitro Kart), who is coming off two wins on the west coast at Challenge of the Americas. Rocco Simone (Parolin USA), Drew Walz (Birel ART), and Benja Fernandez (TKG / Kart Republic) showed well this winter at the SKUSA Winter Series. Other names will move up as we go on through the weekend and the season.
Be sure to follow EKN all weekend long with daily reports along with social media updates, photos, videos and more from the Orlando Kart Center to open up the 2022 United States Pro Kart Series with two rounds of racing for the Southern Grand Prix.
---
Provisional X30 Pro Entry List
| No. | Driver | Team | Chassis | Hometown |
| --- | --- | --- | --- | --- |
| 318 | Justin Adakonis | | LN Racing Kart | Ridgefield CT |
| 319 | Nolan Allison | Rolison Performance Group | Kosmic | Bloomfield Hills MI |
| 381 | Gavin Bayliff | Trinity Karting Group | Kart Republic | Batavia OH |
| 325 | Aaron Benoit | U-Race | Tony Kart | Jupiter FL |
| 371 | Paul Bocuse | Rolison Performance Group | Kosmic | Orlando FL |
| 328 | Donovan Bonilla | Rolison Performance Group | Kosmic | |
| 351 | Julia Boos | | Tony Kart | New Hope PA |
| 363 | Nolan Bower | Racing Edge Motorsports | Exprit | Whitby ON |
| 386 | Axel Cabrera | AKT Racing | Kart Republic | Windermere FL |
| 326 | Josh Campbell | Ryan Perry Motorsport | Tony Kart | Gilbert AZ |
| 314 | Timothy Carel | Ryan Perry Motorsport | Tony Kart | Pacific Palisades CA |
| 388 | Sam Cate | | Tony Kart | Richmond IN |
| 310 | Jack Chmura | MottazSport | Birel ART | Saint Petersburg FL |
| 382 | Nathaniel Cicero | Rolison Performance Group | Kosmic | Pound Ridge NY |
| 303 | Zachary Claman De Melo | Goodwood Kartways | Atomica | Mount-Royal QC |
| 329 | Luis Colimodio | T1D Racers | Tony Kart | Pompano Beach FL |
| 306 | Adrian Cruz | CRD | Birel ART | Fort Worth TX |
| 309 | Alessandro de Tullio | Parolin USA | Parolin | Doral FL |
| 335 | Wes Duchak | Rolison Performance Group | Kosmic | Jupiter FL |
| 369 | Santiago Fernandez | Racing Edge Motorsports | Kosmic | Miami FL |
| 322 | Jeremy Fletcher | Gary Willis Racing | Tony Kart | St. Cloud FL |
| 374 | Aidan Fox | | FA Kart | Redding CT |
| 321 | Victor Franzoni | Piquet Sports | | Hallandale Beach FL |
| 384 | Sutter Gabel | | Kosmic | Manassas VA |
| 327 | Matheus Garcia | SLA | | Davenport FL |
| 304 | Jacob Gerke | Gary Willis Racing | Tony Kart | Jupiter FL |
| 317 | Dalton Hanes | | Tony Kart | Greensboro NC |
| 359 | Oliver Hodgson | J3 Competition | CompKart | |
| 356 | Zachary Hollingshead | Speed Concepts Racing | Birel ART | Lake City FL |
| 361 | Jacob Hoover | | Birel ART | Dana Point CA |
| 333 | Jack Jeffers | Speed Concepts Racing | Redspeed | San Antonio TX |
| 332 | Brayden Johnson | | Tony Kart | Bloomington IN |
| 316 | Hayden Jones | Rolison Performance Group | Tony Kart | Matthews NC |
| 302 | Marjin Kremers | PSL Karting | Birel ART | |
| 340 | Pauly Massimino | | Kosmic | Indian Trail NC |
| 341 | Adam Maxwell | A-Maxx Racing | Tony Kart | Greenwood IN |
| 338 | Tyler McIntyre | | Birel ART | Palmetto FL |
| 365 | Lucas da Silva Mendes | | Kosmic | Cuiaba MT |
| 377 | Frankie Mossman | Team Benik | Tony Kart | La Verne CA |
| 305 | AJ Myers | Magik Kart USA | Magik Kart | Mooresville NC |
| 324 | Thomas Nepveu | Trinity Karting Group | Kart Republic | |
| 348 | Ryan Norberg | Rolison Performance Group | Kosmic | Orlando FL |
| 366 | Alex Nowysz | Speed Concepts Racing | Redspeed | Adel IA |
| 343 | Oscar Panozzo | MottazSport | Birel ART | Bradenton FL |
| 307 | Guilherme Quinteiro | | Kosmic | Praia Grande SP |
| 353 | Ryan Raffa | Mike Doty Racing | Exprit | Washington Crossing PA |
| 313 | Diego Ramos | Racing Edge Motorsports | Kosmic | Kissimmee FL |
| 342 | Rylie Ramroop | U-Race | | Parkland FL |
| 370 | Noah Rosser | MottazSport | Birel ART | Bradenton FL |
| 391 | James Stegman | T1D Racers | Kosmic | Miami FL |
| 336 | Chris Verrino | | Kosmic | Armonk NY |
| 330 | Ryan Vincent | Nash Motorsportz | EOS | San Diego CA |
| 301 | Cameron Weinberg | Speed Concepts Racing | CRG | Carrollton GA |
| 323 | Justin White | | CompKart | Hunlock Creek PA |
| 344 | Dante Yu | | Tony Kart | Temple City CA |
| 331 | Haopeng Zhang | Supertune USA | Tony Kart | Kalamazoo MI |
---
Provisional KA100 Senior Entry List
| No. | Driver | Team | Chassis | Hometown |
| --- | --- | --- | --- | --- |
| 971 | Abbie Adams | | Tony Kart | Sherrills Ford NC |
| 997 | Beckett Andrew | SLA | Exprit | Orlando FL |
| 949 | Finnegan Bayliff | Trinity Karting Group | Kart Republic | Batavia OH |
| 925 | Aaron Benoit | U-Race | Tony Kart | Jupiter FL |
| 912 | Brooke Berry | | Tony Kart | Katy TX |
| 983 | James Bird | Mike Doty Racing | OTK | Ridgewood NJ |
| 916 | Keegan Bosch | Race Factory | Deltasport | Race Factory | Franksville WI |
| 955 | Joseph Botting | Piquet Sports | Tony Kart | Coral Springs FL |
| 903 | Tanner Bunney | Mike Doty Racing | Kosmic | Glenshaw PA |
| 974 | John Burke | Supertune USA | Tony Kart | Carrollton TX |
| 926 | Josh Campbell | Ryan Perry Motorsport | Tony Kart | Gilbert AZ |
| 950 | Camrin Cass | Franklin Motorsports | Merlin | Hartland WI |
| 943 | Gia Cicero | Rolison Performance Group | Kosmic | Pound Ridge NY |
| 959 | Alexander Dal Bon | | Tony Kart | Orlando FL |
| 952 | Alex Dal Bon | | Tony Kart | Orlando FL |
| 910 | Garrett Davis | | Exprit | Mentor OH |
| 937 | Nickolay Doukhov | | Kart Republic | Mason OH |
| 942 | Alex Feldstein | | Merlin | Madison WI |
| 902 | Connor Ferris | Team Ferris Racing | Kart Republic | Hackettstown NJ |
| 922 | Jeremy Fletcher | Gary Willis Racing | Tony Kart | St. Cloud FL |
| 909 | Jake French | PSL Karting | Birel ART | Sanger TX |
| 927 | Chase Hand | | Kosmic | Wilton CA |
| 911 | Aiden Hatcher | Mike Doty Racing | | Mooresville NC |
| 992 | Collin Hayes | | Tony Kart | Cornelius NC |
| 994 | Kendall Hedge | MPG Motorsports | Will Power Kart | Indianapolis IN |
| 958 | Grace Hemmerde | | Tony Kart | Miami Beach FL |
| 905 | Kingston Himes | | Kart Republic | Sanger TX |
| 982 | Josh Hotz | Franklin Motorsports | Merlin | Mukwonago WI |
| 929 | Drew James | | Tony Kart | Mooresville NC |
| 901 | Brandon Lemke | Franklin Motorsports | Merlin | Eagle WI |
| 990 | Aiden Levy | Harvick Racing | Tony Kart | Charlotte NC |
| 936 | Collin Lloyd | T1D Racers | Tony Kart | Pembroke Pines FL |
| 900 | Pj Lyda | Mike Doty Racing | LN Racing Kart | Plain City OH |
| 978 | Adam Maxwell | A-Maxx Racing | Tony Kart | Greenwood IN |
| 966 | Matthew Mockabee | | Tony Kart | Dayton OH |
| 907 | Logan Mueller | | Kart Republic | Taylor Mill KY |
| 930 | Brooke Nachtmann | | | Mooresville NC |
| 914 | Nazar Novosiadlyi | Tecno Kart USA | Tecno Kart | Elmwood Park IL |
| 995 | Rocco Pasquarella | CDR | Kosmic | Boca Raton FL |
| 973 | Larry Pegram | Pegram Racing | Kosmic | Hebron OH |
| 970 | Riley Pegram | Pegram Racing | Kosmic | Hebron OH |
| 928 | Peyton Phillips | Supertune USA | Tony Kart | Austin TX |
| 904 | Nikita Poneris | Trinity Karting Group | Kart Republic | West Chester OH |
| 986 | Ian Quinn | McCrone Motorsports | Birel ART | Chardon OH |
| 954 | Will Robusto | Timmy Tech | CompKart | Fort Mill SC |
| 979 | Aden Rudolph | | Birel ART | New Caney TX |
| 984 | Gracian Rzedzian | | Tecno Kart | Bloomingdale IL |
| 915 | Lydia Small | | Tony Kart | Glendale AZ |
| 906 | Alex Stanfield | Team Felon | Exprit | Argyle TX |
| 923 | Cameron Steller | | Tony Kart | Celina TX |
| 941 | Mason Surgener | Trinity Karting Group | Redspeed | Lansing MI |
| 988 | Nicholas Terlecki | | Merlin | Pingree Grove IL |
| 999 | Nolan Tidwell | Nash Motorsportz | EOS | Fort Collins CO |
| 920 | Travis Varney | | CompKart | Highlands Ranch CO |
| 919 | Jake Walker | Mike Doty Racing | Kosmic | Phoenixville PA |
| 931 | Trevor Watson | | Redspeed | Marysville OH |
| 933 | Tyler Wettengel | Speed Concepts Racing | Kart Republic | Davidson NC |
| 991 | Andrew Wilson | | OTK | Denver CO |
---
Provisional X30 Junior Entry List
| No. | Driver | Team | Chassis | Hometown |
| --- | --- | --- | --- | --- |
| 796 | Diego Ardiles | Supertune USA | Tony Kart | Doral FL |
| 763 | G3 Argyros | Speed Concepts Racing | Redspeed | Newport Beach CA |
| 764 | Cooper Beasley | | Birel ART | Valrico FL |
| 799 | Cameron Brinkman | | Kosmic | Springfield IL |
| 769 | Jensen Burnett | Ryan Perry Motorsport | Parolin | |
| 752 | Chase Buscaglia | | Birel ART | Bradenton FL |
| 719 | Christian Cameron | Speed Concepts Racing | Tony Kart | Sonoma CA |
| 788 | Isaac Canto | | Tony Kart | Boca Raton FL |
| 727 | Alexander Chartier | Ryan Perry Motorsport | Tony Kart | Scottsdale AZ |
| 723 | Michael Costello | Team Benik | Kosmic | Naples FL |
| 778 | Julian DaCosta | Ryan Perry Motorsport | Tony Kart | Myakka City FL |
| 709 | Parker DeLong | Ryan Perry Motorsport | Tony Kart | Glendale AZ |
| 744 | Mayer Deonarine | | Exprit | Ajax ON |
| 755 | Leonardo Escorpioni | Zanella Racing | Tony Kart | Windermere FL |
| 704 | Caleb Gafrarar | Rolison Performance Group | Kosmic | Midland NC |
| 759 | Max Garcia | MPG Motorsports | Will Power Kart | Coconut Grove FL |
| 770 | Ethan Goulart | Mike Doty Racing | LN Racing Kart | Shelton CT |
| 750 | Ayden Ingratta | | Redspeed | |
| 737 | Beckham Jacir | Parolin USA | Parolin | Miami FL |
| 794 | Gabriel Kawer | PSL Karting | Birel ART | Ft. Lauderdale FL |
| 746 | Jakub Kolar | Piquet Sports | FA Kart | Key West FL |
| 797 | Frederique Lemieux | PSL Karting | Birel ART | |
| 713 | Alfonso Lombardo | Ryan Perry Motorsport | Tony Kart | Freehold NJ |
| 729 | Aidan Lourenco | | FA Kart | newtown CT |
| 745 | Fernando Luque | Supertune USA | Tony Kart | Mexico City CDM |
| 787 | Alex Mercado | Speed Concepts Racing | Tony Kart | Washington UT |
| 702 | Christian Meyer | MottazSport | Birel ART | Seminole FL |
| 707 | Christian Miles | Mike Doty Racing | Kosmic | Paloma IL |
| 773 | Steven Miller | CDR | Redspeed | Tierra Verde FL |
| 725 | Teddy Musella | Rolison Performance Group | Tony Kart | Orlando FL |
| 721 | Cooper O'Clair | J3 Competition | CompKart | Phoenix AZ |
| 711 | Jorge Ortiz | | Tony Kart | Orlando FL |
| 712 | Olivier Piatek | Piatek Motorsports | Tony Kart | DULUTH GA |
| 777 | Yash Rampal | Team Ferris Racing | CompKart | Allentown PA |
| 747 | Max Raymer | Racing Edge Motorsports | Kosmic | Toronto ON |
| 724 | Ernesto Rivera | Rolison Performance Group | Tony Kart | |
| 705 | Hudson Schwartz | Speed Concepts Racing | OTK | Arlington VA |
| 703 | Tom Shoecraft, III | AKT Racing | FA Kart | Port Charlotte FL |
| 733 | Max Taylor | Mike Doty Racing | Exprit | Hoboken NJ |
| 795 | Enzo Vidmontiene | | Tony Kart | Windermere FL |
| 798 | Sebastian Wheldon | | Kosmic | Coral Gables FL |
| 715 | Gavin Whitt | Team Benik | Kosmic | Littleton CO |
---
Provisional KA100 Junior Entry List
| No. | Driver | Team | Chassis | Hometown |
| --- | --- | --- | --- | --- |
| 834 | Shea Aldrich | Ryan Perry Motorsport | Tony Kart | Orange CA |
| 888 | Indy Andersen | Trinity Karting Group | Kart Republic | Indianapolis IN |
| 893 | John Antonino | Race Factory | Deltasport | Race Factory | Bakersfield CA |
| 878 | Ethan Ayars | Team Nitro Kart | Nitro Kart | Weatherby Lake MO |
| 811 | Adam Brickley | | Kart Republic | Mooresville NC |
| 891 | Christian Cameron | Speed Concepts Racing | Tony Kart | Sonoma CA |
| 830 | Gabrielle DaCosta | Ryan Perry Motorsport | Tony Kart | Myakka City FL |
| 857 | Victor De Alencar | Zanella Racing | Tony Kart | Windermere FL |
| 899 | Parker DeLong | Ryan Perry Motorsport | Tony Kart | Glendale AZ |
| 876 | Ava Dobson | Franklin Motorsports | Exprit | Brookfield WI |
| 880 | Nathan Dupuis | Goodwood Kartways | Exprit | |
| 858 | George Feghali | Mike Doty Racing | Kosmic | North Andover MA |
| 803 | Joey Friend | | Tony Kart | Burleson TX |
| 804 | Caleb Gafrarar | Rolison Performance Group | Kosmic | Midland NC |
| 859 | Max Garcia | MPG Motorsports | Will Power Kart | Coconut Grove FL |
| 848 | Diego Guiot | | Tony Kart | Shenandoah TX |
| 826 | Ava Hanssen | Franklin Motorsports | Merlin | Elkhorn WI |
| 807 | Oscar Iliffe | Iron Rock Motorsports | Tony Kart | Austin TX |
| 869 | Jake James | | Tony Kart | Mooresville NC |
| 843 | Walter Jenkins IV | Xtreme Racing | Redspeed | Homestead FL |
| 898 | Lovisa Landin | | Exprit | Massillon OH |
| 837 | Michael Leavitt | | Tony Kart | Marion TX |
| 879 | Quinten McPherson | | Exprit | New Berlin WI |
| 827 | Helio Meza | Iron Rock Motorsports | Tony Kart | Spring TX |
| 838 | Ryan Miller | Trinity Karting Group | Kart Republic | Batavia OH |
| 873 | Steven Miller | CDR | Tony Kart | Tierra Verde FL |
| 851 | Mateo Naranjo | | Kart Republic | Edwards IL |
| 850 | Austin Olds | MPG Motorsports | Will Power Kart | Terre Haute IN |
| 863 | Cash Perkins | | Merlin | Bristol WI |
| 805 | Olivier Piatek | Piatek Motorsports | Tony Kart | DULUTH GA |
| 824 | Christian Quijano | | Tony Kart | St. Cloud FL |
| 809 | Camryn Reed | Iron Rock Motorsports | Redspeed | Youngsville LA |
| 822 | Ivanna Richards | HRI Mexico | Tony Kart | |
| 821 | Anthony Rivera | | Kart Republic | Columbia MD |
| 883 | Austin Roy | Speedsportz | Redspeed | Cypress TX |
| 829 | Ragan Saville | Speedsportz | Birel ART | Conroe TX |
| 818 | Emma Kate Scarbrough | Rolison Performance Group | Kosmic | Peachtree City GA |
| 814 | Cooper Shipman | | Tony Kart | Austin TX |
| 817 | Landon Skinner | Speedsportz | Redspeed | Scurry TX |
| 801 | Lucas Szabo | Mike Doty Racing | Tony Kart | Ridgewood NY |
| 833 | Max Taylor | Mike Doty Racing | Exprit | Hoboken NJ |
| 866 | Graham Trammell | Rolison Performance Group | Kosmic | Fort Worth TX |
| 816 | Mason Walters | Mike Doty Racing | OTK | Sherrills Ford NC |
| 800 | Luke Welcome | Orsolon Racing | Tony Kart | Miami FL |
| 802 | Henry Wheeler | | Righetti Ridolfi Extreme | Chagrin Falls OH |
| 820 | Mekhi Winfrey | Mike Doty Racing | | Warwick NY |
---
Provisional X30 Masters Entry List
| No. | Driver | Team | Chassis | Hometown |
| --- | --- | --- | --- | --- |
| 511 | Mario Barrios | Rolison Performance Group | Kosmic | Miami Beach FL |
| 503 | Evan Batt | Team Ferris Racing | Will Power Kart | Indianapolis IN |
| 504 | Gordon Cameron | | Tony Kart | Cincinnati OH |
| 505 | Kim Carapellatti | Carapellatti Racing | CompKart | Olean NY |
| 502 | Scot Carapellatti | | FA Kart | Olean NY |
| 512 | Rodney Dowless | Team Nitro Kart | Nitro Kart | Dix Hills NY |
| 566 | Tiago Goncalves | Orsolon Racing | Tony Kart | Sunny Isles Beach FL |
| 538 | Scott Kopp | | Exprit | Mukwonago WI |
| 525 | Greg Leahy | | Tony Kart | Terrace Park OH |
| 529 | Robert Maier | | Kosmic | Oakland FL |
| 582 | Laurentiu Mardan | Tecno Kart USA | Tecno Kart | Arlington Heights IL |
| 597 | Paul Meise | Trinity Karting Group | Kart Republic | Cincinnati OH |
| 577 | Miguel Mier | Speed Concepts Racing | Exprit | Frisco TX |
| 565 | Paul Montopoli | Team Ferris Racing | Kart Republic | RIVER VALE NJ |
| 545 | Mark Pavan | Goodwood Kartways | Exprit | Toronto On |
| 522 | Jeff Rice | Leading Edge Motorsports | Formula K | Stockton CA |
| 528 | Scott Roberts | Speed Concepts Racing | Redspeed | Winter Park FL |
| 509 | Danny Robertson | Rolison Performance Group | Kosmic | Ocala FL |
| 521 | John Robicheaux | Tecno Kart USA | Tecno Kart | Gulfport MS |
| 599 | Pete Vetter | Rolison Performance Group | Tony Kart | St. Louis MO |
| 583 | Cristian Vomir | Tecno Kart USA | Tecno Kart | Hoffman Estates IL |
---
Provisional Mini Swift Entry List
| No. | Driver | Team | Chassis | Hometown |
| --- | --- | --- | --- | --- |
| 107 | Benym Abernethy | Franklin Motorsports | Merlin | Elm Grove WI |
| 126 | Cypress Andruss | | | Sebastopol CA |
| 169 | Gage Bailey | Iron Rock Motorsports | Benik | Spring Branch TX |
| 118 | Gabriel Balog | | Magik Kart | |
| 190 | Carter Barkis | | Merlin | Fort Myers FL |
| 105 | Race Beckman | Speed Concepts Racing | CRG | Fenton MO |
| 192 | Alan Bonilla Espinosa | Rolison Performance Group | Kosmic | |
| 147 | Rhys Bowman | Timmy Tech | CompKart | Commerce City CO |
| 114 | Sarah Bradley | Parolin USA | Parolin | Fishers IN |
| 120 | Landon Buher | | Nitro Kart | Danville IN |
| 101 | Mateo Calderon | Team Nitro Kart | Nitro Kart | San Jose CA |
| 139 | Max Cristea | PSL Karting | Birel ART | Buford GA |
| 106 | Salvador della Vecchia | San Antonio Racing | Parolin | Miami FL |
| 143 | Justin Di Lucia | Goodwood Kartways | Exprit | riviera beach FL |
| 177 | Acen Dramaliev | Tecno Kart USA | Tecno Kart | Lincolnwood IL |
| 103 | Ty Fisher | Speed Concepts Racing | TB Kart | |
| 132 | Gabby Guidera | Team Benik | Benik | Rocklin CA |
| 150 | Giuseppe Guidera | Team Benik | Benik | Rocklin CA |
| 116 | Paul Hart | Team Benik | Benik | Cortlandt Manor NY |
| 162 | Keelan Harvick | Harvick Racing | Nitro Kart | Harrisburg NC |
| 112 | Nathan Holy | Mike Doty Racing | Kosmic | Upper Saddle River NJ |
| 164 | Cade Jaeger | Team Nitro Kart | Nitro Kart | Kewaskum WI |
| 157 | Kai Johnson | PSA Check Racing | Energy Kart | Gulfport FL |
| 141 | Tyrone Kemper Jr | AKT Racing | Kart Republic | New Orleans LA |
| 146 | Bobby Klein | | Birel ART | Georgetown TX |
| 133 | Gage Korn | Race Factory | Deltasport | Race Factory | Aurora CO |
| 193 | Antoine Lemieux | PSL Karting | Birel ART | Levis QC |
| 121 | Roman McCurdy | Race Factory | Deltasport | Race Factory | Maple Valley WA |
| 161 | Michael McGaughy | Ryan Perry Motorsport | Birel ART | Park City UT |
| 130 | Tristan Murphy | Team Nitro Kart | Nitro Kart | College Grove TN |
| 194 | Asher Ochstein | | Tony Kart | St. Petersburg FL |
| 127 | Tyler Padgett | CDR | Nitro Kart | Parrish FL |
| 125 | Lucas Palacio | Trinity Karting Group | Kart Republic | Vienna VA |
| 122 | Juan Jose Paramo | HRI Mexico | Parolin | |
| 154 | Asher Pavan | | Exprit | Toronto On |
| 166 | Alexander Procuna | FLC | Parolin | Aventura FL |
| 142 | Marthin Ramirez | | | BRADENTON FL |
| 115 | Davin Roberts | Team Nitro Kart | Nitro Kart | Walker LA |
| 199 | Tyler Roberts | Parolin USA | Parolin | Leander TX |
| 110 | Gianmatteo Rousseau | Supertune USA | Tony Kart | |
| 108 | Lillian Scarbrough | Rolison Performance Group | Kosmic | Peachtree City GA |
| 148 | Fion Shi | | CompKart | Montclair NJ |
| 117 | Brandon Sieracki | Franklin Motorsports | Merlin | Oconomowoc WI |
| 167 | Shane Stern | | Benik | Fairfield CT |
| 165 | Beckham Toupikov | Team Benik | Benik | |
| 113 | Ethan Tovo | Team Nitro Kart | Nitro Kart | Warrenville IL |
| 131 | Jackson Tovo | Team Nitro Kart | Nitro Kart | Warrenville IL |
| 111 | Devin Walz | | Birel ART | Meridian ID |
| 188 | Max Weiland | Magik Kart USA | Magik Kart | Westlake OH |
| 187 | Carson Weinberg | Speed Concepts Racing | CRG | Carrolton GA |
| 104 | Oliver Wheldon | | Kosmic | Coral Gables FL |
| 196 | Jackson Wolny | MottazSport | Birel ART | Glen Ellyn IL |
| 109 | Brayden Zirves | Franklin Motorsports | Merlin | Trevor WI |
---
Provisional Micro Swift Entry List
| No. | Driver | Team | Chassis | Hometown |
| --- | --- | --- | --- | --- |
| 8 | Forest Adams | Team Nitro Kart | Nitro Kart | Snoqualmie WA |
| 42 | Pasha Ali | Parolin USA | Parolin | Trophy Club TX |
| 26 | Alex Chandler | Iron Rock Motorsports | Tony Kart | Houston TX |
| 35 | Mikey Collins | Gary Willis Racing | Kart Republic | Casselberry FL |
| 7 | Gavin Dakay | Zanella Racing | Benik | Orlando FL |
| 22 | Decklan Deonarine | Goodwood Kartways | Exprit | Ajax ON |
| 13 | Justin Di Lucia | Goodwood Kartways | Exprit | Riviera Beach FL |
| 99 | Enzo DiGennaro | Team Benik | Benik | Poughkeepsie NY |
| 25 | Rodney Dowless, Jr. | Team Nitro Kart | Nitro Kart | Dix Hills NY |
| 43 | Troy Ferguson | | Benik | Seal Beach CA |
| 18 | Benja Fernandez | | Kart Republic | Coral Gables FL |
| 11 | Jackson Gibson | | Kosmic | Lake Oswego OR |
| 68 | Luke Giglio | MottazSport | Birel ART | Milton GA |
| 70 | Nolan Goulart | Mike Doty Racing | Kosmic | Shelton CT |
| 48 | Parker Ives | Team Nitro Kart | Nitro Kart | Davidson NC |
| 44 | Edward Kennedy | | Kart Republic | Riviere-Beaudette Que |
| 5 | William Kim | Team Nitro Kart | Nitro Kart | Darien CT |
| 98 | Nicholas Lorusso | Racing Edge Motorsports | Redspeed | Toronto ON |
| 63 | Massimo Lorusso | Racing Edge Motorsports | Tony Kart | Toronto ON |
| 3 | Maxwell Macha | | Kart Republic | Fort Myers FL |
| 9 | Jake Manalio | Team Benik | Benik | New York NY |
| 23 | Kai Mars | | Kart Republic | Roswell GA |
| 14 | Cameron Marsha | | Nitro Kart | Minneapolis MN |
| 37 | Samuel Martinez | Piquet Sports | Parolin | Homestead FL |
| 6 | Anthony Mazzuoccolo | | Benik | Weston Ct |
| 97 | Steffany Miller | | Energy Kart | Tierra Verde FL |
| 77 | Jacob Modjeski | Franklin Motorsports | Merlin | Oak Creek WI |
| 80 | Liam Nachawati | | Birel ART | Dallas TX |
| 58 | Nicolas Orbezo | | Tony Kart | San Antonio TX |
| 54 | Asher Pavan | Goodwood Kartways | Exprit | Toronto On |
| 29 | Travis Pettit | TAP Racing | Solo Kart | Mullica Hill NJ |
| 2 | Matheus Ramalho | Racing Edge Motorsports | Kosmic | |
| 4 | Julian Rivera | | | Miami Beach FL |
| 28 | Nico Salazar | U-Race | CompKart | Alajuela SJ |
| 75 | Marco Sammut | Mike Doty Racing | LN Racing Kart | locust valley NY |
| 95 | Rocco Simone | Parolin USA | Parolin | Venice FL |
| 12 | AJ Stoner | | Tony Kart | Columbus IN |
| 24 | Austin Taylor | | Will Power Kart | Indianapolis IN |
| 55 | Andrew Tsapenko | Piquet Sports | Parolin | Hollywood FL |
| 33 | Royce Vega | | Benik | Rockwall TX |
| 19 | Drew Walz | | Birel ART | Meridian ID |
| 89 | Ashton Woon | | Nitro Kart | Scottsdale AZ |
| 21 | Aston Wyatt | | Birel ART | Huntsville TX |