'10 Questions' with Dave MacIntyre
CKNA announcer discusses career and love of the craft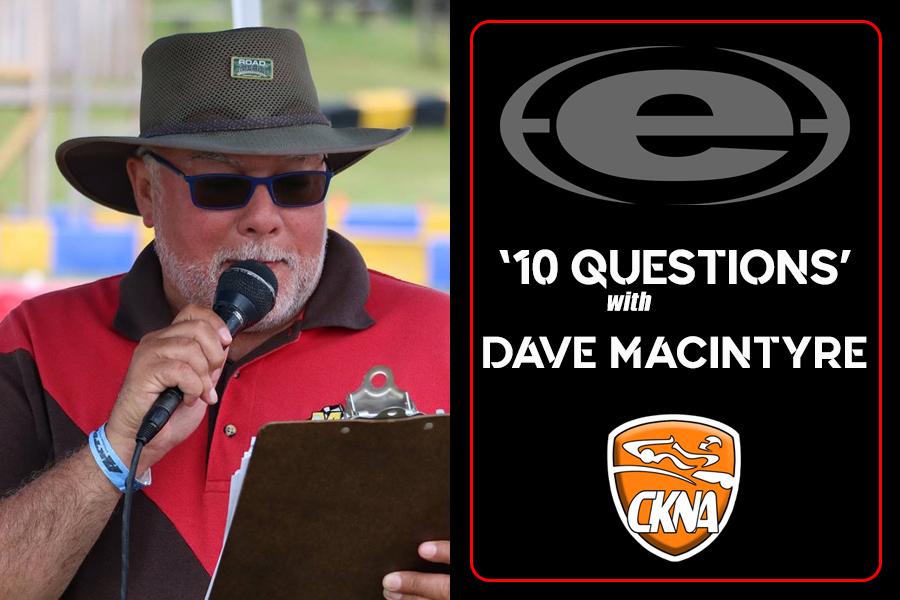 In our never-ending quest for fun and intriguing editorial, the EKN staff is offering up a new interview series for 2022. We're calling it '10 Questions' and it's a series that will spotlight many of the important people in our community who may not otherwise find their way onto EKN's homepage. Our Editor-in-Chief Rob Howden will sit down with our guest to discuss the sport and their experiences as part of the karting family. If you know someone who would be a perfect '10 Questions' candidate, drop us a line.
If you're a four-cycle racer in the Midwest or have attended any of the Cup Karts North America events over the past few years, you've heard Dave MacIntyre's voice echoing through the paddock. The Minnesota native's open and engaging personality makes in him a favorite in the paddock, with kids and adults alike. Like many of us, he found karting later in his life and dove-in head-first, becoming a racer before stepping up to become part of his club executive. His move to the PA booth has been a great fit. The recent retiree is looking forward to spending much of his newfound free time at the kart track. This coming weekend, Dave will be handling the PA duties at the second annual CKNA Spring Nationals at the Charlotte Motor Speedway in Concord, NC. Rob caught up with Dave as he was en route to the event.
EKN: Dave, welcome to '10 Questions'. We started off this series talking with key players in our sport, chatting with members of the Timing & Scoring and Photography elite. In keeping with this focus, I've decided to move back into the tower to talk with you, one of the 'voices' of American karting, a commentator like myself. How are you, my friend, and how excited are you into the 2022 season?
Dave McIntyre: Hi Rob, I'm doing extremely well and truly having the time of my life. Right now, Steve Vermeer and I are bouncing down the interstate in Ohio on our way to the CKNA Spring Nationals at Charlotte Motor Speedway. This is our third race this season and I'm really excited that everything is starting to come together for this event.
EKN: I hope that you're letting Steve doing the driving right now. Tell us a little about how and when you came into the sport.
DM: Well, when I was in my mid-30s, I found myself in an unexpected divorce and all of a sudden, I was looking for something to occupy my previous family time. I had been a race fan my entire life, as my dad was a fairly successful dirt track stock car racer from northern Minnesota/Ontario and I was attending his races when I was less than a week old. I had spent a lot of my life sitting in the stands, critiquing the drivers, so I must be the greatest racer ever, right?
I bought first kart – a Margay with a Briggs flathead – and I was ready to show them all what I was capable of. I loaded up on an open snowmobile flatbed trailer and went to an NRKA event at Brainerd International Raceway in Brainerd, Minnesota. As luck would have it, I drew the pole position for my first race and I was already congratulating myself on my future victory because I was, you know, the best there is in the grandstands. Rolling start. Green comes out. I hammered down and leapt 2 or 3 kart lengths ahead on the long straight. That Briggs engine was screaming and I was really flying and then I came to the first turn, a left-handed hairpin that I was just flat out not prepared for. Up until this point, I didn't have one lap of practice, so I hit the brakes hard way before the corner, did a complete 180, and found myself going backwards at full speed with the entire field barreling down on me. At this point, the smile started fading from my face as I suddenly realized that just because I knew I was the greatest racer ever, there was a tiny possibility that I just might be "that" good!
I ended up overdriving trying to catch the field and rapidly realized that this sport may be a little tougher than I had ever anticipated.
EKN: That's priceless. I think many of us who arrived in the sport later in our lives have a similar story. How did you eventually find your way in the announcer's booth?
DM: I kinda got myself elected to the Midwest Karting Association (Eau Claire, Wisconsin) Board of Directors and we had a meeting one day. The president (Jim Burnet) announced that the season banquet was going to be on a certain day and he had to be in Hawaii, so he was making me the Master of Ceremonies. I was shocked and scared, as I had never done anything like that, but I thought, 'what the heck'. It went pretty well and MKA asked me to announce their events. I had so much fun that I kept coming back. Eventually, some new people showed up by the names of Jasperson and Vermeer and they kinda seemed like they might know what they were talking about. I didn't know if I trusted them, but I definitely would listen to them. Greg eventually became president and Steve started promoting a new 4-stroke engine from Briggs. I was racing a TaG Leopard at the time and I was furious that Steve was trying to mislead MY people. We all know how that turned out.
Greg and Steve started 206 Cup now known under the name as Cup Karts North America and I'm very fortunate that they hired me to announce. I must have found a four-leaf clover that day!
EKN: So that's when you connected with Greg Jasperson and Steve Vermeer from Cup Karts North America. It's great that you were there right from the start, and that you're now part of the 'family'.
DM: Indeed. We knew each other from MKA, but we spend so much time together for CKNA that we've actually become very good friends. I have my own wing of the house at Steve's and my own bedroom at Greg's. They all treat me very well.
EKN: I know how much I've enjoyed my 25+ years as a karting announcer in North America. Can you tell us what it is that you love about being a series or event commentator? It's certainly a unique position at any event.
DM: Ya know Rob, I've got the best seat in the house at every venue. I can walk anywhere on the property and nobody will question me. I am truly a very fortunate individual. When I was a young adult, I always thought if I ever got the chance to visit the Charlotte Motor Speedway, it would be kind of a religious experience for me. I actually did a ride along in Jeff Gordon's car about 20 years ago and, last year, I heard my voice booming through the speakers at Charlotte Motor Speedway. To top that off, I also got to stand in the Charlotte Motor Speedway winners circle announcing the inaugural CKNA Spring Nationals winners. That's got to be one of the highlights of my entire life!
EKN: What advice would you give to any young people in our sport who may have dreams of one day announcing races, whether in be in karting or other forms of motorsports.
DM: My biggest advice is just be yourself. There is only one you. If you're true to yourself, everything else will work out as it's supposed to.
EKN: Aside from karting, what is your favorite form of motorsports and who is your racing idol or favorite professional driver?
DM: I'm a huge fan of 410 winged sprints and used to chase the World of Outlaws around the Midwest. There are two people on my ultimate list that I would just melt if I ever met them – the 'King' himself, Richard Petty, and Mario Andretti. I don't know if I'll ever accomplish either one, but I would love to shake each of their hands and thank them for so much entertainment in my life.
EKN: I know that you retired from your day job last year. What was it that you did away from the track for work, and how are spending your retirement days?
DM: I was a Senior Design Engineer for many years at US West/Qwest/CenturyLink/Lumen and transferred to a Central Office Technician my last seven years with Ma Bell. I would get emergency calls all hours of the night and I can't tell you how many holidays I missed, so the day I retired I let out a huge sigh of relief. Now I travel to Vegas quite a bit and I've met some very nice people out there. I go on an occasional date and I'm really looking forward to seeing my daughter, son-in-law, and grandkids in Indianapolis in a couple of weeks.
EKN: What keeps you busy when you are not trackside on a free weekend?
DM: In the nicer weather, I enjoy road trips. South Dakota, Denver, etc. I really enjoy bonfires at my place I call the 'Ponderosa'. I've had some very close encounters with every species of wildlife, including bears, but never a large cat. Thank God. As you well know though, Rob, there's a tremendous amount of prep for race weekend, so it actually feels like you're never really off the clock.
EKN: OK, let's cap this off and let you get back to focusing on this weekend's CKNA Spring Nationals. We asked our first two guests this question, and their responses have been different and yet both intriguing, no doubt due to their unique experiences and positions in the sport. As one of the sport's voices and storytellers, what's your answer to this final question. If you could change one thing about the sport of karting, what would it be?
DM: My goal in this whole experience is to fill the grandstands with spectators who aren't related to any of the racers. I'm absolutely convinced that our racing is more exciting, has better drivers, has better spectators, and is a better bargain than any NASCAR, IndyCar, NHRA, WoO or any other sanctioning body. We may not be as fast or as loud, but our people will race wheel-to-wheel, lap-after-lap and do some astonishing things on the track and shake hands or even hug at the scale line. Who does that? Karters! That's who.