eKartingNews.com Driver of the Month: January 2022 – Kyle Wick
Trackmagic / GFC Karting driver swipes ROK Shifter at Challenge of the Americas opener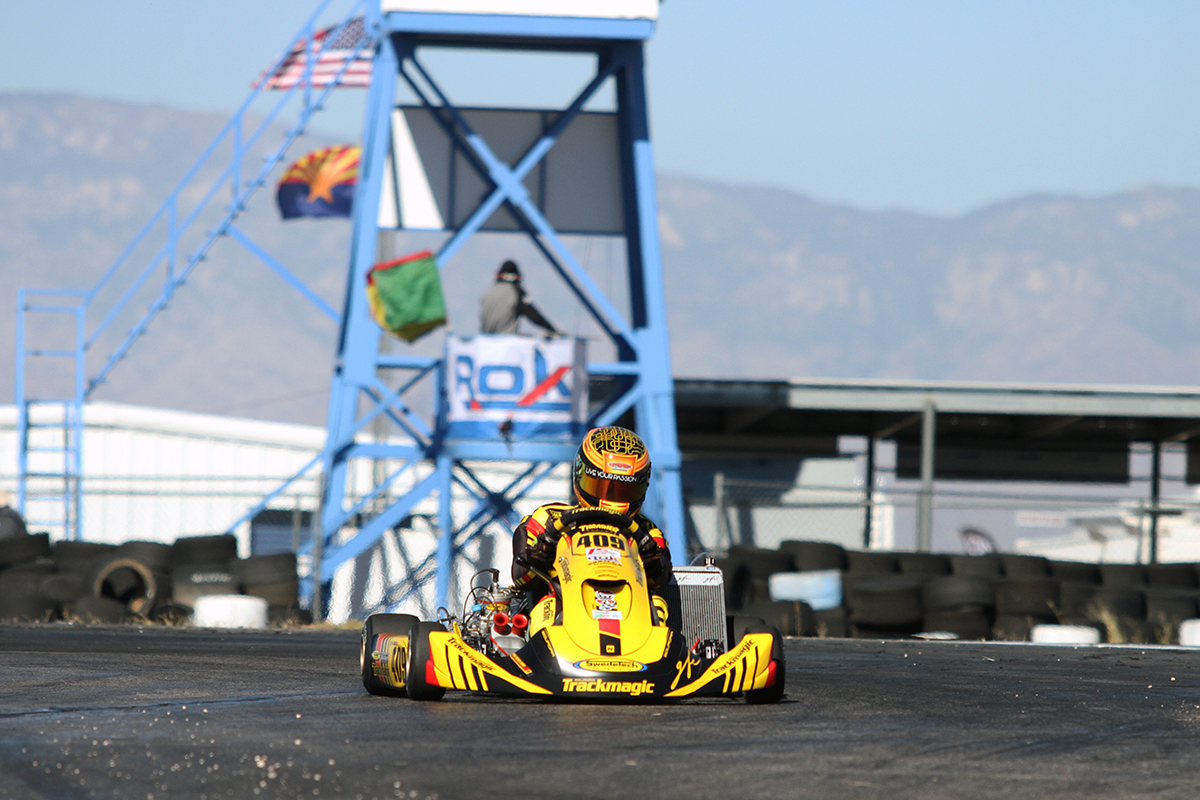 Kyle Wick swept the opening weekend of the 2022 Challenge of the Americas in ROK Shifter (Photo: EKN)
In a continued effort to highlight the many outstanding performances by drivers around the country, eKartingNews.com is proud to introduce the 'Driver of the Month' program. Each month, the staff at EKN will determine the one driver who stood out above the rest and give the viewers a chance to know exactly what they accomplished and who they are.
The first full month of the 2022 season is in the books, following a busy five weekends of racing from coast to coast across the United States. From Florida to California, Briggs to shifterkart, many teams and competitors began the new year racing at some of the big winter programs. Solid numbers opened the 15th season for Challenge of the Americas, hosting the opening two rounds at the Musselman Honda Circuit in Tucson, Arizona. Defending ROK shifter champion Kyle Wick showed why he is the reigning title winner, sweeping both rounds of racing against a stacked field of drivers.
Wick is now sporting the Trackmagic colors under the GFC Karting tent, with both the brand and the team having past success at the Tucson circuit that is a replica of the famed Suzuka track in Japan. At the 2020 Challenge race in Tucson, GFC swept the podium on Saturday and claimed the top two positions on Sunday – both with Hunter Pickett scoring maximum points over the two rounds. This weekend, it was Wick that put in a similar performance.
He opened up qualifying for Round One on Saturday, posting a 47.613-lap to clear the field by over two tenths. Wick led wire-to-wire in the Prefinal, driving to a 3.5-second advantage over GFC driver Jacob Gulick with Pickett charging from the tail of the field after issues in qualifying to end up fourth. The final was all Wick, leading the entire 20-lap distance with Pickett setting fast time, trying to reel him in during the closing stages of the race. Gulick ended up third to provide GFC with a podium sweep once again.
Wick continued into Sunday for Round Two, setting fast lap in qualifying with a time of 47.779 seconds. Pickett and Gulick were second and third. Pickett challenged Wick in the 14-lap Prefinal, taking the lead for one circuit until a missed shift allowed Wick to power past for the lead and the win. Pickett was able to grab the holeshot at the start of the Final as Wick struggled off the line, pulling up some sealant that filled in a gap on the pavement. Once he settled in, Wick was able to take back the top spot at the halfway point. Pickett kept up the pressure by putting down fast laps of the race, however, was unable to make a move for the lead. Wick kept up a similar pace and went on to take his second victory of the weekend. It was another GFC podium sweep with Worawong Komaracul earning his first podium result in ROK Shifter at the Challenge, placing third.
The GFC / Trackmagic driver is now turning his attention on a limited schedule for 2022, with a focus on the Superkarts! USA Pro Tour. Wick will not be competing at the Challenge event in Phoenix at the end of February, gearing up on racing for the Pro Shifter championship this summer. He is also committed to the year-end Las Vegas events, including the ROK Vegas and SKUSA SuperNationals 25.
January 2022 EKN Driver of the Month – Kyle Wick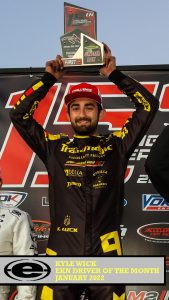 Bio
Born: September 18, 1999
Hometown: Auburn, Washington
Marital Status: Not Married
Children: 0
Height/Weight: 5'11" / 165lbs.
Education: High School Graduate
Occupation: Wicked Fabrication
Racing Resume
Chassis: Trackmagic
Engine/Engine Builder: ROK Shifter / SwedeTech Racing Engines – CRE for Dirt Racing
Sponsors: Trackmagic, Wicked Fabrication, Byers Custom
Series You Compete In: SKUSA Pro Tour, Challenge of the Americas, California ROK Championship
Years Karting: 17
How did you get started in karting? My uncle Todd Roppo raced karts in the late 80's early 90's. My grandpa wanted me to race too because he enjoyed doing it with his son. He passed away before he got to see me race. When I was 5, my dad took me to the local kart track to watch. I wasn't very interested in it at that time. For my 6th birthday my grandpa got me an electric yard kart, I thought it was a lot of fun. So I asked my dad if we could still go racing.
What has been the high point in your racing career? 2019 SKUSA Pro Tour champion
What are your goals in racing? I don't have goals of going on to cars. I enjoy karting, right now I am happy working with Trackmagic and GFC learning about how the kart works and helping with development.
In a few words, how would you describe your driving style? For most of my time in karting, I have been an "over driver", always charging into the corner harder than everyone else.
Funniest moment at the race track? Sunday night team dinner after a successful weekend at the track
Likes
Favorite Track: New Castle Motorsports Park original layout is great, backwards was also great for racing and fun to drive
Favorite form of professional motorsports: F1
Favorite karting driver: Danny Formal
Favorite professional driver: Kyle Larson / Max Verstappen
Favorite website: tiresize.com
Favorite movie: Cars, Cars 3
Favorite actor/actress: Ryan Reynolds
Favorite music/group: Country
Favorite vacation/activity spot: I like going on road trips with my friends, we do one every summer
Favorite food: Thai
The Real Deal
What do you do when not at the track? When I'm not working on my cars or karts, I like going on hikes and going on cruises in my 75 C10
What are your goals outside of karting? Move out of my parent's house
What type of street car do you drive? I drive a lowered 1997 S10 and a 1990 Suburban that can be seen at the track most race weekends.
What type of street car would you like to drive? I would like to have my 2 cars listed about but new again
What are your pet peeves or things that irritate you? Anything my brother says to me.
What do you think could be done to improve the sport of karting? Here in the Northwest, they run "TaG" classes and they don't work out well locally due to the number of engines that are allowed to compete. I also feel we have too many parking lot races. Most layouts used don't race well.
What are your favorite aspects about the sport of karting? I enjoy most parts, I like testing different things and coming up with solutions to the issues we are presented with throughout the weekend.
January 2022 Driver of the Month – Honorable Mention:
* Jake Drew: Challenge of the Americas – 2 Wins (Senior 100cc)
* Cason Hodge: Challenge of the Americas – 2 Wins (Micro ROK)
* Ian Koentges: Challenge of the Americas – 2 Wins (Masters 100cc)
* Jimmy McNeil: Challenge of the Americas – 2 Wins (ROK Shifter Masters)
* Steven Miller: SKUSA Winter Series – 2 Wins (1x X30 Junior / 1x KA100 Junior)
* Carson Morgan: SKUSA Winter Series – 2 Wins (KA100 Senior)
* Jorge Ortiz: RTX Karting Rotax Winter Trophy – 2 Wins (Junior Max)
* Alessandro Truchot: SKUSA Winter Series – 2 Wins (Micro Swift)
* Derek Wang: Challenge of the Americas – 2 Wins (Masters ROK)
* Oliver Wheldon: SKUSA Winter Series – 2 Wins (Mini Swift)