'10 Questions' with Ken Johnson
Veteran photographer has viewed sport's absolute best through his lens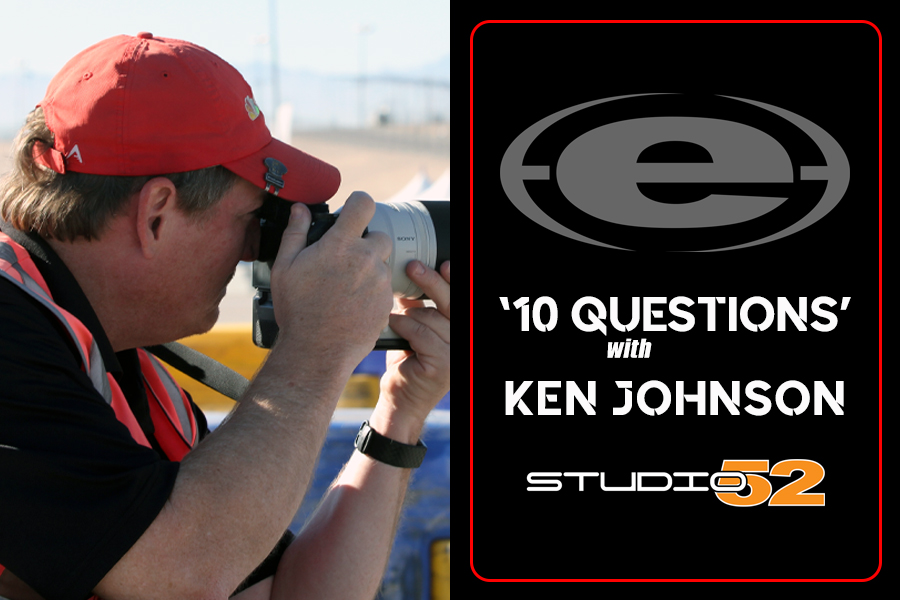 In our never-ending quest for fun and intriguing editorial, the EKN staff is offering up a new interview series for 2022. We're calling it '10 Questions' and it's a series that will spotlight many of the important people in our community who may not otherwise find their way on EKN. If you know someone who would be a perfect '10 Questions' candidate, drop us a line.
When we look back at the history of our sport, we read the articles and we enjoy the old photos. The images captured by the photographers of the day will last for eternity, and we're fortunate to have some incredibly talented photographers in karting right now, including our own David Cole. One of the leading karting photographers of our time is Ken Johnson. The Texan is an ex-racer who has been shooting for over 26 years.
Ken is easily visible throughout the weekend at foremost karting events in the USA. Not only because of his tall stature or the pink vest, but he's trackside for all the major moments throughout an event and can be heard yelling 'put them up' when drivers are celebrating their podium finishes. Karters are able to keep memories of their events through the photos taken by Johnson and his Studio 52 company.
Johnson goes from behind the lenses and to the mic in providing us with his answers to the '10 Questions'.
EKN: Ken, welcome to '10 Questions'. Thanks for taking the time to have some fun with us. Let's get started with your background. Today's racers know you for your incredible photography, but they likely don't know that you did a ton of racing in your past. How did you get into karting and tell us a little bit about your own driving career.
Ken Johnson: Oh man, thinking about how I got started in karting evokes memories of me at around 10-years-old when I saw my first racing kart. I was awestruck and wanted one more than anything. For the next five years I shoveled driveways in the winter and mowed lawns in the summer to save up to buy my first kart. I grew up in Kansas City about 15 minutes from Russell Karting Specialties. During the years I was saving up to get into racing, if we were ever close to Russell's, I'd try to talk my dad into stopping by so I could look in the window. I'd get about three minutes to stand there like Ralphie gazing at the Red Ryder BB gun in 'A Christmas Story' looking at the new Margays. If they were open, sometimes I'd buy a copy of World Karting or Karter News. I'd read and re-read the race reports and stare at the photos of guys like Lynn Haddock, Scott Pruett, Mark Dismore, Kathy Hartman, Jeff Nelson and others. All absolute legends in my book.
One day when I was 15, I was looking through the classifieds in the KC Star and there was an ad that read "Poor Man's Formula One". A guy was selling a Hornet LP2 laydown with a Yamaha engine and some spares. It came with a home-made 4 x 8 trailer. It may not have been the nicest setup out there, but to me it was everything in the world. My first races were, to be blunt, disasters. I'd break things and have no idea how to put them back together. But, I eventually got the hang of it. A couple years later, I started driving for a kart shop and learned a ton about building and maintaining a racing kart.
I almost always raced the laydown 'enduro' style karts.  I really loved driving those because of the extra speed and the way you have to slide them to go fast. It's such a total rush that I was never able to get in a sit-up (CIK) style kart. The other thing I loved about laydowns is you get to design and build your own kart. As much of a blessing and curse as that was, there was a real satisfaction in knowing you could be your own constructor. It really was a 'Poor Man's F1'!
Over the years, we were blessed to have a lot of success on the race track. We collected many trophies, including a Troy Ruttman Award (IKF Engineering Award) and seven or eight big heavy ones made out of brass. A couple years ago, I threw away all the trophies I'd ever won except the Ruttman and the National Championships. As much as they meant when we were racing, the trophies themselves no longer meant anything to me. Yet the memories of being at the track and the friendships I have today with the people I raced with, some of who I didn't always get along with back then, are absolutely priceless.
EKN: What do you like most about being a karting photographer?
KJ: I've always enjoyed photography and being able to combine that with racing is a blessing I don't take for granted. Even through the long hours and all that it takes to do what we do, there are all sorts of enjoyable moments along the way to keep one motivated. Of course, there's the artistic side of things like matching the best shutter speed to a panning shot or finding the best location to get the shot you want. And then there's the people side of things. Getting to know the racers and finding out more about them, especially the kid karts, Micros and Minis. These kids remind me of the 10-year-old still inside me and I love how happy they are just to be racing a kart.
EKN: I don't think people realize how much time you invest into a weekend. Can you walk us through your weekend schedule, and what you do from the time the alarm goes off each morning until you finally close your eyes at night.
KJ: Sure. Our weekend schedule starts the week before, making sure we have all the equipment, promo cards, etc. ready to go and packed away. We'll spend time on our social media campaign and logging pre-sales into a spreadsheet. All the while I'm working to clear the plate of all the other client work I have in the hopper at that time.
For a weekend like the one coming up at Homestead, I'll get in late Wednesday night and sleep in a bit Thursday morning since it's the last chance I'll have for that for a few days. Around noon, the clock starts running. I'll head out to the track to put up our track signs. Then I'll go through the pits stopping at specific trailers to get their paddock PR shots done for the weekend. Then I'll head out on-track and rove from corner to corner getting a variety of shots for a Thursday night social media gallery. Once back at the hotel, I'll ingest the photos into Adobe Lightroom and start exporting them to a server so my wife, Kayla, can pull them down to her computer at home. She'll open them in Lightroom as well so she can tag them all with classes and kart numbers then she sends the Lightroom catalog back to me.
While she's tagging all the photos, I'm selecting some representative shots that I think would make a good gallery. After completing and posting the gallery, I'll start making the online delivery folders and creating the links for the people that have purchased photo packs. We don't start sending out photos until Friday night, but whatever I can get done Thursday night is always a help the following day.
Friday through Sunday follow a similar schedule, except I get up early so I can get out to the track around the time the day starts. I also plan out the night before where I'm going to be shooting and during what times. I try to schedule things so I can get at least two track sessions in and a minimum of three "looks" per location. For instance, I'll set up to get a corner entry, a corner exit and a panning shots from any one particular corner. Then later, I'll try to get something similar from another corner, but I'll try to get the opposite side of the kart. It doesn't always work out how I'd like because we always have to consider the angle of the sun and whether or not it's a safe location to shoot from. But usually, we can get a very good variety of photos for peoples digital packs.
In addition to the track photos, we'll schedule a session to shoot either the grids or the scales. I usually do the grids on the first day (Friday) to get them out of the way. Getting grid photos is very physical, I call it "leg day at the gym". So, I want to get that done before getting too deep into the weekend. Scale photos are not physically demanding, you just have to work really fast and dodge the people walking around.
Friday evening at the hotel is similar to Thursday, there's just a lot more work to do. We need to tag three times the photos (we shoot about 16,000 per weekend) and get all the orders delivered. If all goes well, I'm in bed by 3:00 am to 4:00 am and I set the alarm for 7:00 am. Saturday and Sunday are repeats of Friday, except we have podiums in the evenings, so I use the time in between to start getting the photos uploaded.
After the weekend, I usually spend Monday catching up on my sleep. And although we make sure everyone has their photos some time Sunday night, I usually wait until Tuesday to post the final galleries from the weekend. I'll also spend time in the first couple days after the race selecting poster photos for the people that requested having us select their event poster photo. And I'll assemble the mailing that goes out to the rest, asking them if they have a photo selected yet. By doing that, I can hit the ground running later in the week getting people's posters printed, packed and shipped. All-in-all, it's a pretty full week.
EKN: Wow, that is incredible. The time commitment will surely shock most people. There's another component of your work I want to touch on. In racing, we all have significant investments in our equipment. Photographers are no different. How much do you have invested in your kit, what equipment do you bring, and what's your most expensive component?
KJ: From 1995 until 2019, I shot exclusively with Canon equipment. But in 2018, I was very intrigued by what Sony was doing with their mirrorless technology. So, I picked up an A7R2 for product photography. It was so amazing what those cameras could do so I brought one to a track in early 2019 with adapters for my Canon lenses. The speed wasn't there but I could immediately see the potential. So, I dove in and started changing over almost all my equipment. Now I shoot at the track with a couple Sony A9 mk2 bodies. If I fly to the race, I'll take a 24-70 F2.8, a 70-200 f2.8 and a 100-400 F4-5.6 for lens selections. If I'm driving to the track, I often take some extra prime lenses with me as well. I did two night races last year (one at Speedsportz and them the SKUSA SuperNats) and was able to get shots after sundown using the 135mm f1.8 that I couldn't have gotten with another lens at f2.8. The Sony system has transformed what we can do at the race track. Not only are the lenses lighter, but the increased dynamic range allows us to consistently pull more color out in a shot without sacrificing detail. It was expensive, but worth it. Most expensive piece? Probably the bodies. They're pricy.
EKN: For much of your photography career, you had a great relationship with Rotax. Tell us about your connection with Rotax and what it is like capturing the moments of the 'Olympics of Karting' – the Rotax Grand Finals.
KJ: Rotax was an awesome opportunity. It took me around the world and allowed me to visit places and do things I never imagined I'd be able to do. The festive nature of the Grand Finals is a unique experience you just don't get anywhere else. Being the proverbial "Olympics of Karting" (a term we were told by the IOC to stop using), the team drivers would wear their country team suites instead of chassis brand suits. You'd have groups of fans bringing their local traditions like the Dutch all wearing bright orange shirts, the Swiss ringing their cowbells whenever their drivers passed by, the South Africans with their vuvuzelas, stuff like that really made for a special feeling.  Just being there you knew you were at a special event.
Another fun aspect of the event was the camaraderie of the drivers and crews no matter where they were from. Often on the last day people from different countries would swap team shirts and hats with newly-made friends from other countries. The final night there would always be a big party where everyone could let loose. In the early days, there would always be a pool nearby and at some point in the evening people would start getting thrown into the pool. Fun times indeed.
Over the years, I was fortunate enough to attend 13 Grand Finals either working for Team USA or BRP-Rotax. By now, there's probably an American that's been to more than that, but at the time I went to my last one (Valencia 2014), I think I'd been to more than any other US resident. It's funny to think it's been almost 20 years, but I remember like it was yesterday I got the call from Rhonda Mims-Brown saying that she and Glenn Holland wanted me to go cover the Grand Finals in South Africa for eKartingNews. I guess you never really know what opportunities will come your way in life.
After 2014, I was done and moved on to shooting other things. But in 2016, Todd McCall of On Track Promotions called me to come work the SuperNats. We struck up a close friendship and next thing I knew, I was back shooting kart races again.
EKN: Many may not know this, but you nearly lost your life in 2006 in a car accident following the Rotax Grand Finals. Fill us in as to what happened from what you remember and the extent of your injuries.
KJ: Yeah, that time in Portugal was a turning point in my life. All I remember before the accident was being at a Red Bull after party and leaving with a few friends in the car. We'd dropped one guy off and we were going down a road trying to find the road to our hotel. I was looking to the left when the inside of the car got bright from the lights of a car rapidly approaching from behind. My next memory was when I came to and I'm crushed inside the car after being pinned in from a light pole that bashed in the driver's door. I had no idea where I was or what happened. From there, I was in and out of consciousness until they cut the top off the car to get us out. I remember being really annoyed that someone kept reaching in and feeling my neck. I guess it wasn't obvious I was still alive.
The weirdest memory of that night, and one I still can't explain, was an out of body experience I had while in the ambulance while it was searching for a hospital that would accept me. Fortunately, we eventually got accepted at a hospital in Póvoa de Varzim that had the best trauma center in Portugal. I have no memories of the two or three days before they put me in an induced coma, but I found out later on there were friends who came to visit, which means a lot to me.
The accident happened right before Thanksgiving. And when the head of the ICU called Kayla to suggest she come to the hospital, they were downplaying the extent of my condition so Kayla didn't realize how serious the situation was until they said, "You need to get here NOW". That was the start of a rough journey for her. Flying at Thanksgiving, going to a country where you don't speak the language and trying to find out what was happening and what needed to be done. It was a very difficult time for her. But what kept her going was a thread about the incident in the forum section of eKartingNews. From there, she was able to keep in touch with people and get information out. She always refers to that thread as her "lifeline" during that time.
One other really unique incident over there came after they brought me out of the induced coma. I had lost a lot of memory going back to the summer of that year and could not remember being at the Grand Finals at all. In fact, due to hallucinations I was having, I thought I was in Iowa and could not, for the life of me, understand why Kayla kept saying I was in Portugal. So, one afternoon she brought in Arnaldo Frias, the Portuguese Rotax Distributor who had been helping her, to see how I was doing.  I'm thinking, "Man, she's really playing up this Portugal angle. She even brought in a guy from there to convince me that's were I am."  So, I thought I'd trip him up and asked him who won Rotax Senior. Arnaldo said he couldn't remember the guy's name but he was the driver from Holland who broke the bottle of champagne on the podium. As soon as he said that, I remembered the podiums and in a flash all these memories in my brain were unlocked and I suddenly knew where I was, and why I was there and all that. I remember thinking, "holy crap, I really am in Portugal!" Kayla was right next to me and said she could see my eyes go from grey back to blue at that moment. How trippy is that?
I still suffer from some memory loss issues. It's like your brain is a hard drive and some sectors are damaged. Physically, I had 13 broken ribs among many broken bones and my lungs had become detached from the area in the chest where they reside so my lung capacity was way down. Eventually, most of those injuries healed and I just deal with the residual pain. The only thing that never cleared up physically is I have been left with double vision that I deal with as best as I can.
Mentally, I had some scars too. The first few times I'd be out on the road and would pass a bad accident, I would start shaking and crying to the point I'd have to pull over and stop for a while. But mind over matter has helped in that regard. One thing is for sure, I'm a lot less callous now when I see an accident on the side of the road. And really, if there's a positive takeaway from this, I've grown to appreciate things so much more.
I've probably gone on too long about this – brevity has never been my strong suit – but if I could add one last thing, that thread on eKartingNews was perhaps one of the most humbling experiences in my life. To be able to read the messages after I got out of the hospital and see people's reactions to our situation really stuck with me. There were people who, as a karting competitor, I had argued and disagreed with and not always in a nice way. And yet, there they were sending well-wishes and prayers, donating money and offering support. I can't put into words how humbling that is and how it truly hit home how much of a family karters really are. I remember reading a post Kayla had made about laying her head on my chest and crying while accompanied by the sounds of the machines that were keeping me alive. I've used these memories over time to remind myself to be the person people felt was worth saving.  I may fail constantly, but I do try.
EKN: Ken, that was a scary time indeed, and I remember being so proud of how the karting community stepped in to help you and Kayla. We're fortunate to have you in our sport and in our family. Back to the fun side of this interview. You've been to so many racetracks. What's your favorite track / city on your schedule?
KJ: As a driver, I loved a lot of tracks but feel compelled to say Road America. That place has a soul that's built for speed. Road Atlanta and Lake Garnett, KS are close behind though.
As a photographer, my favorite international track to shoot at is La Conca in Italy. It's just gorgeous there and it's a really nice community around that track. Stateside, my favorite track to shoot at is probably Utah Motorsports Complex. The mountains in the background really allow for some epic shots.
EKN: What is it that you do away from the track for work?
KJ: It's all photo and video work with Studio 52. We do a lot of product photography, product promo and instructional videos as well as e-learning video work. We also do family portraits, senior portraits and the occasional non-racing events like weddings. But with 15 races per year on the schedule, there's not always a lot of weekends open for other events.
EKN: What keeps you busy when you are not trackside on a free weekend?
KJ: Ever since I quit driving, my passion has been playing golf. Funny thing is, I used to make fun of golf. But it came along in my life about the time I was starting to burn out on racing and it really filled the competitive void in my life. It's a lot different than racing for me though. In racing, I always felt so confident and self-assured behind the wheel. In golf, I often stand over a shot thinking "Oh Lord, please don't let me screw this up!" (laughing). But, as humbling as the sport can be, there's no other feeling like absolutely flushing a golf shot and seeing that little ball fly away on a perfect trajectory.
About six months ago, Kayla and I bought some land and I've been spending a lot of time in the tractor while she and I prepare the land for a barn and, eventually, a new house. So that's taken away a lot of my golf playing time lately. It's cool though. Who doesn't love moving dirt around?
EKN: Speaking from a guy with tons of time at the wheel and controls of a backhoe, it's a ton of fun. Let's wrap this up with a serious question. If you could change one thing about the sport of karting, what would it be?
KJ: As a sport, nothing. Karting is perfect. I mean, where else can you weld together a few tubes, bolt on a motor and go race your buddies? You can select from a variety of motors. You can choose to drive on road courses big or small, or drive in circles. You can race on pavement or dirt. There's basically every option available to do whatever you want to do at a scale to fit almost any budget. Furthermore, dollar per dollar spent in karting, you'll face tougher competition than you'll find in just about any other form of motorsport. I can't improve on that.
Procedurally, I've found all the ideas I've had over the years to improve karting were either self-serving or wishful thinking in situations where the genie was already out of the bottle. My best advice is I try to remind people to take a moment every now and then, take a look around, live in the moment and be thankful for what you get to do and the memories you're making. Be as competitive as you want, but don't let setbacks beyond your control eat away at your appreciation for the sport and the challenge of winning.
Oh, and if you finish second, own up to it and say you finished second. Don't call yourself a "vice-champion". There is no such thing, I don't care what anyone else says. But, that's my soapbox for another day.